Kaleidoscope (Review): Netflix's Latest Gamble Pays Off

Paz Vega, Giancarlo Esposito, Jai Courtney and Peter Mark Kendall in episode "White" of Kaleidoscope. (Netflix © 2022)
Netflix's Kaleidoscope is an interesting series to explore in any order you want, anchored by great performances from Giancarlo Esposito, Jai Courtney, Paz Vega, and Niousha Noor.
---

Reviewing Kaleidoscope is daunting since others may have watched it differently than I did. The latest Netflix series allows the consumer to watch any episode they want in any order and not lose a single part of the story itself. You can start at the beginning of the story or its end. You can be bold and watch the episodes in the order Netflix queues it for you. Apparently, each user will have a different viewing order, which could drastically change how they assimilate information in the show.
It'll be interesting to read other reviews for the series, because they could be drastically different from my take on the show, depending on which episodes you started. If you watched it in the most non-linear fashion possible, you might perceive the characters differently than if you watched the episodes in chronological order of the story. I apologize in advance, but I'm not an adventurous person, and I watched the series from the "Violet" episode to the "Pink" one, from twenty-four years before the heist to six months after the heist. Was that the best way to watch the show? Who knows, but it was certainly a good approach to understanding the multiple character dynamics at play rather than throwing yourself in at a point where the characters are deep in heist preparations.
But there is no bad way to watch Kaleidoscope, because each episode feeds in a bit of information so that you understand what happened in an episode that you were going to watch after the one you're watching. And I think we can all agree that this viewing approach would've been an absolute waste (or perceived as a gimmick to draw audiences in) if the show wasn't good. Thankfully, it's a classic heist thriller done well, with terrifically-written characters fleshed out compellingly.
Without giving away any spoilers, the gist of the show is simple. Leo Pap (Giancarlo Esposito) assembles a crew of small-time criminals to crack Roger Salas' (Rufus Sewell) seemingly unbreakable vault, with millions of dollars in bonds found. The crew is comprised of Stan Loomis (Peter Mark Kendall), Hannah Kim (Tati Gabrielle), Ava Mercer (Paz Vega), Bob (Jai Courtney) and Judy (Rosaline Elbay) Goodwin, and RJ Acosta (Jordan Mendoza). Meanwhile, FBI Agent Nazan Abassi (Niousha Noor) attempts to track the criminals and bring them to justice.
That's all I can say, since everyone will start at a different point in time and obtain information in a non-linear fashion. My viewing experience is likely the "safest," since it tells the story linearly, especially in how we progress with Leo Pap from where we meet him to where the story ends. The same can be said for every character, who has a natural progression as the show follows its path.
All the episodes are fascinating, with colorful characters and well-drawn-out arcs. Jai Courtney is the show's major standout as Bob Goodwin, but to say more would mean spoiling the best arc of the series. He has excellent chemistry with Rosaline Elbay, who has lots of fun as Judy Goodwin. Again, I'm treading on thin lines here, but they're both fantastic together. Esposito is always excellent as Pap and perhaps has the most emotional complexity of all the characters.
See Also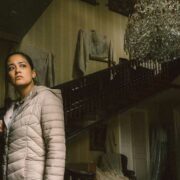 Noor plays a conventional FBI agent who will stop at nothing to arrest everyone involved in the heist but turns the trope to its head multiple times throughout riveting dialogue exchanges with other show characters that are best kept under wraps. The only actor I would've loved to see more of is Tati Gabrielle, who plays her character with great skill and humanity but is underused. And I'd love to talk about Paz Vega's arc, but little can be said about her without spoiling the main plot. However, she is as terrific as the other talent on display, perhaps even more terrific than Esposito, but I'd like you to discover it yourself.
I'd also love to talk about the heist itself, the wondrously shot action scenes, and the sleek cinematic style showrunner Eric Garcia brings to the table, but that would reveal details you shouldn't know about. Beyond its "choose your own approach to the show" gimmick, Kaleidoscope is a tightly-crafted, good old-fashioned heist thriller that's immensely satisfying to watch. It also has a tremendous subversive nature that few heist films and television series currently have. It certainly won't reinvent the wheel regarding its storytelling, but it's a damn good television series nonetheless, and one that I hope many will enjoy watching over the new year.
---
Kaleidoscope is now available to watch on Netflix.