Jess Plus None: Film Review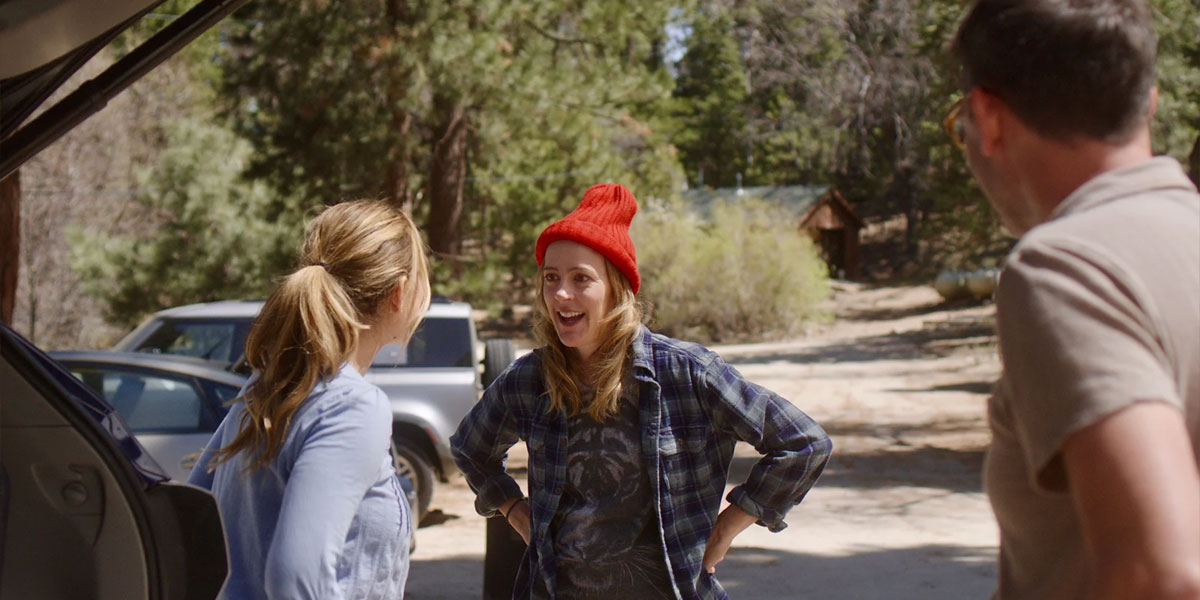 Jess Plus None (House of Mandrick / BFI Flare 2023)
Mandy Fabian's dramedy Jess Plus None is a watchable if mostly unfulfilling film that is all about the need for personal growth.
---

Jess (Abby Miller) is about to have a nightmare weekend. Her best friend from college, Melanie (Marielle Scott), is getting married in the woods. She isn't too fond of the groom, hedge-fund manager Greg (Scott Speiser). The camping site is purposely off-the-grid, with no phone or Wi-Fi signal. And if that wasn't enough, it just so happens that the best man is her ex-girlfriend Sam (Scout Durwood). Jess is still blamed for what happened at the end of their relationship, particularly by Mel. She hasn't spoken to her since despite being the maid of honour. Yet despite her reservations, Jess is soon travelling up to meet the rest of the wedding party.
Peter (Rory O'Malley) and Vince (Craig Thomas) are a gay couple who have recently started dating. Nate (Tate Ellington) and Wendy (Alexis Krause) are a young family with a six-year-old son they have left at home. There is Melanie's boorish brother Brian (Michael Dunn). And there is famous musician Hugh (Shalim Ortiz) with his belle Rita (Asenneth del Toro). When one of the guests goes missing the day before the wedding, Jess must find them and emotionally reunite the group. She will need the help of the rather unsociable park ranger (Matt Walsh), who has his own reasons for being at the camp.
Jess Plus None 's title refers to its main character being the last single person in her social group. Is it a cringe comedy? There are definitely some exceedingly awkward moments in this dramedy amongst the acapella sessions and discussions about sexual assault around the campfire. However, it is mostly a comedy drama about a wedding that doubles as a chance for old college friends to get together once more, play camp games and have parties. All set in an all-natural place with a cabin toilet no one seems to be a fan of. The key to the film is how it balances that with the different dynamics and, most importantly, relationship difficulties.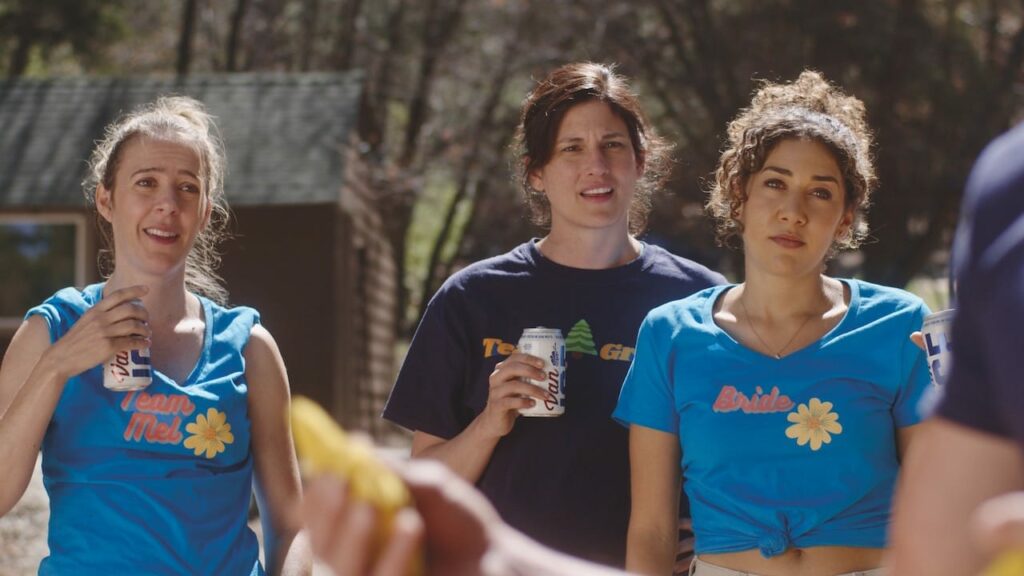 For instance, Peter and his boyfriend Vince disagree on having kids, with Vince's age playing a big part in that for Peter. Meanwhile, Wendy has started to smoke and take sleeping pills suddenly. Is she trying to break free from middle-aged motherhood and return to her lost youth? And how will that link to Hugh, who had a crush on her back in college? On the other end, there is the somewhat lonely Jess. Abby Miller is great at looking anxious and socially awkward, which are her character's two main traits. She is very tense, dealing with a faulty phone and calls from Cliff (voiced by Will Collyer). They are technically dating, and everyone thought Cliff was coming to the wedding.
But Jess is trying desperately to avoid him. It seems she is trying to find some semblance of the love all her friends currently have. She had it with Sam – could that be why she is looking to reconcile with her?
See Also

Yet as the film continues, we see her disconnected from the whole group, not knowing about Mel and Greg's imminent move to Tokyo. Furthermore, early on, we hear Wendy thinks Jess is self-centred and flakes on every commitment. Writer-director Mandy Fabian shows there is some element of truth to it. Take the reveal that Sam and Jess had a relationship in the workplace that cost Sam everything. All because Jess, as Sam puts it, "flinched." And so, we come to the park ranger on an isolated Native American 'vision quest' to find his spirit animal. He tells Jess a slice of rabbit wisdom that turns out to be incredibly pivotal: "you need to stop being a victim. Own your life."
Jess Plus None is a watchable if mostly unfulfilling dramedy all about the need for personal growth. It feels a little bland and ordinary in places, but it is innocuous, and there are a couple of curious storylines and moments that keep you engaged. And Fabian's writing does not go down the expected path. Whilst that is both a good and bad thing here, it does reinforce the theme of Jess needing to change and develop. To realise the pain she has – perhaps inadvertently – caused, but also that she does not need anything specific in her quest for love and self-worth. Not even her phone.
---
Jess Plus None was screened at the 2023 BFI Flare: London LGBTQIA+ Film Festival on 22-25 March, 2023. Read our BFI Flare reviews!