Jackass Forever: Film Review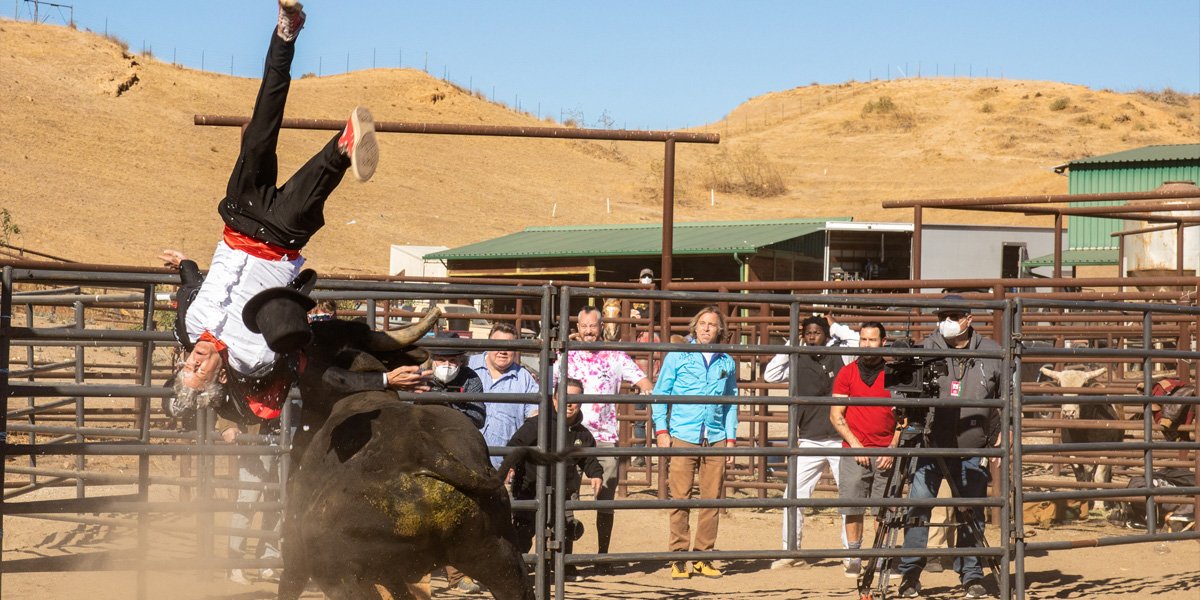 Johnny Knoxville in Jackass Forever (Sean Cliver | © 2021 Paramount Pictures)
Jackass Forever brings us back to the cinema for an unforgettable communal experience, reminding us of the true power of movies.
---

After a month and a half of lockdown, fueled by the ultra-contagious Omicron variant of COVID-19, I finally went "back to the movies" (for the third time!) to see Jackass Forever, my most anticipated film of 2022. As unbiased I wanted to be in my review, it only took me a minute before I started laughing uncontrollably at the sight of Chris Pontius' penis invading a small town, in a tribute to the Showa Era Godzilla movies. It's the most refined introductory sequence in a Jackass film yet, and the stunts only go crazier from there, involving lots of bodily fluids, private parts (there sure are lots of 'em), and, surprisingly even, face masks.
Watching Jackass Forever on the big screen was a total dream come true for me. It's been ten years since I discovered Jackass the Movie, a movie that completely changed my life and introduced me to the world of cinéma vérité better than any National Film Board film ever dreamed of doing. I figured that another Jackass movie would never be made again. They did Bad Grandpa, which is a great candid camera movie, but it lacks the camaraderie that makes the Jackass films so great. I wanted to feel like being part of the gang on the big screen and see a movie like this with a crowd before Johnny Knoxville et al. would get too old. And so, when he himself announced that a fourth movie would get made, my prayers were answered. And now that it's finally here, it not only met my expectations but exceeded them sky-high.
The joy of seeing a Jackass film on the big screen is an out-of-body experience. And it starts by witnessing the sea of laughter permeating the crew, who are always having a good time even if they are getting seriously injured. "The Magic Trick" scene, in which Knoxville gets seriously injured by a bull, is one of the most unbelievable Jackass stunts I've ever seen. He knows it's a mistake, he knows he's going to get injured (his past with bulls was always a sketchy one), but does it anyway. And when he does get injured, he still manages to appease the situation and laugh it off, even if he's riding an ambulance car on the way to the hospital with life-threatening injuries. 
Knoxville has always been a pure showman, always acting in the shadow of his idol, Evel Knievel. In Mat Hoffman's Tribute to Evel Knievel, he pays tribute to his hero by attempting a motorcycle backflip, which will result in him breaking his penis. And while he's completely bleeding, his calm feels frightening. But he wants to make the audience laugh nonetheless. The same thing happens here; Knoxville is not doing well, but he figures out a way to get the last laugh and keep the crew in good spirits.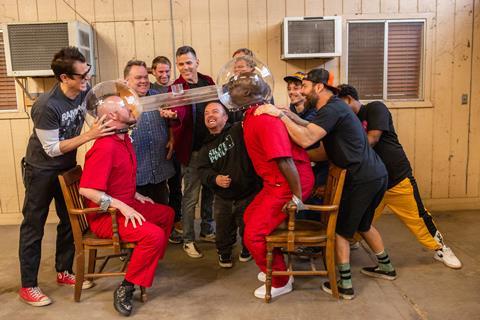 The heights in which the Jackass crew explore how to injure their most precious body parts here are astounding. I mean, an extreme cup test with Francis Ngannou, P.K. Subban, and Danielle O'Toole begs to ask the question "Who can decimate Danger Ehren's balls first?", a bit involving Steve-O's penis and queen bee, or another one where Pontius literally squishes his penis to be used as…a paddleball. All of these bits are as sickening and morally deprived as you'd think, but they're also extremely funny. We can't help but laugh at Steve-O's agonizing scream when a swarm of bees is biting his penis, and yet we also understand the level of pain he's currently in.
We also can't help but laugh at Preston Lacy being punched in the testicle by small boxing gloves, in absolute pain, but still keeping his smiles for the camera. All of these skits are classic Jackass and will make anyone either laugh or squirm (or both, you never know). But the real genius of Jackass Forever lies in its new stars, who get even more time to shine than the original members of the crew. Newcomer Rachel Wolfson is an absolute show-staler during "The Quiet Game", in which she voluntarily puts her tongue on a taser without trying to speak, or wince, or a scorpion botox session where the large insect bites her more than once on the mouth. She's game for anything and is a refreshing change of pace from the usual male-dominated crew.
Zach Holmes (or Zackass) is another incredible find, and he gets his moment during "The Silence of the Lambs", one of the best skits of the entire movie. Revealing much about the skit itself would mean spoiling the slapstick on display, but it sits among the very best elaborate Jackass skits, akin to "Terror Taxi" or "Golf Course Airhorn." The smallest flinch from a performer gives us the biggest laugh, and it goes on and on and on to the point where we can no longer breathe. Everyone is having a great time making the film, and everyone is having the time of their lives watching it. It's a pitch-perfect synergy between the audience and the film that reminds us all why going to the movies is so important.
We can all unite together under the same roof, and for the same opinion: Jackass is one of the greatest cinematic achievements of the early 2000s. I'm even willing to debate anyone who says that the film and TV series are "the most lowbrow form of comedy possible" and "a bad influence on children". Of course, kids shouldn't be watching this (though it's hypocritical of me to say this since I got introduced to the first film on the cusp of my teenoood), but those who are focusing on the gross-out aspects of Jackass are missing the friendships that are being forged by the cast and crew, who all become part of the experience (Camera operator Lance Bangs vomiting has become a recurring bit in the Jackass franchise now) and make the movie even greater than the stunts.
See Also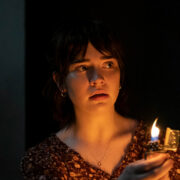 The stunts wouldn't have as much impact if the audience didn't feel attached to Johnny Knoxville, Steve-O, Dave England, Wee Man, Preston Lacy, and Danger Ehern, while wanting to add more people inside the Jackass circle, to not only introduce a whole new generation of Jackasses but also fill in the gaps for Bam Margera (who briefly appears in one scene filmed before his firing) and the late Ryan Dunn. We are part of the Jackass crew, because we have first-hand access to the best viewing angle for their craziest stunts, and are always looking even if we don't want to.
As the Jackass franchise goes out with a [literal] bang, some will still judge the pertinence of the movies, for promoting crass behavior and reckless stunts. But the crew's adolescent instincts got them closer together than ever before and created a family in the process. We can't look away when they're in terrible pain, because we love them and, even if it's uncomfortable, we love what they're doing. I believe Johnny Knoxville will be remembered as one of the greatest entertainers of our time, constantly pushing the boundaries of socially acceptable stuntwork with his iconic laugh to alleviate the tension, while the Jackass franchise could very well be reinterpreted as a comedic tour-de-force.
The 91% rating on Rotten Tomatoes for this movie proves that more and more people are starting to love Jackass and appreciate the camaraderie that makes the gnarliest stunts so memorable, and the community who loves these movies (and this colorful bunch) so dearly. Spike Jonze, Jeff Tremaine, and Johnny Knoxville have created twenty years of non-stop laughter through extreme pain, and in that regard, they deserve a well-earned break after showing us how to laugh and cry again with friends. That's an aspect of the pandemic that I've missed dearly, and I thank anyone involved in the production of Jackass Forever who reminded me of just how powerful friendship is.
---
Jackass Forever are now available to watch on digital and on demand. Watch Jackass Forever and read our review of Jackass The Movie!