House of the Dragon Character Guide: Know Your Targaryen

Paddy Considine is King Viserys Targaryen and Milly Alcock is Rhaenyra Targaryen in House of the Dragon (Ollie Upton / HBO)
---
Confused over who's related to who in HBO's House of the Dragon? Read our character guide and find out more about house Targaryen and the fight for the Iron Throne!
House of the Dragon is now showing on HBO, and last week's episode has gotten fans even more excited about the future of a series which has already been renewed for a second season. Based on George R.R. Martin's "Fire & Blood" book series, this much-anticipated prequel is set 200 years before the events of Game of Thrones, and mainly revolves around the Dance of the Dragons, a civil war that took place during the Targaryen rule of the Seven Kingdoms, during which half-siblings Aegon II (Ty Tennant) and Rhaenyra (Emma D'Arcy) fought over who would succeed their father, King Viserys (Paddy Considine).
But this story also contains many more characters and intrigues, as well as many houses that are all under Viserys' rule. Find out more about House of the Dragon's characters below, and use this Targaryen family tree to better understand our guide!
---
House Targaryen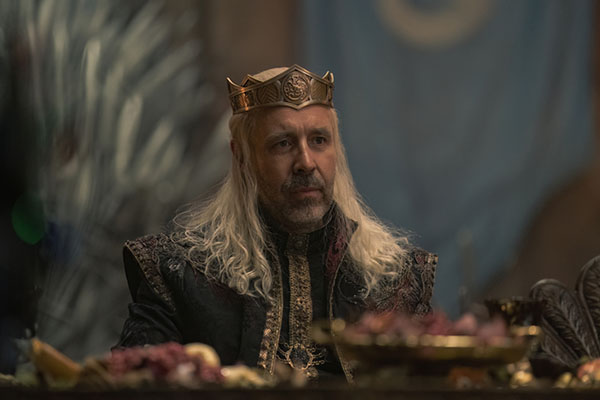 King Jaehaerys I Targaryen (the Old King)
Played by Michael Carter, King Jaehaerys I Targaryen is also known as the Old King. His kingdom was peaceful and lasted nearly six decades. He had thirteen children, but all of hir heirs died, so he was succeeded on the Iron Throne by his grandson, Viserys.
King Viserys Targaryen
Paddy Considine's Viserys, who became King after Jaehaerys' death, is the fifth ruler of the Targaryen dynasty. He has a brother, Daemon, and a daughter, Rhaenyra, which he had with Queen Aemma Arryn (Sian Brooke). When Aemma died, Viserys married Alicent Hightower, with whom he had three children.
Daemon Targaryen
Played by Matt Smith, Daemon is the opposite of his older brother Viserys. He is a great swordsman but he's also unpredictable, and he tends to show up at random places when you least expect him to. He's a key character in the series, and a brave warrior. Daemon has lost two wives, first Rhea Royce (Rachel Redford) and then Laena Velaryon (Nanna Blondell), but he had two children with the latter, Baela and Rhaena.
Rhaenyra Targaryen
Rhaenyra (played first by Milly Alcock and then by Emma D'Arcy) is King Viserys' first-born daughter, and another key character in the show. She is fierce and independent, and her growth as a character is part of what makes House of the Dragon enjoyable. She is married to Laenor Velaryon (John Macmillan) and has three children who may or may not be Laenor's: Jacaerys, Lucerys, and Joffrey.
Rhaenis Targaryen
Rhaenis (Eve Best) is the Old King's granddaughter, but her claim to the Iron Throne was overlooked in favour of her brother Viserys. For this reason, she's known in the realm as the "Queen Who Never Was." Rhaenis married Corlys Velaryon (Steve Toussaint) and had two children with him: Laena and Laenor.
Aegon Targaryen
Perhaps as an indirect consequence of his grandfather Otto Hightower's actions to get him to become a heir to the throne against the King's wishes, Aegon Targaryen (Ty Tennant) is quite an insufferable prince, who has a knack for disregarding his duties and getting involved in the kingdom's politics.
---
House Velaryon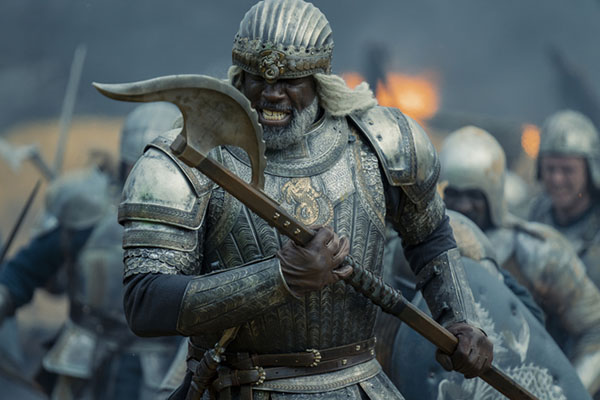 Corlys Velaryon
Corlys (Steve Toussaint) is also known as "the Sea Snake", and he's the leader of House Velaryon. He was once an explorer and he is now a very rich man and businessman. Corlys owns the Velaryon navy, where his brother Vaemond (Wil Johnson) is a commander. His wealth, as well as his marriage to Rhaenys Targarien, puts him in a position of power at court, but he doesn't always agree with the King's decisions. Corlys and Rhaenys have two children, Laena and Laenor Velaryon.
Laenor Velaryon
Laenor (John Macmillan) is a brave, skilled knight. He's married to Rhaenyra Targaryen and, even though he knows that his children might not all be his, he is willing to overlook that because of his love for his wife.
---
House Hightower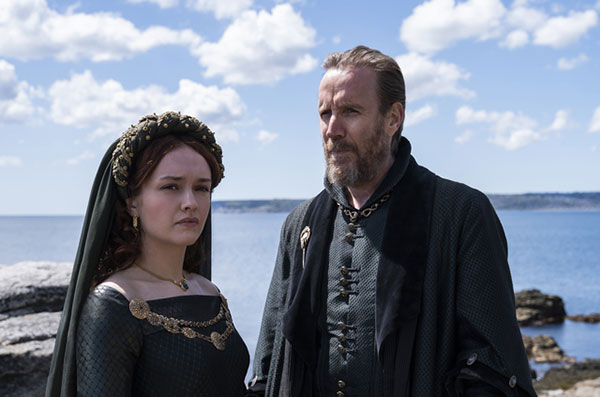 Otto Hightower
Otto Hightower (Rhys Ifans) used to be Viserys' Hand. When he realized that his daughter Alicent would be queen, he became fixated with trying to get his grandson Aegon (Ty Tennant) to be named a heir, and was removed from the Council as a result.
See Also

Alicent Hightower
King Viserys I's wife Alicent (Olivia Cooke) has been caught in the middle of schemes and politics too often, and she has become a fierce, powerful woman with a mind of her own. There is an ongoing feud between Alicent and Psincess Rhaenyra, who see each other as rivals.
---
House Strong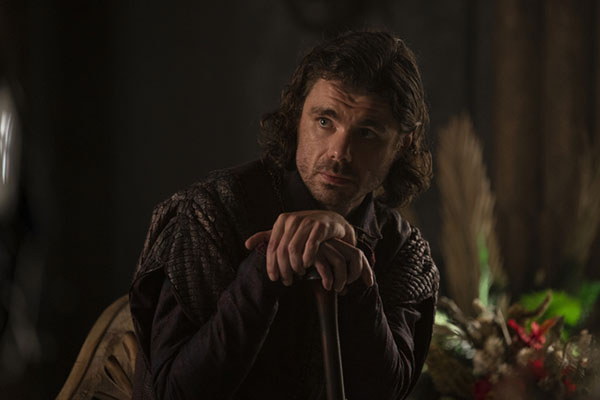 Larys Strong
Larys Strong (Matthew Needham) is the only member of House Strong who's still alive, as his father Lyonel and his brother Harwin are both dead. Larys is also known as "The Clubfoot" because he has a limp, and his narrative arc is quite similar to that of Tyrion Lannister in Game of Thrones, also a character who was first dismissed because of his looks but then turns out to be a cunning asset. Larys is just as clever and ruthless, and he is also powerful, since he is eventually put in a position of power by Queen Alicent.
---
The Kingsguard
Criston Cole
Criston Cole (Fabien Frankel) is a skilled knight on the Kingsguard, and he's even more handy with a sword than Prince Daemon himself. Cole became a member of the Kingsguard thanks to Rhaenyra, but he soon switches allegiances to Queen Alicent.
Harrold Westerling
Ser Harrold (Graham McTavish) has been serving in the Kingsguard for a long time, so much so that he was already there during the Old King's reign. He is Raenyra's protector.
---
Now that you've read our guide and you know all there is to know about the main characters in House of the Dragon, it's time to start watching the series on HBO Max! Many more twists and turns are in store for you, and, though it can be difficult to remember what each character is up to, the show also has many moments of humanity that will make it a rewarding watch. Happy watching!