Film Giveaway! Win Blu-Ray: The Conquest of Everest (Ended)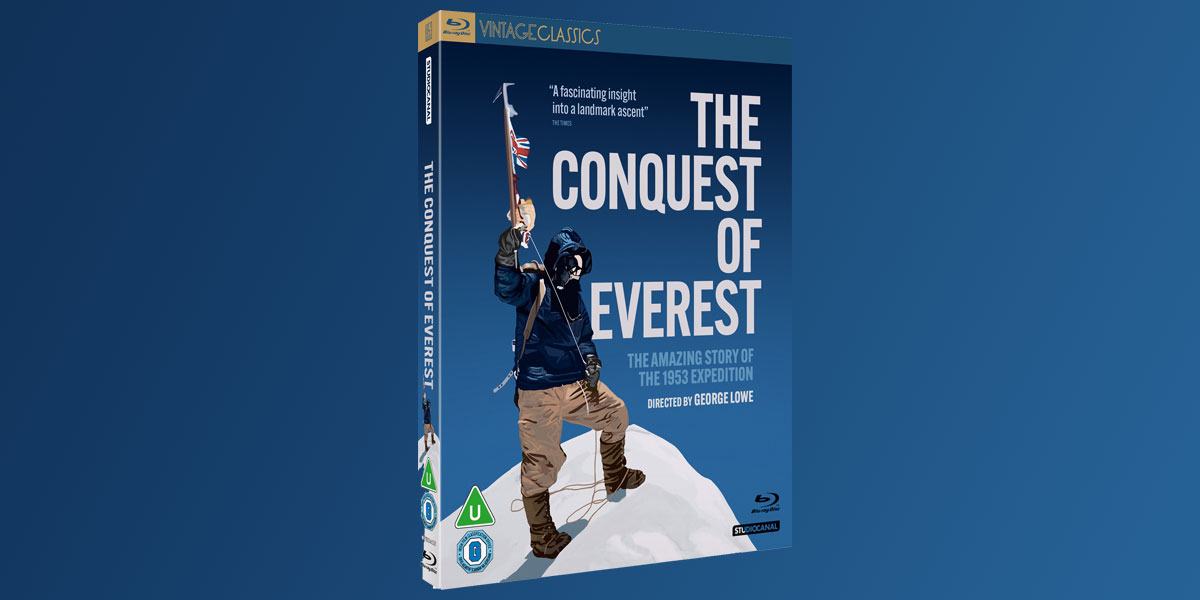 The Conquest of Everest Blu-Ray (Studiocanal)
Film giveaway: Win a Blu-Ray of The Conquest of Everest (new 70th anniversary restoration), out May 29 and worth £15!
---
We have a new giveaway, and you could win a Blu-Ray! This year marks the 70th anniversary of the historic expedition to Everest, and we teamed up with Studiocanal to give out a Blu-Ray of a brand new restoration of The Conquest of Everest to two lucky winners!
The movie will be released on May 29, 2023, on Blu-Ray, DVD and Digital! It comes complete with new special features, and it will make for a very welcome addition to the ever-expanding Vintage Classics collection!
---
GIVEAWAY: THE BLU-RAY YOU WILL WIN
THE CONQUEST OF EVEREST: NEW RESTORATION
Worth £15
Narrated by Meredith Edwards (A Run For Your Money) and featuring the mountaineers Sir Edmund Hillary, Wilfred Noyce and Tenzing Norgay, the documentary tells the awe-inspiring story of the first successful attempt on the peak of Mount Everest.
In order to document the entire ascent, the producers had to rely on footage from the climbing team themselves. Select members were given rudimentary training and equipped with cameras and a variety of lenses, which they had to lug around in addition to the actual essentials, such as their oxygen tanks. They also carried a few experimental automatic cameras that were as small as cigarette packets and much easier to use. Original cameraman Tom Stobart fell ill at the lower level, so George Lowe, Hillary's climbing partner, took over as director and came back with dozens of magazines of footage. The news of the expedition's success was received on the morning of the Queen's coronation and helped further cement its place in history.
Winner of the BAFTA for Best Documentary and nominated for an Oscar, The Conquest of Everest is a truly unique document of an epic journey.
This thrilling and important piece of adventuring history will be available to own on DVD, Blu-ray and Digital on May 29 – the same date the party made it to the peak!
SPECIAL FEATURES
British Entertainment History project Interview with producer John Taylor (1988)
The Conquest of Everest Premiere (1953)
---
ENTER THE GIVEAWAY!
Note: this giveaway has ended! See below for the list of winners and follow us on Twitter to be notified of our next giveaway!
Be in for a chance to win a Blu-Rays of the film! This giveaway can be entered on Twitter! To enter, simply like and RT the tweet below, and follow our Twitter page! UK Residents only!
We'll announce the winners on Monday 29 May on Loud and Clear Reviews' Twitter page. If you're one of the winners, we'll message you on Twitter you to notify you and ask for your address so we can send you the Blu-Ray. Fingers crossed!
---
GIVEAWAY WINNERS
And the winners are…
… Congratulations! If you're one of the winners, we sent you a private message on Twitter earlier today (29 March)! Don't forget to respond with your address, so we can send you the Blu-Ray!
The winners have been chosen by using a random number generator. Please note: if we are unable to contact you and get your address by Friday, 2 June, we'll pick a new winner instead.
---
ABOUT VINTAGE CLASSICS
The stunning roster of incomparable VINTAGE CLASSICS titles includes outstanding thrillers, heart-rending masterworks, horror favourites, war dramas,Ealing comedies, and plenty of lesser-known gems. The collection boasts some of the greatest and beloved stars of British cinema including Alec Guinness, John Mills, Dirk Bogarde, Diana Dors, Richard Attenborough, Julie Christie, Hayley Mills and Jenny Agutter, directed by auteurs such as David Lynch, John Schlesinger, Carol Reed, Roger Corman, Nic Roeg and Joseph Losey.
This year's slate will boast additions of exciting and culturally important British films including I Am A Camera (1955), the original onscreen appearance of Christopher Isherwood's inimitable Sally Bowles, war-time classic Appointment in London (1953), Ealing dramas Frieda (1947) and The Divided Heart(1954), and the first ever titles to join the collection directed by a woman – Wendy Toye's The Teckman Mystery (1954) and We Joined the Navy (1962).
---
Get the new re-release of The Conquest of Everest on Blu-Ray, DVD & Digital on 29 May, 2023.
This competition is listed on Loquax, The Prize Finder, Competition Database, and Competitions Time.
---