Film Giveaway! Win Blu-Ray: Le Mépris (Ended)

Le Mépris (Studiocanal)
Film giveaway: Win a Blu-Ray of Jean-Luc Godard's Le Mépris (Contempt), a new 60th anniversary 4k UHD restoration out June 26 and worth £15!
---
We have a new giveaway, and you could win a Blu-Ray of Le Mépris (Contempt)! This year marks the 60th anniversary of the release of Jean-Luc Godard's classic film, and we teamed up with Studiocanal to give two lucky winners a Blu-Ray of a brand new 4k UHD restoration of the movie!
Le Mépris (Contempt) will be released on June 26, 2023, on 4K UHD for the first time, on Blu-Ray, DVD and Digital! It comes with new special features, and it will make for a very welcome addition to the ever-expanding Vintage World Cinema collection! The Blu-Ray we're giving out is worth £15.
---
GIVEAWAY: THE BLU-RAY YOU WILL WIN
LE MÉPRIS (CONTEMPT): NEW 4K UHD RESTORATION
Worth £15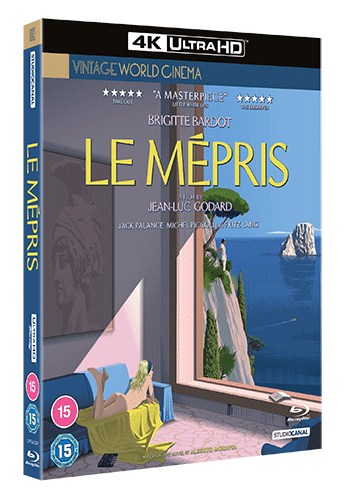 Featuring the style icon Brigitte Bardot (And God Created Woman, Viva Maria!) as Camille, and legendary French talent Michel Piccoli (Belle De Jour, The Things of Live) as Paul, LE MÉPRIS boasts a strong and eclectic supporting cast featuring 'master of darkness' Director, Fritz Lang as himself, renowned American actor Jack Palance as Jeremy, and the infamous Giorgia Moll as Francesca.The restoration also features the original and unforgettable soundtrack, 'Theme of Camille', which has gained worldwide admiration in its own right, by multi award-winning composer, Georges Delerue.
Set around the extraordinary Villa Malaparte on Capri; LE MÉPRIS tells the tragic romance between Paul and his wife, Camille. Paul is enlisted the task of re-writing a film script. Whilst he becomes engrossed in writing, he appears oblivious to the film producer's interest in his irresistibly beautiful wife, Camille. In turn, we witness the hurtful unfolding of Paul & Camille's marriage.
This this landmark in world cinema from cinema's original enfant terrible Jean-Luc Godard will be available to own on 4K UHD, DVD, Blu-ray and Digital on June 26.
SPECIAL FEATURES
Il était une fois… Le Mépris (52mn) on the Blu-ray UHD
An introduction by Colin MacCabe (6mn) UHD
Paparazzi by Jacques Rozier (22mn)
Le parti des choses by Jacques Rozier (10mn)
---
ENTER THE GIVEAWAY!
Note: this giveaway has ended! See below for the list of winners and follow us on Twitter to be notified of our next giveaway!
Be one of the two lucky people who could win a Blu-Ray of the film! This giveaway can be entered on Twitter! To enter, simply like and RT the tweet below, and follow our Twitter page! UK Residents only!
We'll announce the winners on Monday 26 June on Loud and Clear Reviews' Twitter page. If you're one of the winners, we'll message you on Twitter you to notify you and ask for your address so we can send you the Blu-Ray. Fingers crossed!
---
GIVEAWAY WINNERS
And the winners are…
… Congratulations! If you're one of the winners, we sent you a private message on Twitter earlier today (26 June)! Don't forget to respond with your address, so we can send you the Blu-Ray!
The winners have been chosen by using a random number generator. Please note: if we are unable to contact you and get your address by Friday, 30 June, we'll pick a new winner instead.
---
ABOUT VINTAGE CLASSICS
The stunning roster of incomparable VINTAGE CLASSICS titles includes outstanding thrillers, heart-rending masterworks, horror favourites, war dramas,Ealing comedies, and plenty of lesser-known gems. The collection boasts some of the greatest and beloved stars of British cinema including Alec Guinness, John Mills, Dirk Bogarde, Diana Dors, Richard Attenborough, Julie Christie, Hayley Mills and Jenny Agutter, directed by auteurs such as David Lynch, John Schlesinger, Carol Reed, Roger Corman, Nic Roeg and Joseph Losey.
This year's slate will boast additions of exciting and culturally important British films including I Am A Camera (1955), the original onscreen appearance of Christopher Isherwood's inimitable Sally Bowles, war-time classic Appointment in London (1953), Ealing dramas Frieda (1947) and The Divided Heart(1954), and the first ever titles to join the collection directed by a woman – Wendy Toye's The Teckman Mystery (1954) and We Joined the Navy (1962).
---
This competition is listed on Loquax, The Prize Finder, Competition Database, and Competitions Time.
---
Get the new re-release of Le Mépris on 4K UHD, Blu-Ray, DVD & Digital on 26 June, 2023.