Egghead & Twinkie: BFI Flare Film Review

Egghead & Twinkie (CanBeDone Films / BFI Flare 2023)
Sarah Kambe Holland's Egghead & Twinkie is a joyous queer road-trip movie that has teenage crushes and friendships at its centre.
---

As the animated intro for Egghead & Twinkie states, Vivian 'Twinkie' Harris (Sabrina Jie-A-Fa) is an Asian-American teenager whose adoptive parents are separated (but might be trying to get back together). A self-described master of sarcasm, she has been best friends with her next-door neighbour, Matthew 'Egghead' Gerwig (Louis Tomeo), since the 4th grade. She wants to be an animator. He is a star student heading to Stanford in the fall. They like slushies, anime… and girls. Yet when the intro ends, and we cut to a diner, things aren't well between Egghead and Twinkie. A flashback to a few days ago reveals why.
Twinkie has a massive crush on one of her online friends. Her name is B.D. (Ayden Lee), a DJ who has invited Twinkie to one of her gigs in Dallas, Texas. Following an extremely awkward coming out during a brunch with her parents, Twinkie decides to go from her home in Florida to see B.D. in Dallas. There's only one problem: she needs someone to take her there. Meanwhile, Egghead has romantic feelings for his BFF destined to go unreciprocated. That was confirmed during a cinema 'date,' when his attempts to kiss her go awry. Soon, Twinkie gets him to join her by lying, saying there's an animation studio in Dallas. And after stealing her dad's car, the friends are off on their journey.
Hailed as the first feature to be crowdfunded on TikTok, Egghead & Twinkie sees producer-writer-director Sarah Kambe Holland adapt her 2019 short of the same name for the big screen. But the weird thing about her queer summer road-trip movie is it does not have that many road-trip antics or set pieces. There are a few diner stops used for the film's framing device, as well as a scene where Egghead tries bubble tea for the first time. That's about it. And this is all because Holland uses the journey of her main characters to focus on two other areas.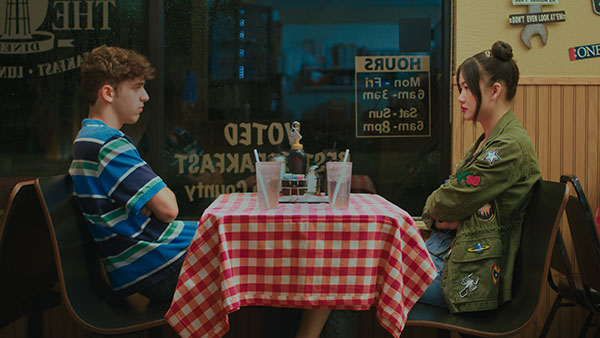 The first is its wild yet engaging visual style. We get the taps of fingers written out and text messages shown on-screen. We hear 8-bit videogame blips and see scribbles for names and sounds (Twinkie's name is in rainbow flag colours). There are even illustrations of concepts such as 'Emotional Distance'. It has so many similarities to Sony Animation's wonderfully creative The Mitchells vs The Machines. After all, both have zany filters and lesbian protagonists with artistic ambitions. And both are very fast-paced films. Here, that could be partly due to the film's three editors (one of whom is Holland herself). Or it could be down to the director being from the YouTube generation, having edited videos for years.
Either way, I'm a big fan of how Egghead & Twinkie uses quick match cuts and montages. One highlights how Twinkie probably always knew she was gay, whilst the matching montage suggests Egghead has always loved her – and still does.
The second area is Holland's loving portrayal of Twinkie trying to find herself. It is a sensitive approach, influenced heavily by its director's sexuality. Twinkie has never quite fitted in. She was given her nickname because "she is yellow on the outside and white on the inside", a less-than-subtle nod to her mixed-Asian roots. And her parents are uber-conservative, their rejection of their daughter coming just as Twinkie learns about B.D.'s gig. Incidentally, it must be no coincidence that this road trip is between two notoriously Republican states that passed some of the most extreme anti-LGBTQ+ laws in recent years.
Sabrina Jie-A-Fa's (hopefully) breakout performance as Twinkie reminds you a little of M.J. from MCU's Spider-Man films with her nonchalant demeanour. Yet she also shows how torn and fearful she is at times. Moreover, I really liked Asahi Hirano as Jess, the humorous and fun bisexual waitress the two friends are both attracted to. And as Twinkie grapples with her nationality and past, Jess helps her through fashion and colourful eyeliner. It is worth noting both the wardrobe and make-up departments, as they do a great job at looking stylish whilst serving Twinkie's story. "You're Chinese… but you're also mixed with everything else too," Jess says, assuring Twinkie that it makes her "more like yourself."
Egghead & Twinkie is a joyous queer road-trip movie with some fast editing and more than its fair share of modern touches. It is sweet, noncomplicated and – at 87 minutes – perfectly brisk. And it may be low-budget, but its crowdfunding origins mean it is endearingly so, aiding this story about finding self-acceptance through your circle of friends. When we see the comic book Twinkie made during her trip, there is a panel where Egghead tells her "you're valid." It is clear he is her rock through the tumultuous feelings and events she experiences, even after being friendzoned. It is a cute touch in a charming film that places the complicated matters of teenage crushes and friendships at its centre.
---
Egghead & Twinkie was screened at the 2023 BFI Flare: London LGBTQIA+ Film Festival on 16-26 March, 2023. Read our BFI Flare reviews!