Disenchanted: Movie Review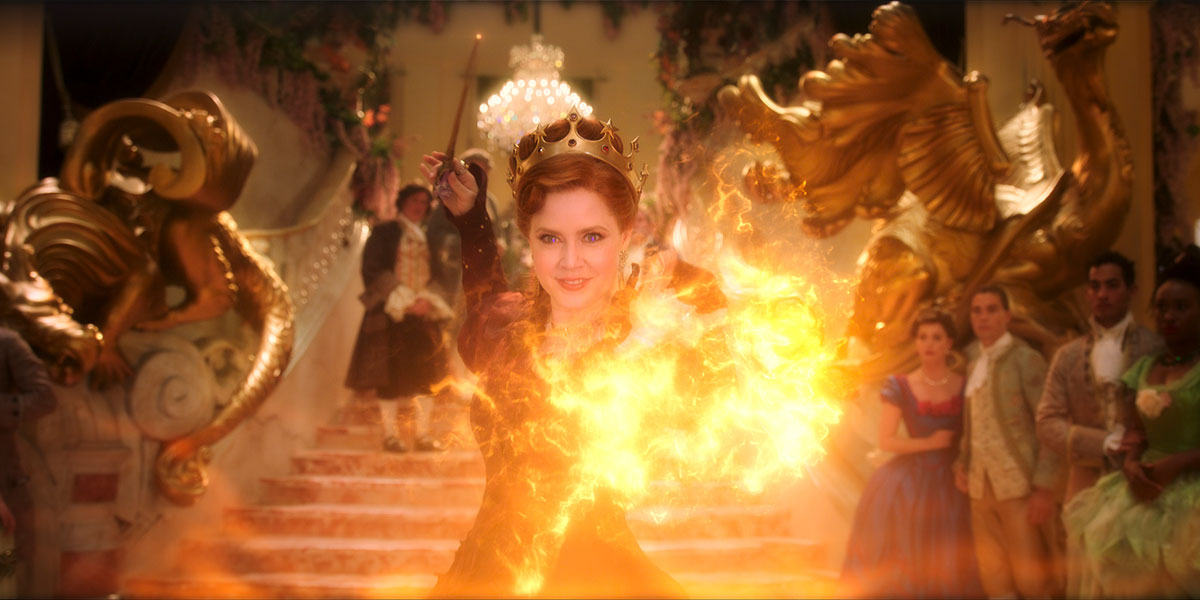 Amy Adams as Giselle in Disenchanted, exclusively on Disney+. (Jonathan Hession. © 2022 Disney Enterprises, Inc.)
Disenchanted arrives on Disney+ and almost immediately disappoints, fundamentally misunderstanding what made the first one so great in the first place.
---

I was baffled at Disney greenlighting a sequel to Enchanted for Disney+. In my opinion, it should've been released theatrically. It was one of Disney's most successful live-action films and made Amy Adams a bonafide star. It was my introduction to Adams as a highly versatile actor who had great comedic timing and theatricality to pull off the role of Giselle. It was great to see her career grow from there in impeccable performances in Paul Thomas Anderson's The Master, Zack Snyder's Man of Steel, and Denis Villeneuve's Arrival (someday, she will win an Oscar), and even better to learn that she would reprise the role that jump started her career faster than when she starred in Steven Spielberg's Catch Me If You Can, alongside Patrick Dempsey, James Marsden and Idina Menzel.
And even if I was disappointed at the idea that it wouldn't be released in theaters, I was at least happy to see that, after fifteen years, there would be a platform to house a sequel. And it pains me to even write these words, but Disenchanted was not worth the fifteen year wait, and is one of the most disappointing sequels I've ever seen, as a lifelong fan of the original. Sure, a sequel shouldn't attempt to recapture the magic of the original, but expand on what made the first one work so well. Disenchanted does none of that, and crafts a dull story inside dull set pieces with many actors pitifully wasted in small roles.
In this installment, Giselle moves from New York to Monroeville with Robert (Patrick Dempsey), Morgan (Gabriella Baldacchino), and her new baby Sofia. Morgan, now a teenager, does not like change and isn't happy about her new home. After Giselle is visited by Prince Edward (James Marsden) and Nancy (Idina Menzel), who give her the Andalasian Wishing Wand, she uses the wand to wish for a "fairy-tale life," hopeful that it will closely resemble her life in Andalasia. The wish is granted, and her life starts to become idyllic again, until Giselle shows signs of becoming a "wicked stepmother." It'll now be up to Morgan to stop her from becoming Queen of "Monrolasia," against Malvina Monroe (Maya Rudolph).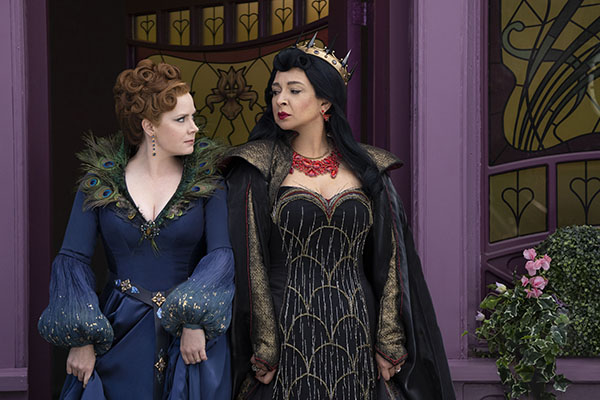 What does Disenchanted fundamentally misunderstand about Enchanted? The first film felt fresh and exciting, because it thwarted a typical cartoon Disney princess inside the live-action world of New York, where fairytales don't exist. But through her songs and her belief in the power of magic and love, she convinced Robert (and Morgan) that fairytales can exist if you believe in them. How do you expand on that plotline in the sequel? How about forgetting all that and making Giselle the story's main antagonist? Predictably, it doesn't work.
It could've been an interesting premise had Giselle grappled with her double identity instead of fully becoming the "wicked stepmother" and fight Malvina for the throne, but director Adam Shankman and screenwriter Brigitte Hales prefer the easy way out and don't take long to make her the primary antagonist of the movie. Adams seems to have fun, and salvage as much as she can, but her arc makes no shred of sense, especially when she starts to embody the exact same tropes as the wicked stepmother from Disney's Cinderella would have. Maybe that was the point, but it did feel like a total cop-out. Instead of doing something creative with a Disenchanted premise, the filmmakers prefer to stay in familiar beats inside a story that doesn't inspire, nor make much sense.
It doesn't help that most of the visual effects are unfinished. After a negative reception at test screenings, the film underwent reshoots for a month, and you can clearly tell which scenes were reshot and which weren't by the unfinished VFX the scenes have. Oh, here's Robert fighting a dragon (and a troll) off-screen, or with their shadow being seen. None of these scenes add anything to the movie, and their invisible visual effects work doesn't don't help establish a sense of fun and tension to the action scene. But even its climax, which by all means should be an exciting race against time, falls flat with badly rendered visual effects, and editing that consistently breaks the 180-degree rule. It may sound like a nitpick, but when a character is in a specific location, only for a cut to magically alternate their place in the frame, and then bring them back to where they initially were, it's distracting and a flagrant mistake that should definitely be avoided for a high-budget film like this.
See Also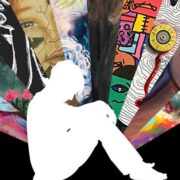 It's a shame, because, compared to the original film, which had action set pieces with weight and excitement, none of the set pieces are in any way memorable here. Even the musical numbers aren't as catchy as "That's How You Know," or even "True Love's Kiss." In this installment, only "Love Power" made me feel something as close to the wonder I felt while watching the first Enchanted, solely due to Idina Menzel's amazing vocal talents. My God, she can sing. If the movie would be this three-minute, out-of-context scene, I would give it five stars easily. It hits all the right emotional notes, and conveys its message brilliantly.
If only Disenchanted would hold the same energy as "Love Power" did, we would have a masterpiece on our hands. And even if Adams, Dempsey, Rudolph (who seems to have a blast) seem to do their best to make the material feel somewhat palpable, it's not enough to make the sequel worth the fifteen-year wait. It's worse when Menzel and Marsden, who were two of the original film's best parts, are barely in this. Not even the animated sequences can bring the same level of excitement as the first film's pitch-perfect recapturing of Disney classics. Fans of the original, like me, have been clamoring for a sequel since the first one came out. I guess we should be more careful about what we wish for instead…
---
Disenchanted is now available to watch on Disney Plus.