Devotion (2022) Film Review

Jesse Brown (Jonathan Majors) with Tom Hudner (Glen Powell) in Columbia Pictures' Devotion (© 2022 CTMG)
Jam-packed with powerful performances and stunning imagery, Devotion is one of the most emotionally resonant action movies in years.
---

After Top Gun: Maverick's astonishing success, who would have thought that the world needed another naval pilot movie? Based on Adam Makos' book of the same name telling the relatively unknown true story of war hero Jessie Brown (Jonathan Majors), Devotion explores the friendship between him and fighter pilot Tom Hudner (Glen Powell), and how they became some of the Navy's most celebrated wingmen. Even though it will be hard for this film to soar to the heights of Top Gun, it deserves equal praise at the bare minimum.
Devotion opens with Tom Hudner, a "pretty face" that has recently arrived at a Naval Air Base where he joins a group of men who will eventually head out to support the war. Here, he meets Jesse Brown, a man who you can tell has had to fight hard to be where he is today, even before we see him interact with anyone. Over time, we start to see a friendship form, a strong one based on mutual respect. This becomes especially important when Hudner meets Jesse's wife (Christina Jackson) and she asks him to look out for her husband, especially since he has a daughter that will be awaiting his return. Once we get familiarized with Jesse's family and fellow aviators, it is time for the Navy to ship out to the Korean War and help in any way possible. 
Around twenty minutes into Devotion, we see Jesse Brown look at himself in the mirror delivering an unusual pep talk. It was right at this moment that I knew that I was watching something truly special. What Jonathan Majors is able to do in this one-minute scene made me more emotionally invested in Brown's story than most action movies that have come out in the last decade. He brings such humanity and heart to this role, adding yet another brilliant performance to his resume.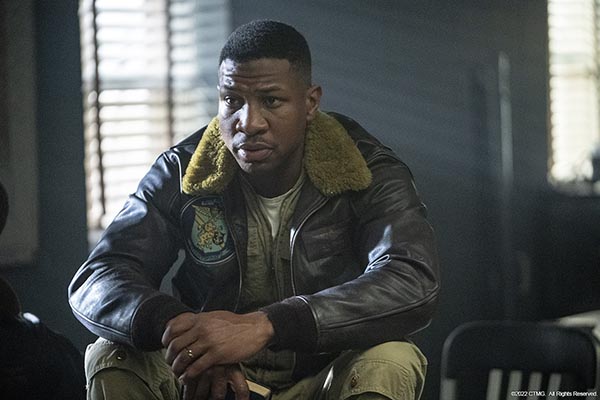 Having such a great actor as the lead greatly benefits the film of course, but without Jake Crane and Jonathan Stewart's screenplay's people-centered narrative, no one, including Majors, would have had the ability to shine as well as they do. It has been a growing trend in recent action movies that the filmmakers' main focus is on the spectacle of action, but, with Devotion, the main goal is to pay respect to the men who fought in this war over anything else. This is such a smart decision because it also allows Glen Powell, who also serves as an executive producer to give a career-best performance. Having both Majors and Powell on screen together is proof that movie stars still exist.
Not only do the above-the-line aspects of Devotion excel, but most of the technical qualities are some of the best of the year. Erik Messerschmidt's cinematography gives us beautiful visuals that constantly remind us of the awe that the characters feel as they are traveling the world. Not only does the cinematography make you feel the same emotions as these characters, but the camera work does too. There are certain sequences, where even if you don't know the characters well, it feels as if you are right there with them on that ship. This is extremely hard to pull off, especially with war movies, when the audience is expecting death at some point, but the combination of an immensely effective score by Chanda Dancy, emotionally driven editing, and a talented ensemble makes this a story that goes straight to your heart.
Walking out of Devotion, I was convinced it was one of the best films of the year, and, the more I think about it, the more I realize that this movie really has it all. It delivers the action that you would expect from a war epic, with a strikingly strong emotional core. We get to learn about the hero that Jesse Brown was to both the country and his family, and how his determination to be the first Black naval aviator meant so much more than just his great achievements during the Korean War. From a technical perspective, all elements are top-tier, and the nearly two and a half hour run time flies by. Everyone should walk, run, or fly to their nearest theater to see Devotion, a film that many are sure to love and will stay with them for quite some time.
---
Devotion is now showing in US theaters.