Descent: A Free Dive into the Depth of the Human Mind (Raindance Review)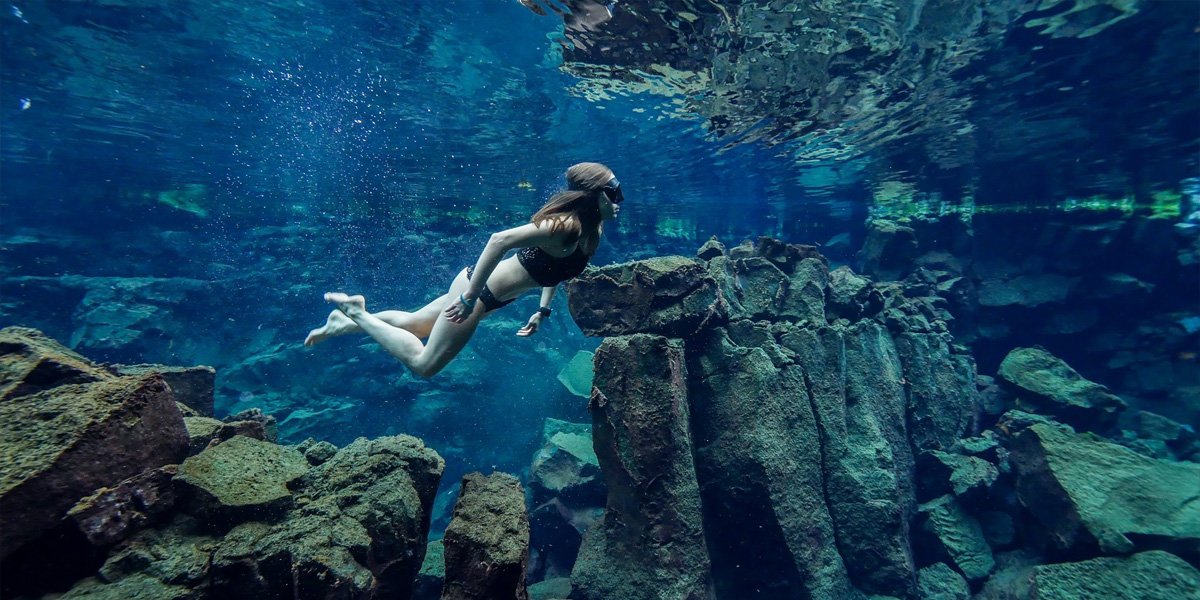 Kiki Bosch in Descent (Running Cloud Productions)
In Descent, Kiki Bosch begins her healing journey diving underwater, pushing her body beyond its limits in the depths of freezing waters.
---

Kiki Bosch is a freediver and adventurer from the Netherlands who uses and teaches the Wim Hof method as tool to reconnect with nature and herself allowing her to dive into ice cold water without a wetsuit. The Wim Hof Method (WHM) involves three "pillars": cold therapy, breathing, and meditation. It has been developed by Wim Hof, a Dutch extreme athlete who set world records for swimming under water and withstood prolonged full body contact with ice. The first question that comes up when Bosch explains that she free dives without a wet suit is always "why", as free diving in freezing waters is an extremely risky activity that allows for a very thin margin for error, and requires subjecting yourself to intense training and adhering to the highest safety standards. In Descent, independent filmmaker Nays Baghai answers this question with an hour-long documentary on Kiki's story, why she started free diving in unforgiving temperatures and how this became cathartic for her recovery from sexual assault, enabling her to find herself again.
Although she has loved swimming since she was a kid and always felt at home in the water, Bosch discovered free diving later on, after a trip to Colombia. It is only after having been a victim of sexual assault in Thailand that her love for water and free diving took a different meaning. Water felt like it was a metaphor for her own inner drowning: she didn't realize the impact the ordeal had on her life, at first. As she was spiralling down into depression and self-guilt, she stumbled across a documentary about Wim Hof, where the athlete suggested people should use his method "to become healthy and strong": at the time, there was nothing Bosch wanted more than that. Therefore, the video sparked her interest and marked the beginning of her healing journey.
Descent takes us into the depth of the icy waters underneath Greenland's ice shelves, around icebergs, to Finland's frozen lakes and to New Zealand's Milford Sound fjord. Knowing what kind of temperatures Bosch submerges herself in, it is impossible not to shiver in amazement and wonder, and you will – as I have – literally hold your breath watching her dive deep into the waters, often in darkness. And yet, the mesmerizing beauty of the underwater world will transport you into an otherworldly realm of blue and green hues, where you cannot help but wonder how magical it would be to hear the icebergs cracking, or the sound of whales, and to be completely present, into a state of being where time doesn't exist anymore.
Nays Baghai and Stefan Andrews's underwater cinematography is truly spellbinding, and the diving sequences are juxtaposed with short interview segments of Bosch, her family and friends and re-enacted childhood moments. Though this juxtaposition often feels disjointed and somehow disorganised, Bosch's insightful remarks, and the way she talks about diving and feeling in unison with the water, make up for the documentary's flaws, allowing us to connect with her and to realize how profoundly therapeutic the cold has been for her. Though the free diver is unable to keep diving in freezing waters as much as she used to, and would like to, Bosch has undoubtedly found her path towards healing. As she beautifully puts it, "I am cracked wide open, to be filled with the joy for yet another breath, knowing there always was, is, and always will be a calm under the wave to guide us and give us direction, so we know where we need to swim". It is with these thoughts in mind that Bosch became a Win Hof Method instructor: she achieved the "impossible" by believing that, in order to achieve "impossible" things, you have to "Disturb the Comfort and Comfort the Disturbed". This means challenging body and mind, comforting whoever needs to be comforted, creating your own tribe. Connecting.
Kiki Bosch's journey to freezing waters is nothing short of wonderful, and although it is quite hard to grasp how the human body can brave temperatures as low as -2°C (28°F), we are actually shown the strength and resilience of the human mind. Free diving is Bosch's mindfulness, the kind of meditation that worked for her, allowing her to withstand these freezing temperatures: "you cannot change the cold, but you can focus on the heat you have within". Once her mind stopped fighting the cold, relaxed and focused on being present, the body itself just blocked the cold out. The diver's beautiful analogy assumes a wider meaning, as she says "we fight so much in life, so when you relax and let go, you get flooded with serenity and peace, the mind becomes still." Descent is not only the beautiful portrait of a fighter, but also an unexpected tale about resilience and the real potential within the mind.
See Also

---
Descent was screened at the Raindance Film Festival on November 6, 2020: click here for more information.
---
JOIN US!
Don't miss our monthly updates with film news, movie-inspired recipes and exclusive content! You'll only hear from us once a month. #nospam