Cop Secret (BFI Flare Review): Reykjavík Vice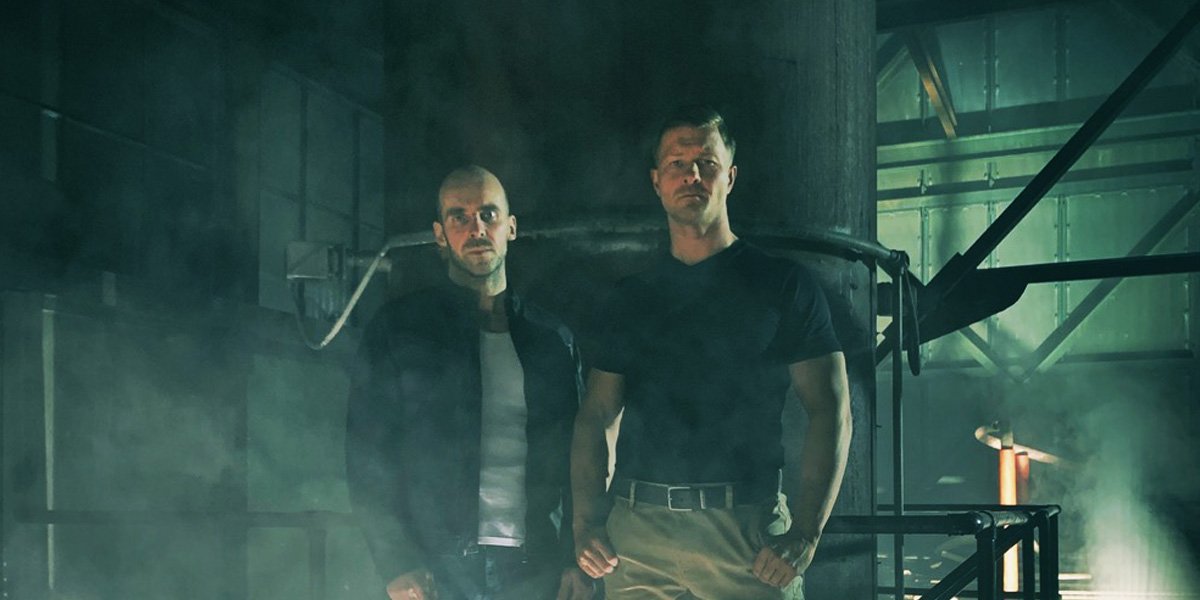 Cop Secret (Courtesy of BFI Flare 2022)
A film that wears its clichés on its sleeve, Cop Secret is an Icelandic cop movie spoof that is effortlessly funny – yet is also about a man coming to terms with his sexuality.
---
Not many film directors can claim to have saved a penalty by Lionel Messi at the World Cup. But Iceland's Hannes Þór Halldórsson can. It is a cool accolade for the goalkeeper, who won 77 caps and represented his country at two major tournaments. Now though, he has retired from football and is moving towards filmmaking. His feature debut, Cop Secret, is an action-comedy that both spoofs and pays tribute to the police movie genre. The results are as awesome as Halldórsson's claim to fame, yet that isn't the only string to the film's bow. Because remarkably, Cop Secret is also about a man coming to terms with his sexuality.
The plot is simple. In Iceland, the police forces in Reykjavík and Garðabær battle each other for TV time. Bússi (Auðunn Blöndal) is the main detective in Reykjavík, a renegade who looks like a bit like Jason Statham. And he fulfils all the clichés in the book. He is trigger-happy. He has no respect for the rules, brushing off barbs from his commissioner (Steinunn Ólína Þorsteinsdóttir). He's a loose cannon who gets results. However, Bússi is vastly different in one way. Garðabær's main cop is Hörður (Egill Einarsson), a dapper, muscular, pansexual former model who speaks 15 languages – except Danish "on principal," as he says. Bússi pretends to be jealous of the new hot cop, but his unsure looks suggest some repressed romantic feelings.
Meanwhile, the police are perplexed by a string of bank robberies where the robbers have not stolen anything. The man behind these crimes is Rikki Ferrari (Björn Hlynur Haraldsson). He used to model with Hörður until a fiery car accident. Now he is a psychopath with an evil plan involving a computer virus, the city bank's gold bars and a bomb at the big women's football match between Iceland and England (as would be expected from Halldórsson). Bússi and Hörður must now partner up to find Rikki and put a stop to him and his crew. Will Bússi accept his true feelings for Hörður? And will they be able to save the day?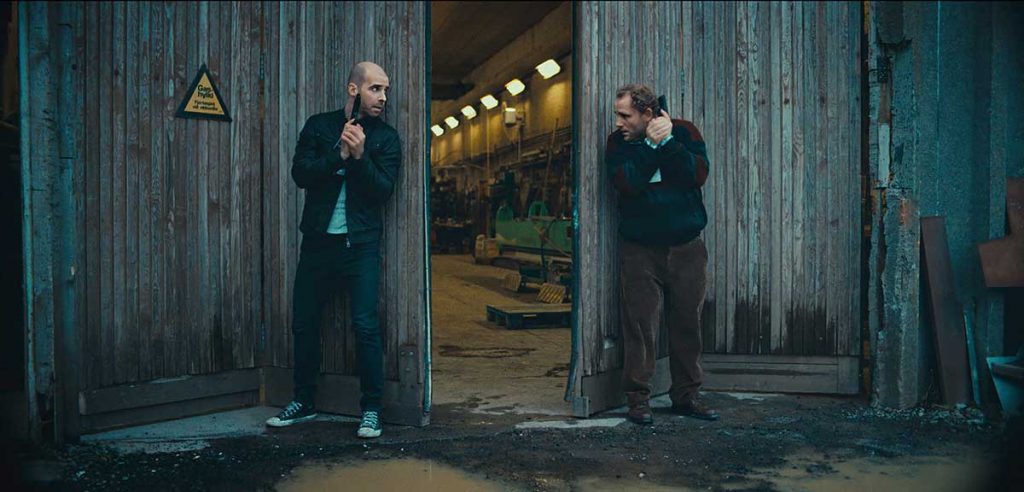 All the cop movie clichés are here in full force, like a Nordic Lethal Weapon. There are the two detectives that have to work together despite their enormous differences. The angry commissioner. The scenery-chewing supervillain (who speaks English despite his goons speaking Icelandic). There are car chases, gunfights and Mexican standoffs in abundance. We even get a Bad Boys II-style camera pan around the duo at one point. Cop Secret wears these clichés on its sleeve whilst adding a tonne of testosterone and excessive violence. And it always feels like it is in on the joke rather than unoriginal. It helps that the script by Halldórsson, Sverrir Þór Sverrisson (who also plays Bússi's beleaguered sidekick Klemenz) and Nína Petersen is hilarious and full of quips. So much so that Bússi and Hörður can have a quip-off in the middle of one tense scene.
But whilst the film is stupid fun, it is also a film about acceptance and sexuality. Cop Secret is a pun on 'top secret', but it is also literal – it's about a cop with a secret. Specifically, the closeted Bússi and his secret admiration for Hörður. This grizzled detective is assigned a lot of characterisation that is used to show how far he tries to hide his true emotions. He is an alcoholic gambler who guzzles Jägermeisters on the job. His apartment is messy, and his girlfriend (Júlíana Sara Gunnarsdóttir) is getting worried at their increasing distance. By contrast, the suit-wearing Hörður is way more sophisticated and secure in his sexuality. However, as the old saying goes, opposites attract.
And Bússi is definitely attracted to Hörður. As the film progresses, he realises he doesn't need to hide behind his masculinity or old-school methods. This is a complex film about not being ashamed of who you are. And director Halldórsson isn't ashamed of this, nor does he try and mock it – he embraces it. Near the end, when our heroes are in an incredibly precarious position, Hörður is shirtless, whilst Bússi is in a Bruce Willis tank top. The most homoerotic elements of the buddy cop genre are amplified, lovingly used as part of Bússi's journey of acceptance. Auðunn Blöndal's performance as the tortured cop – close to parody whilst staying sincere and empathetic – helps tremendously.
Cop Secret's uncomplicated formula does get predictable after a while. Its low budget means the special effects are shoddy, though they pull off everything else convincingly. And the ending sees everything wrapped up a bit too easily. But even though it isn't perfect, Hannes Þór Halldórsson's spin on the cop movie is effortlessly funny and consistently entertaining. The action is well-filmed, the script is always aware of the joke, and the 80s aesthetic (complete with electric guitar) reinforces the tribute being paid to the genre. And in the end, it's two manly cops being manly and confident in their homosexuality, which is wonderful to see. Plus, it's also a good advertisement for the Iceland women's football team.
---
Cop Secret was screened at the 2022 BFI Flare Film Festival on 23-27 March, 2022. The film will be released in cinemas in the UK on 23 May, 2022.
---
JOIN US!
Don't miss our monthly updates with film news, movie-inspired recipes and exclusive content! You'll only hear from us once a month. #nospam