Compartment No. 6 (Review): Midnight Train to Murmansk

Seidi Haarla as Laura in COMPARTMENT NO. 6. (Sami Kuokkanen/Aamu Film Company. Courtesy of Sony Pictures Classics.)
Juho Kuosmanen's tremendous Compartment No. 6 goes on a journey of discovery, companionship and petroglyphs, with a wonderful performance by Seidi Haarla.
---

Laura (Seidi Haarla) is a student from Finland who is interested in archeology. She lives in Moscow with her partner Irina (Dinara Drukarova), occasionally attending parties with high-brow literary discussions. However, Laura is leaving tomorrow; she is travelling to the city of Murmansk to see a set of petroglyphs (also described as 'rock paintings'). It is a 2,000km trip by train, and Laura will be carrying it out alone. Irina was supposed to join her, but work has gotten in the way. And as Laura sets off on her journey, she is dismayed to discover she must share a compartment with a Russian named Lyoha (Yuri Borisov). A curt, messy, vodka-drinking miner looking for work in Murmansk, Lyoha could not be more different to Laura. Yet, as they get closer to their destination, they find themselves slowly forming a bond.
Co-winner of the Grand Prix at Cannes last year, Compartment No. 6 is the second feature film from Finnish director Juho Kuosmanen (his debut film, The Happiest Day in the Life of Olli Mäki, won the Un Certain Regard at the 2016 festival). Here, Kuosmanen sets his story of discovery, companionship and petroglyphs on a Russian train. He does give some character to this multi-car train and the passengers on it. The bathroom is old-fashioned with no working water. Bribes are common and sometimes work (near the end, Lyoha bribes some waiters for a bottle of alcohol). We even see some slices of life disrupt Laura and Lyoha's story – a conversation they have in the dining car is interrupted by a large family who spread themselves across their two tables.
But Compartment No. 6 is mainly about the friendship between Laura and Lyoha. These strangers, who both have wildly different traits, are forced to share the same tiny space on this incredibly long voyage. Their first meeting doesn't go well. Lyoha initially thinks Laura is from Estonia, and she has to awkwardly sit through his drunken ramblings and rude comments. It goes so badly that Laura tries – and fails – to find another spot on the train away from him. Gradually though, the pair connect and reveal themselves to be more vulnerable than first suggested. This is especially true for Laura, who is played by the brilliant Seidi Haarla.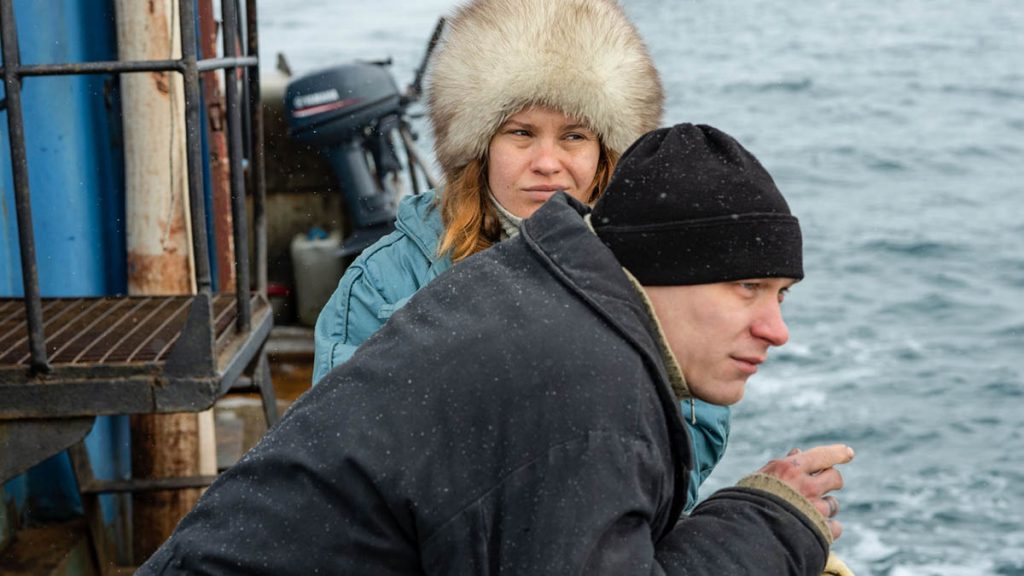 Early on, we get the sense that the demands and isolation of the journey are getting to Laura. When the train stops at St Petersburg, she almost heads home before a phone call to Irina changes her mind. When Lyoha proposes visiting someone in Petrozavodsk, Laura joins him just so she isn't alone for the night. And when she meets a fellow Finn in Sasha (Tomi Alatalo), she spends some time with him (even if it initially drives a wedge between her and Lyoha). Haarla's wonderful performance makes Laura an easily sympathetic character – sensitive and a little introverted, clearly missing the person she considers her rock. Elsewhere, I appreciated the film's pacing, which is very much like an old locomotive. It trundles along, occasionally stopping for some character beats or brief moments of conflict. It also allows Kuosmanen to focus on Laura, Lyoha and the evolution of their companionship, skilfully captured through J-P Passi's handheld camerawork.
Filled with empathy and warmth, Compartment No. 6 is a tremendous film that takes us on a surprising yet fulfilling journey, giving our main character the platonic appreciation she needed. That is all but confirmed in the final third, when Kuosmanen takes away the purpose of Laura's long trip. Now she must move around Murmansk, desperately trying to find a guide and with the petroglyphs just out of reach. And that leads to a realisation. This whole journey has been about giving Laura not what she wants (the petroglyphs) but what she needs: companionship and comfort. By the end of Compartment No. 6, as we see glimpses of Laura's cheerful face, we can see that Laura knows as well.
---
A Sony Pictures Classics release, Compartment No. 6 opened in theaters in NY (The Angelika) and LA (The Royal) on January 26, 2022.