Cinderella: An Unnecessary Readaptation (Review)

Camilla Cabello and Nicholas Galitzine star in CINDERELLA (© 2021 Amazon Content Services LLC)
Kay Cannon's Cinderella fails to assess its relevance, as a timeless story is readapted yet again for the modern era. 
---
In 2015, Kenneth Branagh released his lavish live-action remake of Disney's Cinderella, starring Lily James as the titular character. This modernized version of Charles Perrault's tale felt like the definitive version of the character for the modern era and didn't need to be remade for about twenty years or so. But Sony Pictures said otherwise and fast-tracked a jukebox musical readaptation of the tale in April of 2019. After the COVID-19 pandemic delayed the film multiple times, with Sony ultimately selling the film's rights to Amazon Prime Video, Kay Cannon's version of Cinderella is finally here and it's as unnecessary as you think it is, even if the film's star-studded cast does their best to stay above the script's perfunctory material. 
If you've seen Disney's versions of Cinderella (whether it be the animated, live-action, or Rodgers and Hammerstein's TV movie), then you don't need to see Amazon/Sony's version. Whereas the Rodgers and Hammerstein TV movie had memorable original songs and colorful characters, Sony's Cinderella solely relies on current pop culture trends and modern songs to drive its classic narrative, instead of an original update on the character. Audiences are treated to the exact same emotional beats as the previous films, without modernizing its story or its characters (except for a gender-swapped Fairy Godmother played by ever-fabulous Billy Porter) to justify why the story is being readapted a mere six years after its last live-action readaptation. 
Cinderella is played by Camila Cabello and has aspirations to become a dressmaker, even if the patriarchal society she lives in prevents her from making her dreams come true. Her stepmother (Idina Menzel) wants her to marry as soon as possible so she can leave the house, but she refuses to be betrothed to someone she doesn't love. In the Castle, King Rowan (Pierce Brosnan) tells his son, Robert (Nicholas Galitzine) that he must marry soon if he would like to become King one day. During the changing of the guard ceremony, Robert sees a fearless Cinderella not being afraid to challenge the King, and becomes obsessed with her. After that, the usual beats of the story are found: the Prince decides to throw a ball in the hopes that Cinderella will show up, her stepmother prevents her from attending it until her Fairy Godmother (or, in this case, Fabulous Grandmother) shows up and transforms her mice (James Corden, James Acaster and Romesh Ranganathan) into Footmen so she can go to the ball, the clock strikes midnight, she leaves her glass slipper, the quest to find her begins, we've seen it all.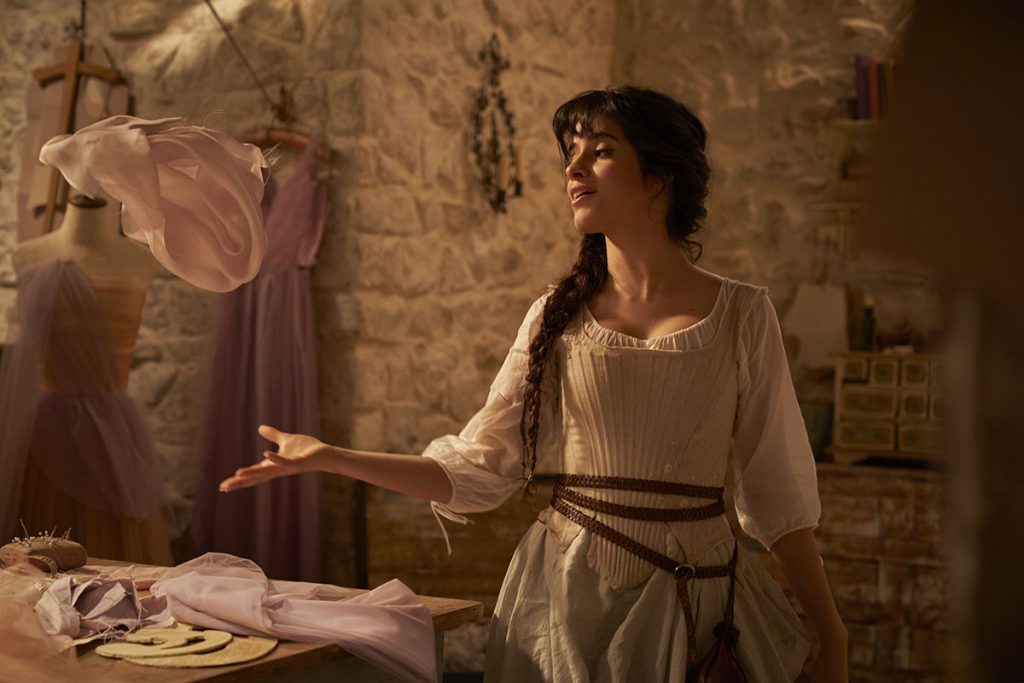 The worst part about Cinderella is neither the barrage of known pop songs, such as "You've Gotta Be", "Somebody To Love", "Let's Get Loud" or "Seven Nation Army," that act as musical numbers, nor the painfully unfunny comedy of James Corden (and the horrifying shot of his human head on the body of a mouse that I keep seeing every time I close my eyes), but the sole fact that it never does anything remotely different to distance itself from previous live-action adaptations of Cinderella. Now, some will say that the film tries to do something distinct with the insertion of modern pop songs, but there isn't anything original about inserting pop music into the world of Cinderella when the film's atmosphere and setting can't justify any of these songs. The film is set in the 18th century and the story of Cinderella has always been amazingly sumptuous and luxuriant: its music, then, has to be grand. Using pop songs when its setting doesn't warrant it just feels like a bad anachronism instead of having meaning or emotional weight to the story. It crafts large-scale musical numbers for songs that weren't conceived for the film in the first place, and hides its original songs in small-scale musical numbers as if the team behind the film were unconfident about their place in the film. 
But why be afraid about the fact that you've got Camila Cabello, Idina Menzel, and Billy Porter in your film, who have already proven themselves to be terrific performers and singers, and bury them in known songs instead of relying on their talents to drive the songs you've specifically created for the film? The problem is, Cinderella's story has already been adapted countless times in memorable movies and animated classics. It needs something else than twisting a familiar story to spice itself up and justify its relevance in our social-media-driven era. Teens may enjoy Cabello as Cinderella, but why watch an inferior adaptation of a timeless classic, when the definitive live-action version of the story came out not too long ago?
I will admit, however, that I did enjoy seeing Pierce Brosnan singing in the most ridiculous fashion. Of course, if you didn't like his singing in the Mamma Mia! movies, you clearly won't enjoy this, but it's great to see Brosnan having so much fun and not caring what anyone thinks of his singing. Brosnan is absolutely bathed in ridiculousness throughout, so much so that he's the only actor that doesn't phone in his performance and genuinely enjoys playing such a detestable King, who only cares about his own conservative and patriarchal interests. It's very funny to see him break into song and dance at times, and you can clearly tell he has lots of fun throughout. All of the other actors don't seem to have any fun and feel contrived in their roles, save for Porter, though his talents are massively underused as he spends most of the film narrating the story through unnecessary voice-over, instead of having an important presence in Cinderella's journey. The film makes him sing Earth, Wind, and Fire's "Shining Star" instead of having an original song to accompany his character, which exacerbates how the film wastes popular actors' talents. 
Compared to other iterations of the princess, Camila Cabello doesn't make an impression as Cinderella. Her auto-tuned voice during singing sequences undermines her artistic talents, and the material she receives to make her Cinderella stand out is more of the same stuff from previous adaptations. I'll admit that it's getting quite tiresome to watch the same story being re-hashed for a modern audience every five to ten years, instead of developing original stories that will push the boundaries of cinema further than recognizable IP that already have been overexploited. Much like Peter Pan adaptations, Cinderella is another property that should be laid to rest and let the existing films assess its timeless nature, instead of constantly trying to modernize it. The quicker studios realize that, the better. That being said, I'm quite curious to see what David Lowery does with Peter Pan next year…
---
Cinderella was released on Amazon Prime Video on September 3, 2021.
---
WATCH CINDERELLA:
---
JOIN US!
Don't miss our monthly updates with film news and exclusive content! You'll only hear from us once a month. #nospam