Chevalier (2023): Film Review

Kelvin Harrison Jr. in the film Chevalier (Larry Horricks / Searchlight Pictures. © 2023 20th Century Studios)
Chevalier is gorgeously produced, but a too-surface-level script stops it from being anything better than good.
---

One of the best parts of living in our current times is that people of intersectional identities can now tell their own stories on a widely seen platform more than ever. Chevalier joins the ranks of films such as The Woman King, where the story has minorities at the forefront of the narrative and filmmakers share the same identities. Even though there are some issues with Chevalier, it is always important to acknowledge that stories such as these deserve to be as accessible as possible, so that people have a seat at the table when telling their identity's story.
Getting into Chevalier now, the film follows Joseph Bologne, Chevalier de Saint-Georges (Kelvin Harrison Jr.), a real-life composer deemed one of the best violinists and composers of his time. Since he was a man of color, he fought for equal opportunity for fame and love during his most prominent years. In doing so, he participated in an ill-fated love affair with an opera singer (Samara Weaving of Scream Vl) and sparked a feud with one of his most important supporters, Marie Antoinette (Lucy Boynton of The Pale Blue Eye).
Chevalier is a studio-backed film, and it uses every cent of its budget to look phenomenal. From a crafts perspective, almost every frame of this film is beautiful to look at. The production design by Karen Murphy is just as lavish as period pieces should be, and the costumes are just as great. The look of the film feels like a perfect blend of what audiences expect period pieces to look like, with flairs of contemporary culture sprinkled throughout.
Even with Chevalier's high production value, for me, the most important part of a film is the story, which is this film's only fault, but it's a significant one. Chevalier tells the story of one of the world's first Black composers, which is already a huge subject to tackle. On top of this, since this story takes place in France during the 18th century, audiences are able to see the political unrest that was going on during this time. Chevalier's script tries to tackle all the racial and gender politics by telling Joseph Bologne's story, but doesn't do so successfully.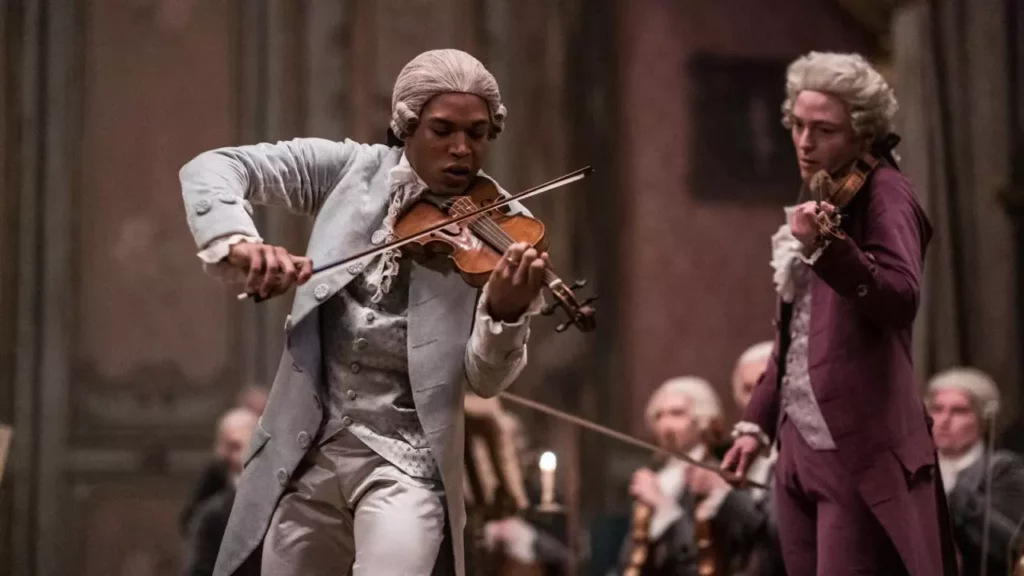 The film is written following a known formula that a lot of biopics take. For example, the audience gets introduced to the central biopic character, we get some context about their childhood, and then the central issue occurs, usually offering some contrast about the time period or culture that the story takes a part of. Sometimes, this formula works, allowing audiences to get a full scope of someone's life and achievements in a simplistic way.
However, a film like Chevalier, whichis about a forgotten figure in history who faced numerous societal issues, should feel less formulaic. Having this style of storytelling tackle social issues makes the discussion of those issues feel too surface-level, and it actually takes away from some of the best parts of the movie. In the film, there is always space for mention and discussion of social issues, but when it is done, that discussion needs to be fruitful. Here, it feels like the filmmakers were just checking a box. For example, there's a side plot of a revolution forming in France, and it is mentioned numerous times throughout the film. Even though we hear about it a lot, we don't get enough discussion of what the revolution is exactly, and how it is important not only to our protagonist, but also the time period of Bologne's life.
See Also

However, even though the script isn't as strong as the rest of Chevalier, the direction and performances make the film worth your time. Filmmaker Steven Williams directs the hell out of this film, making the music scenes feel thrilling, and drawing great performances out of the actors. Kelvin Harrison Jr gives yet another phenomenal leading performance, supported by a great Samara Weaving who gives an equally emotionally rich turn.
Overall, with a story as strong as this one, Chevalier could have been a much better movie, but that doesn't necessarily mean it's bad. Besides the writing, from the score to the cinematography, there is so much to love within it, so it is certainly worth your time.
---
Chevalier will be released in US theaters on April 21, 2023.