Charli XCX: Alone Together (BFI Flare Review): How We Felt Then

Charli XCX: Alone Together (Blue Finch Films | Courtesy of BFI Flare 2022)
Charli XCX: Alone Together is a brilliant, mesmerising documentary about the power of creativity and community during a difficult crisis.
---

Charli XCX may be one of the most influential musicians of her generation. After breaking through in 2014, she gradually became one of the leading figures in the hyperpop genre. By 2019, she was embarking on her first headline tour for her newest album 'Charli'. She had also amassed a legion of LGBTQ+ fans and allies that gave themselves the nickname 'Angels'. Then, in March 2020 came the COVID-19 pandemic. We were effectively locked down in our homes, unable to go anywhere. Quarantining in L.A. with her boyfriend Huck and her managers, Charli had a heavy presence on Instagram cooking, painting and exercising with some famous friends. But whilst it looked fun, Charli also felt waves of anxiety and negativity. She wanted to do more.
So, she made an announcement to her fans: she was making a new album. It would be titled 'how i'm feeling now', and she opened the process up to her 'Angels' using her social media and Zoom. She would share demos and vocals, ask for their help on music videos – they would even end up helping her write the verses for some of the songs. And the album would be coming out in 40 days. It is a momentous undertaking – some would say insane. Either way, Charli has around five weeks to do what record companies usually take a year to produce.
Charli XCX: Alone Together is about the making of an album during a difficult period. The film is directed by Bradley & Pablo, a pair of music video directors who have worked closely with Charli before. They use footage from various sources in a collage style. Charli documented the entire process and her daily life (including the intimate moments) on camcorders, and there are also the Instagram and Zoom livestreams where she interacted with her fans. In-the-moment concert footage represents happier times, contrasted by fans filming themselves in their bedrooms during the lockdown. There are shots of mobiles and phone screens, the frames we used to keep up to date with everything and tried to escape. Digital avatars and environments represent the inclusive, diverse community of 'Angels' that are together even when apart. Arguably, the quick editing, digital techniques and DIY camerawork create a filmmaking equivalent to the hyperpop genre Charli is associated with – hyper-filmmaking, if you will.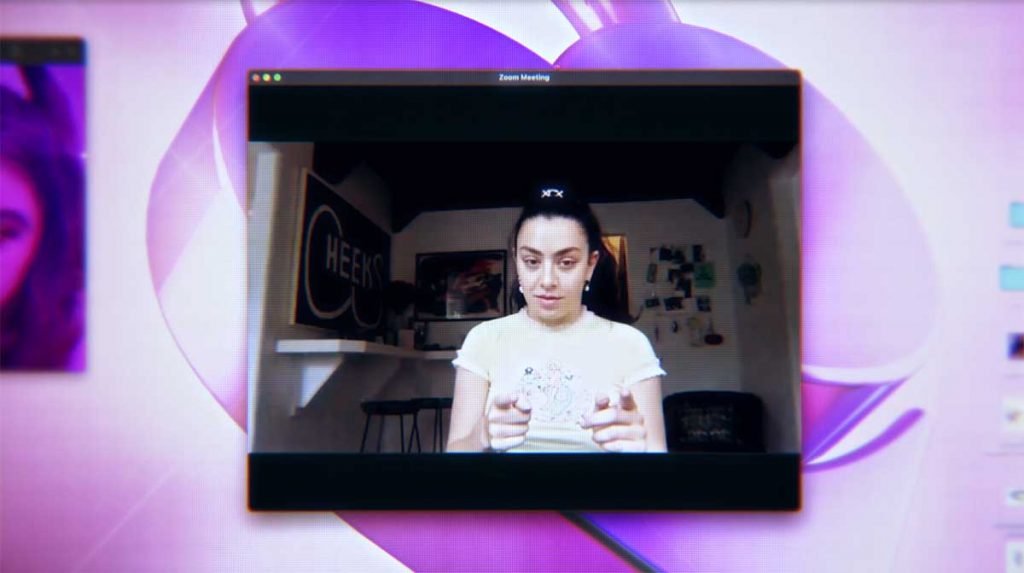 The sense of community is very much evident here. Charli's massive group of devoted LGBTQ+ fans (which she specifically mentions at the start of the film) install confidence in her and support each other. They may be spread out across the globe, but thanks to the Internet, they are digitally interconnected. And the lockdown is a draining, isolating experience for everyone. As one 'Angel' says, "you don't realise how often you crave human touch". So they come together and help Charli, who tapped into that loneliness and desire to go out for her album. The film shows her producing club tracks for a time when you couldn't go to the club. Instead, they become songs to dance in your bedroom to – and we see a montage of fans doing just that to 'Anthems'.
As much as Charli XCX: Alone Together is a documentary about making an excellent album and a community of fans banding together, it is also about the artist at the centre. The film starts during Charli XCX's biggest tour and focuses on her emotions at multiple points. Moreover, much time is devoted to her relationship with her boyfriend Huck Kwong (though they have since split up). Even during her tour in Fall 2019, Charli felt lost and unfulfilled, always looking forward to the next thing. And as the lockdown continues and the struggles of making a creative project under tight constraints get to her, insecurities come to the fore. And the film can be quite emotionally raw at times, with Charli opening up and breaking down. This album is an escape for her and her fans.
Charli XCX: Alone Together is a brilliant and mesmerising documentary about the making of what became a critically acclaimed album during the pandemic. Directors Bradley & Pablo effortlessly inject style and humanity into the film – style in its hyperpop-inspired look and humanity into its themes of mental health, isolation and LBGTQ+ communities. It is a snapshot of creativity and community during a difficult crisis, as people bond over the ways we feel alone. There is power in creating something that reflects the tough times we are living in, and there is even more power in coming together and celebrating it. Charli XCX: Alone Together demonstrates both in compelling detail.
See Also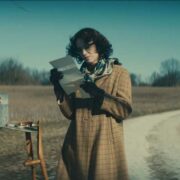 ---
Charli XCX: Alone Together had its UK Premiere at the 2022 BFI Flare Film Festival on 17 March, 2022, and will be available to watch on the BFI Player till 27 March. Click here for tickets and here to read more reviews from the festival.
Charli XCX: Alone Together will be released in the UK in cinemas on April 14 and on digital platforms on April 18. The film is available to watch on digital in the US and select countries worldwide.
---
JOIN US!
Don't miss our monthly updates with film news, movie-inspired recipes and exclusive content! You'll only hear from us once a month. #nospam