Cassandro (2023): Film Review

Gael García Bernal gives a great performance in Cassandro, the often entertaining lucha libre biopic about an inspirational exótico.
---

The story of pro wrestling star Cassandro – real name Saúl Armendáriz – is perfect for a movie. In the world of lucha libre (a high-flying variation of the form from Mexico), this larger-than-life figure has battled addiction, challenged boundaries and won titles. In the process, he became one of the most recognisable faces in lucha libre. As a result, Cassandro has had documentary films made about him, from Marie Losier's Cassandro, The Exotico to The Man Without a Mask. The latter was directed in 2014 by Roger Ross Williams, the Oscar-winning filmmaker who later did a brilliant job on Life, Animated. Now, Williams returns to this familiar subject for his first narrative feature.
In the late 1980s, Saúl (Gael García Bernal) is an openly gay wrestler who travels across the US/Mexico border to perform in an auto shop. He performs as El Topo, a masked jobber who gets squashed (i.e. easily beaten) by wrestlers like the massive Gigántico. Saúl then heads back home to El Paso, Texas, where he washes cars and delivers laundry with his mother Yacosta (Perla De La Rosa). One day, he meets trainer Sabrina (Roberta Colindrez), who encourages him to create a new character. One that is based on an exótico, a flamboyant and feminine male wrestler who dresses in drag and always loses.
Taking inspiration from a Venezuelan soap opera and using his mother's old outfits, Saúl becomes Cassandro and slowly wins over the crowd. But he wants to do more. He wants to win his matches – a rarity for exóticos like himself. Despite this, Cassandro slowly works his way up the ranks to become a big name and earn a match with legendary luchador El Hijo del Santo (playing himself). However, that will come at a cost. Saúl will suffer from great losses and a mounting addiction to drugs, and his relationships with Yacosta and his secret lover Gerardo (Raúl Castillo) will be affected.
Argentinian DP Matias Penachino moves and rotates the camera a lot, matching the fast pace of the wrestling in the ring. Some shots are captured in gorgeous slow motion, whilst the bout with El Hijo del Santo has a crisp TV frame rate in places. Marcelo Zarvos' score features a heroic theme that could come from a Spaghetti Western. That is complemented by real songs for entrance themes, a crucial part of pro wrestling. For instance, Cassandro's debut entrance is to a Spanish cover of 'I Will Survive' by Gloria Gaynor. It is part of a soundtrack that includes disco from Baccara and ballads from Mexican artist Juan Gabriel. And the costumes by Mariestela Fernández – not just for Cassandro's attires but for Sabrina too – are very good.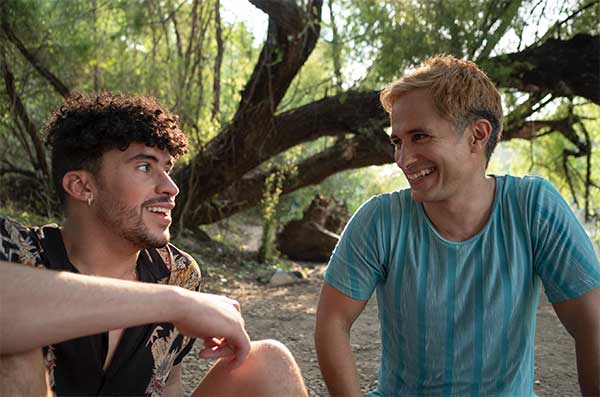 As is the cast. Alongside Castillo, Colindrez and De La Rosa, we have veteran Mexican actor Joaquín Cosío playing Cassandro's agent Lorenzo. Plus, reggaeton artist and part-time WWE superstar Benito Antonio Martínez Ocasio (AKA Bad Bunny) has a small role as aide Felipe. However, it is Gael García Bernal who rightly stands out. He gives a smiley, charismatic, playful performance that can also be sensitive, which conveys the two sides to Saúl's personality. He may have to be convinced by Sabrina to become an exótico, but he takes to it like a duck to water, encouraging the homophobic heckles from the audience.
Yet, as Saúl later says regarding his in-ring character, "he and I are so different." Outside the squared circle, the courage to find his true identity contrasts with the fear of the real world. Saúl's affair with Gerardo is loving but in secret, with Gerardo unwilling to sacrifice his wife and sons. He has a close, unconditional relationship with his mother, but she tells him to be careful, fearing a homophobic attack. Then there is his absent father Eduardo (Robert Salas), who Saúl and Yocasta sometimes see from afar. He was the one who introduced the young Saúl to lucha libre, but when he came out as a teenager, Eduardo abandoned them.
There are a couple of questions you might have heading into Cassandro. First, does the film accurately capture the world of lucha libre? And the answer is yes, to an extent. Whilst there is nothing on the inner workings of the pro wrestling business, Williams and co-writer David Teague (his usual documentary editor) manage to recreate its colourfulness and vivacity. There is El Hijo del Santo in the ring and on his TV show, as well as references to his father – the god-like figure El Santo. And the opening scenes effectively demonstrate the macho, hypermasculine environment that Cassandro will later fight against.
The second question is how do you distil Cassandro's fascinating life into a 107-minute film? Williams' solution is to focus mainly on the rise of this inspirational figure. Just as luchadores are known for their quick speed, Cassandro moves a bit too quickly between certain moments. The pacing in the second half feels off, with a somewhat rushed ending to boot (or big boot, if you are a wrestling fan).
Despite the training montages and moments from your archetypal sports movie, Cassandro is more than a standard biopic. It is an engaging, often entertaining drama that treats pro wrestling and Mexican lucha libre with the reverence it deserves. It may be a fake sport, a choreographed fight with a set ending. But it is also a poetic art form that, as Lorenzo says, "offers escape" and a place where "good triumphs over evil." And although Losier's Cassandro, The Exotico is a more warts-and-all depiction of Saúl's story (and is well worth a watch), this is a perfect introduction to lucha libre.
Fittingly, since the term literally translates to 'free fight', Cassandro is a film about finding freedom through fighting. All the luchadores look like superheroes with their traditional masks and athletic moves. Cassandro becomes one by taking his off. The self-described "Liberace of lucha libre" is a born performer who uses his wrestling skills and showmanship to change the sport and become a Queer trailblazer. And when faced with prejudice and homophobia, he overcomes it by showing the fight within him. As his first entrance theme states: first he was afraid, he was petrified. But he grew strong, and now he will survive.
---
Cassandro is out now in US theaters and UK cinemas and will be released globally on Prime Video on September 22, 2023.