Blue Jean (Review): An Exceptional Debut Film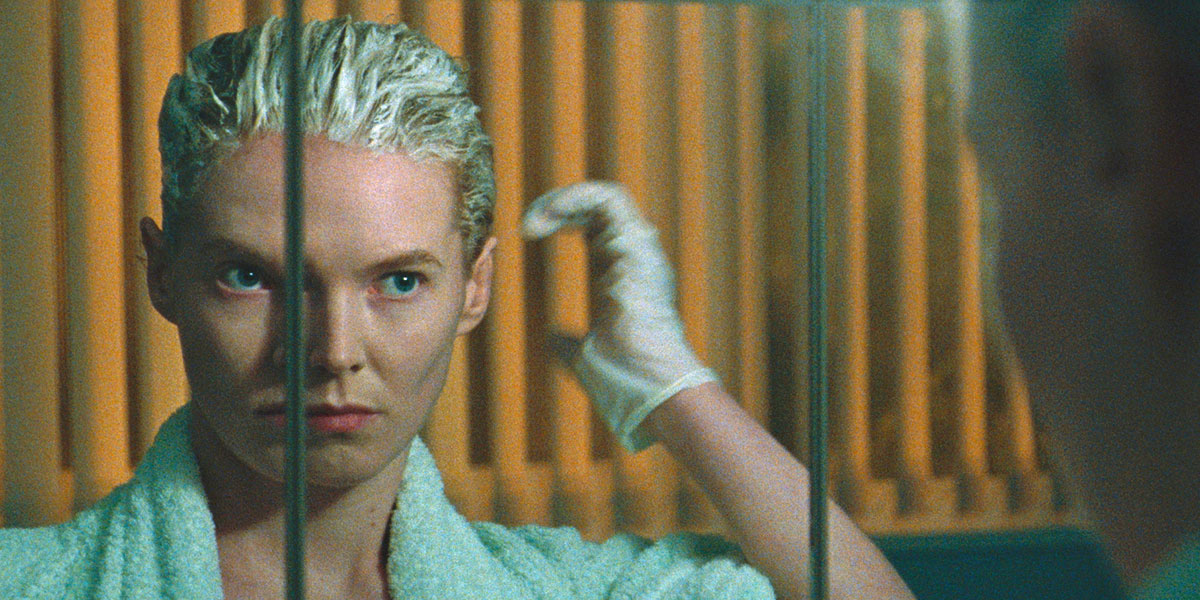 Blue Jean (2022 BFI London Film Festival)
Rosy McEwen gives a phenomenal performance in Blue Jean, the Thatcher-era drama that marks the exceptional debut of British director Georgia Oakley.
---

What a year for female British directors making their debut films. 2022 has already seen Scottish filmmaker Charlotte Wells arrive on the scene with Aftersun, her stunning drama about depression and memory set at a Turkish holiday resort during the late 1990s. Aftersun will appear at the London Film Festival next week, but before then, Georgia Oakley's Blue Jean premieres as part of the 'First Feature Competition.' Like Wells, Oakley made her name with short films and has gone to the past for her debut feature. In Blue Jean (which Oakley has also written), we are in the North of England during the 1980s and the reign of Margaret Thatcher. The result is an exceptional film.
Tyneside, 1988. Jean Newman (Rosy McEwen) is a lesbian PE teacher and netball coach at a secondary school. During the day, Jean is a popular but closeted teacher who refuses invitations to the pub from her colleagues. That is because, at night, she regularly heads to an underground bar to spend time with her partner Viv (Kerrie Hayes) and their circle of lesbian friends. Jean is clearly in two worlds, keeping her work life and her sexuality separate. It turns out to be necessary, a means of protection against a society slowly starting to vilify her and the rest of the LGBTQ+ community.
During this period, a row was brewing over the government's introduction of 'Section 28', which prohibited "the teaching of the acceptability of homosexuality as a pretended family relationship." It was, in effect, a whitewashing that practically criminalised any gay teacher in the 1980s. And it leads to Jean becoming nervier as she tries to hide her identity from the other teachers. Meanwhile, Jean tries to welcome new student Lois (Scottish actress Lucy Halliday) and incorporates her into the netball team, to the consternation of fellow student Siobhan (Lydia Page). Then Jean sees Lois at her queer night spot, a sign that despite her best efforts, her worlds are about to collide.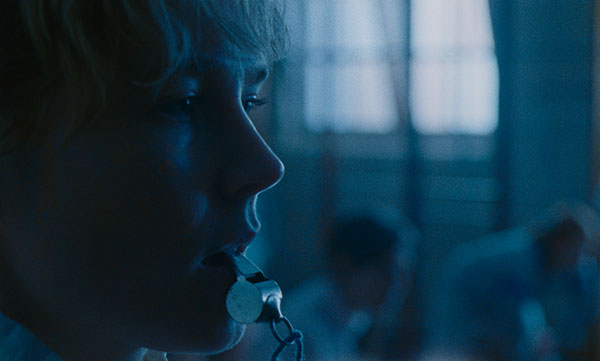 Britain in the '80s may have been a time of SlimFast and Cilla Black, but, as Blue Jean demonstrates, it was also a time of growing homophobia. Oakley reinforces this through some impeccable world-building. News clips on the TV and radio make us aware of the discussions surrounding Section 28. A billboard reads: "Take the Politics out of Education." And we hear Jean's fellow teachers supporting the clause and its aim to protect the children. This is why she has created this double life – and why she is so fearful when it is in danger of being exposed. Everything is now under threat – her job, her chances of teaching again, and even her family life. It is already quite precarious, with her recent divorce, the mother she never sees and the sister who is part of a 'traditional' (heterosexual) family unit and unwilling to acknowledge Jean's sexuality.
Blue Jean takes its name from the David Bowie song of the same name – which is fitting because Jean looks a bit like Bowie with her short, freshly dyed-blonde hair. She is played by a phenomenal Rosy McEwen, who perfectly captures that sense of entrapment, where every option puts her livelihood and identity at risk. And as she slowly loses control over this volatile situation, she starts making decisions that save her skin but slowly erode who she is. There is also a wonderful supporting cast, particularly Kerrie Hayes. She is a revelation as Viv, the forthright partner not as afraid to express her sexuality in public as Jean.
The film replicates the gritty British films from the Thatcher era (like My Beautiful Laundrette) whilst also possessing a stylishness reminding you of Joanna Hogg's Souvenir films. Every shot from DoP Victor Seguin is sublime. 16mm film achieves a grainy aesthetic, with Seguin also using soft blue hues and close-ups of McEwan's worried, distant looks as her environment closes in around her. Soraya Gilanni's production design and the androgynous costume design from Kirsty Halliday are both great. And the score by Chris Roe adds dramatic heft to the film, complementing the constant, specifically curated soundtrack of 80s music (New Order's 'Blue Monday' being the most recognisable song.)
I was captivated by Georgia Oakley's Blue Jean, an extraordinary film about the prejudice stoked by Thatcher's Section 28 and the personal effect of that law. It is a film where every element works extraordinarily well, right down to a flawless performance from Rosy McEwen that conveys the fear and paranoia of her situation. And whilst it is definitely period-accurate, the thing that makes Blue Jean so enthralling is how timeless the film feels. Is it because it is so well-made, or because social and political values in the UK have not progressed much since? The fact it is a little bit of both enforces why Oakley's outstanding debut is a must-watch.
---
Blue Jean premiered at the 2022 BFI London Film Festival and is now available to watch on digital and on demand in the UK. The film will be released in US theaters  starting June 9, 2023 in New York and June 16 in Los Angeles and additional cities.