Blue Beetle: Movie Review

(© 2023 Warner Bros. Ent. All Rights Reserved. TM & © DC)
Despite a familiar structure and shoddy visual effects, Blue Beetle 's self-contained story and energetic action sequences keep the story moving. 
---

*This review of the movie Blue Beetle was written during the 2023 WGA and SAG-AFTRA strikes. Without the labor of the writers and actors currently on strike, the movie being covered here wouldn't exist.*
---
Is the DCU here? Who knows, but James Gunn certainly wants you to believe that Jaime Reyes (Xolo Maridueña) will be a major part of his franchise going forward, and he even said that this was the "first" film in the DCU. Time will tell if this is true, because it feels like he wants viewers to see films he wasn't involved in before the franchise reboots itself. Blue Beetle is largely self-contained enough to be properly integrated into the DCU, should Gunn have plans for it. With the superhero genre facing a massive identity crisis lately with Marvel's Secret Invasion and The Flash, it's great to see one that's actually good, even if it can't overcome familiar origin story beats. 
We've seen it all before: the hero gets his powers. This time, it's in the form of a scarab that binds in Jaime's DNA, which he gets after Jenny Kord (Bruna Marquezine) tells him to guard it with his life. Jaime wanted a job and was willing to do anything after being fired by Victoria Kord (Susan Sarandon). Jenny tells him to show up at Kord Industries the next day, but what he doesn't expect is that he becomes a superhero. Victoria and her henchman Carapax (Raoul Max Trujillo) are looking for Jaime and the scarab, which she wants to utilize to build her One Man Army Corps (OMAC). It's a rather basic plot, and Victoria Kord easily takes the running of worst comic-book villain of the year. 
It's even worse when this legendary actor has to say the entire film's most ridiculous and uninspired lines. Sarandon, in turn, gives the worst performance of her career, lacking the campy energy to make her villainous portrayal work. Sharon Stone was originally attached to play Kord, and she would've been a better fit to sell the maniacal aura the villain should have, but since Sarandon plays her with the flattest possible energy, it unfortunately doesn't work. And she's the main villain of the entire thing, while Carapax, the far more interesting and developed antagonist, is relegated to second fiddle. Director Angel Manuel Soto and screenwriter Gareth Dunnet-Alcocer give incredible amounts of depth to Carapax's arc, especially during the climax's final moments, where Jaime understands where he comes from and why he believes "the love for your family makes you weak."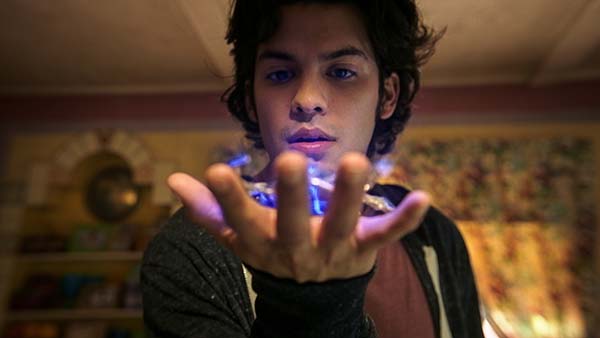 Trujillo's portrayal of Carapax is almost too good to be true, but he plays him so eloquently that we immediately get scared as soon as he appears. The first fight between him and Reyes is incredible, and perfectly sets the stage for their on-screen rivalry, which complexifies itself during its emotionally-driven climax. We see the beats coming a mile away during its midsection, but the film picks itself up nicely near its final act and delivers a great introduction to just how powerful of a hero the Blue Beetle is. Cinematographer Pawel Pogorzelski films these sequences with IMAX cameras, providing great attention to detail and elevating its stakes. 
With a small budget, Soto understands that he can't necessarily represent large-scale stakes with massive amounts of CGI, and the film greatly falters during a specific moment when Reyes and his father (Damian Alcazar) are inside a CGI-laden scene. He instead crafts most of the stakes through well-staged and highly energetic practical action sequences and naturally invests the audience through the use of IMAX. Those who are currently complaining that some (not all) IMAX screens are now playing Blue Beetle instead of Christopher Nolan's Oppenheimer haven't seen the DC movie. But here's the truth: It looks incredible in the format, with each IMAX sequence looking as bright and as colorful as ever. There's truly no other format quite like it, and it's increasingly apparent whenever the film would switch to the IMAX ratio — you literally want to get out of your chair when Blue Beetle topples so many villains with the rhythm of a Street Fighter character. 
Soto has studied his superhero films, and knows what works and what doesn't. The comedy is hit-or-miss, but he focuses more on the family aspect of the film than anything else, giving Blue Beetle massive amounts of heart and emotion. George Lopez is a notable highlight as Uncle Rudy, Jaime's conspiracy nut of an uncle, who deeply cares about his nephew and wants what's best for his family. I also enjoyed Alcazar and Adriana Barraza, who bring great depth to Jaime's father and grandmother, respectively. Barraza has great fun near the end of the film, but I won't dare spoil what exactly goes down. You'll have to see it for yourself. 
As Reyes, Maridueña is perfect, and will go far in his acting career. Whether he will be a part of the DCU remains to be seen, but he is poised to be a star nonetheless. He has great comedic timing with Marquezine and Belissa Escobedo, who plays Reyes' sister, but also kicks major ass during its core action sequences and shows a deeply vulnerable side of himself during its latter half. It's rare to see a fully-rounded superhero in his first introduction, but it harkens back to a young Tobey Maguire portraying Peter Parker for the first time in Sam Raimi's Spider-Man. It works wonders. 
It's because of this that Blue Beetle ultimately works. It's unfortunate that it's poised not to do much at the box office, leaving his DCU future in doubt, but it also made me want to see more of him by the time it ended. I honestly don't much care for Superman and Batman anymore: the fact that it took this long for DC to adapt lesser-known heroes to the screen was a gamble in and of itself, but it's absolutely paid off in the case of Blue Beetle. Here's hoping we'll see him (and his family) again sooner than later.
---
Blue Beetle is out now globally in theaters.