Bigbug (Review): A Brilliant Film You Really Should See

Bugbug (Bruno Calvo / Netflix)
Bigbug is a visually stunning sci-fi comedy that marks Jean-Pierre Jeunet's first film in nearly a decade – and it is a film that deserves more attention than what it will get.
---

The first film in nearly a decade from French director Jean-Pierre Jeunet should be a big event. Delicatessen and The City of Lost Children were well-regarded fantasy films he co-directed with Marc Caro. Amélie is one of the most successful French films internationally. Jeunet has even helmed an Alien film, one of only four directors to do so. His quirky, idiosyncratic filmmaking has charmed audiences for decades. And his latest film Bigbug, a sci-fi comedy about a robot revolution, looked to follow that same style. However, its release on Netflix last week went mostly unpublicised. Why is that? Jeunet is still a recognisable director, so how can his new film arrive without any fanfare? It especially stings since Bigbug is actually a great sci-fi movie.
In 2045, robots have taken over everyone's lives, helping to cook, clean and organise the home. Meanwhile, the Yonyx (all played by François Levantal) are a set of militarised super-androids who help keep law and order. Alice (Elsa Zylberstein) lives in the suburbs with her robot helper Monique (Claude Perron) in a 1950s style house. Alice clearly loves nostalgia, with doo-wop music playing and books on the shelves (a rarity in this new world). On this day, she is dating a prospective lover in Max (Stéphane De Groodt). But her plans for romance are hindered by Max dragging along his teenage son Léo (Helie Thonnat) and the arrival of her ex-husband Victor (Youssef Hajdi). He is here to drop off their adopted daughter Nina (Marysole Fertard) before heading on a luxury vacation with his new partner Jennifer (Claire Chust). Also popping around is neighbour Françoise (Isabelle Nanty), who has cloned her dog Toby several times.
Suddenly, the door is locked, and no one can leave. Nestor, the house AI, says it is because of a security risk – and he is right. The Yonyx have begun a coup against humanity, arresting the population and turning them into foie gras. The only thing saving this group are their robots: Monique, baby robot Tom, vacuum cleaner Nettoyeur Howard V2 and Einstein (voiced by André Dussollier). Together, they conspire to protect the house whilst also learning what it means to be human. Meanwhile, tensions start running high between the humans as they search for ways to escape but find their plans complicated with one thing and another.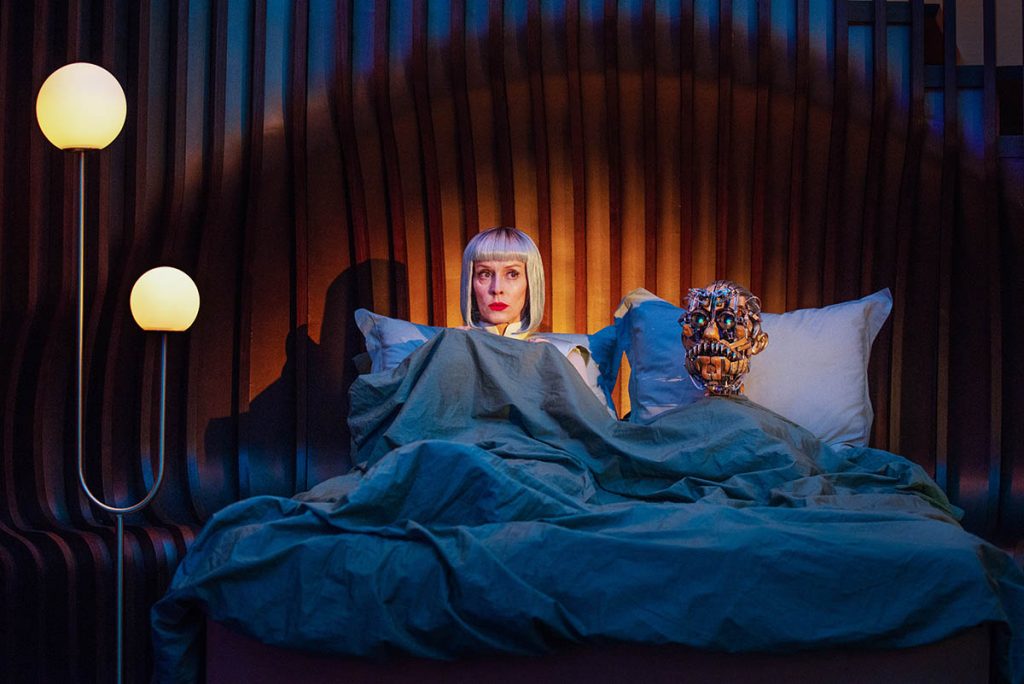 There is a lot to take in when it comes to Bigbug, a film where a million things seem to be happening all at once. Characters are stuck in one enclosed space, unable to leave, which hints at a 'cabin fever' story (the film was made during the height of the COVID-19 pandemic in 2020, which might explain that). But Jeunet also incorporates moments and traits from French sex comedies. The film seemingly focuses on a population's overreliance on technology and the inherent dangers. On the other hand, there are also benefits. Alice's robots not only make life easier but protect the humans from the Yonyx. Maybe the film prefers retro machinery since the robots are all older models. It would explain the mix of retro aesthetics and futuristic technology.
What helps the film is its characters with easily distinguishable traits. Léo speaks in complicated techno-jargon. Victor is impatient and a little pig-headed. Alice is trying to regain her mojo but is also prone to emotional breakdowns. Jennifer is gullible and temperamental, supporting the Yonyx so she can go on that dream holiday. Even the robots are distinct personalities, striving towards human emotions, especially Monique. She might be able to sense feelings and traits – and sexual desires – but most of the film sees her try to express them. It would be wrong of me not to mention Claude Perron; she gives a brilliant performance as Monique, complete with a strong personality and an unnatural laugh.
The cast and crew are full of regular Jeunet collaborators, which helps the director retain his signature quirkiness. Co-scriptwriter Guillaume Laurant (who wrote the vivid animated film I Lost My Body since their last film together) helps create the film's charming characters and ideas. The costume design from Madeline Fontaine (Amélie) is kitschy but visually compelling, whilst Thomas Hardmeier's cinematography includes his trademark close-ups. And the production design by Aline Bonetto is exquisite. She creates a modern retro house with a pastel-coloured exterior (like all the other houses in this suburban neighbourhood) and an interior that resembles Jeunet's retro futuristic ideas.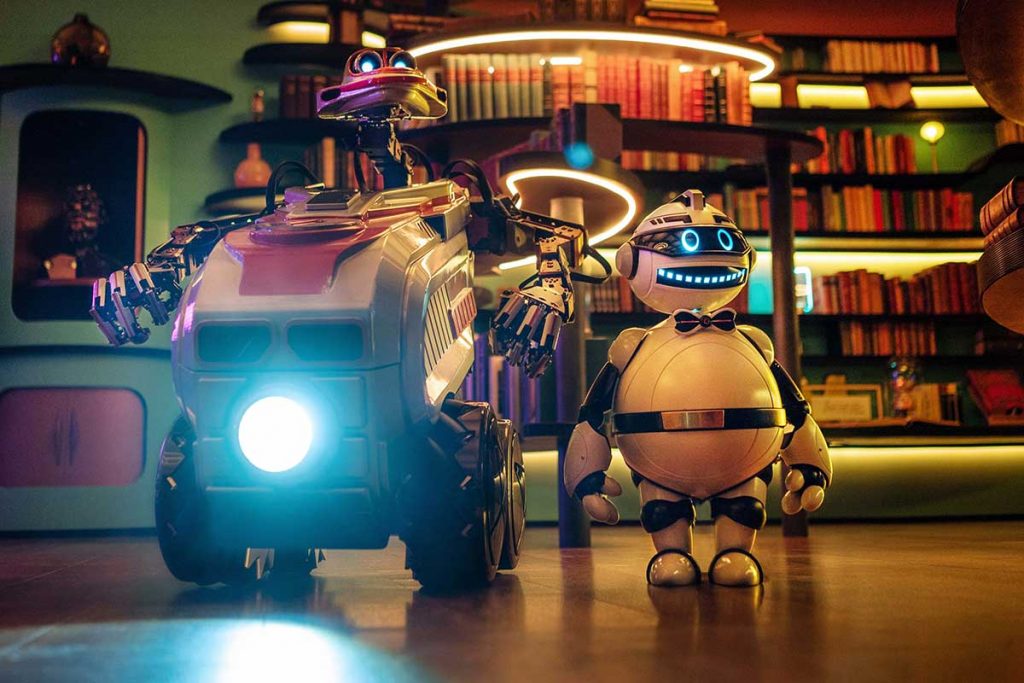 It also aids the film's world-building, which is top-notch. Bigbug is so dense with information that the characters sometimes turn on a TV that conveys massive amounts of exposition. Personalised advertisements screens hover around the neighbourhood. Robots spray perfume on your command, like Alexa combined with an air freshener. That is just inside the house. Outside, there is cloning, bionic eye surgeries and flying cars. It is a world where the Netherlands has been completely flooded (a startling image Jeunet does not dwell on for too long). And it is a world where robot control and degrading acts are shown at the click of the remote. It is chillingly plausible.
I asked at the start of this review why Bigbug got such a quiet release, and I think I know why. Despite the big-name director attached, it is not exactly a marketable film. It is part dystopian drama, part comedy farce. Full of child-like imagination but surprisingly horny. It is unlike any original film that Netflix has produced so far. And yet, Jeunet must have performed some form of alchemy because all of these elements work well together. The filmmay be absurd at times, but thanks to some excellent production design and world-building, it is also funny, full of personality and visually stunning.
It is a film that comments on today's society, the increasing reliance on technology and robotics, and the recent dive towards authoritarianism. And it is a film that tries to define what makes us human. According to this film, the answer is love, attraction, sensuality… and shortcomings. Jeunet shows humans at their most desperate and strange, and then celebrates those qualities in a movie that is deeply flawed but in all the right ways. Not every idea works, but most of them are fun and engaging. Simply put, Bigbug is a film that deserves more attention than what it will probably get.
---
Bigbug is now showing on Netflix everywhere.