5+ Great Christmas Episodes from TV Shows

Lost, Doctor Who, How I Met Your Mother (ABC / BBC / 20th Century Fox Television)
To help you get into the holiday mood, our staff recommended 5+ great Christmas episodes from their favourite TV shows.

Christmas is just around the corner, and the time has come for us to help you get into the holiday mood! To help you forget about the dystopian nightmare that was 2020, here are 5+ great Christmas episodes from our favourite TV shows, each recommended by one of our staff writers. From Doctor Who: The Christmas Invasion to The West Wing: In Excelsis Deo, take a look at our picks, and come back tomorrow for our list of Christmas films to watch this year.
---
DOCTOR WHO: "THE CHRISTMAS INVASION"
NILS
Creator: Sydney Newman
Year: 2005-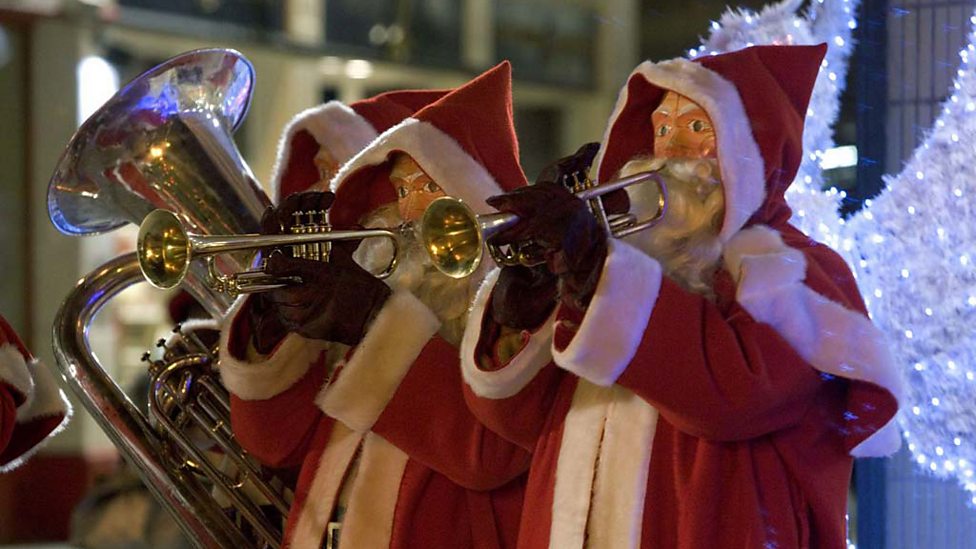 Since the show's 2005 reboot, Doctor Who typically features a Christmas special between each series. Serving as a standalone adventure, each special episode takes place around Christmas and cleverly plays around with the holiday mythos in a fantastical, time-bending sci-fi setting. Past episodes have featured Time Lord spins on "A Christmas Carol" and "The Lion, the Witch, and the Wardrobe" as well as a wonderfully strange Christmas-themed disaster thriller set aboard a futuristic replica of the Titanic in space.
The pick of these is the first Doctor Who Christmas special, 2005's "The Christmas Invasion." Picking up where Series One left off, Rose returns to Earth with the new tenth Doctor, whose regeneration is still not complete. The energy from his regeneration soon attracts the attention of the Sycorax, a warlike alien species who takes one third of the planet hostage and threatens to kill them unless humanity surrenders and becomes enslaved.
Like the best of Doctor Who, "The Christmas Invasion" delivers imaginative worldbuilding, charismatic humor, and compelling human drama reckoning with the consequences of extraterrestrial interaction, while offering holiday charm with bizarre yet memorable scenes featuring murderous Santa robots and a spinning killer Christmas tree.
---
FRIENDS: "THE ONE WITH THE INAPPROPRIATE SISTER"
ADELE
Creators: David Crane & Marta Kauffman
Year: 1994-2004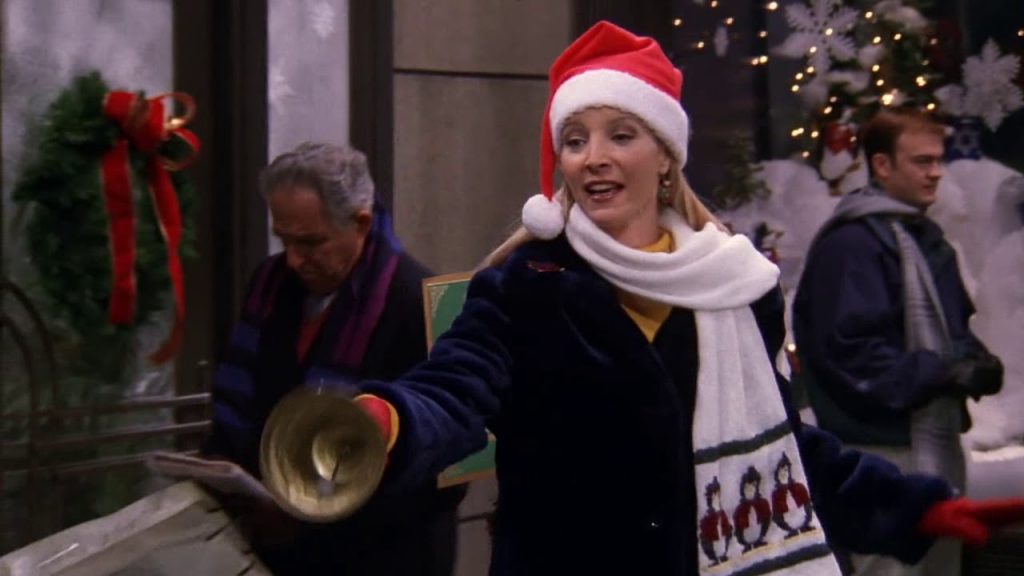 Friends is widely known for its Thanksgiving themed episodes – undoubtedly among the most entertaining of the whole series – but the Christmas themed ones are equally comical, and deliver just as much entertainment. In "The One with the Inappropriate Sister", the focus is on Rachel (Jennifer Aniston) dating Danny (George Newbern) and finding out about the unusual relationship he has with his sister. Meanwhile, Phoebe (Lisa Kudrow) collects donations for the poor during Christmas, and Ross (David Schwimmer) creates chaos in Joey (Matt LeBlanc) and Chandler's (Matthew Perry) apartment while on sabbatical.
Phoebe and Rachel's segments are the funniest scenes of an episode I could watch on repeat. Determined to 'spread joy' all over New York, Phoebe collects donations for a charity, until a series of rude gestures from people walking by bring out "street Phoebe", defying her merry spirit and gifting us with proper fun. If you ever worked in retail, you'll definitely understand! Lisa Kudrow's character brings this episode to the series' golden level, proving that Phoebe might just be the most interesting and hilarious character in the show. Rachel's story arc has her dealing with Danny's weird relationship with his sister, sparking the group's most humorous reactions and giving most of us flashbacks of that awkward date we had at some point in our life. Watching a few episodes of Friends this Christmas is definitely in order!
---
HOW I MET YOUR MOTHER: "SYMPHONY OF ILLUMINATION"
SERENA
Creators: Carter Bays & Craig Thomas
Year: 2005-2014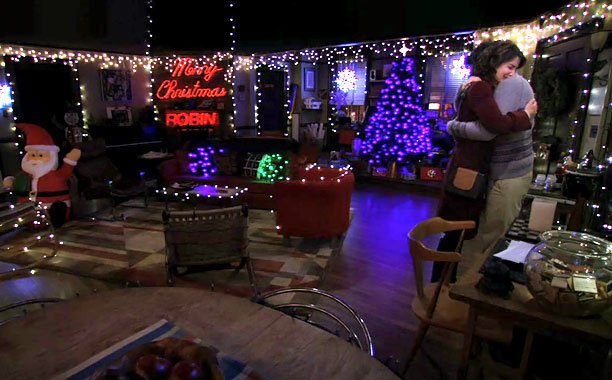 One of the many things I love about How I Met Your Mother is that it knows exactly how to balance meme-worthy moments of hilarity with incredibly meaningful scenes that come when you least expect. Yes, the show is about a father who attempts to tell his children the story of how he met his mother and ends up reminiscing about the fun he had with his four friends in New York, but Ted (Josh Radnor) isn't just a single wannabe architect looking for his soulmate.
He's the resourceful, likeable hero we'd all like to be, the loving friend we'd love to have and the hopeless romantic we'd love to date. Barney (Neil Patrick Harris) might be the guy who suits up, says "wait for it" and "legendary" and keeps a playbook that tells him how to get women to sleep with him, but his inability to settle down comes from having been raised by an absent mother. Lily (Alyson Hannigan) and Marshall (Jason Segel) definitely have a lot of odd couple rituals, but they also provide us with plenty of lessons on love. Robin (Cobie Smulders) is often teased about her teenage days as a Canadian pop icon, but she's also a profoundly lonely woman who was never truly accepted by her father. No matter how absurd the scenarios we see them in, there's a little bit of us in every single one of these characters, which is why the show's most emotional scenes never fail to strike a chord.

"Symphony of Illumination" perfectly embodies the essence of the show, making us laugh with unexpected situations involving our favourite group of friends, and ultimately moving us with heartwrenching, meaningful scenes we hadn't seen coming. And so, Marshall ends up stranded on a roof when trying to put up Christmas decorations, as a friendly Long Island kid plays a trick on him, while Robin and Barney deal with a pregnangy scare. But the tone of the show immediately changes when Robin's doctor informs her that she can't have children, and, though the subject is approached with the usual comedic fun, it also gets to us in ways we hadn't foreseen. This year, many of us are going to spend Christmas on our own, whether adhering to lockdown restrictions or dealing with serious health issues, and Robin's loneliness while handling these very personal, life-changing news is bound to resonate with all of us. Though most of us won't be able to hug our relatives at Christmas, we could all use another one of Ted's famous grand gestures, and "Symphony of Illumination" happens to have the perfect scene to make us feel a little less alone.
---
ICARLY: "ICHRISTMAS"
ZACH
Creator: Dan Schneider
Year: 2007-2012
Nickelodeon is an undeniable source of nostalgia for countless children around the world, and for those who came of age during the late aughts, no show on the channel captivated audiences more than teen sitcom iCarly. The series centered on Carly Shay (Miranda Cosgrove, of the Despicable Me franchise), a teenager who created a successful web show with her friends Sam (Jennette McCurdy, of Netflix's Between) and Freddie (Nathan Kress, of Into the Storm) while living with her eccentric older brother Spencer (Jerry Trainor of Nick's Drake & Josh) and handling everyday high school troubles on top of it all. Though nearly every episode was chock-full of comedy and charm that kept viewers coming back week after week, none were more cheerful than 2008's Christmas special "iChristmas."
When Spencer – ever the avant-garde artist – creates an "unconventional" Christmas tree made from materials acquired from the local junkyard, it unfortunately catches fire and burns his and Carly's Christmas presents to a crisp. Angered, Carly wishes that Spencer had just been "born normal," and she is soon visited by a guardian angel who grants her request, transporting her to an It's a Wonderful Life-esque alternate reality where Spencer is now a boring and bland businessman, Sam is in juvie, and Freddie was never her friend. As Carly struggles to make sense of her surroundings (quite humorously), she realizes how much of her life she'd lose if she wished away the very traits that made her friends and family so special, learning to love them for who they are. In the end, when is all is right again, the quartet settles in to spend a cozy Christmas with one another, encouraging us to always remember what matters most throughout the holiday season as well.
---
INVADER ZIM: "THE MOST HORRIBLE CHRISTMAS EVER"
CAMERON
Creator: Jhonen Vasquez
Year: 2001-2006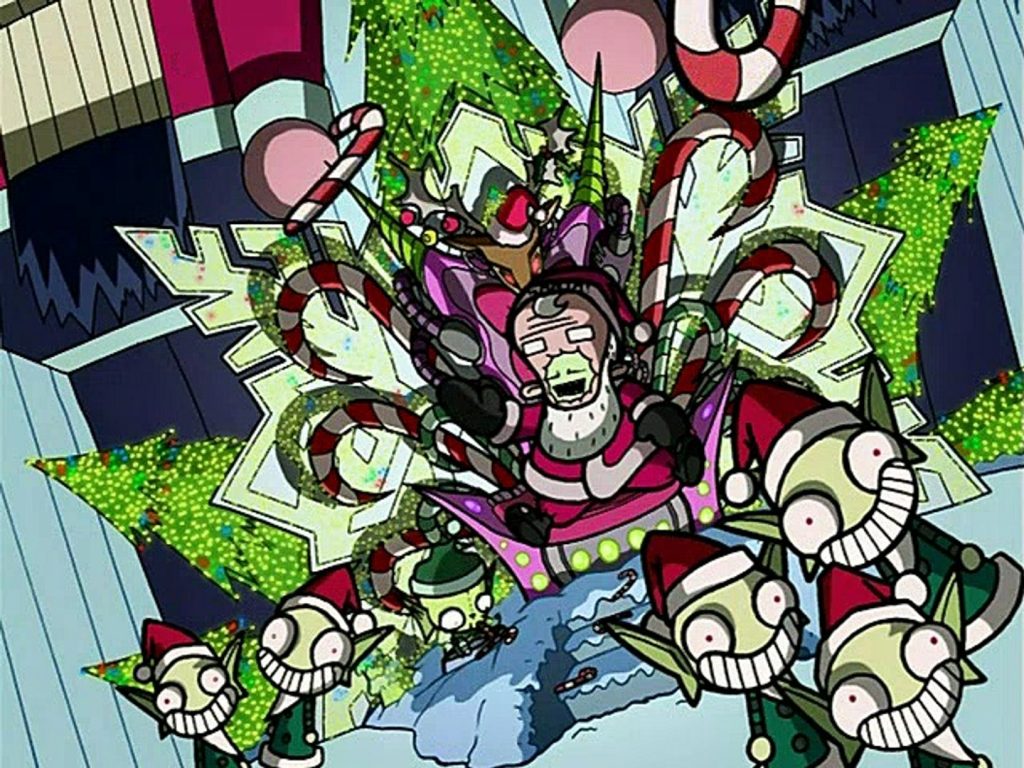 Holly jolly escapism is great, but if you're burnt out on Christmas cheer, look no further than Invader Zim's "The Most Horrible X-Mas Ever." Invader Zim, the eponymous, short-sighted protagonist of the series, attempts to take over the Earth by disguising himself as Santa; militant Christmas rallies ("To the jingle-jail with the non-believer!"), demented sing-alongs, and robot battles ensue. Jhonen Vasquez's cult Nicktoon, true to form, turns in an unsubtle but hilariously surreal critique of herd mentality and its magnification during the holidays, perfect for anyone in need of something a little sharper to punctuate the end of 2020.
See Also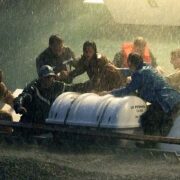 ---
LOST: "THE CONSTANT"
BERNARD
Creators: J.J. Abrams, Jeffrey Lieber & Damon Lindelof
Year: 2004-2010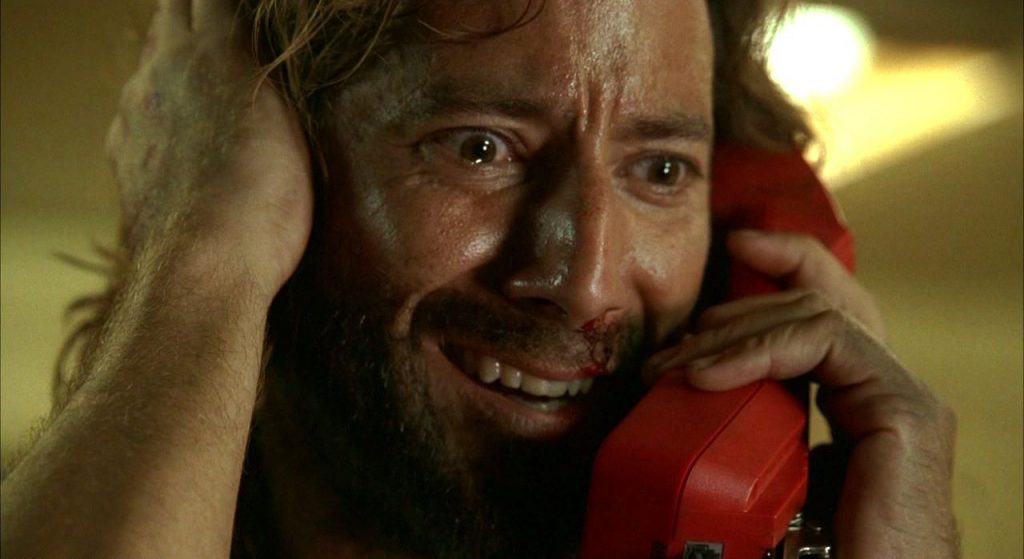 Perhaps the least overtly Christmas-y, Christmas story on our list is "The Constant" from Lost's fourth season. Lost's dirty little secret was always that the show worked not because of the mystery box elements, but because of the wonderful characters brought to a life in its sandbox. "The Constant" focuses on fan favorite Desmond (Henry Ian Cusick) who, as a results of various sci-fi shenanigans, has become unmoored in time as his consciousness keeps jumping back and forth between 1996 and the show's then present 2004.
See, Desmond needs to find his constant, the thing in his life that moors him and centers him. For Desmond, it is the love of his life, Penny (Sonya Walger). 1996 Desmond needs to beg Penny to answer her phone eight years later on Christmas Eve to "save" him. Penny, of course, answers the phone in one of the show's most moving sequences. The two – after so long – are able to express their love for one another (with a Christmas tree in the background, no less!). As Christmas approached, Desmond needed the constant of his true love – his family – in his life to keep going. No different from so many other people who need their constant at the holidays. Alas, in 2020 it seems many will need to connect with their constants through the phone just like Desmond, but at least it's something to keep us all sane. Happy holidays!
---
THE SIMPSONS: "MARGE BE NOT PROUD"
HARRY
Creators: James L. Brooks, Matt Groening & Sam Simon
Year: 1989, –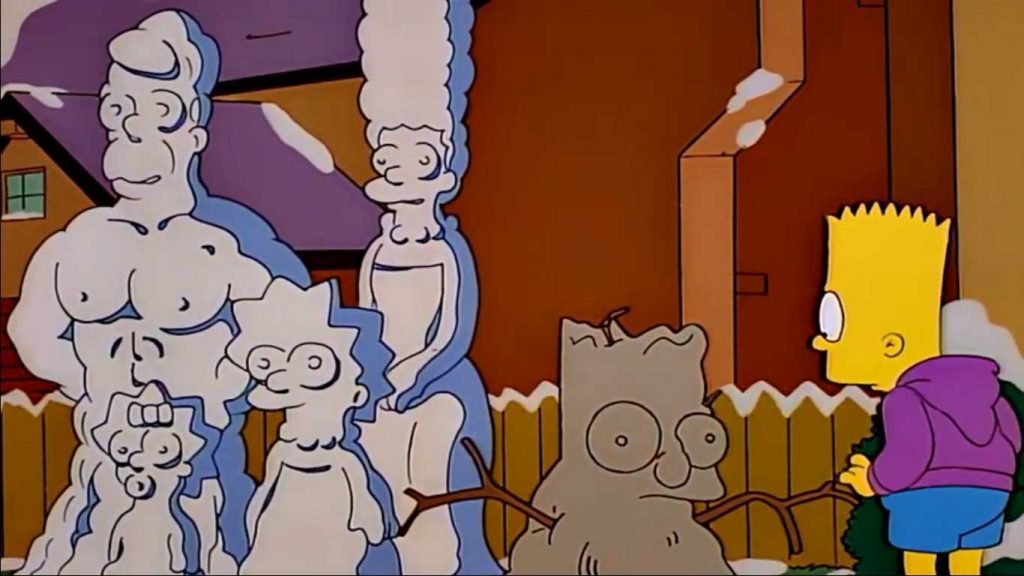 By the time it reached season 7, at the height of its "golden age", The Simpsons had become not only one of the most critically acclaimed sitcoms of all time but a cultural phenomenon that had entrenched its roots into the collective consciousness of both sides of the Atlantic. At the core of the show's appeal is its universality – the family's status as the quintessential nuclear household of the late 20th century allowed it a unique freedom to explore familial relationships themselves. In Marge be not Proud, as Bart is caught shoplifting a video game in the run up to Christmas, we see one of the great studies of the relationship between mother and son as Marge and Bart each struggle to adapt to the reality of a child growing up. With a script that is at equal turn heart-breaking, heart-warming, and crammed with some of the great jokes that dripped from golden age episodes, as well as one of the great one-off characters in Lawrence Tierney's Don Brodka (that's right, Don Brodka), Marge be not Proud is that rare festive special with a brilliance that shines alongside, but not beholden to, the season itself.
---
THE WEST WING: "IN EXCELSIS DEO"
CLAIRE
Creator: Aaron Sorkin
Year: 1999-2006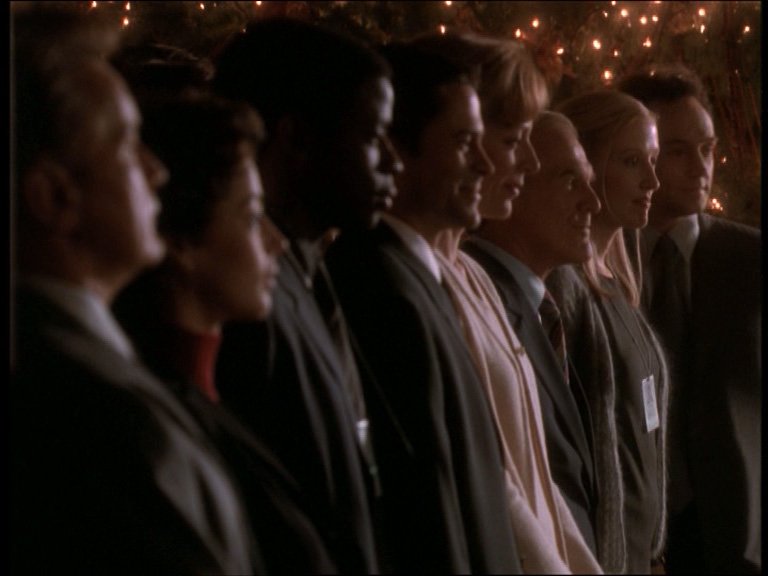 Aaron Sorkin's acclaimed political drama doesn't stray too far from its established formula in the first Christmas-centric episode, but will still warm the cockles of a coal heart. Toby (Richard Schiff) gets a call about a homeless man found dead wearing a coat with his business card in the pocket, and after discovering he was a decorated Korean war veteran, strives to organises a full military funeral as a sign of recognition and respect. Elsewhere, Josh (Bradley Whitford) and Sam (Rob Lowe) conspire how they might gain leverage against a possible blackmailer, and CJ (Allison Janney) is affected by a deadly attack on a gay youth.
It is essentially business as usual for the White House staff throughout the episode, just with some seasonal schmaltz thrown in, but it also takes an opportunity to highlight reasons why Christmas might not be the most wonderful time of the year for everyone. And in a year where it is decidedly not business as usual, a reminder that there are people in the world with heart, conscience and understanding is more than welcome and sorely needed. Sorkin and co-writer Rick Cleveland use a light touch on heavy topics such as grief and homophobic hate crimes to present an episode that is moving and earnest without straying into condescension, and won a Primetime Emmy for their trouble. As did Schiff, with Toby getting his first proper character showcase and opportunity to establish himself as a favourite. It is certainly one for fans, but the thorough goodness of everyone in this (sadly) fictional Presidential office is a true festive treat and ensures it's affective as a standalone watch.