Apple TV+ Originals in March 2023: New Series and Movies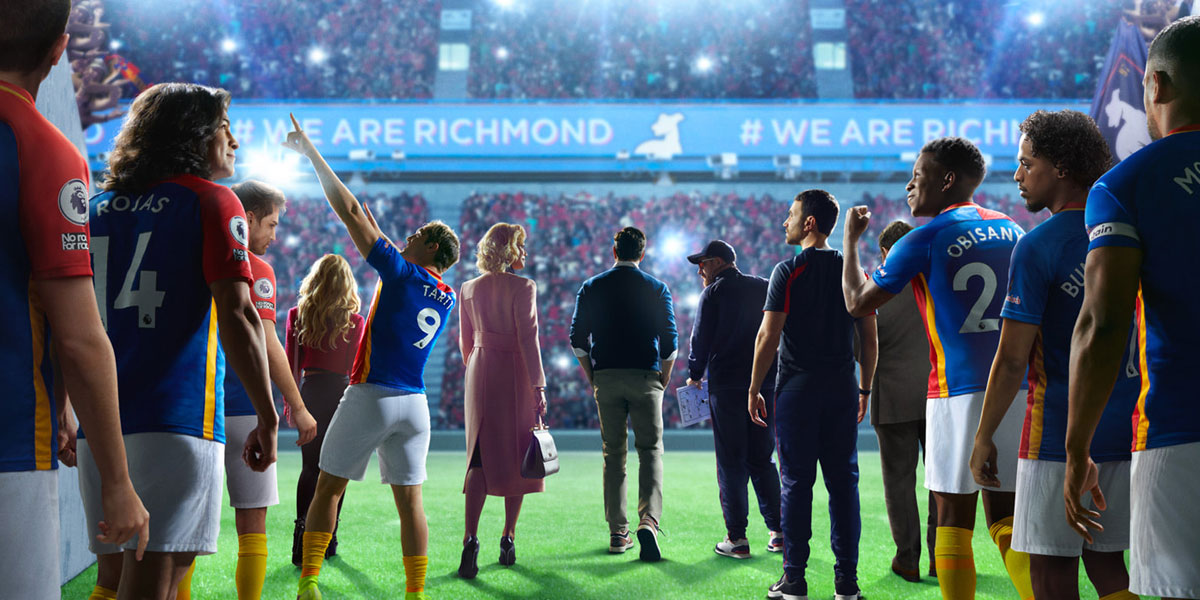 The Big Door Prize, Extrapolations, My Kind of Country (Apple TV+)
All the Apple TV+ originals to stream in March 2023, from new series and movies to Season 3 of Ted Lasso (yes, you heard us) out this month!
Apple TV+ Originals are always great, and if you're not already hooked on their new series Shrinking, it's time to start binging it! But there's another reason to be excited about the new series and movies coming to Apple TV+ in March 2023, and it's (wait for it) … Season 3 of Ted Lasso! This is not a drill: Jason Sudeikis, Brett Goldstein and our favorite football players are coming back this month! You'll find all of this month's original movies and series below, with synopses and trailers. Come back soon, as we'll keep adding new films and shows as more dates are annouced!
All the new Apple TV+ originals to binge watch in March 2023:
---
APPLE TV+ ORIGINALS: NEW SERIES IN MARCH 2023
TED LASSO SEASON 3
Creators: Brendan Hunt, Joe Kelly, Bill Lawrence
Starring: Jason Sudeikis, Brett Goldstein, Hannah Waddingham, Nick Mohammed, Brendan Hunt, Jeremy Swift, Juno Temple, Phil Dunster, Sarah Niles
Apple TV+ Release: March 17
Official synopsis: In the 12-episode third season of "Ted Lasso," the newly-promoted AFC Richmond faces ridicule as media predictions widely peg them as last in the Premier League and Nate (Nick Mohammed), now hailed as the "wonder kid," has gone to work for Rupert (Anthony Head) at West Ham United. In the wake of Nate's contentious departure from Richmond, Roy Kent (Brett Goldstein) steps up as assistant coach, alongside Beard (Brendan Hunt).
Meanwhile, while Ted (Jason Sudeikis) deals with pressures at work, he continues to wrestle with his own personal issues back home, Rebecca (Hannah Waddingham) is focused on defeating Rupert and Keeley (Juno Temple) navigates being the boss of her own PR agency. Things seem to be falling apart both on and off the pitch, but Team Lasso is set to give it their best shot anyway.
---
EXTRAPOLATIONS
Creator: Scott Z. Burns
Starring: Yara Shahidi, Kit Harington, Daveed Diggs, Matthew Rhys,
Apple TV+ Release: March 17
Official synopsis: "Extrapolations" is a bracing drama from writer, director and executive producer Scott Z. Burns that introduces a near future where the chaotic effects of climate change have become embedded into our everyday lives. Eight interwoven stories about love, work, faith and family from across the globe will explore the intimate, life-altering choices that must be made when the planet is changing faster than the population. Every story is different, but the fight for our future is universal. And when the fate of humanity is up against a ticking clock, the battle between courage and complacency has never been more urgent. Are we brave enough to become the solution to our own undoing before it's too late?
---
MY KIND OF COUNTRY
Starring: Reese Witherspoon, Kacey Musgraves, Jimmie Allen, Mickey Guyton, Orville Peck
Apple TV+ Release: March 24
Official synopsis: "My Kind of Country" is a fresh take on a competition series, breaking down barriers in country music by providing an extraordinary opportunity to diverse and innovative artists from around the world.Scouts Allen, Guyton and Peck each hand-pick a roster of exceptional up-and-coming artists and invite them to the home of country music in Nashville, Tennessee, to showcase their unique sound. The competition winner will receive a life-changing prize from Apple Music, receiving unprecedented support and exposure on the platform.
---
APPLE TV+ ORIGINALS: NEW MOVIES IN MARCH 2023
TETRIS
Director: Jon S. Baird
Starring: Taron Egerton, Toby Jones, Sofya Lebedeva
Apple TV+ Release: March 31
Official synopsis: Based on the true story of American video game salesman Henk Rogers (Taron Egerton) and his discovery of Tetris in 1988. When he sets out to bring the game to the world, he enters a dangerous web of lies and corruption behind the Iron Curtain.
---
APPLE TV+: NEW ORIGINALS IN SPRING 2023
We can't know for sure if the following originals will be released in March 2023, but the release date reads "Spring," so they are definitely coming to Apple TV+ soon! Find them all below and keep an eye on this page for more updates!
THE BIG DOOR PRIZE: SEASON 1
Showrunner: David West Read
Starring: Chris O'Dowd, Gabrielle Dennis, Ally Maki, Josh Segarra
Apple TV+ Release: Spring 2023 – Date TBA
Official synopsis: Based on M.O. Walsh's novel of the same name, "The Big Door Prize" tells the story of a small town that is forever changed when a mysterious machine appears in the general store, promising to reveal each resident's true life potential.
---
READ ALSO: