5 Great Dustin Hoffman Movies

(Columbia Pictures, Studiocanal, Warner Bros. Pictures)
---
Dustin Hoffman is one of the greatest actors of all time and has starred in some of the most iconic films in history. He has been a professional actor for almost six decades and remains one of the most respected performers in the world. For his work in film, Hoffman has received six Academy Award nominations, 11 Golden Globe nominations, and was nominated twice for a Screen Actors Guild Award. Let's remember 5 great Dustin Hoffman movies that have entered cinema history!
---
The Graduate (1967)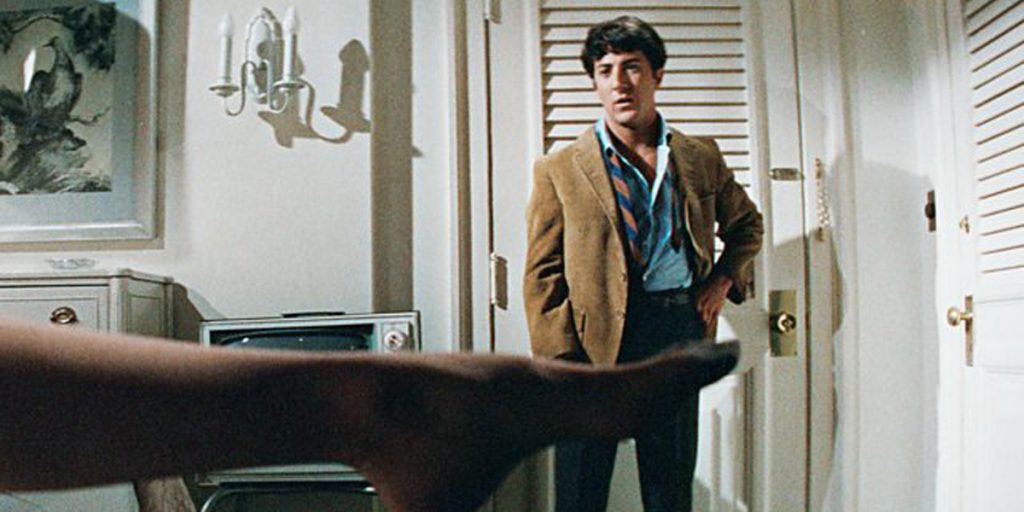 In one of the most iconic films of the 1960s, The Graduate, Hoffman plays Benjamin Braddock, a recent college graduate who struggles to find his way in the world: he now lives at his parents' house and doesn't even want to think about his future – something that everyone asks him about. But his life suddenly changes when he meets an older woman, housewife Mrs. Robinson (Anne Bancroft), who seduces him, mostly out of boredom, and the couple begins an affair. But not only is Mrs. Robinson a friend of Benjamin's parents: our naïve protagonist also ends up falling for her daughter, Elaine (Katharine Ross), whose mother had prohibited him from even thinking about.
The film portrays a manipulative relationship in a way that was groundbreaking at the time, while also giving us an accurate analysis of what it's life to be young without a clear direction in life. But what makes it the timeless classic that it is are really Hoffman's performance, and director Mike Nichols and cinematographer Robert Surtees's camerawork. Not to be missed.
---
Rain Man (1988)
Barry Levinson's Rain Man is a heartwarming drama that tells the story of two brothers who are reunited after many years apart, when their father dies and one of them, Charlie (Tom Cruise), returns home to find out of the other's existence. But not only is the latter, Raymond (Hoffman), autistic: their father decided to leave all of his money to the mental hospital where he lives. Needless to say, Charlie checks Raymond out of said institution, mainly interested in inheriting their father's $3 million, and the two embark on a road trip back to Charlie's home in Los Angeles. The journey ends up changing them both, in a film that's elevated by its memorable performances.
Rain Man isn't without flaws: if it was a little too sentimental upon release, this comes across even more today, but the story at its core is sweet and will make you emotional. There's also a strong focus on mental health, and it features a scene inside a real casino, where its glitz and glam helps highlight the brothers' relationship and dynamics. Hoffman won an Academy Award for his performance, and the film has become a genre classic.
---
Tootsie (1982)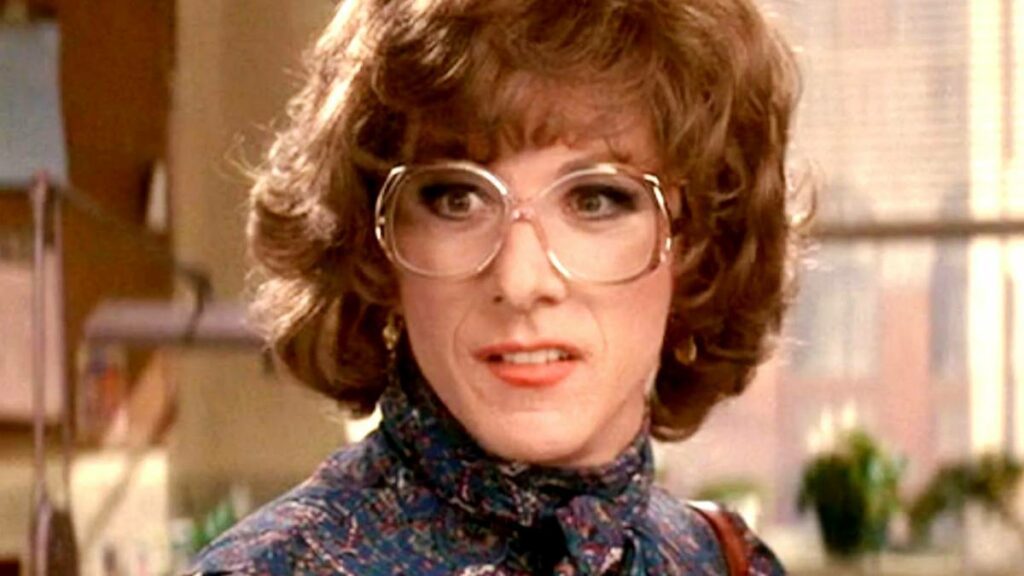 If you've never heard of Sidney Pollack's Tootsie, you have some catching up to do. This movie is still a pleasure decades later, due to an irresistible premise and one of Dustin Hoffman's most iconic, unique performances. Hoffman plays Michael Dorsey, a struggling actor who can't find work in New York. To get a job, he decides to dress up as a woman and audition for a role in a soap opera that he didn't get as a man. Needless to say, he gets the part, but he also falls in love with his partner, Julia (Jessica Lange), who thinks he's a woman. The hilarious comedy is the definition of a feel-good movie, but it also touches on serious themes, highlighting the ridiculousness of gender stereotypes and labels. It also treats all of its characters with tact and absolutely nail the balance between humor and heart.
---
All the President's Men (1976)
The Watergate scandal was one of the most significant black spots in the presidential administration in US history. The film was inspired by the non-fiction book of the same name written by Washington Post journalists Carl Bernstein and Bob Woodward, in which they shared their experience uncovering the scandal. Hoffman plays Carl Bernstein, one of the reporters who broke the Watergate scandal with the help of an anonymous source (Hal Holbrook), leading to President Richard Nixon's resignation. But what would appear to be a straightforward story on paper translates onto the screen as a tense political thriller, where the danger is palpable at all times. A well-paced screenplay and excellent acting from Hoffman and co-lead Robert Redford make Alan J. Pakula's All the President's Men the beloved classic that it is, and its important message about the power of journalism is more relevant than ever.
---
Kramer vs. Kramer (1979)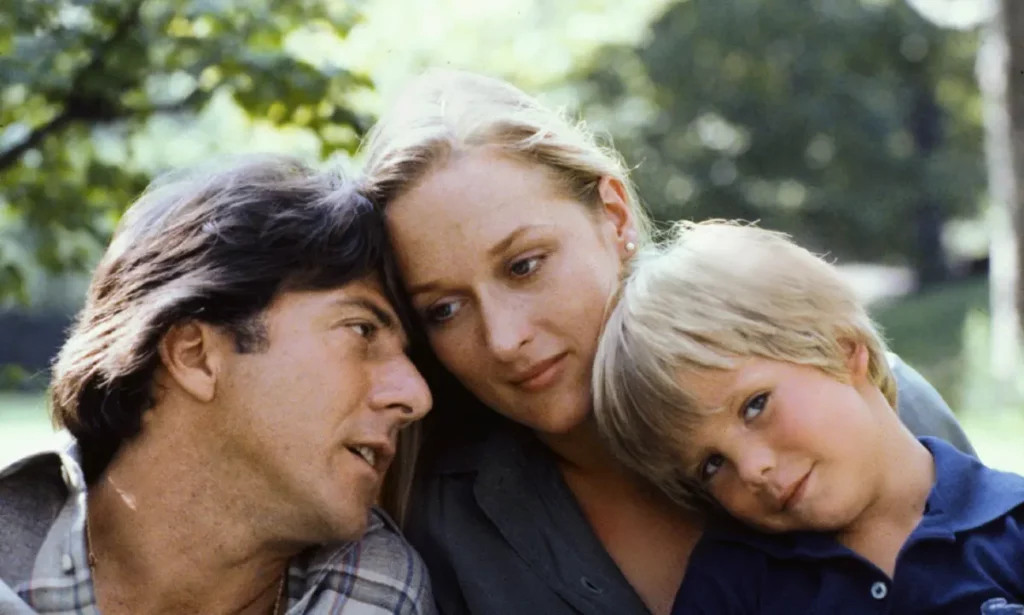 Robert Benton's Kramer vs. Kramer is a powerful drama that explores the breakdown of a marriage and its impact on the family. Hoffman plays Ted Kramer, a workaholic advertising executive forced to care for his young son on his own after his wife Joanna (Meryl Streep) leaves him. Although he is very successful professionally, Ted knows nothing about raising a little boy, and this new challenge helps him realize just how much of Billy's (Justin Henry) childhood he missed. At first, his ignorance makes him an unpleasant character. However, Ted becomes more empathetic while spending time with Billy. When Joanna comes back to get Billy and Robert declines, resulting in a trial as they fight for custody, we are thoroughly gripped.
Kramer vs Kramer isn't revolutionary in its portrayal of divorce – suffices it to think of recent releases like Marriage Story, which tackles the subject in a much more complex and realistic way. But despite having been made so many years ago, the film is still incredibly timely, and also absolutely perfect as a character study of two authentic protagonists dealing with very real issues, masterfully brought to life by Dustin Hoffman and Meryl Streep.
---

Dustin Hoffman has starred in some of the most iconic films in history. These 5 great movies of various genres are a great introduction to the actor's career, and they are all classics in their respective niches. Whether you're a comedy, drama, or political thriller fan, there's something for everyone in this list of great Dustin Hoffman films.