10 Films That Satirise Hollywood

Hollywood Shuffle, Hail Caesar!, Ed Wood (Samuel Goldwyn Company, Universal, Touchstone)
A list of 10 films that satirise Hollywood, highlighting the system's notorious aspects, including its obsession with glamour and African-American representation.
---
The film system, such as that in Hollywood, is insane, and going through it can be a roller-coaster ride. Writers and directors realised early that a movie, play or "star" production can give rise to such merciless, "dog-eat-dog" situations that they can be part of the most "deliciously tragic" drama on screen. Thus, they exploited it fully. What Price Hollywood? (1932), A Star is Born (1937/54/76/2018), Sunset Boulevard(1950), All About Eve (1950) and The Bad and The Beautiful (1952) are just some of the films that demonstrate the traps and cruelties present in show business connected to film or theatre stage. However, Hollywood can laugh at itself, too, and below are 10 films that satirise Hollywood, coming from such inventive, "pushing-the-boundaries" directors as Joel and Ethan Coen, David Lynch, Tim Burton and David Mamet.
---
BARTON FINK
Year: 1991
Directors: Joel & Ethan Coen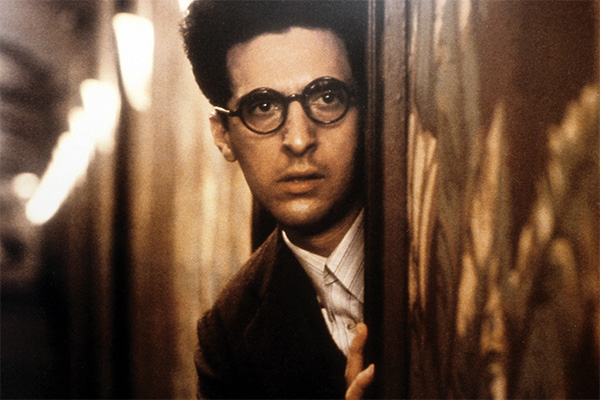 Barton Fink is an intelligent Palme d'Or winner that tells of one lauded, but still naïve New York playwright Barton Fink (John Turturro) who succumbs to the promise of Hollywood riches and comes to Los Angeles to write a screenplay for a wrestling picture. Taken aback by his new environment (a cheap art-deco hotel), Fink starts suffering from writer's block as he also makes friends with his overly gregarious next-door-neighbour, an insurance salesman. As his screenplay deadline looms, the pressure on Fink mounts, resulting in unexpected turns of events. This is a fine satire of Hollywood that explores a creative process, and the gap between the production of meaningful, deep work and audience satisfaction. Along the way, the Coen brothers also managed to play with such stereotypes as "alcoholic writer" and "bossy producer", as well as take a pun on a number of film noir concepts.
---
CONTEMPT (LE MÉPRIS)
Year: 1963
Director: Jean-Luc Godard
What makes Jean-Luc Godard's films great? In the 1960s, this director's fresh, experimental approach to cinema was hard to beat, and Contempt (Le Mépris) has this equally original take on modern film-making. Godard criticises the tropes and stereotypes that emanate from Hollywood itself through the portrayal of successful French playwright Paul Javal (Michel Piccoli), who starts working on Fritz Lang's adaptation of "The Odyssey". The issue is that the film's producer (Jack Palance) gets interested in Javal's wife Camille (Brigitte Bardot), and Javal gets torn between his personal and professional interests. Beneath the marriage woes, however, one can sense that Godard is criticising the commercialisation of cinema and its degradation as a form of art.
---
ED WOOD
Year: 1994
Director: Tim Burton
Tim Burton managed to make his black-and-white biopic about low-budget Hollywood director Ed Wood (1924-1978) both nostalgic and sardonic. This is the cinematic exploration of Ed Wood's professional and personal lives, and Burton's lens captures the exploitative nature of Hollywood through the portrayal of one increasingly stoic and passionate film-maker, whose psychological make-up is revealed to be anything but simple. Ed Wood was known to direct a parade of gimmicky and "tasteless" science fiction and horror films, and Johnny Depp, who always looks for eccentricities in roles, is ideally cast. However, it is the performance by Martin Landau in the role of the leading actor Bela Lugosi, for which he also won an Academy Award, that remains the most memorable.
---
THE PLAYER
Year: 1992
Director: Robert Altman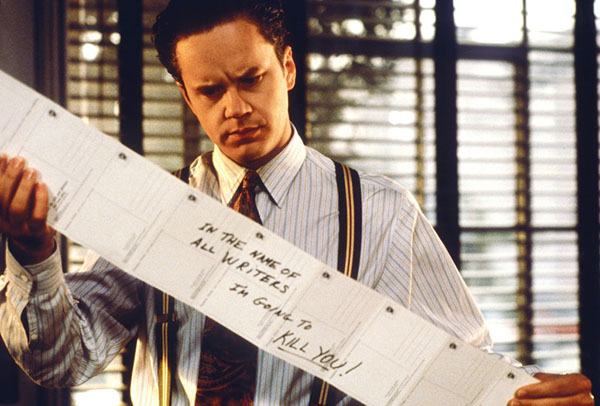 Hollywood is competitive, and getting your foot in the door can go a long way. In this film by Robert Altman, based on a novel by Michael Tolkin, Tim Robbins is in the role of well to-do Los Angeles film executive Griffin Mill, who receives anonymous death threats, possibly from a rejected writer. The unbelievable becomes believable in the blink of an eye as Griffin starts to guess who his harasser may be. The Player satirises that Hollywood that is geared at delivering products of mindless entertainment, rather than things of lasting and creative value, while the story also looks at the establishment from the most absurd angles. In one way, the film dramatises that world-crashing-down situation of that arrogant elite which Tom Wolfe's best-seller "The Bonfire of the Vanities" (1987) had showcased only five years earlier, and, in other, it couples this chaotic atmosphere with taunts about crime impossibilities that would emerge later in American Psycho (2000).Above all, though, The Player is a film that is not afraid to laugh at itself, while we also laugh with and at it.
And, for those who are still unconvinced, it is also interesting to note that The Player has more Oscar-winning performers in its cast than any other film in the cinematic history, and among its 65 celebrity cameo appearances are Julia Roberts, Bruce Willis, John Cusack, Cher, Jack Lemmon, Andie MacDowell, Susan Sarandon, Patrick Swayze and Burt Reynolds.
---
HAIL, CAESAR!
Year: 2016
Director: Joel & Ethan Coen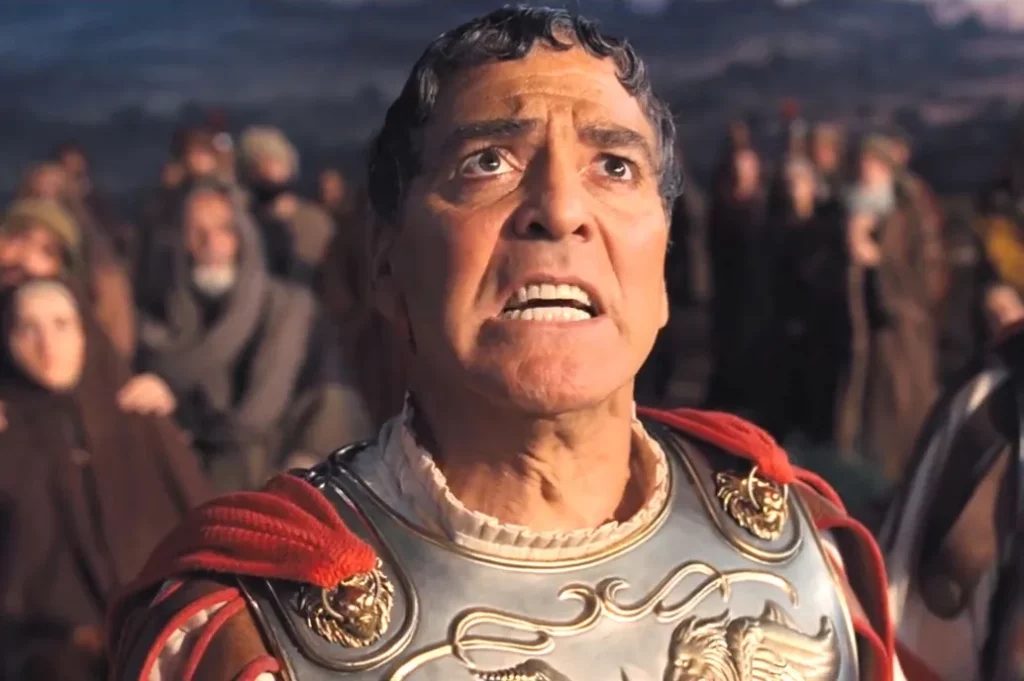 In this black humour-suffused period mystery, Joel and Ethan Coen joke around Hollywood's irrationalities and impracticalities during its Golden Age, re-creating the atmosphere of the 1950s cinema sets in all their glorious and, at times, not so glorious aspects. The film's star ensemble includes such names as John Brolin, George Clooney, Ralph Fiennes, Channing Tatum, Scarlett Johansson, Frances McDormand and Tilda Swinton, and focuses on Capitol Pictures that inexplicably loses a leading star of its Hail, Caesar! production to an alleged kidnapping. Although Hail, Caesar! is a bit disjointed and its insights into the behind-the-scenes Hollywood are overshadowed by all the exaggeration and the obviousness of the directors' intentions, the film is still a heady cinematic brew that exudes its own special charm, be it through the dedication of its cast, flamboyant sets design or inside jokes.
---
MULHOLLAND DRIVE
Year: 2001
Director: David Lynch
Full Review: Mulholland Drive (Review): Lynch's Twisted L.A. Romance
David Lynch takes an ordinary story of an aspiring actress who has just come to Hollywood to try her fortunes, and makes it his very own, shaping it into something fiercely intelligent, thought-provoking, surreal and beautiful to behold. The narrative concerns Betty Elms (Naomi Watts), a young woman who has arrived from a small American town to Los Angeles to stay in an apartment normally occupied by her influential Aunt Ruth and to try her hand at acting. Hollywood opens its doors to the newbie actress, but, as she finds an amnesiac woman named Rita (Laura Harring) in her apartment one day, Betty realises that not everything is as it seems. While Lynch pours into this mystery some hefty doses of his trademark inexplicability, he also arguably examines such Hollywood pitfalls as invisible forces of corruption and women's exploitation. Mulholland Drive is a brainy cinematic conundrum that makes us question reality.
---
HOLLYWOOD SHUFFLE
Year: 1987
Director: Robert Townsend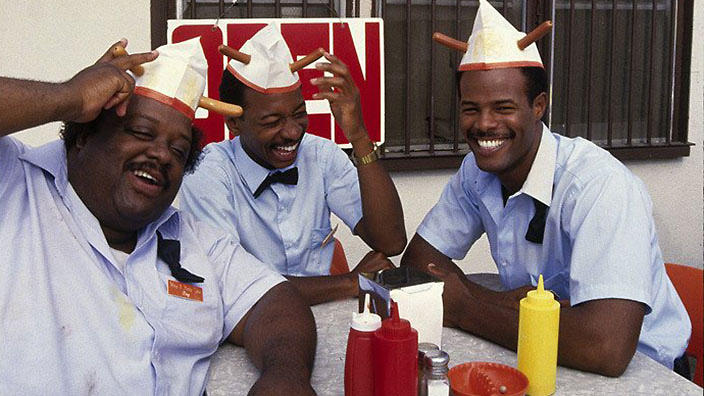 African-American representation in Hollywood is an important topic, and we should all think more about it. Director Robert Townsend seems to agree, and his debut, low-budget comedy-film Hollywood Shuffle is a satirical look at Hollywood that unfairly typecasts black actors into certain roles, including those of servants and criminals. The story is about a hot-dog seller and aspiring actor Bobby Taylor (Robert Townsend) who decides to audition for a role in film Jivetime Jimmy's Revenge. However, as he moves closer to getting approved for the role, Bobby discovers that his troubles only begin as moral dilemmas emerge. Hollywood Shuffle is an under-seen film and a fun cinematic ride. We have come a long way since this semi-autobiographical debut by Townsend (for example, inclusive live-action adaptation of The Little Mermaid (2023) is to hit the cinemas in May), but the battle for greater diversity continues.
---
STATE AND MAIN
Year: 2000
Director: David Mamet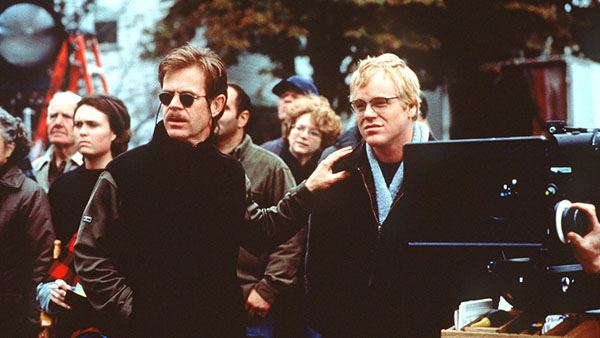 This comedy from David Mamet, which boasts such stars as William H. Macy and Phillip Seymour Hoffman, is about a crew of film-makers who descend on one small American town to finish shooting a picture titled The Old Mill. The first obstacle for the crew is that there turns out to be no "old mill" in this town (it was destroyed in a fire some decades before), and the second is that the leading star of the film, played by Sarah Jessica Parker, refuses to do a nude scene, though she was allegedly paid for it. More hollywoodesque hilarities ensue, as the crew's egos get inflated and deflated as the production moves forward or, at least, appears to… State and Main is that sharp and light comedy about film-making you never knew you needed to watch.
---
THE DAY OF THE LOCUST
Year: 1975
Director: John Schlesinger
Based on Nathanael West's novel of the same name, John Schlesinger's The Day of the Locust unveils the 1930s Hollywood, and talks of one ambitious young woman, Faye Greener (Karen Black), who wants to become a successful actress in Hollywood, but who has so far only managed to land the roles of extras in films. She meets an aspiring art director Tod Hackett (William Atherton), who falls in love with her, as well as enters into a business arrangement with one increasingly disillusioned accountant Homer Simpson (Donald Sutherland). This relatively faithful-to-novel adaptation is imperfect, unsubtle and does walk on the overly sentimental side, but it clearly brings out Hollywood in all its unfavourable stereotypes and dark forms, making numerous bold and satirical statements on the "promised land" to which flock all kinds of wannabes.
---
S.O.B.
Year: 1981
Director: Blake Edwards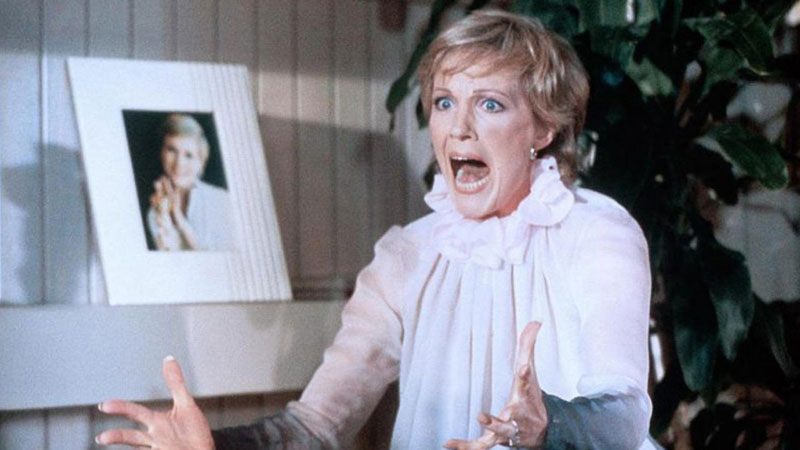 Julia Andrews is no proper nanny in this hilarious comedy by Blake Edwards (Breakfast at Tiffany's) titled S. O. B. In this story, Andrews plays Sally Miles, who is the latest star of a film-turned-flop by one immensely successful Hollywood director Felix Farmer (Richard Mulligan). Farmer never had a flop before and, to re-vamp his film, he decides to turn a G-rated scene with Sally in it into an R-rated one. The problem is that Sally, who also happens to be Farmer's wife, will need some extreme persuasion. William Holden, Robert Preston and Marisa Berenson give convincing performances in this film, which is probably among those which are so bad in some respects that they turn out to be quite good.