World's Best: New Hip-Hop Comedy Film Soon on Disney+

World's Best (Ben Mark Holzberg. © 2023 Disney Enterprises)
New hip-hop comedy film World's Best is coming soon to Disney+! Take a look at the first picture from this musical adventure movie!
---
An all-new hip-hop musical comedy adventure is coming to Disney+, and the first picture from the film is out! The movie is World's Best: it was produced by the director of Hamilton and it will be out soon on the streaming platform! Keep reading to take a look at the first picture and discover plot, cast, information, and release date of World's Best!
---
World's Best: What the Disney+ Movie is About
World's Best is about a 12-year-old mathematics genius named Prem Patel (Manny Magnus) who's trying to navigate her teenage years when he makes a shocking discovery. It turns out that Prem's dad (Utkarsh Ambudkar, of Free Guy), who recently passed away, was a famous rapper. And so, our determined teen decides that he's not only going to become a rapper too, but he will become a superstar. As the film shows us Prem's hip-hop music-fueled fantasies, in which he performs with his father, we embark on a journey with both protagonists and find out if the rapper-to-be has what it takes to achieve stardom.
---
Director, Cast & Crew of Disney+'s World's Best
World's Best is co-written and co-executive produced by Utkarsh Ambudkar, who also stars in the film as Prem's father and co-wrote the movie's original songs. This Disney+ Original Movie was directed Roshan Sethi (7 Days), co-written by Jamie King and Ambudkar, and produced by Kate Sullivan and Hamilton's Thomas Kail.
The protagonist is newcomer Manny Magnus, who plays Prem Patel. The rest of the cast includes Punam Patel, Piper Wallace, Jake Choi, Max Malas, Kayla Njeri, Dorian Giordano, Kathryn Greenwood, Christopher Jackson, and Doug E. Fresh.
---
World's Best: Release Date on Disney+
World's Best will be released soon on Disney+! The release date of the movie on the streaming is June 23, 2023.
---
The First Still of This New Hip-Hop Comedy
Without further ado, take a look at the first still of World's Best!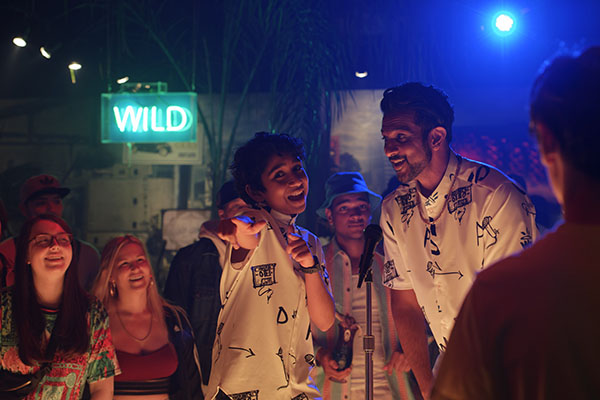 ---
Other Movies to Watch:
As you wait for the release of World's Best, watch these other movies and series now on Disney+!