The 25 Best Films of 2018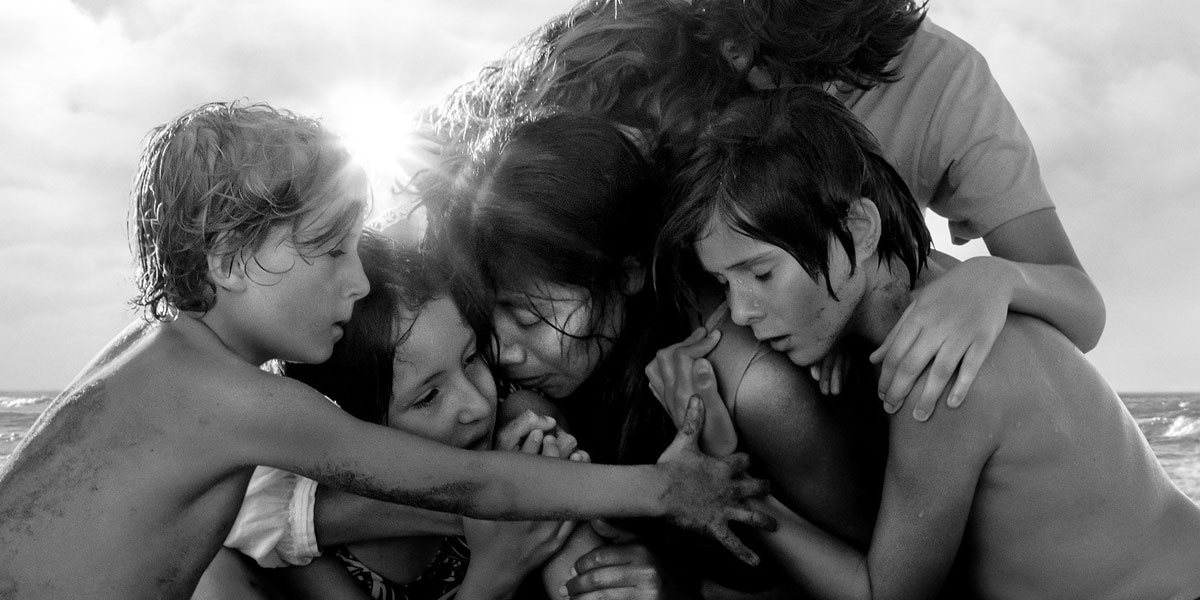 Alfonso Cuarón's Roma (Netflix)
From Venice favourites Roma and Suspiria to BlacKkKlansman and A Star is Born, here are the 25 best films of 2018.
It's official: we are not very good at making short lists. We started writing this article aiming to pick our ten favourite films of 2018, but the list kept getting longer and, although we've now finally managed to narrow it down to twenty-five, we weren't able to include all our recommendations. It's been an exciting year for both independent films and box office hits, and we've had our fair share of surprises. From the incredibly popular A Star Is Born and Bohemian Rhapsody to festival favourites such as Vox Lux (in competition at the Venice Film Festival), Almost Fashionable: A Film About Travis and Anna and the Apocalypse (both shown at the Edinburgh Film Festival), several quality films about music have been released.
We've seen excellent horror movies (Luca Guadagnino's Suspiria, Ari Aster's Hereditary, Alex Garland's Annihilation and Jon Krasinski's A Quiet Place), innovative animation (from Wes Anderson's Isle of Dogs and Mamoru Hosoda's Mirai to Marvel's Spider-Man: Into the Spider-Verse and Walt Disney's Incredibles 2 and Ralph Breaks the Internet), thought-provoking dramas and hilarious comedies. Yorgos Lanthimos' much talked-about The Favourite subverted all genre expectations, Bo Burnham's Eight Grade took us back to the most awkward years of our lives, Spike Lee's BlacKkKlansman opened our eyes on the world we live in, Alfonso Cuarón's Roma and Paweł Pawlikowski's Cold War took us back in time on emotional, unforgettable journeys.
From heartwarming comedies to psychological thrillers, here are our favourite films of 2018.
---
Please note: the list contains films that have been released in 2018 in any country, so some of them might not have been released in all countries in the same year.
---

25. TO ALL THE BOYS I'VE LOVED BEFORE
Director: Susan Johnson
Cast: Lana Condor, Noah Centineo, Janel Parrish
Country: U.S.A.
So many teen rom-coms and TV shows have come out in the past few years that it's hard for a film of this genre to truly stand out from the others. Susan Johnson's adaptation of the popular YA novel by Jenny Han was a pleasant surprise, as it combines a great storyline with excellent acting. Lana Condor (Lara) does an exceptional job at portraying a leading character that is likeable, relatable and has us rooting for her from the very start, and her co-star Noah Centineo is just as believable and entertaining. To All The Boys I've Loved Before is an engaging, clever, fun comedy that will bring back memories of the very best parts of high school. It will empower you, entertain you and make you smile, and its message will resonate with you for a long time.
---

24. THE FAVOURITE
Director: Yorgos Lanthimos
with Olivia Colman, Emma Stone, Rachel Weisz, Nicholas Hoult, Mark Gatiss
Countries: Ireland, U.K., U.S.A.
Full Review: "The Favourite: Review (Venice Film Festival)"
Yorgos Lanthimos is well-known for subverting conventions, and The Favourite does exactly that. It is an analysis of power that focuses on women portrayed as "human beings" and approaches modern politics by looking at 18th Century royals. It's a story about love and relationships, but it's also a universal analysis of human behaviour with excellent performances from all cast members. Most of all, it's a British costume drama mixed with a satirical comedy. It's psychological, it's socio-political, it challenges stereotypes and, although we personally found it a little "too Lanthimos", it's without a doubt the director's best film so far. Click here to read our full review.
---

23. INCREDIBLES 2
Director: Brad Bird
Cast: Craig T. Nelson, Holly Hunter, Sarah Vowell
Country: U.S.A.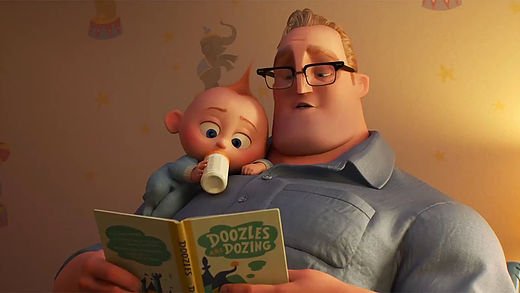 The much anticipated sequel to one of the most beloved Disney/Pixar films didn't disappoint us. It might not be as original as the first movie in terms of plot, but it sure is plenty of fun to watch. Although the main storyline follows Helen (Holly Hunter)'s attempts to save the world, the true protagonist of Incredibles 2 is Jack-Jack. We can't stop watching the hilarious scenes in which he fully displays his superpowers, as he becomes a nanny's worst nightmare and, at the same time, the most adorable superhero we've seen in a long time.
---

22. THE OLD MAN & THE GUN
Director: David Lowery
Cast: Robert Redford, Casey Affleck, Sissy Spacek
Country: U.S.A.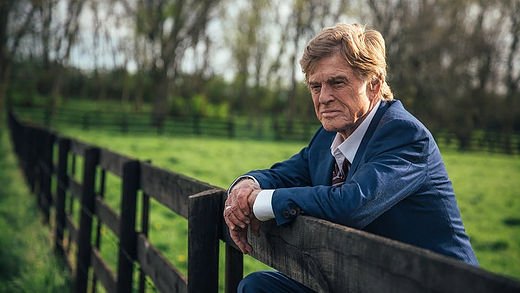 The Old Man & The Gun is based on the true story of Forrest Tucker, a man who escaped from San Quentin at the age of 70 and embarked on a series of bank robberies that impressed not only the public, but also the very same detective (John Hunt, played by Casey Affleck) who was supposed to be chasing him. Robert Redford is in his confort zone in his moving farewell to Hollywood, a well-delivered and thought-provoking film that brings us back to another place and time.
---

21. AVENGERS: INFINITY WAR
Directors: Anthony Russo, Joe Russo
Cast: Robert Downey Jr., Chris Hemsworth, Mark Ruffalo, Chris Evans, Scarlett Johannson, Don Cheadle, Tom Hiddleston, Benedict Cumberbatch, Chris Pratt, Zoe Saldana, Tom Holland, Paul Bettany, Elizabeth Olsen, Karen Gillan, Idris Elba, Anthony Mackie, Sebastian Stan, Benedict Wong, Peter Dinklage, Vin Diesel, Josh Brolin, Benicio Del Toro, Gwyneth Paltrow, Bradley Cooper, Stan Lee
Country: U.S.A.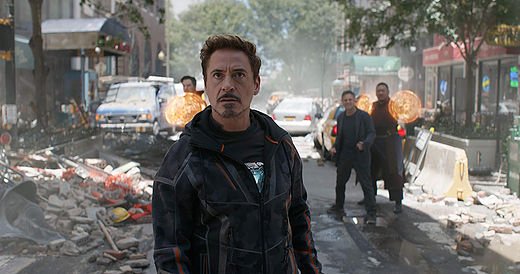 …What can we say? We liked Avengers: Infinity War. The nineteenth film in the Marvel Cinematic Universe might be the best Avengers film of the current decade. From Avengers Assemble (2012) to Avengers: Age of Ultron (2014) and even Captain America: Civil War (2015) and Doctor Strange (2016) (yes, you heard us), the latest Marvel releases had gotten us used to seeing films that valued action over dialogue and special effects over storyline. We didn't have high hopes for Infinity War, but we were wrong. The latest Avengers film has everything the previous movies lacked: we finally get a plot that makes sense, unforgettable lines, exciting action sequences that last the right amount of time and a well-written storyline that grabs our attention from the very first moment until the very end.
---

20. ISLE OF DOGS
Director: Wes Anderson
Cast: Bryan Cranston, Koyu Rankin, Edward Norton, Bill Murray, Liev Schreiber, Scarlett Johannson, Tilda Swinton, Bob Balaban, Greta Gerwig, Yoko Ono
Country: U.S.A.
Wes Anderson's canine dystopian tale is set in Japan and imagines a future in which all dogs have been quarantined to an island as a result of a virus that infected the entire canine population. In Isle of Dogs, the The Grand Budapest Hotel (2014) visionary director brings us on a journey to uncover goverment conspiracies while exploring the relationship between humans and dogs. The film's interesting concept is developed with Anderson's unique narrative style and, although it might not be the director's best film to date, it is certainly clever, thought-provoking and extremely enjoyable.
---

19. VOX LUX
Director: Brady Corbet
Cast: Natalie Portman, Stacy Martin, Jude Law, Raffey Cassidy
Country: U.S.A.
Full Review: "A Star is Born and Vox Lux: The Consequences of Fame at the Venice Film Festival"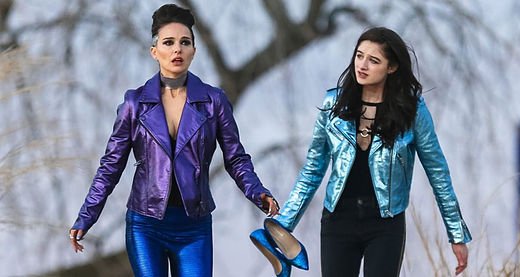 Brady Corbet's Vox Lux stars Academy Award winner Natalie Portman as a popstar who is first and foremost a survivor. Our heroine is a broken soul whose rise to stardom is directly connected to a Columbine-style high school massacre she happened to witness and survive as a teenager. The gaps in the narrative make it difficult for us to get to know the real Celeste, as we are only given a few key moments of her life as a teenager and as an adult, but it is quite obvious to us that the person we see on the screen is a broken human being – both physically and emotionally, which is what makes Vox Lux not only a "Twenty-first Century Portrait", as the tagline suggests, but a much darker analysis of our culture and society. Click here to read our full review.
---

18. SPIDER-MAN: INTO THE SPIDER-VERSE
Directors: Bob Persichetti, Peter Ramsey, Rodney Rothman
Cast: Shameik Moore, Jake Johnson, Hailee Steinfeld
Country: U.S.A.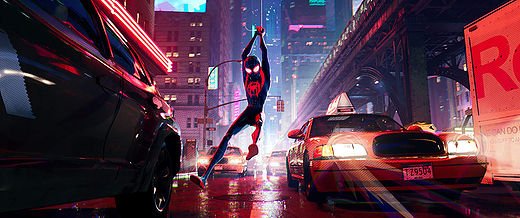 Spider-Man: Into the Spider-Verse is the comic book adaptation we didn't know we needed. Many attempts have been made to portray the "friendly neighborhood" superhero on the big screen, from Sam Raimi's 2002-2007 trilogy starring Tobey Maguire to The Amazing Spider-Man (2012) starring Andrew Garfield and the more recent Spider-Man: Homecoming (2017), in which Tom Holland became the official face of the superhero in the Marvel Cinematic Universe. Spider-Man: Homecoming was well-received, as it combined a likeable character with a good storyline and excellent dialogues involving another beloved Avenger(Iron Man, played by Robert Downey Jr), but Spider-Man: Into The Spider-Verse took the popular comic book to a whole new level, with an adaptation that is not only loyal to the original story, but that also combines excellent graphics with pure cinematic entertainment and is a true joy to watch.
---

17. FIRST MAN
Director: Damien Chazelle
Cast: Ryan Gosling, Claire Foy, Jason Clarke, Patrick Fugit, Kyle Chandler, Ciaràn Hinds
Country: U.S.A.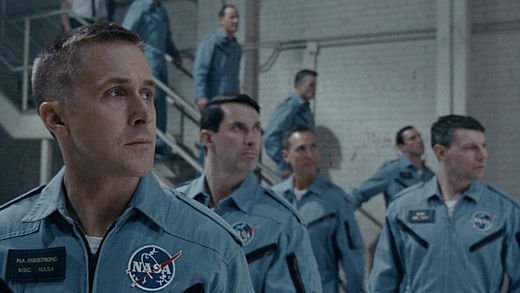 The opening film at this year's Venice Film Festival was Damien Chazelle's new drama about Nasa's 1969 moon-landing mission led by Neil Armstrong (Ryan Gosling). Written by Academy Award winner Josh Singer (Spotlight) and executive produced (among others) by Steven Spielberg himself, the film focuses on the astronaut's life from 1961 till 1969 and couldn't be more different from Chazelle's previous film/worldwide phenomenon La La Land. First Man combines visually stunning sequences with atmospheric scenes and witty dialogues to draw us into Armstrong's world little by little, one glance at a time, until we become part of his family. Just like Whiplash (the director's 2014 Oscar-winning masterpiece starring J.K. Simmons and Miles Terrer), First Man is pure emotion. It might not be something we haven't seen before (Cuarón's Gravity, 2013), but it is certainly well-executed and confirms Chazelle as one of the best storytellers of our time.
---

16. UNICORN STORE
Director: Brie Larson
Cast: Brie Larson, Samuel L. Jackson, Joan Cusack
Country: U.S.A.
Full Review: "Best of Edinburgh Film Festival: Unicorn Store"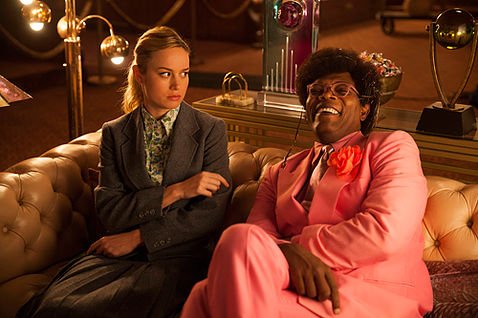 Unicorn Store is what would happen if Wes Anderson decided to take Roald Dahl and Lewis Carroll on a tour of the 21st Century. Brie Larson's directorial debut revolves around a shady salesman (Samuel L.Jackson) who tries to convince a unicorn-obsessed art student (Kit, played by Larson herself) that he can sell her a real-life unicorn, but it's about so much more than childhood dreams coming true. Unicorn Store is ironic, hilarious, deeply moving and profoundly rooted in the exact moment of time we live in, and it will surprise you in the most unexpected ways.
Click here to read our full review.
---

15. A STAR IS BORN
Director: Bradley Cooper
Cast: Lady Gaga, Bradley Cooper, Sam Elliott, Dave Chappelle, Alec Baldwin
Country: U.S.A.
Full Review: "A Star is Born and Vox Lux: The Consequences of Fame at the Venice Film Festival"
Bradley Cooper's A Star is Born, starring Lady Gaga as immensely talented singer-songwriter and extremely likeable heroine Ally, was one of the many pleasant surprises at this year's Venice Film Festival. The Silver Linings Playbookactor's directorial debut develops around music but is so much more than a love story between two musicians. It's the story of a girl who grows up, finds her voice and stays true to herself. It's a film about love, pain, loss and courage, which shows us that music can hurt and heal. Ally's songs move us, inspire us and ultimately send across a universal message of acceptance.
Click here to read our full review.
---

14. CHARLIE SAYS
Director: Mary Harron
Cast: Matt Smith, Suki Waterhouse, Annabeth Gish, Merritt Wever
Country: U.S.A.
Full Review:"Charlie Says: Matt Smith is Charles Manson in powerful psychological drama"
The director of American Psycho, I Shot Andy Warhol and Alias Grace brings us a film that is all about "how seemingly good people come to do very bad things, and what happens when you give up your will to another and shut down the voice that tells you no". Charlie Says focuses on the three young women who were sentenced initially to death and eventually to life inprisonment in the Manson murder case, and is based on the girls' real testimonies when they spoke to the graduate student who was sent to their prison to teach them. Matt Smith, who plays Manson himself, excels at showing us the way a sociopath's mind truly works, and gives us an extremely believable portrait of the notorious murderer. Yet what makes Harron's film truly unique is the way it focuses on the girls rather than Manson himself, by showing us the process that leads to their realisation of the crimes they committed, and by rasing questions on forgiveness and free will. Click here to read our full review.
---

13. IF BEALE STREET COULD TALK
Director: Barry Jenkins
Cast: KiKi Layne, Stephan James, Regina King
Country: U.S.A.
Based on James Baldwin's novel with the same name, Barry Jenkins' first film since Moonlight (2016) is an intimate and empowering love story told through the eyes of Tish Rivers (KiKi Layne), a 19 year-old African-American pregnant girl who finds herself fighting for her boyfriend's freedom as he is arrested for a crime he did not commit. If Beale Street Could Talk is an intimate family drama that deals with social injustice and has a powerful message to send across.
---

12. THE WHITE CROW
Director: Ralph Fiennes
Cast: Oleg Ivenko, Ralph Fiennes, Louis Hofmann
Countries: U.K., France
Full Review: "The White Crow: Review (London Film Festival)"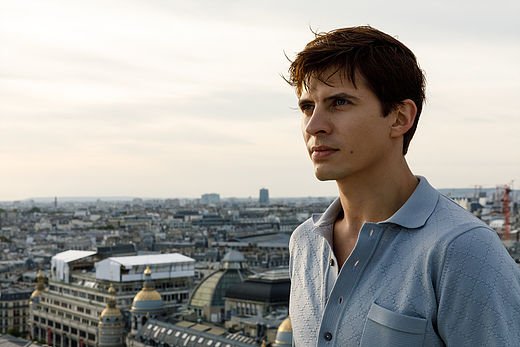 Ralph Fiennes' portrayal of Russian ballet dancer Rudolf Nureyev and his 1961 defection to Paris is an inspiring story of discovery, rebellion and freedom that centers around a multi-faceted, captivating and exquisitely complex man. The director shot the film in three countries (France, Russia and Serbia), had his characters speak more than one language (including Russian), focused on a part of Nureyev's story that is not very well known and even picked a leading actor (Ukrainian dancer Oleg Ivenko) that "not many people knew". Fiennes' choices made it harder for both himself and screenwriter David Hare (The Hours) to get The White Crow to be released on the big screen, but their efforts paid off, as the director's latest drama is also his most ambitious project to date. Click here to read our full review.
---

11. WILDLIFE
Director: Paul Dano
Cast: Jake Gyllenhaal, Carey Mulligan, Bill Camp
Country: U.S.A.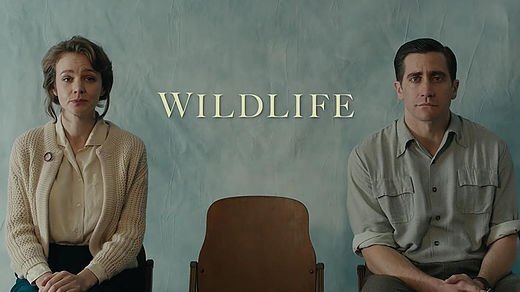 Paul Dano's directorial debut, and the Best Film at this year's Torino Film Festival, is about a couple (Jeannette and Jerry, played by Carey Mulligan and Jake Gyllenhaal) who moves to Montana with their teenage son, and explores the consequences of Jerry's decision to take a job opportunity that would lead him away from his family. Carey Mulligan excels in her best performance to date, in a film that is raw, emotional, complex and deeply affecting.
---

10. ASSASSINATION NATION
Director: Sam Levinson
Cast: Odessa Young, Hari Nef, Suki Waterhouse, Abra, Bella Thorne, Bill Skarsgård
Country: U.S.A.
Full Review: "Assassination Nation: Review (London Film Festival)"
Sam Levinson's "movie for absolutely right now" is one of the best films we saw at this year's London Film Festival. This modern-day adaptation of the Salem witch trials takes place at a high school, in a digital world of selfies and social networks, and follows high-school seniors Lily (Odessa Young), Bex (Hari Nef), Em (Abra) and Sarah (Suki Waterhouse) as they deal with a data hack that affects the whole town and leads to complete anarchy. The film's own Trigger Warning ironically lets us know from the very beginning that there will be: "bullying, classism, death, drinking, drug use, sexual content, toxic masculinity, homophobia, transphobia, guns, nationalism, racism, kidnapping, the male gaze, sexism, swearing, torture, violence, gore, weapons and fragile male egos". Still not convinced? Click here to read our full review!
---

9. STEEL COUNTRY
Director: Simon Fellows
Cast: Andrew Scott, Denise Gough, Bronagh Waugh
Country: U.K.
Full Review: "Best of Edinburgh Film Festival: Steel Country"
See Also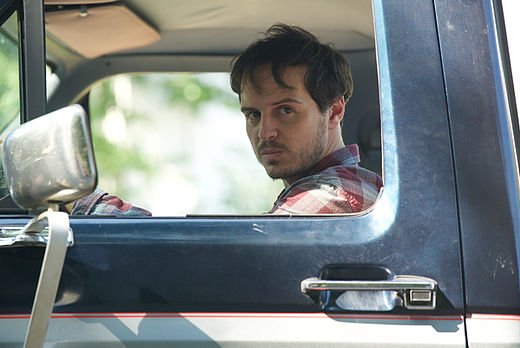 Directed by Simon Fellows and produced by Gareth Unwin (The King's Speech), Steel Country is a hard film to categorise. It's a crime thriller that revolves around the mysterious death of a young boy, but it's also a story about corruption and revenge whose painfully accurate portrait of modern society makes us question the world we live in. It's also one of the most realistic and non-stereotypical portrayals of mental illness we've seen this year, as Andrew Scott (Sherlock, Pride, Locke) steals every single scene he's in by showing us all the nuances of the autistic sanitation truck driver he plays. Steel Country was one of our favourite films at this year's Edinburgh Film Festival: its U.K. release date has been set for March 2019, and we can't wait for you to see it! Click here to read our full review.
---

8. SHOPLIFTERS (万引き家族 / Manbiki Kazoku)
Director: Hirokazu Koreeda
Cast: Lily Franky, Sakura Andô, Mayu Matsuoka
Country: Japan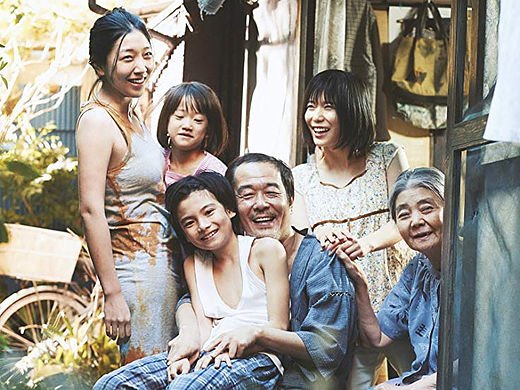 This year's Palme d'Or winner is another gentle, intimate tale about family relationships by the critically acclaimed Japanese director Hirokazu Koreeda (Maborosi, Like Father, Like Son). It starts with a family of shoplifters who make the decision to rescue a little girl from the cold and take her home with them, but soon turns into something else entirely. Shoplifters is all about those subtle nuances and dynamics that family is all about. It's gentle, emotional, ultimately heartbreaking and definitely one of the most interesting, unique films we've seen this year.
---

7. THE KINDERGARTEN TEACHER
Director: Sara Colangelo
Cast: Maggie Gyllenhaal, Gael García Bernal, Michael Chernus
Country: U.S.A.
Full Review: "The Kindergarten Teacher: Review (London Film Festival)"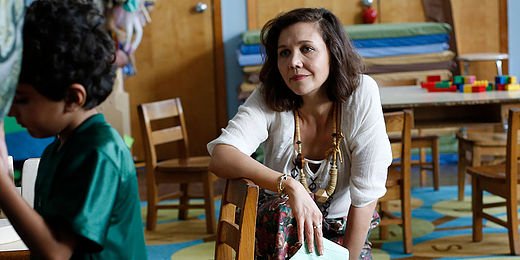 Maggie Gyllenhaal shines in Sara Colangelo's controversial psychological thriller about a pre-school teacher who becomes obsessed with a talented five year-old student in her class. This London Film Festival favourite is a clever analysis of human behaviour seen through the eyes of a flawed but well-meaning leading female character. Click here to read our full review.
---

6. BOHEMIAN RHAPSODY
Director: Bryan Singer
Cast: Rami Malek, Lucy Boynton, Gwilym Lee, Ben Hardy, Allen Leech, Mike Meyers, Tom Hollander
Countries: U.K., U.S.A.
It's been called conventional. It's been critiqued for being too long, too dull, too clichéd, overly dramatised, not informative enough, not accurate enough, not fresh enough, not creative enough, not emotional enough, not enough to the point. Some complained about the lack of context, others pointed out its inaccuracies and deemed it unworthy of Freddie Mercury. But when was the last time you went to the cinema and truly enjoyed a movie? Bohemian Rhapsody might not have all its facts right, but it definitely is the most entertaining film we've seen in a long time. It's one of those movies that will make you want to stand up and celebrate the legendary singer by clapping, dancing and singing out loud. Its excellent delivery, flawless acting and carefully constructed storyline merge with the iconic songs we've all come to know and love and bring pure magic to the screen. Which is, after all, what cinema is all about.
---

5. BLACKKKLANSMAN
Director: Spike Lee
Cast: John David Washington, Adam Driver, Laura Harrier, Alec Baldwin
Country: U.S.A.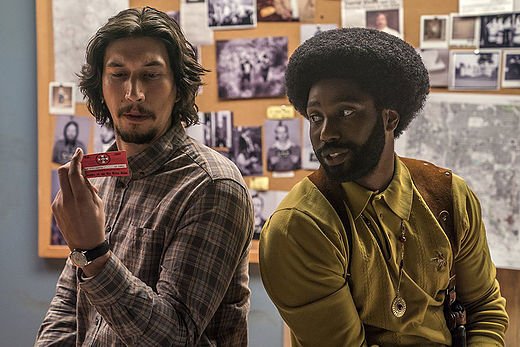 Nominated for four Golden Globes and four Critics' Choice Awards, Spike Lee's latest project is one of the best films he's ever made. BlacKkKlansman is the true story of the first black man (Ron Stallworth, played by an excellent John David Washington) who was hired as a detective by the Colorado Springs Police Department, and how he managed to infiltrate the Ku Klux Klan with the help of his Jewish colleague Flip Zipperman (Adam Driver). Both terrifying and hilarious, Spike Lee's perfectly delivered drama is a painfully accurate analysis of our society that will surprise you and entertain you till the very end.
---

4. EIGHT GRADE
Director: Bo Burnham
Cast: Elsie Fisher, Josh Hamilton, Emily Robinson
Country: U.S.A.
Eighth Grade is one of those extremely relatable, surprisingly accurate films you will find yourself thinking about more than you thought you would. In this Sundance Film Festival favourite, Bo Burnham takes the coming-of-age genre and redefines it, giving us a story that is fresh, intimate, extremely clever and hugely entertaining. It's storytelling at its best, and you don't want to miss it.
---

3. COLD WAR (ZIMNA WOJNA)
Director: Paweł Pawlikowski
Cast: Joanna Kulig , Tomasz Kot, Borys Szyc , Agata Kulesza
Countries: Poland, U.K., France
This gem from this year's Cannes Film Festival is one of a kind. BAFTA Award Winner (Ida) Paweł Pawlikowski brings us on an emotional journey throughout post-war Europe that lasts over 15 years. Our captivating protagonists are musicians Wiktor and Zula, whose first meeting in Poland in 1949 leads to a series of encounters around the world (Paris, Berlin, Yugoslavia) in their attempts to escape from political oppression and reunite with each other. Both heartbreaking and seductive, Cold War is an impossible love story that will keep your eyes glued to the screen. It's sexy, tragic, visually stunning and incredibly believable. It takes the darkest aspects of a relationship and turns them into poetry by adding incredibly haunting music and one of the most accessible black and whites we've ever seen. This unique love story will move you and intrigue you, and the undeniable chemistry between Tomasz Kot and Joanna Kulig will make you want to watch it all over again.
---

2. SUSPIRIA
Director: Luca Guadagnino
Cast: Dakota Johnson, Tilda Swinton, Mia Goth, Chloë Grace Moretz
Country: Italy
Full Review: "Best of 75 Venice Film Festival: Suspiria"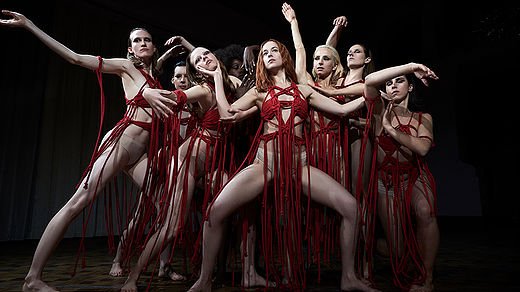 Luca Guadagnino (Call Me By Your Name)'s remake of the 1977 classic horror has very little to do with Dario Argento's film. Guadagnino's Suspiria is eerie, unsettling and intense, but it's also exquisitely delicate, atmospheric and intimate. It is a visually stunning work of art and a clever analysis of human nature, with socio-political references and surprisingly complex characters. Tilda Swinton and Dakota Johnson shine in what is, witout a doubt, one of the most intriguing and surprising films of 2018. Click here to read our full review.
---

1. ROMA
Director: Alfonso Cuarón
Cast: Yalitza Aparicio, Marina de Tavira, Marco Graf, Daniela Demesa, Carlos Peralta, Nancy García
Country: Mexico
Full Review: "Cuarón's memories come to life in exceptional tale about identity"
Alfonso Cuarón (Y Tu Mamá También, Gravity)'s exceptional tale about identity is the indisputable winner of this chart. In Roma, the visionary director takes us back to 1970s Mexico City and brings us on a beautiful, complex, emotional journey by drawing inspiration from his own childhood memories. The Best Film at this year's Venice Film Festival is not only the director's most autobiographical film so far: it's his best one to date. Click here to read our full review.
---
RUNNERS UP (in no particular order):
Burning, Hereditary, Green Book, Mirai, Widows, Colette, Annihilation, Can You Ever Forgive Me?, Tully, Vice, Boy Erased, Blindspotting, Beautiful Boy, Bandersnatch.
---
Need more films?
Check out favourite films of 2017, as they include a few titles that came out in 2018 in many countries.