September 2022: New Films & Shows to Stream This Month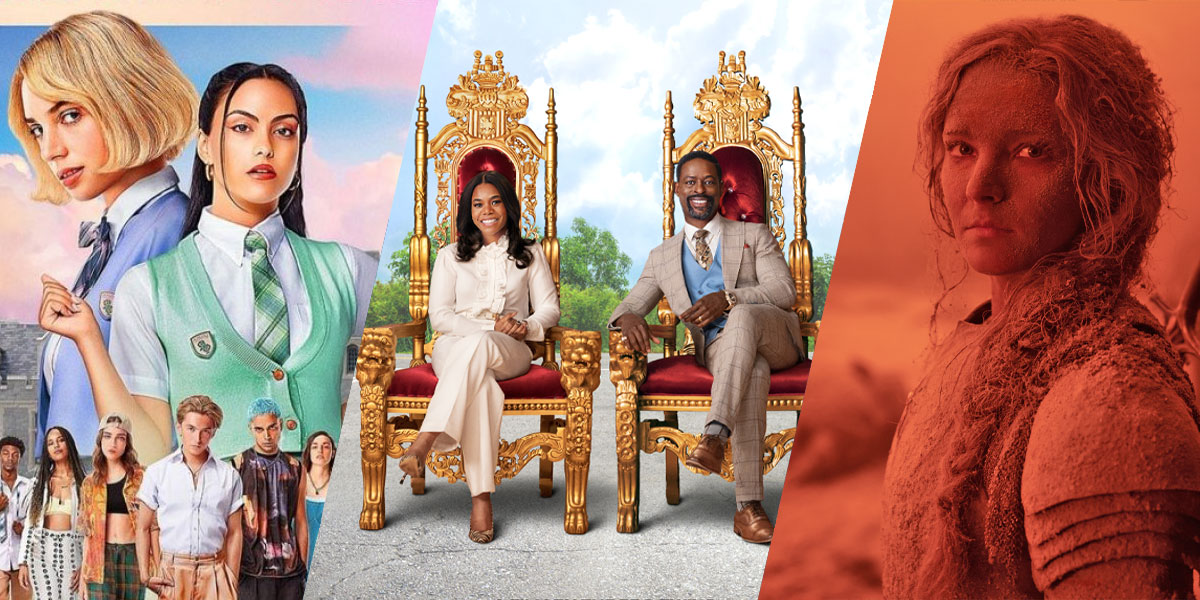 September 2022: discover all the new films and shows to stream this month, from digital & VOD releases to Netflix, Prime and more!
Had it not been for the release of festival hits like I Love My Dad and Fire (Both Sides of the Blade) and exciting streaming releases like Prey and The Sandman, last month would have been pretty uneventful for movie buff. But September 2022 is filled with new films and shows to stream and watch on digital, VOD and your favourite streaming platforms!
Take a look at this month's most exciting new releases! We've grouped them in order of release and divided by movies you'll be able to see on digital and on demand, films to stream on Amazon Prime Video, Apple TV+, Disney+, HBO Max, Hulu, Netflix, and more, and new shows. Though we've prioritized U.S. releases, we've added U.K. and global release dates where available, and you'll also find some noteworthy U.K. releases at point #2. Scroll till the end for other events happening this month, click here for September 's theatrical releases, and happy watching!
---
1. SEPTEMBER 2022 FILMS: ON DIGITAL & ON DEMAND – U.S. RELEASES
BURIAL
Director: Ben Parker
U.S. Release: September 2 (in theaters and VOD)
U.K. Release: unknown
Official synopsis: Set during the waning days of World War II, Burial tells the fictional story of a small band of Russian soldiers tasked with delivering the crated remains of Hitler back to Stalin in Russia. En route, the unit is attacked by German "Werewolf" partisans and picked off one-by-one. An intrepid female intelligence officer leads her surviving comrades in a last stand to ensure their cargo doesn't fall into the hands of those who would hide the truth forever.
---
KAEPERNICK & AMERICA
Directors: Tommy Walker & Ross Hockrow
U.S. Release: September 2
U.K. Release: unknown
Full Review: Kaepernick & America (Review): The Power of a Kneel
Official synopsis: It was the summer of 2016, an election year with unrest rumbling through America. There were countless triggers – the murder videos of Philando Castille and Alton Sterling, the counterpunch of Alt-Right and Fake News, Black Lives Matter, Russian meddling – a discordant national cauldron ready to boil over. It was the birth of Trumpism, but no knew it yet. Then, Colin Kaepernick took a knee and America lost its mind. Kaep's knee touched down on the divide between America's Black and white tectonic plates, creating an earthquake in the eternal race debate. The aftershocks of his singular gesture have already rippled through our country for years.
Kaepernick himself answered any and all thoughtful questions for a time, then stopped talking. And the resulting quiet has allowed for a thoughtful examination of the man and his story. It reveals layer upon layer of surprises and contradictions. Raised in a white family, he became a Black quarterback, while in fact, he is an adopted, biracial man. Inherently shy, he became the center of attention. The man everyone was talking about was mostly silent. He took a stand by taking a knee. Kaepernick & America examines the man and his protest, exploring the remarkable conflict stirred by such a simple gesture.
---
MISTER LIMBO
Director: Robert G.Putka
U.S. Release: September 2
U.K. Release: unknown
Official synopsis: A young man in a parachute lands in the middle of a desert. He does not remember who he is or how he got there. As he tries to find his way home, he will come across several people who also seem to wander through this endless wasteland.
---
THE ALTERNATE
Director: Alrik Brussell
U.S. Release: September 6
U.K. Release: unknown
Official synopsis: Upon unlocking a portal to an alternate dimension where all his dreams have come true, struggling filmmaker Jake is forced to confront his idealized self.
---
KINGDOM OF THE DINOSAURS
Director: Scott Jeffrey
U.S. Release: September 6
U.K. Release: unknown
Official synopsis: In 2030 during World War III in which a small group of survivors make it into a bunker. Two years later they have to exit to find new supplies, but they are greeted by dinosaur predators.
---
THE MOVIE
Director: Michael Mandell
U.S. Release: September 6
U.K. Release: unknown
Official synopsis: Former child star Janet Gillespie is home alone one night when the doorbell rings and Walter, a delivery boy, shows up with a big package on a dolly. He recognizes her. Takes a selfie with her. Tells her he wrote a screenplay for her and even has it with him. Soon, Janet's bound to the dolly and Walter's shooting his movie right there in her house. Of course, Walter is no delivery boy at all. He's a renegade filmmaker doing whatever it takes to get his movie in the can, which just so happens to be the worst movie of all time, Water Under the Fridge. Walter thinks it's only compelling if it's real, so he makes Janet experience the things her character is experiencing for real. There's an onscreen kiss, a love scene, even a death scene, and Janet's gotta do it all… with or without consent.
---
OUR AMERICAN FAMILY
Directors: Hallee Adelman & Sean King O'Grady
U.S. Release: September 6
U.K. Release: September 6
Official synopsis: Addiction is an all-encompassing force, in not only of the lives of the afflicted, but also those around them. OUR AMERICAN FAMILY provides an honest, unfiltered look at a close-knit Philadelphia family dealing with generational substance abuse. Captured at a pivotal "nothing to lose" moment, for over the course of a year, five family members tired of life with addiction on center stage, each struggle to transcend their crippling histories.
What will it take to shift this entrenched, wrenching pattern in their lives? Will they be able to make significant shifts to help their next generation? The members of Our American Family invite us into their lives to find hope and to explore what's possible. Though they often falter, their familial loyalty is powerful, demonstrating how through love and dedication people can rise out of the deepest depths. For a touching, eye-opening look into one of America's most pressing crises, look no further.
---
SOMETHING IN THE WOODS
Director: Alex T. Hwang
U.S. Release: September 6
U.K. Release: unknown
Official synopsis: The creature feature tells of two women who battle a frightening monster in the woods and stars Nicole Cinaglia.
---
THIS LAND
Director: Matthew Palmer
U.S. Release: September 6
U.K. Release: unknown
Official synopsis: From executive producer, Sundance and SXSW winner Jim Cummings (Thunder Road, The Beta Test), This Land is a film exploring six groups of Americans as they experience Election Day across the United States.
---
ABOUT FATE
Director: Marius Vaysberg
U.S. Release: September 9
U.K. Release: unknown
Full Review: About Fate (Film Review): An Ordinary Rom-Com
Official synopsis: When both of their engagement proposals are a bust, hopeless romantics Margot (Emma Roberts) and Griffin (Thomas Mann) find themselves together on New Year's Eve after a bout of fateful events. Both believing in true love, they set out on a magical and comedic journey together, only to quickly realize that the love they've been searching for this whole time might be right in front of them.
---
THE CLASS
Director: Nicholas Celozzi
U.S. Release: September 9 (in theaters and on digital)
U.K. Release: unknown
Official synopsis: A heartwarming coming-of-age drama, The Class follows a group of a high school students forced to spend Saturday completing a failed or missed final exam—and learning about the values, betrayals, and love within themselves and their classmates along the way. This homage to The Breakfast Club will open in select theaters and will also be available to rent/purchase on all major digital platforms.
---
THE DOMAIN
Directors: Hallee Adelman & Sean King O'Grady
U.S. Release: September 13
U.K. Release: unknown
Official synopsis: This epic family saga follows a charismatic and stridently apolitical landowner over the course of several tumultuous decades. With the passing of his father, Joao (Albano Jeronimo) inherits a sprawling estate in southern Portugal, one of the largest in all of Europe on the south bank of the River Tagus. After Joao marries the elegant daughter of a powerful military general, he becomes pressured to publicly support the country's authoritarian leadership and later the socialist revolutionaries who seek to nationalize the country's resources. Eventually, Joao and his beleaguered family must contend with consequences of intergenerational secrets, personal failings, and economic decline. This sweeping drama features stunning widescreen photography and was Portugal's submission to the 2019 Academy Awards.
---
FROM WHERE THEY STOOD
Director: Christophe Cognet
U.S. Release: September 13
U.K. Release: unknown
Official synopsis: It is not widely known that a handful of prisoners in the Nazi death camps managed somehow to take clandestine photographs of the hell that was being hidden from the world. Director Christophe Cognet retraces the footsteps of these courageous men and women in a quest to unearth the circumstances and the stories behind their photographs.
---
GAMEBOYS: THE MOVIE
Director: Ivan Andrew Payawal
U.S. Release: September 13
U.K. Release: unknown
Official synopsis: From the producer of The Texas Chainsaw Massacre and The Texas Chainsaw Massacre: The Beginning. Gamers turned lovers Cairo and Gavreel spend time together a few weeks before Cairo returns to his province. Their relationship is tested as they have to deal with distance, the pandemic, fate and circumstance.
---
GREYWOOD'S PLOT!
Director: Josh Stifter
U.S. Release: September 13
U.K. Release: unknown
Official synopsis: Two friends venture into a forest to see if a monster sighting is real. Has won acclaim on the festival circuit. Stifter's follow-up to cult fave The Good Exorcist.
---
HOUSE OF DARKNESS
Director: Neil LaBute
U.S. Release: September 9 on digital, September 13 on VOD
U.K. Release: unknown
Official synopsis: Justin Long and Kate Bosworth star in this seductive thriller from director Neil LaBute. Driving home to her secluded estate after meeting at a local bar, a player out to score thinks his beautiful, mysterious date will be another casual hook-up. While getting acquainted, their flirtation turns playful, sexy, and sinister. Hoping to get lucky, his luck may have just run out.
---
QUEEN OF GLORY
Director: Nana Mensah
U.S. Release: September 13 (on digital and on demand)
U.K. Release: in cinemas August 26
Full Review: Queen Of Glory (LFF Review): Chaos, Colour, and Weed
Official synopsis: Queen of Glory is the story of Sarah Obeng, the brilliant child of Ghanaian immigrants, who is quitting her Ivy League PhD program to follow her married lover to Ohio. When her mother dies suddenly, she bequeaths her daughter a Christian bookstore in the Pelham Parkway section of the Bronx where Sarah was raised. A follow-up on the classic immigrant's tale, Queen of Glory provokes laughter and empathy, as its heroine is reborn through her inheritance. The film made its premiere at Tribeca 2021, where it won Best New Narrative Director.
---
MEDUSA
Director: Anita Rocha da Silveira
U.S. Release: September 13 on digital, October 25 on DVD/Blu-ray
U.K. Release: unknown
Full Review: Medusa (Film Review): Modernised Mythology in Brazil
Official synopsis: Mari and her friends broadcast their spiritual devotion through pastel pinks and catchy evangelical songs about purity and perfection, but underneath it all they harbor a deep rage. By day they hide behind their manicured facade, and by night they form a masked, vigilante girl gang, prowling the streets in search of sinners who have deviated from the rightful path. After an attack goes wrong, leaving Mari scarred and unemployed, her view of community, religion, and her peers begin to shift. Nightmares of repressed desires and haunting visions of alluring temptation become undeniable and the urge to scream and release her paralyzing inner demons is more powerful than ever before. A neon-tinged genre-bender that gives provocative form to the overwhelming feminine fury coursing through modern life, Medusa dares us not to look away.
---
HOW DARK THEY PREY
Director: Jamison M. LoCascio & Adam Ambrosio
U.S. Release: September 15
U.K. Release: unknown
Official synopsis: Four dark tales about the haunting nature of man and the unknown from WWII to Alien investigation, finding the occult, and kidnap with torture, the highly-anticipated horror anthology is written by Adam Ambrosio, Anthony LoCascio and Jamison M. LoCascio.
---
CONFESS, FLETCH
Director: Greg Mottola
U.S. Release: September 16 (in theaters, on digital and on demand)
Official synopsis: Told through sublime, kaleidoscopic, never-before-seen footage, performances and music, Brett Morgen's (The Kid Stays in the Picture, Cobain: Montage of Heck, Jane) feature length experiential cinematic odyssey explores David Bowie's creative, musical and spiritual journey. The film is guided by David Bowie's own narration and is the first officially sanctioned film on the artist.
---
SURROGATE
Director: David Willing
U.S. Release: September 16
U.K. Release: unknown
Official synopsis: Written by Beth King and David Willing, in his feature directorial debut, Surrogate tells of Natalie Paxton (Morassi), a single mother and nurse, who falls mysteriously ill and struggles to stop her family from being destroyed.
---
TO THE MOON
Director: Scott Friend
VOD Release: September 20 (in the in the US, Canada, UK, Ireland, Australia and New Zealand)
Official synopsis: To The Moon follows Dennis and Mia, a young couple who find their weekend retreat becomes a hallucinatory nightmare when Dennis' estranged brother Roger arrives and begins to distort their senses. A dysfunctional family study by way of psychological, psychedelic thriller that plays out under the weight of addiction and takes its three leads to darkly funny lows, the film takes the trope of the uninvited house guest and turns it into a metaphor for the fallout of trauma on the relationship between a young couple.
---
THE STORY OF FILM: A NEW GENERATION
Director: Mark Cousins
U.S. Release: September 20
U.K. Release: unknown
Official synopsis: A decade after The Story of Film: An Odyssey, an expansive and influential inquiry into the state of moviemaking in the 20th century, filmmaker Mark Cousins returns with an epic and hopeful tale of cinematic innovation from around the globe. In The Story of Film: A New Generation, Cousins turns his sharp, meticulously honed gaze on world cinema from 2010 to 2021, using a surprising range of works—including Frozen, The Babadook, and Cemetery of Splendour—as launchpads to explore recurring themes and emerging motifs, from the evolution of film language, to technology's role in moviemaking today, to shifting identities in 21st-century world cinema.
Touching on everything from Parasite and The Farewell to Black Panther and Lover's Rock, Cousins seeks out films, filmmakers and communities under-represented in traditional film histories, with a particular emphasis on Asian and Middle Eastern works, as well as boundary-pushing documentaries and films that see gender in new ways. And as the recent pandemic recedes, Cousins ponders what comes next in the streaming age: how have we changed as cinephiles, and how moviegoing will continue to transform in the digital century, to our collective joy and wonder.
---
THE AMERICAN DREAM AND OTHER FAIRY TALES
Directors: Abigail E. Disney & Kathleen Hughes
U.S. Release: September 23 in select theaters and on demand
U.K. Release: unknown
Official synopsis: Abigail Disney looks at America's dysfunctional and unequal economy and asks why the American Dream has worked for the wealthy, yet is a nightmare for people born with less. Using her family's story, Disney explores how this systemic injustice took hold and imagines a way toward a more equitable future.
---
BANDIT
Director: Allan Ungar
U.S. Release: September 23 in theaters and on demand
U.K. Release: unknown
Official synopsis: In 1985, Gilbert Galvan Jr (Josh Duhamel), a charming career criminal, escapes from a US prison in Michigan and crosses the border into Canada where he assumes the identity Robert Whiteman. After falling in love with Andrea (Elisha Cuthbert), a caring social worker he can't provide for, he turns to robbing banks and discovers that he's exceptionally good at it. Under the guise of a security analyst, Robert begins flying around the country robbing multiple cities in a day, eventually catching the attention of national news outlets that dub him The Flying Bandit. Addicted to the rush and money that provides his double life, Robert eventually turns to loanshark and reputed gangster Tommy Kay (Mel Gibson) for bigger opportunities. But with Robert's notoriety growing in record time, he is put into the direct sights of a ruthless detective (Nestor Carbonell) who will stop at nothing to bring him down.
---
DIG
Director: K. Asher Levin
U.S. Release: September 23 theaters, on digital and on demand
U.K. Release: unknown
Official synopsis: Steve Brennan is trying to piece together a life shattered by a road rage incident that killed his wife and left his teen daughter Jane deaf and resentful of him. Still hoping to mend things with Jane a year later, Brennan accepts a contract for a high-paying demolition job in the desolate New Mexico sprawl outside Las Cruces. When he and Jane arrive at the site, they are suddenly taken hostage by a dangerous couple, who will stop at nothing to retrieve what lies beneath the property. Now father and daughter must work together to outsmart their captors and survive the grueling night.
---
THE ENFORCER
Director: Richard Hughes
U.S. Release: September 23 in theaters and on demand
U.K. Release: unknown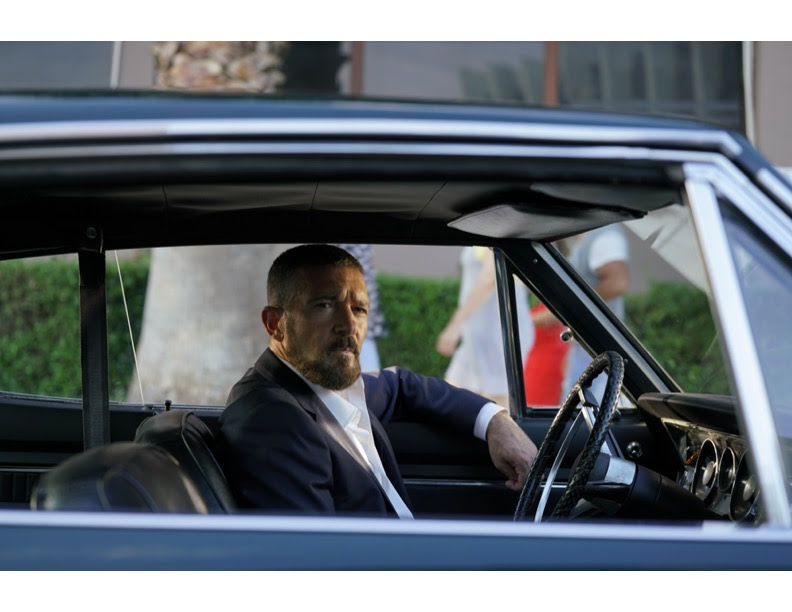 Official synopsis: Miami's top mob enforcer Cuda (Antonio Banderas) sacrifices it all to tear down the criminal organization he's spent his whole life building up when he discovers his boss Estelle (Kate Bosworth) is putting a young runaway's life in grave danger. Now he has one last chance to make up for his past and find redemption – both for himself and his family – before the mob hunts him down for his betrayal.
FALL
Director: Petr Jákl
U.S. Release: on Digital September 27, on Blu-ray & DVD on October 18
U.K. Release: October 3
Full Review: Fall (2022) Film Review: Don't Look Down
Official synopsis: Experience a heart-pounding tale of survival from the producers of 47 Meters Down where sacrifice may just be the only way out. A fast drop and a sudden stop awaits Becky (Grace Caroline Currey, Shazam!) and Hunter (Virginia Gardner, Halloween) as they find themselves trapped 2,000 feet up an abandoned radio tower in the desert. Highly trained and resourceful, these climbers were still not ready for every eventuality. A series of unfortunate events see their gear and supplies taken from them and as temperatures rise and vultures begin to circle, the chance of survival begins to fall rapidly. Also starring Jeffrey Dean Morgan (Watchmen), Fall is produced & directed by Scott Mann (Final Score) and written by Mann and Jonathan Frank (Final Score).
---
AFTER SHE DIED
Director: Jack Dignan
U.S. Release: September 30
U.K. Release: unknown
Official synopsis: Jen's mother is dead. Her relationship with her father, John, is fractured beyond repair. Her friends, all recent high school graduates, are moving on with their lives and leaving behind the small town they once called home. Jen is, in every sense of the word, alone. That is until John introduces Jen to his new girlfriend, Florence… a woman who looks and sounds identical to Jen's dead mother.
---
GOD'S CREATURES
Directors: Saela Davis & Anna Rose Holmer
U.S. Release: September 30 in theaters and on demand
U.K. Release: unknown
Official synopsis: In a windswept fishing village, a mother is torn between protecting her beloved son and her own sense of right and wrong. A lie she tells for him rips apart their family and close-knit community in this tense, sweepingly emotional epic.
---
INHOSPITABLE
Director: Walter Hill
U.S. Release: September 30 (in theaters and on digital)
U.K. Release: unknown
Official synopsis: InHospitable follows patients and activists as they band together in an effort to stop UPMC, a multi-billion-dollar nonprofit hospital system, from making vital care unaffordable for hundreds of thousands of vulnerable patients in western Pennsylvania. Few are aware that in the past several years many nonprofit hospitals around the country have been building healthcare empires and amassing huge amounts of wealth and political power at the expense of the surrounding residents. The story of InHospitable illustrates this alarming trend and turns the lens on the seemingly unwinnable battle between the Goliath UPMC and the patients, hospital workers, community activists, labor leaders, journalists, and politicians – almost all of them women – who built a grassroots movement to literally fight for their lives.
---
MONA LISA AND THE BLOOD MOON
Director: Ana Lily Amirpour
U.S. Release: September 30 (in theaters, on digital and on demand)
U.K. Release:September 17 on Sky Cinema, September 30 in select cinemas
Read our interview: Ana Lily Amirpour, Craig Robinson & Ed Skrein on Mona Lisa and the Blood Moon
Official synopsis: Kate Hudson and Jun Jong Seo star in this mind-bending thriller from visionary director Ana Lily Amirpour (A Girl Walks Home Alone At Night). When a struggling single-mother (Hudson) befriends a mysterious mental institute escapee with supernatural powers (Jong Seo), she sees a lucrative opportunity to make some fast cash. But when they draw the attention of a detective (Craig Robinson), their luck starts to run out as the cops close in on their crime-spree.
---
VESPER
Directors: Kristina Buozyte & Bruno Samper
U.S. Release: September 30 in theaters and on VOD
U.K. Release: later this year
Official synopsis: Set after the collapse of the Earth's ecosystem, Vesper follows the titular headstrong 13-year-old girl (Raffiella Chapman), who uses her survival skills to subsist in the remnants of a strange and dangerous world with her ailing father, Darius (Richard Brake). When Vesper finds a mysterious woman, Camellia (Rosy McEwen), alone and disoriented after an aerial crash, she agrees to help find her missing companion in exchange for safe passage to the Citadel, – the dark central hub where oligarchs live in comfort thanks to state-of-the-art biotechnology. Vesper soon discovers that her brutal neighbor, Jonas (Eddie Marsan), is searching for Camellia, who is harboring a secret that could change all of their lives forever. Forced into a dangerous adventure, Vesper must rely on her wits and bio-hacking abilities to unlock the key to an alternate future.
---
2. SEPTEMBER 2022 FILMS: ON DIGITAL & ON DEMAND – U.K. RELEASES
KICK OUT THE JAMS: THE STORY OF XFM
Director: Ray Burdis
U.K. Release: September 2
U.S. Release: unknown
Official synopsis: Titled after the first-ever song to play on their airwaves, Kick Out the Jams follows the development of XFM from its rebellious pirate radio roots in the early 90's, through to its official FM radio launch in 1997 as a major platform for launching alternative talent into the mainstream. The doc deep-dives into the struggles and influence of the station which gave rise to the likes of Ricky Gervais & Stephen Merchant, whose global hits The Office and The Ricky Gervais Show were originally developed while working at the radio station. XFM also unlocks its rich musical vault, including rare footage and unseen photos of Oasis and Blur, allowing an intimate look into the station at the centre of the Britpop craze of the 90s. Kick Out the Jams is directed by Ray Burdis (The Wee Man) and produced by Brian Anderson (Britain's Gangland) and Ian Jefferies (Faces of the Underworld).
---
WILDHOOD
Director: Bretten Hannam
U.K. Release: September 2 (on digital and in UK cinemas)
U.S. Release: June 24 on digital – watch Wildhood here!
Full Review: Wildhood (BFI Flare Review): Ode to the Mi'kmaw
Official synopsis: In a rural east-coast trailer park, Link (Phillip Lewitski) lives with his toxic father and younger half-brother Travis (Avery Winters-Anthony). When Link discovers his Mi'kmaw mother could still be alive, it lights a flame and they make a run for a better life. On the road, they meet Pasmay (Joshua Odjick), a powwow dancer drawn to Link. As the pair journey across Mi'kma'ki, Link finds community, identity, and love in the land where he belongs.
---
TERROR ON THE PRAIRIE
Director: Michael Polish
U.K. Release: September 5 on Digital Platforms, October 3 on DVD
U.S. Release: out now on digital, on demand, and DVD.
Official synopsis: True Grit meets The Handmaid's Tale in this highly-unsettling and ruthlessly vicious female-led western thriller. On the Montana plains, a frontier woman must protect herself against a ruthless gang of outlaws hell-bent on revenge.
---
THE STRANGER IN OUR BED
Director: Giles Alderson
U.K. Release: September 5
U.S. Release: out now on Showtime
Official synopsis: Prepare for Britain's answer to Gone Girl. Feeling trapped in her controlling marriage to wealthy husband Tom (Ben Lloyd-Hughes, Industry), Charlotte Carlisle (Emily Berrington, Humans) begins an affair with another man, who one day mysteriously disappears without a trace. Behind her husband's back, she secretly begins an investigation into the disappearance, teaming up with her lover's sister Becki (Terri Dwyer, Hollyoaks) to uncover the truth behind what happened. It quickly becomes clear that nothing is at it seems, and after becoming witnesses to a murder, the two become entangled in a dark and twisted game of cat-and-mouse. With her life on the line, Charlotte must uncover what's really going on – before it's too late.
---
DEATH PURSUIT
Director: James Clayton
U.K. Release: September 12
U.S. Release: out now on digital and on demand – watch it here!
Official synopsis: Death Pursuit is a full-throttle action thriller boasting jaw-dropping stunts and featuring action superstar Vinnie Jones. A Thief (James Clayton) who only looks out for number one, finally pulls off his long-gestating heist: the robbery of psychotic crime lord, Temple (Vinnie Jones). The plan goes off without a hitch until he discovers a stowaway in his getaway car – Temple's wife, Mia along with Temple's elite assassin, the deadly and mysterious man known simply as The Frenchman, hot on their heels. The Thief is torn between disappearing with the money or taking a risky detour to help Mia escape her husband's abusive grasp. But with Temple, The Frenchman, and their deadly convoy of goons in pursuit, they quickly discover the only way to get out alive is to drive out.
---
BLOODY ORANGES
Director: Jean-Christophe Meurisse
U.K. Release: September 16 (in cinemas and on digital)
U.S. Release: out now on digital and on demand. Watch Bloody Oranges!
Full Review: Bloody Oranges (Film Review): Overlapping Transgressions
Official synopsis: A retired couple enter a dance contest, a corrupt politician, a girl eager to lose her virginity, and a young lawyer obsessed with social status – a seemingly benign look into these daily lives goes haywire in this shocking black comedy.
---
STRAWBERRY MANSION
Directors: Kentucker Audley and Albert Birney
U.K. Release: September 16
U.S. Release: out now on digital and on demand. Watch Strawberry Mansion!
Full Review: Strawberry Mansion (Film Review): A Journey Through Dreams
Official synopsis: In the not-too-distant future, an all-seeing surveillance state conducts "dream audits" to collect taxes on the unconscious lives of the populace. Mild-mannered government agent James Preble (Kentucker Audley) travels to a remote farmhouse to audit the dreams of Arabella "Bella" Isadora (Penny Fuller), an eccentric, aging artist. Entering Bella's vast VHS archive, which contains a lifetime of dreams, Preble stumbles upon a secret that offers him a chance at love – and hope for escape.
---
SHAPELESS
Director: Samantha Aldana
U.K. Release: September 19
U.S. Release: out now on digital and on demand. Watch Shapeless!
Full Review: Shapeless (Tribeca Review): An Unformed Psychological Drama
Official synopsis: Ivy is desperate to pursue her dream of becoming a jazz singer in New Orleans. But when she isn't performing, she is filled with a crippling dread, and personal demons threaten to turn her into something monstrous.
---
WHEN THE SCREAMING STARTS
Director: Conor Boru
U.K. Release: September 26
U.S. Release: unknown
Official synopsis: Aidan (Ed Hartland, #SketchPack) has a dream; that dream is bathed in blood and glory as he documents his attempt to become one of the UK's most infamous serial killers. With a documentary film crew on hand, Aidan's dream is set to become a reality as he becomes England's answer to The Manson Family. Recruiting a gang of damaged souls with the same urge to kill, he soon realises that some of his blood-soaked cult members may be a little more into the murder and mayhem than he is. Who will make the headlines? Who will be forgotten and who will be left on the chopping block when all is said and done?
---
3. SEPTEMBER 2022: NEW FILMS TO STREAM
AMAZON PRIME VIDEO
September 1-11
Flight / Risk: September 9
September 12-18
Goodnight Mommy: September 16
September 25-30
Argentina, 1985: September 29
My Best Friend's Exorcism: September 30
---
APPLE TV+
September 19-25
September 26-30
---
DISNEY PLUS/HULU/STAR
September 25-30
---
MUBI
September 1-11
September 12-18
September 25-30
---
NETFLIX
September 1-11
September 12-18
September 19-25
Patton Oswalt: We All Scream: September 20
Lou: September 23
ATHENA: September 23
September 25-30
---
PARAMOUNT+
September 19-25
On The Come Up: September 23
---
PEACOCK
September 1-11
---
SHUDDER
September 1-11
September 12-18
Speak No Evil: September 15
September 19-25
September 25-30
---
4. SEPTEMBER 2022: NEW SHOWS OUT THIS MONTH
AMAZON PRIME VIDEO
September 1-11
September 19-25
---
APPLE TV+
September 1-11
---
DISNEY PLUS
September 1-11
September 19-25
September 25-30
---
HBO & HBO MAX
September 12-18
Los Espookys: September 16
---
HULU
September 1-11
September 12-18
The Handmaid's Tale Season 5: September 14
September 19-25
Best in Dough: September 19
The Kardashians Season 2: September 22
---
NETFLIX
September 1-11
Off The Hook: September 1
Devil in Ohio: September 2
Dated and Related: September 2
You're Nothing Special: September 2
Narco-Saints: September 9
Cobra Kai Season 5: September 9
September 12-18
September 19-25
Wanna: September 21
The Girls at the Back: September 23
September 25-30
---
PARAMOUNT+
September 1-11
---
PEACOCK
September 1-11
September 12-18
September 25-30
Dragon Rescue Riders: Heroes of the Sky: September 29
---
SHUDDER
September 25-30
Queer for Fear: The History of Queer Horror: September 30
---
WHAT ELSE IS HAPPENING THIS MONTH:
Season Finales:
September 14: High School Musical: The Musical: The Series: Season 3, Episode 8
Film Festivals:
Other Events: