Comic-Con@Home: All The New Movie & TV Trailers (SDCC 2020)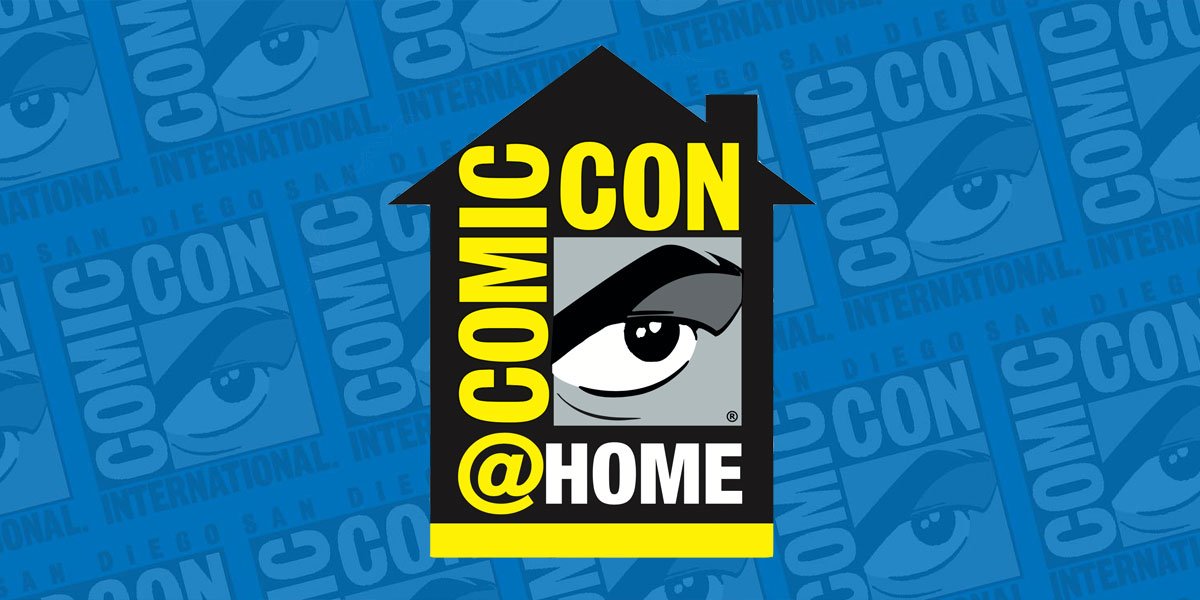 Comic-Con@Home (Courtesy of San Diego Comic-Con)
Comic-Con@Home is happening, and we've got you covered: from His Dark Materials to The New Mutants, here all the new movie & TV trailers from SDCC 2020.
---
On the fourth month of lockdown, Zoom calls, livestreams and virtual events are getting less exciting by the day. But when every fan's favourite event of the year announces an edition that is not only entirely online, but also free and therefore accessible from all over the world, it goes without saying that we'll be watching every single livestreamed panel of this new and exciting Comic-Con@Home. Here are all the new movie & TV trailers from San Diego Comic-Con 2020: keep checking this page for updates as more clips are released.
---
FILMS
ANTLERS
Release Date: February 19, 2021
Where: Cinemas
Scott Cooper (Crazy Heart)'s new horror/mystery drama won't be released till next year, but the hype is high, especially considering that it has been produced by Guillermo del Toro. Antlers is set in an isolated Oregon town and revolves around a middle-school teacher (played by Mission:Impossible 3's Keri Russell) who has to uncover her enigmatic student's dark secrets with the help of her sheriff brother.
---
BILL & TED FACE THE MUSIC
Release Date: September 1, 2020
Where: Cinemas and VOD
Though we already had a trailer for Bill & Ted's much-anticipated new adventure, Orion Pictures released a new one for Comic-Con, and it comes with the news that the film will hit both cinemas and VOD on the same day – September 1, 2020. Directed by Dean Parisot and starring Keanu Reeves and Alex Winter, Bill & Ted Face The Music sees our favourite would-be rockers still strying to release a hit song and save the universe as middle-aged dads.
Watch Bill & Ted's Excellent Adventure:
---
THE NEW MUTANTS
Release Date: August 28, 2020
Where: Cinemas
Earlier this week, a trailer came out suggesting that The New Mutants was going to be dropped on Disney+ during Comic-Con@Home, ahead of the scheduled release. The trailer turned out to be fan made, and The New Mutants acknowledged the hype for the film's release at their digital panel (watch it here), which started with a series of crossed-out dates followed by an "in theaters August 28th, 2020 – fingers crossed" as the film's official release date. The good news, aside from the fact that we'll get to see the new instalment of the X-Men saga at the cinema, is that its opening scene looks incredible.
---
PHINEAS AND FEB THE MOVIE: CANDACE AGAINST THE UNIVERSE
Release Date:  August 28, 2020
Where: Disney+
Phineas and Ferb the Movie: Candace Against the Universe is coming to Disney+ in less than a month, and if there's one thing we've learned from Comic-Con@Home's sneak peek is that it will feature at least one of those songs that can get stuck in your head for days after you've heard them. So watch Candace sing about her "beautiful day", but not before you go to sleep!
---
TV
---
ARCHER: SEASON 11
Release Date:  September 16, 2020
Where: FXX
The beloved, Award-winning show has been renewed for a new season, coming to FXX in September: Comic-Con@Home unvelied Season 11's trailer.
---
THE BOYS: SEASON 2
Release Date: September 4, 2020
Where: Amazon Prime Video
Amazon released an epic sneak peek at The Boys' Season 2, featuring a whale.
---
FEAR THE WALKING DEAD: SEASON 6
Release Date: October 11, 2020
Where: AMC
Though we have to wait till October to watch Season 6 of Fear the Walking Dead, panelists Lennie James, Alycia Debnam-Carey, Colman Domingo, Danay Garcia, Karen David, Jenna Elfman and Rubén Blades helped soften the wait with a trailer that offers some insights on the characters' whereabouts after Season 5.
---
HIS DARK MATERIALS: SEASON 2
Release Date: Autumn 2020
Where: HBO and BBC One
The much-anticipated trailer for the Second Season of HBO's popular adaptation of Philip Pullman's award-winning trilogy was released at the very start of Comic-Con@Home's virtual panel (watch it here), introduced by the show's executive producers (Jane Tranter and Jack Thorne) and cast members Dafne Keen (Lyra), Ruth Wilson (Mrs. Coulter), Ariyon Bakare (Lord Boreal), Amir Wilson (Will Parry), Andrew Scott (John Parry) and Lin-Manuel Miranda (Lee Scoresby).
With His Dark Materials' new trailer come many revelations, starting from a first look at the parallel world of Cittàgazze where Lyra finds herself at the beginning of Season 2. We also learn that Andrew Scott (John Parry) will be much more present in the show, joined by an old acquaintance: his character's dæmon, Sayan Kötör, will be voiced by his Fleabag co-star Phoebe Waller-Bridge. The trailer also introduces new characters, such as witch queen Ruta Skadi (Jade Anouka) and scientist Mary Malone (Simone Kirby). In Ruth Wilson's words, "These are strange, new times" indeed.
Watch His Dark Materials' Season 1:
---
LOVECRAFT COUNTRY: SEASON 1
Release Date: August 16, 2020
Where: HBO
This much anticipated HBO show is based on Matt Ruff 's novel of the same name and executive produced by Misha Green, J.J. Abrams and Jordan Peele, among others. The show is set in the 1950s, and revolves around a man called (Jonathan Majors) who embarks on a road trip with his friend Letitia (Jurnee Smollett) and his Uncle George (Courtney B. Vance) in search of his missing father (Michael Kenneth Williams).
---
MARVEL'S HELSTROM: SEASON 1
Release Date: October 16, 2020
Where: Hulu
Marvel's Helstrom revolves around Daimon (Tom Austen) and Ana Helstrom (Sydney Lemmon), the son and daughter of a powerful serial killer, on a mission to track down the worst of humanity.
---
NEXT: SEASON 1
Release Date:  October 5, 2020
Where: Fox
Fox's nes sci-fi drama stars John Slattery (Mad Men), and that, alone, is reason enough to want to watch the show. neXt is a fact-based thriller that revolves around a deadly artificial intelligence gone rogue, and it's ultimately an examination on how technlogy is turning us into people we don't understand. Though the plot doesn't exactly sound like something we haven't seen before, the TV show format and excellent cast might offer a few surprises.
---
RICK AND MORTY: SEASON 5
Release Date:  soon
Where: Adult Swim
Rick and Morty's Season 5 will be released soon, though we don't know how soon that will be, judging by the unfinished sketches in the first look shared by Adult Swim. Yet, the show looks quite exciting even in its unfinished form, which is enough to make us anticipate Season 5.
---
THE RIGHT STUFF: SEASON 1
Release Date:  This Fall
Where: Disney+
Disney showed the first official clip from The Right Stuff, the first scripted Disney+ original series from National Geographic. Produced by Leonardo DiCaprio's Appian Way and Warner Horizon Scripted Television, the miniseries follows seven of the military's best pilots as they become astronauts for the newly-formed NASA at the height of the Cold War.
---
UTOPIA
Release Date: Autumn 2020
Where: Amazon Prime
Created by Gillian Flynn (Gone Girl, Sharp Objects) and starring Jessica Rothe, Sasha Lane and John Cusack, Amazon's new thriller revolves around a group of young adults who are burdened with the task of saving the world after making an unsettling discovery about their favourite graphic novel.
---
TRUTH SEEKERS
Release Date: Fall 2020
Where: Amazon Prime
Simon Pegg and Nick Frost are back in a new comedy series that they also co-wrote, which revolves around a team of part-time paranormal investigators who uncover a deadly conspiracy. The show also stars Samson Kayo, Malcolm McDowell (Mozart in the Jungle) and Emma D'Arcy (Misbehaviour) and we can't wait to see it, if only for Dave (Pegg)'s terrible haircut and The Shaun of the Dead duo's signature humour.
---
VIKINGS: SEASON 6 (HALF SEASON)
Release Date: Fall 2020
Where: The History Channel
Vikings' Season 6 is currently airing, so Comic-Con gave us a sneak peek of what will happen in the second half of the show, airing this fall. Spoiler alert: the clip has major revelations on the midseason finale's cliffhanger.
---
THE WALKING DEAD: SEASON 10
Release Date: October 4, 2020
Where: Amazon Prime
The new Season of The Walking Dead will premiere in October, and Comic-Con shared the opening scene of "A Certain Doom" the Season 10 Finale and an episode that feels particularly relevant to our post-COVID world. "We are the end of the world".
---
WIZARDS: TALES OF ARCADIA
Release Date: August 7, 2020
Where: Netflix
The third installment of DreamWork's Tales of Arcadia trilogy, created and executive produced by Guillermo del Toro, stars Colin O'Donoghue as Merlin's apprentice. This time-bending adventure is set in Camelot, joins Arcadia's heroes on a time-bending adventure in Camelot and revolves around a conflict between the human, troll and magical worlds. This limited series is coming to Netflix on August 7, and its characters are voiced by well-known names such as Mark Hamill, Emile Hirsch, Lena Headey, Alfred Molina, John Rhys Davies and Steven Yeun.
Watch Trollhunters: Tales of Arcadia:
---