P!nk's Beautiful Trauma is out, and we are "certifiably, insanely proud" of her

Beautiful Trauma: album cover (RCA Records/Sony Music Entertainment)
Forget bittersweet ballads and feel-good dancefloor hits: Pink's Beautiful Trauma is fresh, brutal and heartbreakingly raw.

---
"This is a first for me… All this happiness, it's weird!" Those were the words P!nk said to Ellen back in 2015, when they discussed Today's The Day, the theme song she wrote for her show, and the singer admitted that she wasn't used to writing happy songs. And if we think about her most popular hits since her debut in 2000, we can't deny it's true. In her early albums she defined herself as her "own worst enemy" (Don't Let Me Get Me, 2001), and wished for real love (Can't Take Me Home, 2000), and in her later work, as she kept growing as an artist, she still continued to ask herself those very same fundamental questions, delving deeper and deeper into her own fears and truths.
"I'm not dead, just floating. Underneath the ink of my tattoo I've tried to hide my scars from you", she sang in 2006 (I'm Not Dead), as she also accepted that it was "gonna be a long, long way to happy" (Long Way To Happy). "This used to be a funhouse, but now it's full of evil clowns", she added in 2008 (Funhouse), when she started to explore the darkest sides of herself and her own life, with lyrics like "wind me up and watch me go, where she stops nobody knows – A good excuse to be a bad influence on you" (Bad Influence) and "Can't you tell that this is all just a contest? The one that wins will be the one that hits the hardest." (Please Don't Leave Me). During the years, as the songs developed, so did P!nk as an artist. And the stronger the impact of her words was, the more vulnerable she appeared on stage, with breathtaking choreographies that got more intricated and complex by the day.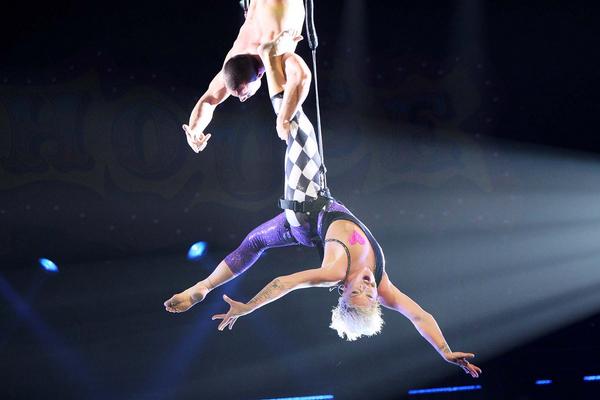 In 2013 came The Truth About Love, her most intense album so far, and also her best. It simply stood out from everything else she had ever written before. She took all the heartbreak and pain in the world, all those emotions that we've all felt but have never been able to give a name to, and wrote about them. And then sang, with such honesty and clarity to open our eyes (and ears!) and make us get it all at once, straight away. Are We All We Are is frustration, Blow Me One Lask Kiss is anger, Try is pure intimacy. Walk of Shame is way more familiar than it should be, Slut Like You is the ultimate girl power song. And The Great Escape will break your heart.
The Truth About Love is, to me, P!nk's absolute masterpiece: as I got ready to listen to Beautiful Trauma, I didn't think it – or any future album of P!nk's, for that matter – could be up to that standard. And let's be honest: What About Us, the first single from her new album, is a good song – but not a great one. Whatever You Want, the second single to appear on the singer's YouTube channel, anticipating the album's release, was unimpressive at best. Revenge – her collaboration with Eminem – failed to achieve the interesting premises it had set on paper.
As I listened to these tunes, I wondered if P!nk herself really believed in the words she was singing in the first place: it felt like I had heard it all before, but in a much more convincing way.
And then I got to But We Lost It, the one song that changed everything. The track that moved me from the very first notes, and brought back that familiar, bittersweet feeling I get when P!nk shares her deepest feelings with the world. The song that immediately meant goosebumps and tears, the one that made me smile because she did it again and released another outstanding piece of poetry, and at the same time also left me kind of broken, wondering about how much suffering and sadness can a human being experience in a lifetime.
---
You walked by, and it's like our bodies never touched
No love, you hold me close, but I don't feel much
I cry, maybe time isn't on our side – we had a thing but we lost it.
One more go, I kinda thought if we took it slow
It might be easier for us, yeah for us to know
I know we've never been quite here before
I wish I knew it when we lost it.
---
P!nk opened up about her latest album, and told The Guardian: "I started to realise that when I am the most uncomfortable and the most vulnerable and saying the most honest, shameful shit, that's what's getting to somebody else. And I'm basically having therapy and somebody else is getting something from it. That's the only thing that was meaningful to me. I didn't care about winning awards or being on the cover of magazines or people liking me. That was never what moved my needle."
And it's true. P!nk's rawest and most honest songs, such as But We Lost It, Beautiful Trauma, I Am Here and the final but most powerful track Wild Hearts Can't Be Broken – those are the songs that get to us. Just as the name of the album suggests, P!nk's latest work is Beautiful, and at the same time it is also a Trauma. The artist said to fans that she is "certifiably, insanely proud of this album", as she should be. At the same time, the same can be said of fans: we are certifiably, insanely proud of P!nk for being one of the most honest artists of our times, and for coming out of that uncomfortable, vulnerable place stronger than ever.