October 2022: New Movies In Theaters This Month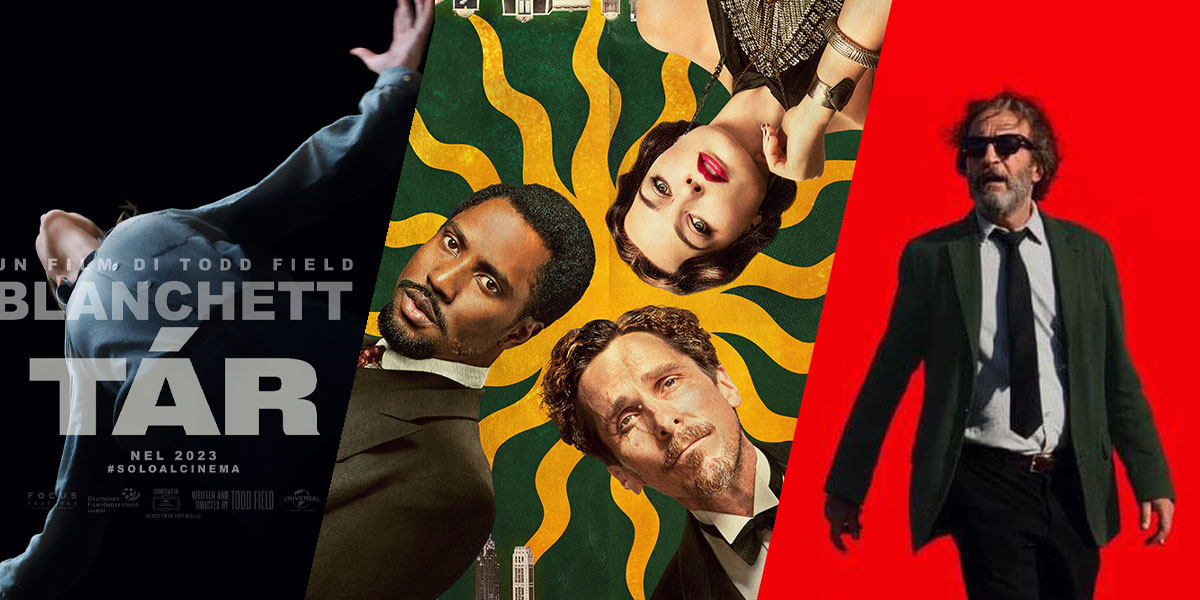 TÁR, Amsterdam, Bardo (Focus Features, 20th Century, Netflix)
October 2022 's new releases include TÁR, Halloween Ends, and The Banshees of Inisherin! Here are all the new movies to watch in theaters this month.
The first Iñárritu film in four years, the film that might win Cate Blanchett her third Oscar, the Julia Roberts and George Clooney rom-com you never thought you needed, this year's Palme d'Or winner, the DC superhero movie of the year, Martin McDonagh's cinematic return,the final chapter of David Gordon Green's Halloween series: how can all of these films be released this month?
If this summer was pretty uneventful, October is here to bring us the best 2022 has to offer, with plenty of festival favorites, highly anticipated releases, and indie gems you don't want to miss. We've made a list of all of October 2022 's upcoming releases, to help you decide what to watch this month!
You'll find all the movies below, in order of release and divided by films you'll be able to see in U.S. theaters and in U.K. cinemas, and we've also included global release dates where available. Scroll till the end for other events happening this month, click here for this month's streaming releases, and happy watching!
---
OCTOBER 2022 MOVIES: IN U.S. THEATERS
PHANTOM PROJECT
Director: Roberto Doveris
U.S. Release: October 4 in theaters and VOD
U.K. Release: TBA
Official synopsis: Following his roommate's sudden departure, Pablo finds that a vintage sweater left behind comes attached with a certain mischievous spirit, sending the struggling actor on a colorful quest alongside fellow hustling millennials in the sly, playful comedy Phantom Project.
---
TERRIFIER 2
Director: Naveen A. Chathapuram
U.S. Release: October 6
U.K. Release: October 24 (on VOD)
Full Review: Terrifier 2 (Film Review): A Bloody Feast for Gore Hounds
Official synopsis: After being resurrected by a sinister entity, Art the Clown returns to the timid town of Miles County where he targets a teenage girl and her younger brother on Halloween night.
---
AMSTERDAM
Director: David O'Russell
Global Release: October 7
Full Review: Amsterdam (Movie Review): A Total Mess of a Mystery
Official synopsis: From 20th Century Studios, New Regency, and acclaimed filmmaker David O. Russell comes Amsterdam, an original crime epic about three close friends who find themselves at the center of one of the most shocking secret plots in American history. A fascinating and richly intricate tale that brilliantly weaves historical fact with fiction for a timely, cinematic experience. The film stars Christian Bale, Margot Robbie, John David Washington, Chris Rock, Anya Taylor-Joy, Zoe Saldaña, Mike Myers, Oscar nominee Michael Shannon, Timothy Olyphant, Andrea Riseborough, Taylor Swift, Matthias Schoenaerts, Alessandro Nivola, with Oscar winner Rami Malek and Robert De Niro.
---
BATTLEGROUND
Director: Cynthia Lowen
U.S. Release: October 7 in theaters, October 14 Watch Now @ Home (virtual cinema)
U.K. Release: TBA
Official synopsis: In the wake of Roe, 26 states stand poised to ban abortion, catalyzing unprecedented legal, medical and social upheaval. Battleground is required viewing for anyone with a stake in the future of abortion in America. The feature documentary follows three women who lead formidable anti-abortion organizations in their single-minded quest to overturn Roe v. Wade, as they face down forces equally determined to safeguard women's access to safe and legal abortions.
---
BROMATES
Director: Court Crandall
U.S. Release: October 7 (in theaters and VOD)
U.K. Release: TBA
Full Review: Bromates (Review): A Love Letter to Early 2000s Comedies
Official synopsis: Bromates follows best friends – though polar opposites – Jonesie (Howery) and Sid (Brener), who both break up with their girlfriends at the same time and decide to move in together in a misguided attempt to help each other through their respective breakups. Alongside their friends Angry Mike (Ali) and Runway Dave (Scannell), things move quickly from heartbreak to hilarity, to life, and potentially, death.
---
LYLE, LYLE, CROCODILE
Directors: Josh Gordon & Will Speck
U.S. Release: October 7
U.K. Release: October 14
Full Review: Lyle, Lyle Crocodile (Film Review): Widely Wholesome
Official synopsis: Based on the best-selling book series by Bernard Waber, Lyle, Lyle, Crocodile is a live-action/CGI musical comedy that brings this beloved character to a new, global audience. When the Primm family (Wu, Scoot McNairy, Winslow Fegley) moves to New York City, their young son Josh struggles to adapt to his new school and new friends. All of that changes when he discovers Lyle – a singing crocodile (Mendes) who loves baths, caviar and great music-living in the attic of his new home. The two become fast friends, but when Lyle's existence is threatened by evil neighbor Mr. Grumps (Brett Gelman), the Primms must band together with Lyle's charismatic owner, Hector P. Valenti (Bardem), to show the world that family can come from the most unexpected places and there's nothing wrong with a big singing crocodile with an even bigger personality.
---
ONODA: 10,000 NIGHTS IN THE JUNGLE (LIMITED)
Director: Arthur Harari
U.S. Release: October 7 at Film Forum (NYC), October 14 in LA and additional locations
U.K. Release: out now on digital and on demand
Official synopsis: A drama based on the true story of Hiroo Onoda, the legendary Japanese soldier who spent 30 years in the Philippine jungle, refusing to surrender because he was convinced World War II had not ended. Camouflaged by leaves and bark, shooting water buffalo for sustenance, Onoda will not believe even the recordings of his brother's voice, imploring him to give up, or the magazine articles left for him in the jungle, meant to enlighten him about a world that had changed dramatically since 1944. (His response: paranoid conspiracy theories about the enemy concocting fake news.) Was Onoda a self-deluded fanatic or a paragon of patriotism? Harari's poignant, epic drama reveals the complexities of the man who became a modern myth – and the inspiration for Werner Herzog's recently published novel, The Twilight World.
---
PIGGY
Director: Carlota Pereda
U.S. Release: October 7 at Alamo Drafthouse cinemas, October 14 in additional theaters and VOD
U.K. Release: January 6, 2023
Full Review: Piggy (Film Review): Bullied To A Breaking Point
Official synopsis: With the summer sun beating down on her rural Spanish town, Sara hides away in her parent's butcher shop. A teenager whose excess weight makes her the target of incessant bullying, she flees a clique of capricious girls who torment her at the town pool, only to stumble upon them being brutally kidnapped by a stranger, who drives off with them in his van. When the police begin asking questions, Sara keeps quiet. Intrigued by the stranger — an interest that's mutual — she's torn between revealing the truth and protecting the man who saved her.
---
PRETTY PROBLEMS
Director: Kestrin Pantera
U.S. Release: October 7 (in theaters and VOD)
U.K. Release: TBA
Full Review: Pretty Problems (SXSW Review): Champagne & Emptiness
Official synopsis: Stuck in a rut professionally and in their marriage, Lindsay (Britt Rentschler) and Jack (Michael Tennant) are invited to wine country for a long weekend by Cat Flax (J.J. Nolan) an ultra-wealthy housewife who has a vape pen in one hand and a glass of wine in the other. Upon arrival at the big glass box house on top of a hill, they're introduced to Matt Flax (Graham Outerbridge) a self-made billionaire who knows and owns how successful he is, and how privilege has provided for him. Along for the weekend are Carrie (Charlotte Ubben) an actress/model/dancer/whatever who's the arm candy of Matt's best friend Kerry (Alex Klein) a trust fund kid whose grandfather invented the tater tot. The staff at the home includes Dan (Clayton Froning) an ex-Sea World trainer turned majordomo, Becca (Katarina Hughes) a Rhodes Scholar playwright who now plans parties, Georges (Tom Detrinis) a master sommelier, and Gigi (Vanessa Chester) a shaman who is on call and ready to fix all the Flax's short-term problems. Lindsay and Jack's relationship is put to test over the weekend by the excess of wine and wealth that Lindsay wants, and Jack is afraid of.
---
PROJECT LEGION (LIMITED)
Director: Lance Kawas
U.S. Release: October 7
U.K. Release: TBA
Official synopsis: Against all odds, a former marine tries to escape his apartment after waking up to a city in chaos surrounded by creatures who prey on humans in the action/thriller Project Legion starring UFC superstar Donald "Cowboy" Cerrone.
---
PROJECT WOLF HUNTING
Directors: Rodrigo Plá & Laura Santullo
U.S. Release: October 7
U.K. Release: TBA
Official synopsis: When efforts to extradite notorious convicts from the Philippines to South Korea are stymied by a deadly airport bombing, the Korean authorities commandeer the cargo freighter Frontier Wolf for their next transfer. As a rogues' gallery of lowlifes, including a callous heir to a criminal empire (Seo In-guk), board the titanic vessel, they are escorted by two dozen hardened detectives, and the vigilant oversight of a hot-headed Coast Guard captain (Sung Dong-il). Despite the heavy security, a plot to seize control of the ship percolates among the prisoners and soon boils over, but what neither cop nor crook appear to be privy to is that they are not the freighter's only cargo.
---
SIRENS (LIMITED)
Director: Rita Baghdadi
U.S. Release: October 7 at Laemmle Royal, followed by a nationwide release
U.K. Release: TBA
Full Review: Rock n' Roll in Lebanon
Official synopsis: Headstrong twenty-three-year-old guitarist Lilas Mayassi lives with her mom and younger brother on the outskirts of Beirut. By day, Lilas teaches music to kids. By night, she's trying to keep her thrash metal band together. And she's secretly falling for a young woman living across the border in Syria. Growing up in the shadow of their parents' civil war, Lilas and her bandmates, Shery, Maya, Alma, and Tatyana, have big dreams but few opportunities. After being discovered in a major music magazine, the Sirens get invited to the UK to play Glastonbury, the world's largest music festival. But the show isn't a life-changer and Lilas comes home to Lebanon on the brink of collapse. She starts taking her frustrations out on her band, specifically Shery, the enigmatic co-founder and lead guitarist with whom Lilas shares a hushed past.
As the revolution takes a turn and Beirut ignites into flames, the complicated friendship between Lilas and Shery begins to fracture. Suddenly, Shery quits the band and they are left without their lead guitarist. With the future of her band, her country, and her dreams now at stake, Lilas faces a crossroad. She must decide what kind of leader she will be, not only for her band, but also as a young woman struggling to define herself in Lebanon, a region of the Middle East as complex as each of the Sirens themselves.
---
TÁR
Director: Todd Field
U.S. Release: October 7
U.K. Release: TBA
Full Review: TÁR (Venice Review): The Downfall of a Narcissist
Official synopsis: The film, set in the international world of classical music, centers on Lydia Tár, widely considered one of the greatest living composer/conductors and first-ever female chief conductor of a major German orchestra.
---
THE STORIED LIFE OF A.J. FIKRY
Director: Hans Canosa
U.S. Release: October 7
U.K. Release: TBA
Official synopsis: Based on the New York Times best-selling novel, bookstore owner A.J. Fikry's (Kunal Nayyar) life is not turning out as he expected as he struggles both emotionally and financially. After his wife's tragic death, he feels lost and left behind in the rapidly evolving world of today. As he tries to keep his store afloat, he begins to drink his sorrows away ultimately hitting rock bottom when his most prized possession, a series of Edgar Allen Poe poems, are stolen. But when a mysterious package appears at the bookstore, the unexpected arrival gives Fikry a new lease on life, and love, that are greater than he ever imagined. The film also stars Lucy Hale, Christina Hendricks, Scott Foley, and David Arquette.
---
TRIANGLE OF SADNESS
Director: Ruben Östlund
U.S. Release: October 7
U.K. Release: October 28
Full Review: Triangle of Sadness (Cannes Review): Flawed Super-Rich Satire
Official synopsis: In Ruben Östlund's wickedly funny Palme d'Or winner, social hierarchy is turned upside down, revealing the tawdry relationship between power and beauty. Celebrity model couple, Carl (Harris Dickinson) and Yaya (Charlbi Dean), are invited on a luxury cruise for the uber-rich, helmed by an unhinged boat captain (Woody Harrelson). What first appeared instagrammable ends catastrophically, leaving the survivors stranded on a desert island and fighting for survival.
---
TO LESLIE (LIMITED)
Director: Michael Morris
U.S. Release: October 7 in theaters and on VOD
U.K. Release: TBA
Full Review: Riseborough & Maron Anchor Affecting Drama
Official synopsis: Years after a lottery win, a West Texas single mother is alone, living hard at the bottom of a bottle. Nowhere left to go, she is forced to come home and confront her past.
---
B**CH ASS
Director: Bill Posley
U.S. Release: October 14
U.K. Release: TBA
Official synopsis: Bitch Ass blends comedy, horror, and social commentary, that tells the story of a gang initiation gone wrong when a group of four recruits break into a house of horror and are forced by Bitch Ass (Laleye) to play deadly games for their lives. Win and you live – lose and you die. Starring Teon Kelley (Tyler), Tunde Laleye (Black as Night), Me'lisa Sellers (Split), Tony Todd (Candyman), and Sheaun McKinney ("The Neighborhood").
---
DECISION TO LEAVE
Director: Park Chan-wook
U.S. Release: October 14 in New York and LA, with a national rollout to follow
U.K. & Ireland Release: October 21, with nationwide previews from October 15
Full Review: Decision to Leave (TIFF Review): Killing is Like Smoking…
Official synopsis: A man falls from a mountain peak to his death. The detective in charge of the investigation, Hae-joon (Park Hae-il), comes to meet the dead man's wife Seo-rae (Tang Wei). When she becomes a suspect, Hae-joon finds himself slowly developing an interest in her.
---
EMILY
Director: Frances O'Connor
Global Release: October 14
Full Review: Emily (Film Review): Exquisite Emily Brönte Retelling
Official synopsis: Relebl. Misfit. Genius. Emily tells the imagined life of one of the world's most famous authors, Emily Brontë. The film stars Emma Mackey as Emily, a rebel and misfit, as she finds her voice and writes the literary classic Wuthering Heights. Emily explores the relationships that inspired her – her raw, passionate sisterhood with Charlotte (Alexandra Dowling) and Anne (Amelia Gething), her first aching, forbidden love for Weightman (Oliver Jackson-Cohen) and her care for her maverick brother (Fionn Whitehead) whom she idolises.
---
HALLOWEEN ENDS
Director: David Gordon Green
U.S. Release: October 14 in theaters and on Peacock
Global Release: October 14
Full Review: Halloween Ends Not With a Bang But With a Whimper
Official synopsis: After 45 years, the most acclaimed, revered horror franchise in film history reaches its epic, terrifying conclusion as Laurie Strode faces off for the last time against the embodiment of evil, Michael Myers, in a final confrontation unlike any captured on-screen before. Only one of them will survive.
---
THE OTHER TOM (EL OTRO TOM) – LIMITED
Directors: Rodrigo Plá & Laura Santullo
U.S. Release: October 14
U.K. Release: TBA
Official synopsis: Stubborn, disruptive, unpredictable, unfocused, angry, nine-year-old Tom struggles to fit in the regulated environment of a public classroom, which weighs heavily on his mother Elena, a single parent juggling jobs and social service assistance. Elena is initially cooperative when the boy is diagnosed with ADHD and given a set of medications to counteract his "inappropriate" behavior. When Tom becomes a depressed shell of his former self, with a frightening potential for self-injury, Elena makes the fateful decision to throw away his drugs despite the consequences—from the school, and then from children's protective services who threaten to remove Tom from her care.
---
THE SAME STORM
Director: Peter Hedges
U.S. Release: October 14
U.K. Release: TBA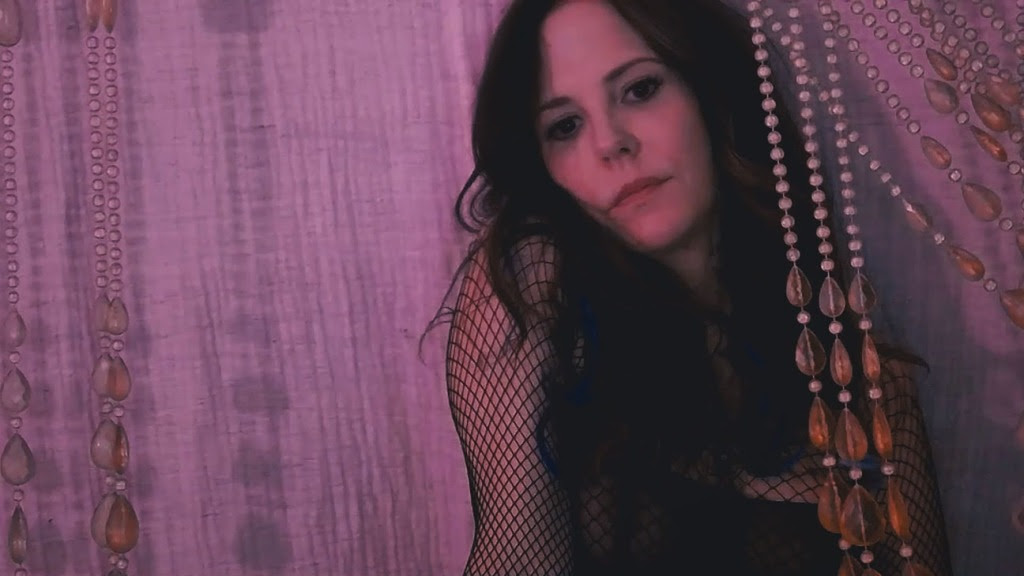 Official synopsis: Filmed during the COVID-19 pandemic using cell phones and laptops, The Same Storm invites viewers into the lives of twenty-four characters as they navigate the spring and summer of 2020. With lockdowns, the Black Lives Matter movement, and the looming 2020 election as key backdrops, the film explores the importance of human connection, family, and love during a time when all of that seemed out of reach. With an all-star cast, including Sandra Oh, Mary-Louise Parker, Elaine May, Moses Ingram, Raul Castillo, Noma Duzemweni and many more, writer/director Peter Hedges crafts a unique piece of filmmaking that celebrates cinema's ability to connect us all.
---
SELL/BUY/DATE
Director: Sarah Jones
U.S. Release: October 14 in theaters and VOD
U.K. Release: TBA
Official synopsis: Executive Produced by Meryl Streep, Sell/Buy/Date is a hybrid doc/narrative following Tony winning performer and comedian Sarah Jones. As a mixed-race Black woman in America, Sarah, alongside the multicultural characters she's known for, explores her own personal relationship to one of the most misunderstood issues in our current culture: the sex industry, and the surprisingly diverse range of people whose lives it touches. Through interviews and even celebrity cameos, this film poses the question: how can we as a society have a healthy relationship to sex, power, race and our economy, without exploitation or stigma? The goal is to highlight the human faces and voices at the center of this subject.
---
SEPA: NUESTRO SEÑOR DE LOS MILAGROS
Director: Walter Saxer
U.S. Release: October 14
U.K. Release: TBA
Official synopsis: After languishing in a closet for more than three decades, this newly-rediscovered film is a unique documentary record of a bold and troubling experiment in criminal justice. SEPA observes the open-air penal colony of the same name, created in 1951 by the Peruvian government in the Amazonian jungle. Tasked with growing crops on these colonized lands, the inmates were permitted to roam freely, commune with their families, and dance and cook together, yet they soon found themselves in despair, abandoned and forgotten by their country and the world at large.
---
STARS AT NOON
Director: Claire Denis
U.S. Release: October 14 in theaters and on demand, October 28 on Hulu
U.K. Release: TBA
Full Review: Stars at Noon (Review): A Dreamlike & Erotic Political Thriller
Official synopsis: A young American journalist (Margaret Qualley) stranded in present-day Nicaragua falls for an enigmatic Englishman (Joe Alwyn) who seems like her best chance of escape. She soon realizes, though, that he may be in even greater danger than she is. Adapted from Denis Johnson's novel.
---
SUMMIT FEVER (LIMITED)
Director: Julian Gilbey
U.S. Release: October 14 in theaters, on digital, and on demand
U.K. Release: TBA
Official synopsis: Ryan Phillippe and Freddie Thorp star in the adrenaline-fueled thrill-ride where an ambitious mountain expedition becomes a breathtaking struggle for survival. A daring dream to scale the world's most challenging trio of mountains soon turns into a terrifying nightmare for a group of friends when a deadly storm traps the climbers near the summit and cuts off all hope of rescue. With the odds stacked against them, the friends are forced to trust each other to save themselves by any means necessary.
---
TILL
Director: Chinonye Chukwu
U.S. Release: October 14 (limited), October 28 (nationwide)
U.K. Release: at the London Film Festival October, 15, in cinemas January 13, 2023
Full Review: Till (LFF Review): Deadwyler Delivers a Powerhouse Performance
Official synopsis: Till is a profoundly emotional and cinematic film about the true story of Mamie Till Mobley's relentless pursuit of justice for her 14 year old son, Emmett Till, who, in 1955, was lynched while visiting his cousins in Mississippi. In Mamie's poignant journey of grief turned to action, we see the universal power of a mother's ability to change the world.
---
HOPPER: AN AMERICAN LOVE STORY (LIMITED)
Director: Phil Grabsky
U.S. Release: October 19
U.K. Release: October 18
Official synopsis: The first UK feature film about Edward Hopper re-evaluates his life and legacy, and takes a profound look into his art, his eccentric lifestyle, and his relationships. From his early career as an illustrator; his close collaboration with his wife Josephine; his critical and commercial acclaim; and explores the enigmatic person behind the art.
---
ALL THAT BREATHES
Director: Shaunak Sen
U.S. Release: October 21
U.K. Release: November 18
Full Review: All That Breathes (LFF Review): The Link Between Man & Nature
Official synopsis: As legions of birds fall from New Delhi's darkening skies, and the city smoulders with social unrest, two brothers race to save a casualty of the turbulent times: the black kite, a majestic bird of prey essential to their city's ecosystem.
---
AFTERSUN
Director: Charlotte Wells
U.S. Release: October 21
U.K. Release: November 18
Full Review: Aftersun (Cannes Review): Sun, Sea & Melancholy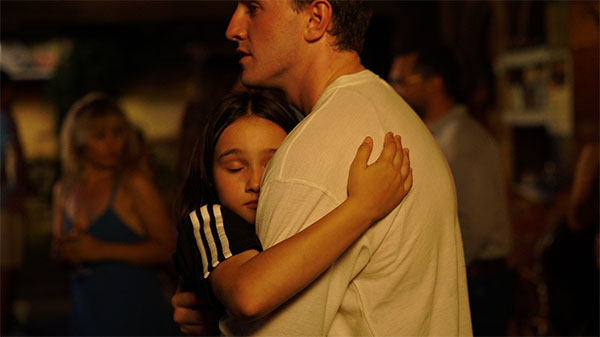 Official synopsis: Eleven-year-old Sophie and her father, Calum, vacation at a Turkish beach resort in the late 1990s. They swim, play pool, and enjoy each other's company; they're partners in crime. Calum is the best version of himself when he is with Sophie. Sophie feels like anything is possible when Calum is around. When Sophie is on her own, she navigates new friendships and experiences. As they enjoy their time together, layers of melancholy and mystery ripple through Calum's behavior. Twenty years later, the memories take on new meaning as Sophie tries to reconcile the father she knew with the man she didn't.
---
AMERICAN MURDERER
Director: Matthew Gentile
U.S. Release: October 21 in theaters, October 28 on digital and on demand
U.K. Release: TBA
Official synopsis: Based on a true story, this riveting thriller follows Jason Derek Brown (Tom Pelphrey), a charismatic con man bankrolling his extravagant lifestyle through a series of scams. On Brown's trail: Lance Leising (Ryan Phillippe), a dogged FBI special agent determined to put Brown behind bars. When Brown's funds run low and his past catches up with him, he plots his most elaborate scheme yet, pitting himself against Leising in a deadly game of cat and mouse — and becoming the most unlikely and elusive fugitive on the FBI's most-wanted list.
---
THE BANSHEES OF INISHERIN
Director: Martin McDonagh
Global Release: October 21
Full Review: The Banshees of Inisherin (Venice Review): It's Not Me, It's You
Official synopsis: Set on a remote island off the west coast of Ireland, THE BANSHEES OF INISHERIN follows lifelong friends Pádraic (Colin Farrell) and Colm (Brendan Gleeson), who find themselves at an impasse when Colm unexpectedly puts an end to their friendship. A stunned Pádraic, aided by his sister Siobhán (Kerry Condon) and troubled young islander Dominic (Barry Keoghan), endeavours to repair the relationship, refusing to take no for an answer. But Pádraic's repeated efforts only strengthen his former friend's resolve and when Colm delivers a desperate ultimatum, events swiftly escalate, with shocking consequences.
---
BLACK ADAM
Director: Jaume Collet-Serra
Global Release: October 21
Full Review: Black Adam (Review): The Man in Black shocks the DC Universe
Official synopsis: In ancient Kahndaq, Teth Adam was bestowed the almighty powers of the gods. After using these powers for vengeance, he was imprisoned, becoming Black Adam. Nearly 5,000 years have passed and Black Adam has gone from man, to myth, to legend. Now released, his unique form of justice, born out of rage, is challenged by modern day heroes who form the Justice Society: Hawkman, Dr. Fate, Atom Smasher and Cyclone.
---
BRAINWASHED: SEX-CAMERA-POWER
Director: Nina Menkes
U.S. Release: October 21, with a national rollout to follow
Full Review: Brainwashed: Sex-Camera-Power (LFF Review): Male Gaze for Dummies
Official synopsis: "If the camera is predatory, then the culture is predatory." In this eye-opening documentary, celebrated independent filmmaker Nina Menkes explores the sexual politics of cinematic shot design. Using clips from hundreds of movies we all know and love, Menkes convincingly makes the argument that shot design is gendered. Brainwashed: Sex-Camera-Power illuminates the patriarchal narrative codes that hide within supposedly "classic" set-ups and camera angles, and demonstrates how women are frequently displayed as objects for the use, support, and pleasure of male subjects.
---
BROTHER'S KEEPER (LIMITED)
Director: Ferit Karahan
U.S. Release: October 21 in LA, more screenings TBA!
U.K. Release: TBA
Official synopsis: Yusuf and his best friend Memo are pupils at a boarding school for Kurdish boys, secluded in the mountains of Eastern Anatolia. When Memo falls mysteriously ill, Yusuf is forced to struggle through the bureaucratic obstacles put up by the school's repressive authorities to try to help his friend. But by the time the adults in charge finally understand the seriousness of Memo's condition and try to get him to the hospital, the school has been buried under a sudden, heavy snowfall. With no way out and now desperate to reach help, teachers and pupils engage in a blame game where grudges, feelings of guilt and hidden secrets emerge, as time ticks mercilessly on and threatens to run out.
---
THE FIRE THAT TOOK HER
Director: Patricia E. Gillespie
U.S. Release: October 21
U.K. Release: TBA
Official synopsis: Mother-of-two, Judy Malinowski, was doused in gasoline and set on fire by her crazed ex-boyfriend. She would go on to set new legal precedent, becoming the first woman to testify at the trial for her own muder. The Fire That Took Her goes inside her landmark case to ask a timely question: How much must women suffer in order to be believed?
---
HUNTED
Director: Tommy Boulding
U.S. Release: October 21 in theaters, October 25 on digital & on demand
Official synopsis: Hired by an antiquities dealer to steal a family heirloom, four young friends break into the seemingly abandoned Redwick Estate in pursuit of the treasure. Once inside the mansion, they discover they are not alone. Attacked and bound by their captors, they are spirited away from the home and released in the middle of nowhere. As punishment for breaking into their ancestral home, the Redwick's will hunt the four friends like animals on their sprawling, secluded estate grounds.
Tracked by hounds and pursued by the armed family on horseback, the foursome soon realize the treacherous property is covered with traps. This is not the Redwick's first time hunting humans. The blood sport has been a decades-long, sadistic family entertainment. After a shockingly violent death in their group, the friends stop running and start fighting back – the prey turn on their predators and unleash bloody revenge as they fight for their very lives. Hunted is an intensely thrilling, provocative film from director Tommy Boulding, starring Malachi Pullar-Lachtman, Samantha Bond, James Lance and Hannah Traylen.
---
MY POLICEMAN
Director: Michael Grandage
U.S. Release: October 21 in theaters
Global Release: November 4 on Prime Video
Full Review: My Policeman (Film Review): Cast Shines in Riveting Adaptation
Official synopsis: Adapted for the screen by Ron Nyswaner from Bethan Roberts' award-winning novel of the same name, My Policeman follows three young people – policeman Tom (Harry Styles), teacher Marion (Emma Corrin), and museum curator Patrick (David Dawson)– as they embark on an emotional journey in 1950s Britain. Flashing forward to the 1990s, Tom (Linus Roache), Marion (Gina McKee), and Patrick (Rupert Everett) are still reeling with longing and regret, but now they have one last chance to repair the damage of the past. Based on the book by Bethan Roberts, director Michael Grandage carves a visually transporting, heart-stopping portrait of three people caught up in the shifting tides of history, liberty, and forgiveness.
---
TICKET TO PARADISE
Director: Ol Parker
U.S. Release: October 21
U.K. & Europe Release: September 15
Full Review: Ticket to Paradise (Film Review): Pack Your Bags, or Don't
Official synopsis: George Clooney and Julia Roberts reunite on the big screen as exes who find themselves on a shared mission to stop their lovestruck daughter from making the same mistake they once made.
---
BARDO, FALSE CHRONICLE OF A HANDFUL OF TRUTHS (BARDO, FALSA CRÓNICA DE UNAS CUANTAS VERDADES)
Director: Alejandro G. Iñárritu
U.S. Release: October 27
U.K. Release: November 18
Netflix Release: December 16
Full Review: Bardo, False Chronicle of a Handful of Truths: LFF Review
BARDO, False Chronicle of a Handful of Truths is an epic, visually stunning and immersive experience set against the intimate and moving journey of Silverio, a renowned Mexican journalist and documentary filmmaker living in Los Angeles, who, after being named the recipient of a prestigious international award, is compelled to return to his native country, unaware that this simple trip will push him to an existential limit. The folly of his memories and fears have decided to pierce through the present, filling his everyday life with a sense of bewilderment and wonder.

With both emotion and abundant laughter, Silverio grapples with universal yet intimate questions about identity, success, mortality, the history of Mexico and the deeply emotional familial bonds he shares with his wife and children. Indeed, what it means to be human in these very peculiar times.
---
ARMAGEDDON TIME
Director: James Gray
U.S. Release: October 28 in select theaters, November 4 everywhere
U.K. Release: November 18
Full Review: Armageddon Time (Cannes Review): A Personal Coming-of-Age Film
Official synopsis: From acclaimed filmmaker James Gray, Armageddon Time is a deeply personal coming-of-age story about the strength of family and the generational pursuit of the American Dream.
---
CALL JANE
Director: Phyllis Nagy
U.S. Release: October 28
U.K. Release: November 4
Full Review: Call Jane (Film Review): Banks & Weaver Deliver in Abortion Drama
Official synopsis: Chicago, 1968. As the city and the nation are poised on the brink of political upheaval, suburban housewife Joy (Elizabeth Banks) leads an ordinary life with her husband and daughter. When Joy's pregnancy leads to a life-threatening heart condition, she must navigate an all-male medical establishment unwilling to terminate her pregnancy in order to save her life. Her journey for a solution leads her to Virginia (Sigourney Weaver), an independent visionary fiercely committed to women's health, and Gwen (Wunmi Mosaku), an activist who dreams of a day when all women will have access to abortion, regardless of their ability to pay. Joy is so inspired by their work, she decides to join forces with them, putting every aspect of her life on the line.
---
PLEASE BABY PLEASE
Director: Amanda Kramer
U.S. Release: October 28 via Music Box Films
U.K. Release: TBA
Full Review: Please Baby Please (Film Review): Leatherbound & Campy Pleasures
Official synopsis: Suze (Andrea Riseborough) and Arthur (Harry Melling) live an outwardly traditional lifestyle as the Lower East Side's most bohemian Eisenhower-era couple. The pair's cage is rattled when they encounter a gang of sadistic, leather-clad greasers known as The Young Gents. Suze and Arthur's initial thrust of fear evolves into confusion of thrill and lust. This sudden exposure to flamboyant masculinity unlocks the realization that Suze is an aspiring leather daddy who mistook herself for a housewife. Meanwhile, the perpetually sensitive Arthur's obsessive gender trouble goes sideways when Young Gent Teddy (Karl Glusman) sparks a queer desire. Please Baby Please presents a full spectrum of underground fetishism and seductive musical asides featuring alluring cameos by Demi Moore and Cole Escola. Visionary filmmaker Amanda Kramer pegs the hetero hellscape of the 1950s in a witty, syncopated riff that plays like a high camp emission from your wildest dreams – bathed in silk, sweat, and bisexual lighting.
---
PREY FOR THE DEVIL
Director: Daniel Stamm
Global Release: October 28
Full Review: Prey for the Devil (Review): A Ridiculous Exorcist Ripoff
Official synopsis: Sister Ann (Jacqueline Byers) believes she is answering a calling to be the first female exorcist… but who, or what, called her? In response to a global rise in demonic possessions, Ann seeks out a place at an exorcism school reopened by the Catholic Church. Until now these schools have only trained priests in the Rite of Exorcism – but a professor (Colin Salmon) recognizes Sister Ann's gifts and agrees to train her. Thrust onto the spiritual frontline with fellow student Father Dante (Christian Navarro), Sister Ann finds herself in a battle for the soul of a young girl, who Sister Ann believes is possessed by the same demon that tormented her own mother years ago. Determined to root out the evil, Ann soon realizes the Devil has her right where he wants her.
---
OCTOBER 2022 MOVIES: IN U.K. CINEMAS
THE LOST KING
Director: Stephen Frears
U.K. Release: October 7
U.S. Release: TBA (handled by IFC Films)
Full Review: The Lost King (Film Review): A Spot Fit For A King
Official synopsis: In 2012, having been lost for over 500 years, the remains of King Richard III were discovered beneath a carpark in Leicester. The search had been orchestrated by an amateur historian, Philippa Langley, whose unrelenting research had been met with incomprehension by her friends and family and with scepticism by experts and academics. The Lost King is the life-affirming true story of a woman who refused to be ignored and who took on the country's most eminent historians, forcing them to think again about one of the most controversial kings in England's history.
---
THE INVISIBLE WAR
Director: Patryk Vega
U.K. Release: October 7
U.S. Release: unknown
Official synopsis: Inspired by a real-life story, Niewidzialna Wojna – The Invisible War is a controversial narrative that relentlessly strikes against the entertainment industry. The film lays bare the machinery that propels mass entertainment and reveals the price people are ready to pay to succeed in that world. It exposes the phenomenon of fame in the age of social media which has become a more potent turn-on than the actual power or money. Director Patryk Vega has conceived a tale of a male media celebrity figure – an adrenaline junkie and sex fiend in thrall to cars, shopping, work, booze, highs, the occult and pills.
---
ALL IS VANITY
Director: Marcos Mereles
U.K. Release: October 14
U.S. Release: unknown
Official synopsis: An eccentric photographer (Sid Phoenix), his eager assistant (Yaseen Aroussi), a jaded make-up artist (Rosie Steel) and a bored model (Isabelle Bontrer) gather for a fashion shoot in a London warehouse. But when one of their number disappears, events take a turn for the bizarre.
---
THE GOOD NURSE
Director: Tobias Lindholm
U.K. Release: October 19
Global Release: October 26 (on Netflix)
Full Review: The Good Nurse (LFF Review): Chastain Highlights True Crime Drama
Official synopsis: Amy, a compassionate nurse and single mother struggling with a life-threatening heart condition, is stretched to her physical and emotional limits by the hard and demanding night shifts at the ICU. But help arrives, when Charlie, a thoughtful and empathetic fellow nurse, starts at her unit. While sharing long nights at the hospital, the two develop a strong and devoted friendship, and for the first time in years, Amy truly has faith in her and her young daughters' future. But after a series of mysterious patient deaths sets off an investigation that points to Charlie as the prime suspect, Amy is forced to risk her life and the safety of her children to uncover the truth.
---
CONFETTI
Director: Ann Hu
U.K. Release: October 21
U.S. Release: August 20, 2021
Full Review: Confetti (2022) Film Review: Learning Differently
Official synopsis: Confetti is the story of a young Asian woman trapped in a formulated society who tries everything to "normalize" her daughter's hidden talent.
---
VESPER
Directors: Kristina Buozyte and Bruno Samper
U.K. Release: October 21 (in cinemas and on digital)
U.S. Release: out now on digital and on demand – click here to watch Vesper!
Official synopsis: When Vesper finds the mysterious Camellia (Rosy McEwen, The Alienist), alone and disoriented after a crash, she agrees to help find her missing companion in exchange for safe passage. Vesper soon discovers brutal neighbour Jonas (Eddie Marsan, Sherlock Holmes) is searching for Camellia, who harbours a life-changing secret. Forced into a dangerous adventure, Vesper must rely on her wits and bio-hacking abilities to unlock the key to an alternate future.
---
DOCTOR WHO AM I (LIMITED)
Director: Vanessa Yuille
U.K. Release: October 27 in select UK cinemas, November 28 on DVD & Digital
Full Review: Doctor Who Am I (Review): Could Be Bigger On The Inside
Official synopsis: In 1996, a Doctor Who TV movie was envisioned to lead the franchise into an exciting new future with a fresh direction, but it was met only by an outcry from disapproving fans. Now, follow the film's infamous screenwriter, Matthew Jacobs, as he is reluctantly dragged back into the American 'Whoniverse' where, despite the brutal rejection of his work 25 years earlier, he unexpectedly finds himself a kindred part of this close-knit, yet vast, family of fans.
---
HILMA
Director: Lasse Hallström
U.K. Release: October 28
U.S. Release: unknown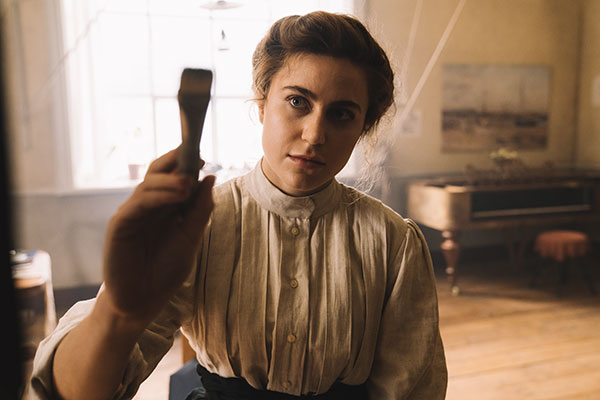 Official synopsis: Hilma follows Hilma af Klint as she grows up as a curious and scientifically interested young girl, eagerly looking for the wisdom of life and death. After her beloved sister dies a tragic death, Hilma feels a deepened sense for spiritual and philosophical ideas. While attending the Royal Academy of Fine Arts, she meets a circle of female artists that share her passion. Together they found "The Five" and create occult practices in an attempt to communicate with the spirits of the higher world.
---
MEDIEVAL
Director: Petr Jákl
U.K. Release: October 28 (in cinemas and on demand)
U.S. Release: September 9
Full Review: Medieval (2022) Film Review: Brutal, Bloody but Brilliant in Battle
Official synopsis: The story of fifteenth century Czech icon and warlord Jan Žižka, who defeated armies of the Teutonic Order and the Holy Roman Empire, Medieval is a spectacular action drama and fearsome retelling of one of the most notorious and effective military leaders of history. Directed and screenplay by Petr Jákl, with the story written by Marek Dobes, the film is an enthralling depiction of one man's battle to the ultimate victory, with a leading cast including Ben Foster (Hell or Highwater, 3:10 to Yuma), Matthew Goode (Stoker, The Imitation Game), Sophie Lowe (Blow the Man Down, Beautiful Kate), Til Schweiger (Inglorious Bastards, Knockin' on Heaven's Door) and Oscar-winning actor Michael Caine (The Dark Knight, Cider House Rules).
---
---
OCTOBER 2022 – WHAT ELSE IS HAPPENING THIS MONTH:
Season Finales: