November 2022: New Films & Shows to Stream This Month

Causeway, The Crown, My Policeman (Apple TV+, Netflix, Amazon Prime Video)
November 2022: take a look at all the new films and shows to stream this month, from Wednesday and The Crown to Causeway, My Policeman, Soft & Quiet and more!
Oh yes, it's that time of the year again. Christmas is approaching but the Halloween season isn't entirely over, and so, among this month's new films and shows, we get a bunch of Christmas rom-coms (and a Dickens satire starring Ryan Reynolds and Will Ferrell!) but also spooky movies and series like Tim Burton's Wednesday, Haznavicius' Final Cut, and The Witch 2. But November 2022 has a lot more to offer, from the highly anticipated Enola Holmes 2 and My Policeman (which we loved!) to festival gems Causeway and Soft & Quiet, Russell Crowe's Poker Face, and Disney's Mickey: The Story of a Mouse, which will be released on Mickey Mouse's birthday!
We've grouped this month's new films and shows in order of release, and divided by films you'll be able to see on digital and on demand, movies to stream on Amazon Prime Video, Apple TV+, Disney+, HBO Max, Hulu, Netflix, and more, and new series. We prioritized U.S. releases but we added U.K. and global release dates where available, and you'll also find some noteworthy U.K. releases at point #2. Scroll till the end for other events happening this month, click here for November 's theatrical releases and here for a list of Christmas movies coming out this year, and enjoy!
---
1. NOVEMBER 2022 FILMS: ON DIGITAL & ON DEMAND – U.S. RELEASES
THE INVADERS
Director: Prichard Smith
U.S. & Canada Release: November 1
U.K. Release: TBA
Official synopsis: The Invaders follows the rise and fall of a militant black power group based in Memphis, Tennessee in the late 1960's, from its creation to their final negotiations with Martin Luther King Jr. minutes before his assassination. The film touches on themes of race, government surveillance and economic injustice.
---
THE SLEEP EXPERIMENT
Director: John Farrelly
U.S. & Canada Release: November 1
U.K. Release:
Official synopsis: The Sleep Experiment is the first feature from writer-director John Farrelly, who was named Ireland's Young Filmmaker of the Year 2018 for his short Choice. The film stars Rob James Capel, Will Murphy, Tom Kerrisk, Barry John Kinsella and Will Murphy. Inspired by real events, The Sleep Experiment is a psychological thriller that exposes the horrors of what humanity is capable of when pushed to the brink.
---
DEAR ZOE
Director: Gren Wells
U.S. Release: November 4 in select theaters and on VOD
U.K. Release: November 7 on digital platforms
Full Review: Dear Zoe (SDIFF Review): Sadie Sink Commands the Screen
Official synopsis: Adapted from the heartbreaking and inspirational novel of the same name, "Dear Zoe" is a powerful story of grief and resilience told from the point of view of a 16-year-old girl; a coming-of-age drama in which teenage Tess is supported by her biological father – a lovable slacker from the wrong side of the tracks – and the charming juvenile delinquent next door on her journey of self-discovery in the aftermath of the death of her little sister,
---
I'M TOTALLY FINE (LIMITED)
Director: James Gray
U.S. Release: November 4 (in theaters and on digital)
U.K. Release: TBA
Official synopsis: Vanessa (Jillian Bell) embarks on a solo trip to clear her head after the death of her best friend Jennifer (Natalie Morales). But her self-care vacation plans change when she finds the recently departed Jennifer standing in her kitchen, claiming to be an extraterrestrial. Together they spend the next 48 hours partying and reminiscing on better days in this comedy that's out of this world.
---
NEXT EXIT
Director: Mali Elfman
U.S. Release: November 4 in theaters and on VOD
U.K. Release:
Full Review: Next Exit (Tribeca Review): Searching for Meaning
Official synopsis: When a research scientist (Karen Gillan) makes national news proving she can track people into the afterlife, Rose (Katie Parker) sees a way out and Teddy (Rahul Kohli) sees his chance to finally make it. These two strangers, both harboring dark secrets, race to join the doctor's contentious study and leave this life behind. While Rose is haunted by a ghostly presence that she can't outrun, Teddy is forced to confront his past. As these two misfits humorously quarrel their way across the country, they meet people along the way who force them to reckon with what is really driving them. A supernatural road movie directed by Mali Elfman, NEXT EXIT also stars Tongayi Chirisa, Tim Griffin, Diva Zappa, and Nico Evers-Swindell.
---
ON THE LINE
Director: Romuald Boulanger
U.S. Release: November 4 (in theaters, on digital and VOD)
U.K. Release: TBA
Official synopsis: Mel Gibson stars as a provocative and edgy overnight radio host who must play a dangerous game of cat and mouse with a mysterious caller who has kidnapped his family and is threatening to kill them and blow up the whole station… all while live on air.
---
SOFT & QUIET
Director: Beth de Araújo
U.S. Release: November 4 in theaters and VOD
U.K. Release: TBA
Full Review: Soft & Quiet (SXSW Review): The Sickening Horrors of Reality
Official synopsis: Playing out in real time, SOFT & QUIET is a runaway train that follows a single afternoon in the life of an elementary school teacher, Emily, who organizes an inaugural club meeting of like-minded women. When they all decide to move the meeting to Emily's house to keep the wine flowing, they stop at the local store to pick up refreshments. At the store, an altercation breaks out between a woman from Emily's past and the group, leading to a volatile chain of events.
---
THE WILLOWBROOK
Director: Zach Koepp
U.S. Release: November 8
U.K. Release: TBA
Official synopsis: A renowned wellness influencer invites one of her recently overdosed followers to seek recovery at her small-town manor. Once the follower arrives, she realizes the dark world existing within the manor is not what she–nor millions of others–perceived from the internet. With a gripping and fast paced tone, this film explores the duplicitous side of social media.
---
THE WITCH 2: THE OTHER ONE
Director: Park Hoon-jung
U.S. Release: November 8
U.K. Release: November 28
Official Synopsis: In this sequel to the popular Korean sci-fi action thriller THE WITCH: SUBVERSION, the story moves away from a confined secret lab and out into the real world. After a mysterious girl emerges as the sole survivor of a bloody raid on the research facility behind the top-secret Witch Program, she is rescued by a pair of civilians who soon realize the girl is both very powerful and in very grave danger. However, as the assassins tasked with locating and silencing the girl move ever closer, the lives of everyone around her fall under increasingly great peril.
---
BAR FIGHT!
Director: Jim Mahoney
U.S. Release: November 11 in theaters, on demand, and streaming on AMC+
U.K. Release: November 14
Official synopsis: Nina and Allen split everything in their lives after their break-up and must compete in a ridiculous custody battle for their prized watering hole in which lines will be drawn, sides will be chosen, and beers will be drunken.
---
THE PAY DAY
Director: Sam Bradford
U.S. Release: November 11
U.K. Release: December 5
Official synopsis: Jennifer (Kyla Frye) is a broke and frustrated IT technician who is tapped by crime boss Gates (Simon Callow) to steal valuable data in a sophisticated hack worth millions on the black market. As if the dangerous pitfalls of her mission weren't enough, the sting grows more complicated when a charming con artist (Sam Benjamin) attempts to swipe the loot for himself.
---
PARADISE CITY
Director: Chuck Russell
U.S. Release: November 11
U.K. Release: TBA
Official synopsis: Movie icons and Pulp Fiction costars Bruce Willis and John Travolta face off in this action-packed thriller. When bounty hunter Ian Swan (Willis) is shot and presumed dead after disappearing in Maui waters, Swan's son, Ryan (Blake Jenner), his ex-partner (Stephen Dorff), and a local detective (Praya Lundberg) set out to find his killers. After being threatened by a ruthless power broker (Travolta), it appears Ryan and his team are out of options — until an excursion to the closely guarded island community of Paradise City unites them with an unforeseen ally.
---
RESIDENTS OF ARCADIA
Director: Dom Cutrupi
U.S. Release: November 11
U.K. Release: TBA
Official synopsis: Steve and Anika are two social media Influencers and entrepreneurs, living an accomplished and ideal life. One night, a man breaks into their backyard, disrupting the peaceful life they had created. The ensuing fear culminates with the appearance of a mysterious countdown on screens and mirrors throughout their home.As the countdown approaches zero, it reveals the true nature of what is hiding behind their perfect lives.
---
SHADOWS
Director: Carlo Lavagna
U.S. & Canada Release: November 15
U.K. Release: April 25 on DVD
Official synopsis: Alma and Alex, two teenage sisters, are survivors of a catastrophic event. They live deep in the woods with their Mother, a strict, overprotective woman who has sheltered them from ominous presences, the Shadows, which live in the daylight and infest the world beyond the river. When they follow Mother out for hunting, Alma and Alex start a series of events which will make them discover the truth about the Shadows and their own reality.
---
PRESENCE
Director: Christian Schultz
U.S. Release: November 17
U.K. Release: TBA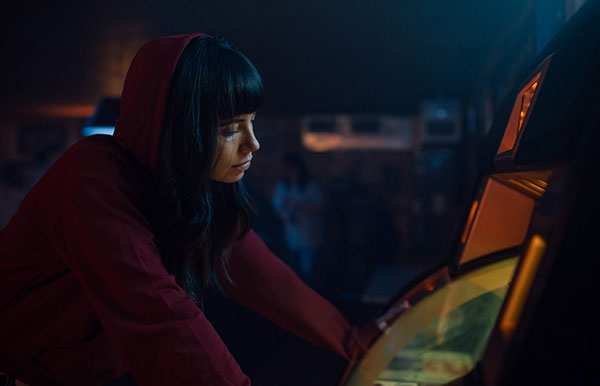 Official synopsis: After leaving New York after a mental breakdown, Jennifer (The Kominsky Method's Jenna Lyng Adams) is contacted by her best friend about good news concerning their joint business venture. Within the hour, Jennifer is boarding a private plane and walking down the dock to a billionaire's private yacht. All seems well, except that Jennifer is plagued by violent, unsettling visions. Is her unchecked anxiety attempting to self-sabotage her once again… or has a sinister presence latched onto her?
---
BAD AXE
Director: David Siev
U.S. Release: November 18 (in theaters and VOD)
U.K. Release: TBA
Official synopsis: After leaving NYC for his rural hometown of Bad Axe, Michigan, at the start of the pandemic, Asian American filmmaker David Siev documents his family's struggles to keep their restaurant afloat. As fears of the virus grow, deep generational scars dating back to Cambodia's bloody "killing fields" come to the fore, straining the relationship between the family's patriarch, Chun, and his daughter, Jaclyn. When the BLM movement takes center stage in America, the family uses its collective voice to speak out in their conservative community. What unfolds is a real-time portrait of 2020 through the lens of one multicultural family's fight stay in business, stay involved, and stay alive.
---
THE LAST MANHUNT
Director: Christian Camargo
U.S. Release: November 18 (in theaters, on digital and VOD)
U.K. Release: TBA
Official synopsis: Based on true events in the early 1900s Wild West, Willie Boy falls in love with Carlota from the Chemehuevi tribe despite being forbidden to be together. Due to her father's refusal to give his blessing to the pair and the conflict between the two families, a fatal incident forces the young couple to flee the only place they know as home. In this tragic tale of love, loss, and realization, Willie Boy and Carlota fight to persevere even with all odds against them.
---
LOVE, CHARLIE
Director: Rebecca Halpern
U.S. Release: November 18 (in theaters and VOD)
U.K. Release: TBA
Official synopsis: Chef Charlie Trotter revolutionized American cuisine and paved the way for today's celebrity chefs. His eponymous Chicago restaurant was one of the world's top dining destinations. To his employees, Chef Charlie Trotter was an enigmatic guru. To the media, he was an overbearing perfectionist. But to those who loved him, he was Chuck, a fun-loving dreamer whose passion knew no bounds. With exclusive access to never-before-seen archival materials, LOVE, CHARLIE is a searing portrait of what happens when a person's identity becomes intrinsically tied to their work; and an epic cautionary tale of what can happen when that work fades away. Featuring Grant Achatz, Emeril Lagasse, and Wolfgang Puck.
---
MISSING (さがす) – LIMITED
Director: Shinzô Katayama
U.S. Release: November 18
U.K. Release: TBA
Official synopsis: Depressed and in debt following the death of his wife, Santoshi (Jiro Sato) tells his young daughter he has found a way out. Pointing to a reward note, he vows to find the infamous serial killer "No Name" (Hiroya Shimizu) and cash in, claiming to have seen the man in the flesh a few days earlier. Kaeda (Aoi Ito) cannot take her aloof father serious. But when he goes missing without a trace, she starts to fear the worst—and must begin looking for him.
---
THERE THERE
Director: Andrew Bujalski
U.S. Release: November 18 (in theaters and VOD)
U.K. Release: TBA
Official synopsis: Acclaimed filmmaker Andrew Bujalski (Support the Girls, Computer Chess) explores the precarious nature of human connection in There There, a round robin of emotional two-character vignettes in which seven people reach out and bond momentarily, setting the scene for the next encounter. A pair of new lovers, an alcoholic and her AA sponsor, a teacher and a parent, a lawyer and his client, and more move from scene to scene, revealing intimate details as they forge connections. Via a groundbreaking shooting process, Bujalski plays with ideas of isolation and perception by filming each actor individually in separate locations, only joining them to their partner's performance in the edit. An extraordinary cast including Jason Schwartzman, Lennie James, Lili Taylor and Molly Gordon sensitively captures the humor and heartbreaking fragility of life and love in the 2020s.
---
POKER FACE
Director: Russell Crowe
U.S. Release: November 22
U.K. Release: TBA
Official synopsis: Set in the world of high stakes poker, Crowe stars as tech billionaire and gambler Jake Foley who gives his best friends a night they'll never forget, a chance to win more money than they've ever dreamed of. But to play, they'll have to give up the one thing they spend their lives trying to keep…their secrets. As the game unfolds, the friends will discover what is really at stake.
---
MEET ME IN THE BATHROOM
Directors: Will Lovelace & Dylan Southern
U.S. Release: November 25 on Showtime
U.K. Release: TBA
Full Review: Meet Me in the Bathroom (LFF Review): Early 2000s New York Time Capsule

Official synopsis: An immersive archival journey through the explosive New York music scene of the early 2000s. Set against the backdrop of 9/11 and a world unaware of the seismic political, technological and cultural shifts about to occur, Meet Me in the Bathroom, tells the story of the last great romantic age of Rock'n'Roll through the prism of a handful of era defining bands; THE STROKES, LCD SOUNDSYSTEM, YEAH YEAH YEAH's, INTERPOL.
---
BATTLE FOR SAIPAN
Director: Brandon Slagle
U.S. Release: November 29
U.K. Release: TBA
Official synopsis: Casper Van Dien (Alita: Battle Angel) and Louis Mandylor (Rambo: Last Blood) star in this edge-of-your-seat WWII epic. On July 7th 1944, a US Army hospital on the remote island of Saipan is overrun by Japanese forces during a relentless attack. Outgunned and surrounded by the enemy, a lone medic (Van Dien) puts it all on the line to lead a band of wounded warriors to safety.
---
---
2. NOVEMBER 2022 FILMS: ON DIGITAL & ON DEMAND – U.K. RELEASES
FINAL CUT (COUPEZ!)
Director: Michel Haznavicius
U.K. Release: November 7
U.S. Release: TBA
Full Review: Final Cut (Coupez!) Cannes Review: Un Cut of the Dead
Official synopsis: In an abandoned building, a low-budget zombie horror shoot is falling apart. The abusive director is pushing the cast and crew to the brink with obnoxious behaviour, and things really start to go wrong when he reveals his plan to inject more energy into the project by unlocking a real ancient curse! In one frenetic shot – and with body parts and fluids flying – the actors fight the undead, and their director, before the film comes to a shocking conclusion and the credits roll. But is that the whole story?
---
THE VANISHED
Director: Denis Dercourt
U.K. Release: November 7
U.S. Release: TBA
Official synopsis: When an unidentified body is discovered in suspicious circumstances, the detective (Yoon Yeon-Seok) in charge of the case calls in an international forensic expert (Olga Kurylenko). Using cutting edge technology, they discover the body's identity and uncover a sinister conspiracy that finds them reluctantly drawn into the organ trafficking underworld. The pair are forced to face their own fears alongside international criminal gangs as they fight to stay alive and reveal the truth before they're vanished too.
---
THE ALLEYS
Director: Bassel Ghandour
U.K. Release: November 14
U.S. Release: TBA
Official synopsis: In this gripping debut from director Bassel Ghandour (Theeb), gossip and violence run rampant deep in the labyrinth alleys of East Amman, Jordan. Ali, played by Emad Azmi (Sergio), a hustler pretending to be a businessman, must keep his relationship with Lana (Baraka Rahmani, A Million Little Things) a secret in order to hide from society's judgmental eye. When things start to fall apart, Lana's mother, Aseel (Nadira Omran, Bab el shams), is blackmailed by an unknown voyeur who has secretly filmed footage of the young couple that could out them to their community.
---
THE LAST HEIST
Director: Coz Greenop
U.K. Release: November 14
U.S. Release: TBA
Official synopsis: Six month after a bank job gone sideways, four criminals reunite to split the proceeds of the heist. Before they all go their separate ways, the crew need to make sense of the mess and figure out what went wrong. When the stakes are this high is there really honour amongst thieves, and how far will this four go to protect each other, especially if the main threat seems to come from within the group?
---
MY NEIGHBOR ADOLF
Director: Leon Prudovsky
U.K. Release: November 14
U.S. Release: TBA
Official synopsis: Polsky (David Hayman, The Boy in the Striped Pajamas), a lonely and grumpy Holocaust survivor lives in the remote Columbian countryside, spending his days playing chess and tending to his beloved rose bushes. However, when a mysterious old German man (Udo Kier, Bacurau) moves in next door he begins to suspect his new neighbour is… Adolf Hitler. Since nobody believes him, he embarks on a detective mission to find the evidence. But, in order to prove his suspicions, Polsky will need to be closer to his neighbour than he would like – so close that the two could almost become friends. My Neighbor Adolf is directed by Leon Prudovsky (Five Hours from Paris) and written by Dmitry Malinsky (Max & Millie) with Prudovsky.
---
CLAYDREAM
Director: Marq Evan
U.K. Release: November 21
U.S. Release: out now on digital and VOD!
Official synopsis: nown as the father of "Claymation", and poised to become the Walt Disney of the modern age, Will Vinton revolutionised the animation business during the 1970s, '80s, and '90s. Winning the 1974 Oscar for Best Animated Short film, Closed Mondays proved a pivotal stepping stone which allowed Vinton to push the boundaries of stop-motion filmmaking using plasticine clay. Earning an additional four Academy Award nominations, Will Vinton Studios would go on to become a household name as the creator of the iconic advertising campaigns behind the California Raisins, Domino's The Noid, and the digital M&M characters. But after 30 years of being the unrivalled king of clay, Will Vinton's carefully sculpted American dream began to crumble after the entrance of an at-first promising outside investor. Like an entrepreneurial David vs. Goliath story, CLAYDREAM explores Will Vinton's rise to fame and eventual demise under the foot of Nike's Phil Knight.
---
L.A. SEDUCTION (PRIVATE PROPERTY)
Director: Chadd Harbold
U.K. Release: November 21
U.S. Release: May 13
Official synopsis: Kathryn (Ashley Benson, Spring Breakers, Pretty Little Liars), a struggling actress and unfulfilled housewife, becomes involved with her new gardener, Ben (Shiloh Fernandez, Evil Dead). As he gives her the attention and sensitivity she craves, they start to fall for each other. But Kathryn soon realises Ben is hiding secrets, and that her home – and her life – may now be in grave danger. Directed by Chadd Harbold (South of Heaven) and adapted by Harbold from Leslie Stevens (Stoney Burke)'s 1960 screenplay Private Property.
---
HONG KONG: CITY ON FIRE (ONE NIGHT ONLY)
Director: Choi Ka-yan & Lee Hiu-ling
U.K. Release: November 22 for one night only
U.S. Release: TBA
Official synopsis: Taking us from Hong Kong's 1997 handover from British rule into Chinese administrative control, and all the way to 2019 when a controversial extradition bill is greeted with massive street protests, this urgent film beds in with Hong Kong's pro-democracy demonstrations, offering a frontline portrait of four young protesters through a year of struggle. We see their hopes for a freer life and feel their fears as the authorities crack down. Pulse-racing scenes bring the viewer to street level, where peaceful protest is met with fury and tear gas.
---
THREE DAY MILLIONAIRE
Director: Jack Spring
U.K. Release: November 25 (in cinemas and on digital platforms)
U.S. Release: TBA
Official synopsis: You've seen Ocean's 11, now get ready for Grimsby's 4. After weeks at sea working for Grimsby's last remaining trawler, three friends return home to have the ultimate three-day-long celebration. However, when they discover the company owner hasn't been paying the workers and plans to shut the company's doors forever, they realize they must save their company, save their friends, and most importantly, save their way of life. With the help of an unexpected confidant, the three lads attempt to carry out the greatest heist Grimsby has ever seen – what could possibly go wrong?
---
THE FENCE
Director: William Stone
U.K. Release: November 28
U.S. Release: TBA
Official synopsis: Motorbikes, fast cars, punch-ups and 80's music. Set on the streets of 1980's Bristol, this retro flick follows a council estate kid out to settle the score with local thieves.
---
HUNT VS LAUDA: THE NEXT GENERATION
Director: Charlotte Fantelli
U.K. Release: November 28
U.S. Release: TBA
Official synopsis: Relive the legendary story of two of the most iconic racing drivers in history as their fierce rivalry is rekindled by their sons, Mathias Lauda and Freddie Hunt, who match them in method, character, and lifestyle. The two are only united by their desire to win as they compete, as their fathers once did, on the iconic Donington circuit.
---
IN FROM THE SIDE
Director: Matt Carter
U.K. Release: November 28 (on digital, Blu-Ray & DVD)
U.S. Release: TBA
Official synopsis: Mark (Alexander Lincoln), a new and inexperienced rugby club member, finds himself drawn to Warren (Alexander King), a seasoned first team player. When a series of happenstances at an away fixture lead to a drunken encounter, Mark and Warren unwittingly embark on a romantic affair they struggle to hide from their partners and teammates. As the secret begins to unravel, team spirit, loyalties and camaraderie are tested in writer-director Matt Carter's startlingly sensitive story about forbidden love and finding your tribe.
---
3. NOVEMBER 2022: NEW FILMS TO STREAM
AMAZON PRIME VIDEO
November 1-6
November 7-13
Autumn Beat: November 10
La Caida: November 11
November 14-20
November 21-30
---
APPLE TV+
November 1-6
November 14-20
November 21-30
---
DISNEY PLUS/HULU/STAR
November 14-20
November 21-30
---
HBO/HBO MAX
November 14-20
November 21-30
Shaq: November 23
A Christmas Mystery: November 24
Holiday Harmony: November 24
Love, Lizzo: November 24
---
MUBI
November 1-6
Il Buco: November 2
Time to Love: November 3
November 7-13
Starfuckers: November 10
The Box: November 11
November 14-20
November 21-30
---
NETFLIX
November 1-6
November 7-13
November 14-20
November 21-30
---
PEACOCK
November 14-20
---
SHUDDER
November 1-6
November 7-13
November 21-30
---
OTHER STREAMING PLATFORMS
November 1-30
---
4. NOVEMBER 2022 RELEASES: NEW SHOWS OUT THIS MONTH
AMAZON PRIME VIDEO
November 1-6
El Presidente: The Corruption Game, Season 2: November 4
November 7-13
The English: November 11
Mammals: November 11
---
APPLE TV+
November 1-6
November 7-13
---
DISNEY PLUS
November 7-13
Save our Squad with David Beckham: November 9
November 14-20
November 21-30
The Hip Hop Nutcracker: November 25
Willow: November 30
---
HBO & HBO MAX
November 1-6
Low Country: The Murdaugh Dynasty: November 3
Titans Season 4: November 3
November 7-13
Say Hey, Willie Mays!: November 8
The Big Brunch: November 10
November 14-20
The Sex Lives of College Girls Season 2: November 17
November 21-30
---
HULU
November 1-6
November 21-30
Welcome to Chippendales: November 22
---
NETFLIX
November 1-6
November 7-13
November 14-20
November 21-30
---
PARAMOUNT+
November 7-13
Transformers: Earthspark: November 11
Tulsa King: November 13
November 14-20
Blue's Big City Adventure: November 18
November 21-30
Criminal Minds: Evolution: November 24
Fantasy Football: November 25