November 2020: The Best Films of the Month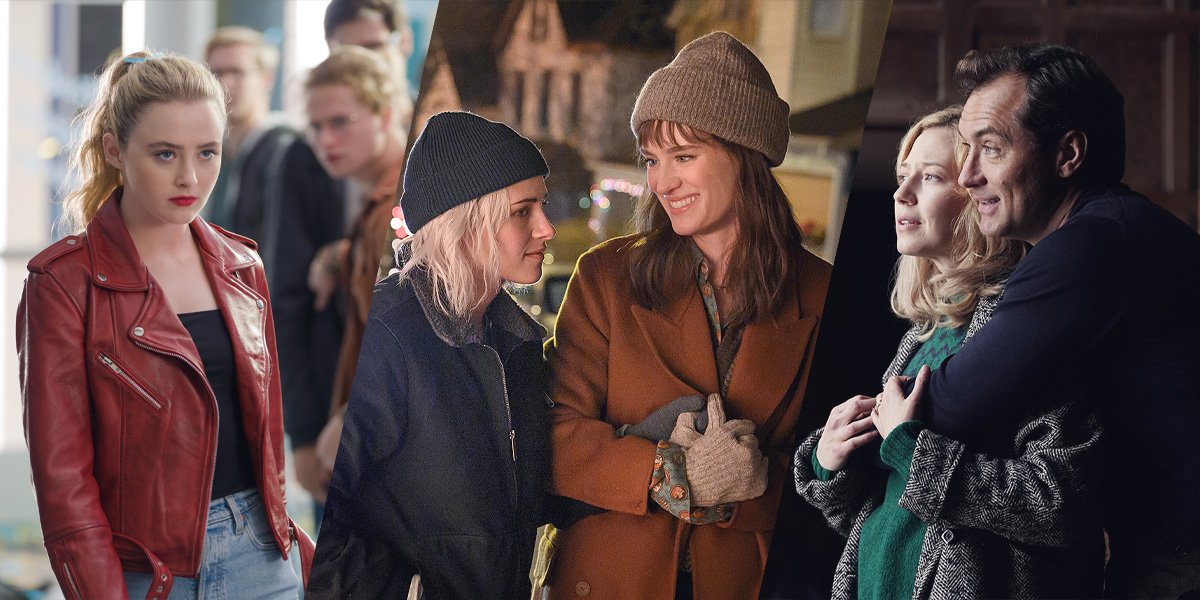 Freaky, Happiest Season, The Nest (Universal Pictures, Hulu, IFC Films)
From Hulu's Happiest Season to great slasher comedies and Netflix releases, here are November 2020 's highest rated films on Loud and Clear.
Even though at least three missed opportunities have been released this month, November 2020 was also the month of genre-defining Christmas comedies, entertaining slasher films, impressive Hulu releases, wonderfully disruptive debuts, charming animated movies and unexpected returns to cinema. From holiday favourites like A Christmas Carol and Hulu's Happiest Season to eerie thrillers and inspiring dramas, here are the best movies we watched and reviewed in November 2020.
---
A CHRISTMAS CAROL
Directors: Jacqui and David Morris
Full Review: A Christmas Carol (2020) Review: A Radical Retelling of the Timeless Tale
Where to watch it: in UK cinemas and theatres from 4th December.
In a year full of such unrest and uncertainty, it may be nice to end 2020 with some pleasant predictability by curling up on the couch with a warm cup of hot chocolate and experiencing a classic chronicle like A Christmas Carol with your family – only this time, with some thrilling new twists. This radical retelling doesn't "reinvent" Dickens' widely adored work by any means, and the allure of its audacious approach to filmmaking may vary from audience to audience, but instead of trotting out another tired take on the tale that we've already seen a thousand times before, Jacqui and David Morris have dared to do something different with material that had seemingly been mined for all its worth, and they stumbled upon some magic. (Read more in our review of A Christmas Carol)
---
THE CROODS: A NEW AGE
Director: Joel Crawford
Full Review: The Croods A New Age Review: DreamWorks' Stellar Sequel is a Delight
Where to watch it: in U.S. cinemas right now, and in select countries worldwide from December
By doubling down on convincing character development, adding to the absorbing animated spectacle on display, and retaining the humor and heart of the widely favored first film, The Croods: A New Age is a franchise continuation that effectively justifies its existence and acts as exciting all-ages entertainment that anyone and everyone can enjoy this holiday season. (Read more in our review of The Croods: A New Age)
---
FREAKY
Director: Christopher Landon
Full Review: Freaky (2020 Movie) Review: Brilliant Body Swap Slasher Comedy is a Blast
Where to watch it: in select cinemas worldwide from Friday, November 13.
Though Freaky may have begun as a self-aware homage to the slashers of the genre's past, when all is said and done, it's clearly earned its place alongside those classics in the horror canon, managing to bring charming new characters into the mix and kinetic kills that become instantly iconic in their own right. Thanks to a smart, subversive script and a valiant Vince Vaughn in the lead role, Freaky offers fun, fresh, and frightening festivities for horror fans young and old. (Read more in our review of the movie Freaky)
---
HAPPIEST SEASON
Director: Clea DuVall
Full Review: Happiest Season (Movie Review): A Queer Christmas Comedy Classic
Where to watch it: on Hulu (US) & on Amazon Prime Video (UK)
It's clear that progress is indeed being made in terms of expanding LGBTQ+ visibility in today's entertainment, but there's still so much work left to be done. It's too bad then that Happiest Season had to forego its original theatrical release due to complications stemming from the ongoing coronavirus pandemic, as this earnest, empathetic, and enormously enjoyable Christmas comedy classic-in-the-making has got the goods to amuse audiences of all backgrounds while simultaneously serving as a significant step forward for films featuring queer leads, and one can hope its Hulu debut draws just as much attention and awareness to its inclusivity and innovation. (Read more in our review of Happiest Season)
---
THE LIFE AHEAD
Director: Edoardo Ponti
Full Review: The Life Ahead Review: Sophia Loren's Radiant Return to Cinema
Where to watch it: on Netflix, everywhere
The Life Ahead is a simple story, sweetly told, with a writer-director in complete control of his tender tone and an astoundingly accomplished actress at the top of her game, even after years away from her art. For all the ups and downs explored throughout the entirety of The Life Ahead, there is an uplifting undercurrent that reminds audiences of the assurance that we are more than our troubles and tragedies, and honest human connection can hold the key to our resonant resurgence. Through bona fide and forthright friendship with those who candidly comprehend our anguish, we can begin anew. (Read more in our review of The Life Ahead)
---
THE NEST
Director: Sean Durkin
Full Review: The Nest Film Review: Eerie Drama About Dysfunctional Family
Where to watch it: on VOD (US & select countries)
The brilliance of the film lies mostly with its creeping atmosphere and raw portrayal of a disconnected family as a cautionary tale: worshipping money doesn't lead to happiness. As much as they are seemingly left with nothing but themselves and each other, we are given an hopeful open ending, one where we are told that, even in our darkest moments, we can still count on our family. Sean Durkin's The Nest portrays marital and family drama through an interesting lens, exploring a family's complexities, hardships and emotional baggage, reminding us that although we cannot choose our nest, we can definitely choose the efforts we with put into it. (Read our review of The Nest)
---
PROXIMA
Director: Alice Winocour
Full Review: Proxima (Movie Review): Eva Green Excels in Compelling French Astronaut Drama
Where to watch it: on Digital and VOD (US/UK)
Eva Green's face is as starkly expressive as any actress working today. Her face seems as if designed specifically as a conduit to convey emotion. Here, she is given a role truly worthy of her immense talents. Tasked as an astronaut who must navigate a complicated family situation, Green breathes life into a role that could have suffered in the hands of a lesser talent. A largely quiet and contemplative performance, the actress is tasked with conveying both the near psychotic dedication required of someone who chooses to go to space, and the compassion of a mother attempted to raise her daughter after a separation. Green's essential glamor is effectively muted by the introspection of her performance – it is chameleon work. (Read more in our review of Proxima)
---
RONNIE'S
Director: Oliver Murray
Full Review: Ronnie's Movie Review: For the Love of Jazz
Ronnie's is, first and foremost, a tribute. Director Oliver Murray sets out to celebrate what Ronnie Scott's Jazz Club was founded to do: provide a space for the great musicians of the era to ply their trade, and to embrace true genius in a way few other places do. Murray is adept at drawing an audience into the space he creates, and from the second that hushed chatter and clinking glasses explode into an Oscar Peterson piano onslaught, we do not watch, but absorb. The music is easy to celebrate when the calibre is so immediately obvious – Ella Fitzgerald, Sonny Rollins, Chet Baker and Nina Simone, to give just a small sample. You can feel each performance leaving an indelible mark on the building itself, and with each piece of footage the legend of the institution tangibly swells. (Read more in our review of Ronnie's)
---
RUN
Director: Aneesh Chaganty
Full Review: Run Movie Review: Sarah Paulson is Petrifying in Hulu's Horror Thriller
Where to watch it: on Hulu.
Aneesh Chaganty's follow-up to 2018's stellar Searching proves that this thrill-seeking auteur is no one-hit wonder, as he doubles down on that film's torturous twists while also sharpening the scale of this particular story. Aided by arduous, anxiety-inducing acting from Sarah Paulson and newcomer Kiera Allen, Run is a rollicking and riveting rollercoaster ride from start to finish and suspense-driven filmmaking at its finest. (Read more in our review of Run)
---
THIRST
Directors: Steinþór Hróar Steinþórsson & Gaukur Úlfarsson
Full Review: Thirst Movie Review: A Cult Classic in the Making
Where to watch it: on DVD & Digital, now in the UK & select European countries and on December 1 in North America.
Thirst asserts itself extremely early on. From a glance, it seems like a straight horror, but it takes no time establishing that, while yes, of course it is a horror film, it's more rooted in comedy. It finds its entertainment in its goofy kills and crazy situations, and that's what makes it work. It never takes itself too seriously and realizes those that are actually interested in this sort of thing will be mesmerized at just how far this film will take it. Not to mention, the cast knows exactly what sort of film they're taking part in, and they are having a ball with it. (Read more in our review of Thirst)
---
THE TWENTIETH CENTURY
Director: Matthew Rankin
Full Review: The Twentieth Century Movie Review: Disruptive Debuts and Where To Find Them
Where to watch it: in select cinemas in the UK
Whether you're keen supporters of Sovietic montage or of German Expressionism, The Twentieth Century's the right film for you. Whether you like war flicks or intellectually-engaged ones, The Twentieth Century will cater to your needs nicely. But if you like to spend your movie evenings completely unchallenged by what you are watching – well you can just pick any title off your ueber-old library and roll with it. (Read more in our review of The Twentieth Century)
---
Great TV shows we've reviewed this month:
Great Festival Films we've seen this month:
Other November 2020 releases: