Most Anticipated Movies of 2021 (By Month)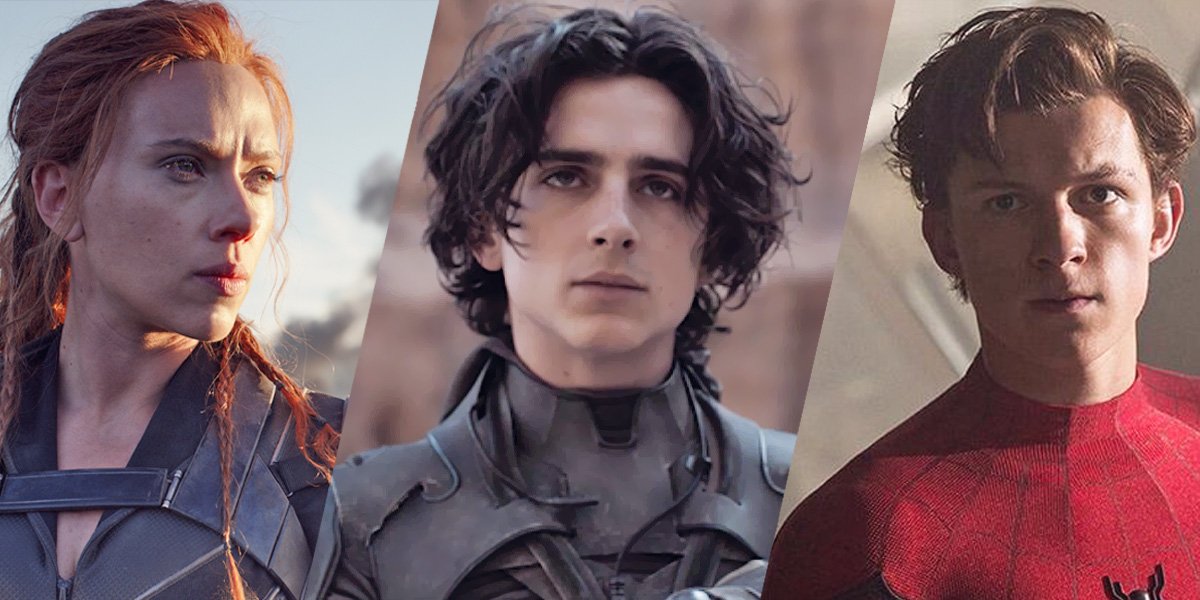 Black Widow, Dune, Spider-Man (Marvel Studios / Warner Bros. Pictures)
As we leave the terrors of 2020 behind, we at Loud and Clear have looked ahead and compiled a list of the most anticipated movies of 2021.

Last updated on: March 7, 2021
So, 2020 didn't go exactly as expected. Though we began last year pumped for "Phase 4" of the Marvel Cinematic Universe (with Black Widow and Eternals), looking forward to a litany of "legacyquels" (such as Ghostbusters: Afterlife and Top Gun: Maverick), and anxious for new action-packed entries in our favorite franchises (including No Time to Die and F9), the coronavirus pandemic kind of put a damper on those plans. As studios scrambled to shuffle their biggest blockbusters around the release calendar, it became quite clear that many of the movies we were most eager to see to would no longer be in theaters in 2020.
Though the pandemic continues to prevent a complete recovery for cinemas around the world, many in the film industry remain idealistic about 2021's prospects overall, and, as such, we actually have a considerable collection of top-tier titles to take note of in the year ahead. Below, we at Loud and Clear have picked the most anticipated movies of 2021 by month (and additionally listed a few high-profile honorable mentions as well) so that we can all stay up to date on the sensational spectacles that await.
---
JANUARY 2021
THE LITTLE THINGS
Director: John Lee Hancock
Starring: Denzel Washington, Rami Malek, and Jared Leto
U.S. Release: January 29th
U.K. Release: February 12th
Full Review: Retro Serial Killer Story Slays
In December 2020, Warner Bros. announced that all of its 2021 movies would follow in the footsteps of Wonder Woman 1984 and debut in theaters and on HBO Max simultaneously, and January's The Little Things is the first film after that DC superhero sequel to give this subversive release strategy a go. Starring Oscar winners Denzel Washington (Training Day, Glory), Rami Malek (Bohemian Rhapsody), and Jared Leto (Dallas Buyers Club), this serial killer thriller from writer-director John Lee Hancock (The Blind Side, Saving Mr. Banks) follows a blue-collar deputy (Washington) who teams up with a hot-shot L.A. detective (Malek) to take down a malicious murderer who has been targeting young women across the state. With many already comparing it to David Fincher's crime classic Se7en, one can only hope that the story of The Little Things is as strikingly shocking and suspenseful.
Honorable Mentions:
---
FEBRUARY 2021
JUDAS AND THE BLACK MESSIAH
Director: Shaka King
Starring: Daniel Kaluuya, Lakeith Stanfield, and Jesse Plemons
U.S. Release: February 12th
U.K. Release: February 26th
Full Review: Kaluuya Dominates Dynamite Drama
Every year, there seems to be an "Oscar season surprise" – a late-breaking film that comes out of nowhere and conjures up some last-minute momentum in the awards race. With the extended eligibility window for the 93rd Academy Awards allowing movies released before February 28th to compete at this year's ceremony, Shaka King's Judas and the Black Messiah looks to take that title for 2021. Starring Get Out's Daniel Kaluuya as Black Panther Party chairman Fred Hampton and Knives Out's Lakeith Stanfield as William O'Neal, the FBI informant who double-crossed him, Judas is a blistering tale of betrayal with tragic ties to the racial tragedies of today, and aside from offering an immensely intense cinematic experience, it will be regarded as a sobering and socially relevant story that all should see as well.
Honorable Mentions:
---
MARCH 2021
RAYA AND THE LAST DRAGON
Director: Don Hall and Carlos López Estrada
Starring: Kelly Marie Tran and Awkwafina
U.S. Release: March 5th
U.K. Release: March 12th
Full Review: An Action-Packed Animated Epic
Recently, Disney has managed to remarkably diversify their pantheon of "princesses," from The Princess and the Frog's Tiana to the titular chieftess of 2016's Moana. Now, in one of the most anticipated movies of 2021, Kelly Marie Tran's (Star Wars: The Last Jedi, The Croods: A New Age) Raya is set to represent Southeast Asian cultures in her own animated adventure epic, where she will stalwartly search for the last living dragon (voiced by The Farewell's Awkwafina) – the only creature alive that can help her keep her home world of Kumandra safe from the sinister monsters known as "the Druun." If you're still skeptical of taking a chance on a trip to the cinema in March, have no fear – Raya will also be available on Disney+ with Premier Access on the same day as its theatrical debut.
Honorable Mentions:
---
APRIL 2021
MORTAL KOMBAT
Director: Simon McQuoid
Starring: Lewis Tan, Ludi Lin, and Joe Taslim
U.S. Release: April 16th
U.K. Release: April 16th
After 1997's atrocious Mortal Kombat: Annihilation, no one would blame you if you were slightly skeptical of the prospects for 2021's reboot. That being said, supporters of the video game series have much more to be optimistic about this time around, with Aquaman and The Conjuring director James Wan producing the picture and promising both an R-rating and ferocious "Fatalities" galore. Deadpool 2's Lewis Tan will lead the cast as an original lead by the name of Cole Young – an MMA fighter on the run from fav-favorite assassin Sub Zero, portrayed by martial artist Joe Taslim – with other cherished characters like Scorpion (The Wolverine's Hiroyuki Sanada), Lord Raiden (Thor's Tadanobu Asano), and Liu Kang (Power Rangers' Ludi Lin) co-starring as well. At the moment, it's the only big blockbuster scheduled for April, and from the recent first-look photos, this action-packed extravaganza should easily suffice.
Honorable Mentions:
---
MAY 2021
BLACK WIDOW
Director: Cate Shortland
Starring: Scarlett Johansson, Florence Pugh, Rachel Weisz, and David Harbour
U.S. Release: May 7th
U.K. Release: May 7th
2020 was the first year without any Marvel movies since 2009, and let's just say that absence truly does make the heart grow fonder. Though Disney+ will air the first two Marvel miniseries (WandaVision and The Falcon and the Winter Soldier) on Disney+ this spring, Black Widow will be the studio's first theatrical content since 2019's earth-shattering epic Avengers: Endgame, and fans are more than ready to re-enter the MCU in one of the most anticipated movies of 2021 to finally see the spin-off for Scarlett Johansson's Natasha Romanoff that's been nearly ten years in the making. Though the film is a prequel – set between the events of Captain America: Civil War and Avengers: Infinity War – it will lay the foundation for the rest of Phase 4, with hints at where this mega-franchise may be headed in the near future.
Honorable Mentions:
---
JUNE 2021
THE CONJURING: THE DEVIL MADE ME DO IT
Director: Michael Chaves
Starring: Vera Farmiga, Patrick Wilson, and Ruairi O'Connor
U.S. Release: June 4th
U.K. Release: June 2021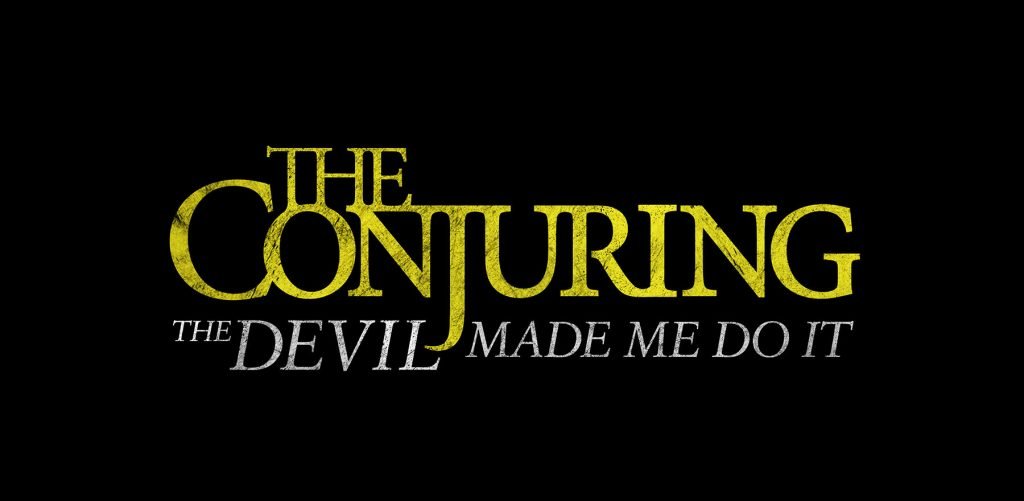 By the time The Conjuring: The Devil Made Me Do It releases this June, it will have been five years since its predecessor, the formidably frightful The Conjuring 2. Though Patrick Wilson and Vera Farmiga cameoed in 2019's Annabelle Comes Home as iconic paranormal investigators Ed and Lorraine Warren, this will be the proper third installment of the spooky saga specifically devoted to their eerie escapades, and producer James Wan (who is stepping down from his directorial duties after choosing The Curse of La Llorona's Michael Chaves as his replacement) has picked a particularly petrifying story to bring to the big screen. Based on the trial of Arne Cheyenne Johnson, The Devil Made Me Do It will depict the first time in U.S. history where a murder suspect claimed demonic possession as a defense in a court of law, and there are sure to be all sorts of terrifying twists and turns in store.
Honorable Mentions:
---
JULY 2021
TOP GUN: MAVERICK
Director: Joseph Kosinski
Starring: Tom Cruise, Miles Teller, and Jennifer Connelly
U.S. Release: July 2nd
U.K. Release: July 8th
Related Article: Top Gun (1986): Pure Pop Culture Phenomenon or Pro-War Propaganda?
35 years after Top Gun took audiences around the world to "the danger zone," we're ready to "feel the need for speed" yet again with Joseph Kosinski's (Tron: Legacy, Oblivion) long-awaited "legacyquel," Top Gun: Maverick. Aside from featuring state-of-the-art stuntwork (which is par for the course for a Tom Cruise movie at this point), this sequel's story will surely tug at our heartstrings as well, as Cruise's "Maverick" aims to take Miles Teller's (Whiplash, Divergent) "Rooster" – the son of his late friend "Goose" – under his wing and show him the ropes at TOPGUN. Val Kilmer returns as antagonist-turned-ally "Iceman," while Jennifer Connelly (A Beautiful Mind), Jon Hamm (Baby Driver), and Ed Harris (The Truman Show) all join the fray this time around as well in one of the most anticipated movies of 2021.
Honorable Mentions:
---
AUGUST 2021
THE SUICIDE SQUAD
Director: James Gunn
Starring: Margot Robbie, Idris Elba, and Viola Davis
U.S. Release: August 6th
U.K. Release: August 6th
While 2016's Suicide Squad did leave a bit to be desired in the quality department, it still introduced audiences to a cast of instantly iconic characters, including Margot Robbie's Harley Quinn, Will Smith's Deadshot, and Jai Courtney's Captain Boomerang. Though Smith won't be back for James Gunn's (Guardians of the Galaxy) 2021 "sequel-of-sorts," don't fret – Gunn has expertly expanded the film's ensemble with actors like Idris Elba (Thor), John Cena (Bumblebee), Pete Davidson (The King of Staten Island), Michael Rooker (The Walking Dead), and many many more, and his signature subversive style is sure to freshen up this franchise considerably. If anyone can redeem the Suicide Squad series, it will be the man who made a movie about racoon bounty hunter and a tree-like humanoid that only speaks three words and spun it into a worldwide sensation.
Honorable Mentions:
---
SEPTEMBER 2021
DEATH ON THE NILE
Director: Kenneth Branagh
Starring: Kenneth Branagh, Gal Gadot, and Armie Hammer
U.S. Release: September 17th
U.K. Release: TBD
Is there anyone who doesn't love a good murder mystery? If we look at the blowout box office returns for 2017's Murder on the Orient Express, it would seem that there are far more than a few out there who are as ready for round two with Kenneth Branagh's (Dunkirk, Tenet) Detective Hercule Poirot as we are, and with superstars such as Gal Gadot (Wonder Woman), Armie Hammer (Call Me by Your Name), and Annette Bening (Captain Marvel) signing on for this sequel's mystifying mayhem, we can't help but be anxious for the thrills that await on this riotous river steamer. Luscious locales, colorful costumes, scandalous secrets – how could this not be one of the most anticipated movies of 2021?
Honorable Mentions:
---
OCTOBER 2021
DUNE
Director: Denis Villeneuve
Starring: Timothée Chalamet, Zendaya, and Oscar Isaac
U.S. Release: October 1st
U.K. Release: October 1st
Related Article: What to Expect from Denis Villeneuve's Dune
With a cast full of idolized Internet heartthrobs (Timothée Chalamet, Oscar Isaac, Jason Momoa) and several social media stars (Zendaya, Dave Bautista), it's pretty clear that Dune will definitely be at the top of #FilmTwitter's most anticipated movies of 2021 without any competition whatsoever. Nevertheless, even for those who aren't "Extremely Online," Denis Villeneuve's (Arrival, Blade Runner 2049) adaptation of Frank Herbert's classic sci-fi novel of the same name is set to be a sumptuous spectacle of stunning scope and scale, transporting audiences to the desert planet Arrakis and placing them right in the thick of the conflict between House Atreides and House Harkonnen – a clash that could go down in cinematic history if properly put to screen. And with Villeneuve's astounding batting average, who's gonna bet against him at this point?
Honorable Mentions:
---
NOVEMBER 2021
MISSION: IMPOSSIBLE 7
Director: Christopher McQuarrie
Starring: Tom Cruise, Rebecca Ferguson, and Simon Pegg
U.S. Release: November 19th
U.K. Release: TBD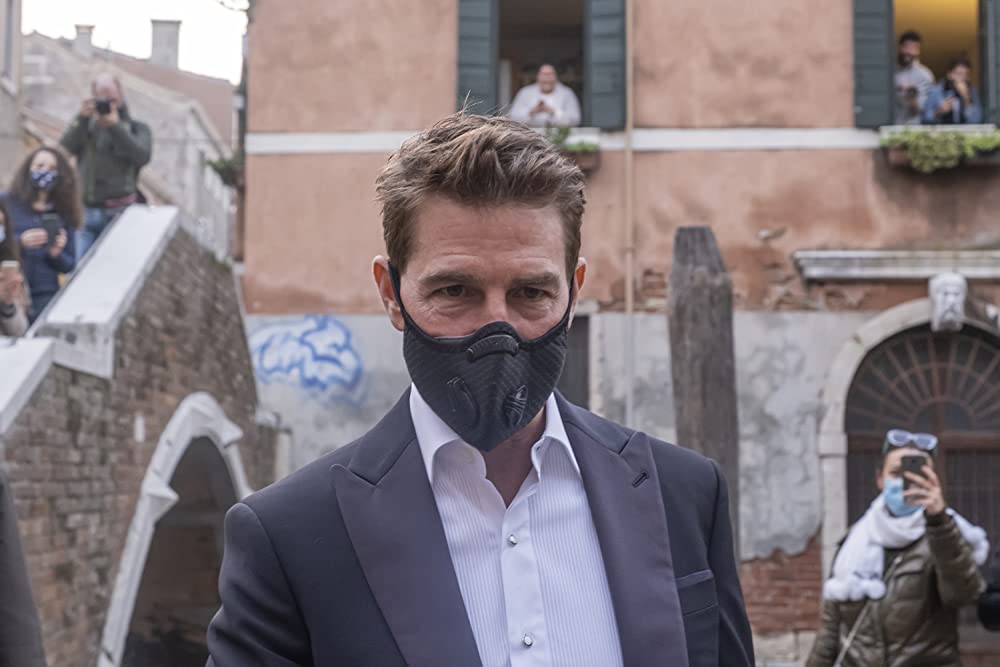 Details for the seventh installment in the Mission: Impossible franchise may be scarce at this juncture, but if the astounding accomplishments of stuntwork in 2018's Mission: Impossible – Fallout are any indication, we clearly have a lot to look forward to in the series' third collaboration between director Christopher McQuarrie and star Tom Cruise. Regulars like Rebecca Ferguson, Simon Pegg, Ving Rhames, and Vanessa Kirby are set to return, and they will be accompanied in the action by Captain America: The First Avenger's Hayley Atwell and Guardians of the Galaxy Vol. 2's Pom Klementieff. Meanwhile, Titans star Esai Morales will act as antagonist this time in a role that will also be featured in 2022's Mission: Impossible 8 – which will be shot back-to-back with this seventh entry and complete a thrilling two-movie storyline.
Honorable Mentions:
---
DECEMBER 2021
SPIDER-MAN: NO WAY HOME
Director: Jon Watts
Starring: Tom Holland, Zendaya, and Benedict Cumberbatch
U.S. Release: December 17th
U.K. Release: TBD
Many scoffed at the idea of another Spider-Man reboot when Marvel's Spider-Man: Homecoming was first announced, but this sub-franchise has proven to be staggeringly successful for the studio, with Tom Holland's take on the web-slinger becoming the definitive depiction for many audiences as well. In his third big-screen adventure, Holland's Peter Parker must contend with the madness of the "multiverse," using the help of Benedict Cumberbatch's Doctor Strange to battle baddies like Jake Gyllenhaal's Mysterio, Jamie Foxx's Electro, and Alfred Molina's Doctor Octopus. And, if the rumors are to be believed, he might just get the support of two other Spideys as well in the form of Tobey Maguire and Andrew Garfield, easily making this one of our most anticipated movies of 2021.
Honorable Mentions:
---
JOIN US!
Be among the first to receive our monthly updates with film news, movie-inspired recipes and exclusive content! You'll only hear from us once a month. #nospam