May 2022 Releases: New Movies and Shows Out This Month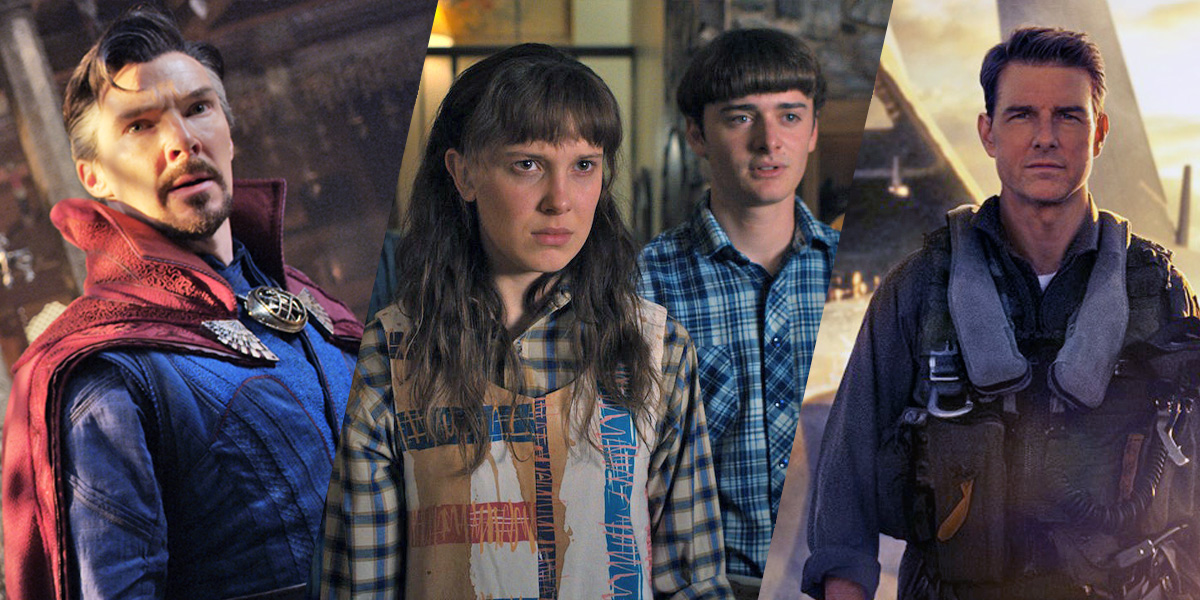 Doctor Strange in the Multiverse of Madness, Stranger Things, Top Gun: Maverick (Marvel Studios, Netflix, Paramount Pictures)
May 2022: this month's new releases include movies Doctor Strange, Alex Garland's Men and Top Gun: Maverick and shows Stranger Things and Obi Wan Kenobi.
May 2022 is going to be a great month for new movies, whether we're talking about highly anticipated theatrical releases – from Doctor Strange in the Multiverse of Madness and Top Gun: Maverick to Alex Garland's Men, Ninja Thyberg's Pleasure and two Gaspar Noé films – or films that will be available on streaming platforms, like Netflix's Senior Year, Shudder's The Sadness and HBO's Spring Awakening documentary. But this month is also going to see the release of some of the most anticipated shows of the year, and Obi-Wan Kenobi, Stranger Things, Night Sky, and The Essex Serpent are only a few of the great series that await us.
To make it easier for you to decide what to watch this month, we've collected May 2022 's most exciting new releases in this article, in order of release and divided by films you'll be able to see in theaters, on demand, and on various streaming platforms, as well as shows to stream on Amazon Prime Video, Apple TV+, Disney+, HBO Max, Hulu, Netflix, and more. Though we've prioritized U.S. releases, we've also included U.K. and global release dates where available. Scroll till the end for other events happening this month, and happy watching!
---
1. MAY 2022 MOVIES: IN THEATERS
DOCTOR STRANGE IN THE MULTIVERSE OF MADNESS
Director: Sam Raimi
U.S. Release: May 6
Global Release: May 4-6
Full Review: Great Visuals but Little Emotion
Official synopsis: In Marvel Studios' Doctor Strange in the Multiverse of Madness, the MCU unlocks the Multiverse and pushes its boundaries further than ever before. Journey into the unknown with Doctor Strange, who, with the help of mystical allies both old and new, traverses the mind-bending and dangerous alternate realities of the Multiverse to confront a mysterious new adversary. Doctor Strange in the Multiverse of Madness stars Benedict Cumberbatch, Chiwetel Ejiofor, Elizabeth Olsen, Benedict Wong, Xochitl Gomez, with Michael Stühlbarg, and Rachel McAdams.
---
ESCAPE THE FIELD
Director: Emerson Moore
U.S. Release: May 6
U.K. Release: May 6
Official synopsis: The fear is inescapable and the suspense nonstop in this gripping horror-thriller about six strangers who suddenly awaken in a remote, endless cornfield. Stripped of their possessions, they are left with only six items: a gun with a single bullet, matches, a lantern, a knife, a compass, and a flask of water. As mysterious sirens blare in the distance and traps appear at every turn, the group realizes it's been plunged into a cat-and-mouse game with an unseen evil, and survival depends upon solving a diabolical — and deadly — puzzle.
---
HAPPENING
Director: Audrey Diwan
U.S. Release: May 6
U.K. Release: April 22
Full Review: The Ugliness of Law
Official synopsis: Adapted from prize winning author Annie Ernaux's semi-autobiographical novel, Happening follows Anne (Anamaria Vartolomei), a bright young student with a promising future ahead of her in France during 1963. But when she falls pregnant, she sees the opportunity to finish her studies and escape the constraints of her social background disappearing. With her final exams fast approaching and her belly growing, Anne resolves to act, even if she has to confront shame and pain, even if she must risk prison to do so.
---
LUX ÆTERNA
Director: Gaspar Noé
U.S. Release: May 6 in NYC (at the Metrograph), May 12 nationwide
U.K. Release: May 30 (DVD & Blu-Ray)
Full Review: Gaspar Noé's Chaotic Rave
Official synopsis: Preparing to shoot a film about witchcraft, actresses Béatrice Dalle and Charlotte Gainsbourg, playing fictionalized versions of themselves, linger backstage swapping stories about past productions gone awry, sorcery, and burnings at the stake. Ego trips and technical problems lead to psychotic outbreaks on the set of Lux Aeterna's film within a film, titled God's Work, as the shoot gradually plunges into chaos—a descent which Noé tracks while employing split-screen effects, stroboscopic psychedelic imagery, and eye-melting neon courtesy of cinematographer Benoît Debie. A madcap comedy, an indictment of the compromises of commercial moviemaking, and an intertitle-laced meditation on filmmaking practice that explodes into a brilliant bonfire of pure, pulsating cinema.
---
OPERATION MINCEMEAT
Director: John Madden
U.S. Release: May 6
Global Release: May 11 (on Netflix)
Official synopsis: It's 1943. The Allies are determined to break Hitler's grip on occupied Europe, and plan an all-out assault on Sicily; but they face an impossible challenge – how to protect a massive invasion force from potential massacre. It falls to two remarkable intelligence officers, Ewen Montagu (Colin Firth) and Charles Cholmondeley (Matthew Macfadyen) to dream the most inspired and improbable disinformation strategy of the war – centred on the most unlikely of secret agents: a dead man. Operation Mincemeat is the extraordinary and true story of an idea that hoped to alter the course of the war – defying logic, risking countless thousands of lives, and testing the nerves of its creators to breaking point.
---
THE TWIN
Director: Taneli Mustonen
U.S. Release: May 6
Global Release: May 6 (on Shudder)
Official synopsis: In The Twin, following the aftermath of a tragic accident that claimed the life of one of their twin sons, Rachel (Teresa Palmer, A Discovery of Witches, Warm Bodies, Lights Out) and husband Anthony (Steven Cree, A Discovery of Witches, Outlander) relocate to the other side of the world with their surviving child in the hopes of building a new life. What begins as a time of healing in the quiet Scandinavian countryside soon takes an ominous turn when Rachel begins to unravel the torturous truth about her son and confronts the malicious forces attempting to take a hold of him.
---
VORTEX
Director: Gaspar Noé
U.S. Release: April 19 (NYC), May 6 (nationwide)
U.K. Release: May 13
Full Review: The Suffocating Mortality of Humans
Official synopsis: Presented in split screen, Vortex tells the story of an aging couple in a Paris apartment. As the mother (Françoise Lebrun) faces advancing dementia, the father (Dario Argento) tries to care for her while dealing with his own declining health, and their son (Alex Lutz) does his best in spite of his own significant personal problems. With this film, Director Gaspar Noé (Enter the Void, Climax, Irreversible) delivers a career best, finding a level of compassion and tenderness that sacrifices none of the visual excitement that has marked his best work.
---
THIS MUCH I KNOW TO BE TRUE
Director: Andrew Dominik
Global Release: May 11
Full Review: A Sonorous Reunion of Brilliant Minds
SXSW synopsis: Shot over five days at Battersea Arts Centre and on location in London & Brighton, This Much I Know To Be True captures Nick Cave & Warren Ellis' exceptional creative relationship as they bring to life songs from albums Ghosteen and Carnage. In this document of their first ever performances of these albums, filmed ahead of their 2021 UK tour, we will see the two, accompanied by singers and string quartet, as they nurture each song into existence. Interstitial pieces between the songs illuminate the cosmology and themes of the music. Read more.
---
FAMILY CAMP
Director: Brian Cates
U.S. Release: May 13
U.K. Release: unknown
Official synopsis: When their pastor encourages the congregation to sign-up for a week away at family camp, Grace (Leigh-Allyn Baker) believes she's found the perfect cure for her imperfect clan—even if they'd all rather be anywhere but at rustic Camp Katokwah. The first feature film from The Skit Guys—Tommy Woodard and Eddie James—Family Camp is a laugh-out-loud comedy that is sure to touch the hearts and tickle the funny bones of every family member from eight to eighty.
---
FATHER STU
Director: Rosalind Ross
U.K. and European Release: May 13
U.S. Release: April 15
Full Review: Religious Film Needs More Than Faith
Official synopsis: When an injury ends his amateur boxing career, Stuart Long moves to Los Angeles to find money and fame. While scraping by as a supermarket clerk, he meets Carmen, a Sunday school teacher who seems immune to his bad-boy charm. Determined to win her over, the longtime agnostic starts going to church to impress her. However, a motorcycle accident leaves him wondering if he can use his second chance to help others, leading to the surprising realisation that he's meant to be a Catholic priest.
---
FIRESTARTER
Director: Keith Thomas
U.S. Release: May 13 (in theaters and on Peacock)
Global Release: May 12-13
Full Review: Zac Efron Shines, While the Rest Burns
Official synopsis: In a new adaptation of Stephen King's classic thriller from the producers of The Invisible Man, a girl with extraordinary pyrokinetic powers fights to protect her family and herself from sinister forces that seek to capture and control her.
For more than a decade, parents Andy (Zac Efron) and Vicky (Sydney Lemmon) have been on the run, desperate to hide their daughter Charlie (Ryan Kiera Armstrong) from a shadowy federal agency that wants to harness her unprecedented gift for creating fire into a weapon of mass destruction. Andy has taught Charlie how to defuse her power, which is triggered by anger or pain. But as Charlie turns 11, the fire becomes harder and harder to control. After an incident reveals the family's location, a mysterious operative (Michael Greyeyes) is deployed to hunt down the family and seize Charlie once and for all. Charlie has other plans.
---
MONTANA STORY
Directors: Scott McGehee and David Siegel
U.S. Release: May 13
U.K. Release: unknown
Full Review: An Intimate Drama That Stands Out
Official synopsis: From the acclaimed writer/directors Scott McGehee and David Siegel (What Maisie Knew, The Deep End) comes a neo-Western with an emotional tremor hiding beneath it. Two estranged siblings (Haley Lu Richardson, Owen Teague) return home to the sprawling ranch they once knew and loved, confronting a deep and bitter family legacy against a mythic American backdrop.
---
ON THE COUNT OF THREE
Director: Jerrod Carmichael
U.S. Release: May 13 (in select theaters and on digital)
U.K. Release: unknown
Full Review: A Tense, Exciting Black Comedy
Official synopsis: From Annapurna Pictures (Spring Breakers, Sorry to Bother You, Booksmart) and Orion Pictures, Jerrod Carmichael makes his directorial debut and stars in On the Count of Three, a darkly comic feature about two best friends, Val (Carmichael) and Kevin (Christopher Abbott), on the last day of their lives.
---
PLEASURE
Director: Ninja Thyberg
U.S. Release: May 13
U.K. Release: June 15 in cinemas, June 17 on MUBI
Full Review: A Powerful and Humanistic Exposition on Porn
Official synopsis: Ninja Thyberg's debut feature film Pleasure is a journey into the Los Angeles porn industry through the lens of newcomer Bella Cherry (Sofia Kappel). Strong, self-confident and determined, Bella embarks on a mission to become the best at any cost. Pleasure is written and directed by Thyberg with a stunning first time performance by Kappel, who anchors an ensemble of adult industry actors.
---
A-HA: THE MOVIE
Director: Thomas Robsahm
U.K. Release: May 20 (nationwide) / May 26 (special event)
U.S. Release: April 8
Official synopsis: a-ha's hit Take On Me is still one of the most played songs of the last millennium. This documentary follows the band over a period of four years, sharing the full story of how three young men followed their impossible dream of making it big. When Take On Me reached number 1 on Billboard in the US in 1985 that dream came true. Almost 35 years after their breakthrough, a-ha still creates magic on stage with their melancholic and timeless music. They tour the world but drive in separate cars and stay apart backstage. They only meet on stage, while doing the one thing they love. The film closely portrays the challenging creative and personal dynamics of a group of three strong individuals. This is a story of great music, big ambitions, broken friendship – and maybe forgiveness.
---
BENEDICTION
Director: Terence Davies
U.K. Release: May 20
U.S. Release: June 3
Full Review: The Aftermath of War
Official synopsis: A complex man who survived the horrors of fighting in the First World War, Siegfried Sassoon (Jack Lowden / Peter Capaldi), a soldier decorated for his bravery on the battlefield, became a vocal critic of the government's continuation of the war when he returned from service. Legendary still today for his poetry inspired by his experiences on the Western Front, he was adored by both members of the aristocracy as well as stars of London's literary and theatre scene. He embarked on affairs with several high-profile men as he attempted to come to terms with his homosexuality, whilst at the same time, broken by the horrors of war, his life's journey became a quest for salvation.
---
DOWNTON ABBEY: A NEW ERA
Director: Simon Curtis
U.S. Release: May 20
U.K. Release: April 29
Full Review: Familiar, But In a Good Way
Official synopsis: From award-winning creator Julian Fellowes comes the motion picture event Downton Abbey: A New Era. The much-anticipated cinematic return of the global phenomenon reunites the beloved cast as they go on a grand journey to the South of France to uncover the mystery of the Dowager Countess' newly inherited villa.
---
EMERGENCY
Director: Carey Williams
U.S. Release: May 20 (in theaters), May 27 (on Amazon Prime Video)
U.K. Release: unknown
Official synopsis: Kunle and his best friend, Sean, are both seniors in college about to embark on an epic night of Spring Break parties. Sean has the whole night planned out, including every party they will hit on their "legendary tour". Kunle is down but mostly concerned with finishing up his mold experiment in his lab, as his acceptance to Princeton is hinging on the results. They return to their apartment to pre-game, but find that their roommate, Carlos, left the door open. As they enter with trepidation, Sean and Kunle discover a drunk, semi-conscious white girl they don't know on the floor and an oblivious Carlos, who didn't hear her come in over the videogame blaring in his ears. Kunle wants to call the cops but Sean vehemently opposes the idea concerned how it will look when the cops show up (two black men, one Latinx man, and a passed out white woman). Together, Carlos, Sean and Kunle load the girl (who they nickname Goldilocks, but whose real name is Emma) into Sean's van, with the intention of taking her somewhere safe rather than calling the police. Meanwhile, Emma's sister, Maddy, has realized that Emma left the party they were at, and begins to search for her in a drunk panic using Emma's phone's location. What ensues is a chaotic, hilarious, and tension-filled chase all over town as our trio grapples with their differences while attempting to bring Emma to safety.
---
FIRE IN THE MOUNTAINS
Director: Ajitpal Singh
U.S. Release: May 20
U.K. Release: unknown
Official synopsis: In northern India, a breathtakingly beautiful Himalayan community attracts tourists by commingling South Asian and Swiss Alps aesthetics. Debut filmmaker Ajitpal Singh tells an unconventional story of feminist strength while "accentuating the [region's] spectacular exteriors and wide-canvas nature shots" (Variety). One local woman competes with her neighbors for business while battling the strictures of patriarchy, a local infrastructure from hell, and religious superstitions. She saves money, uses feminine wiles to subvert the corrupt powers-that-be, and piggy-backs her son up and down the mountainside to medical appointments with condescending doctors. In the end, our heroine's tightly wound grit must find release… in triumph, or madness, or both.
---
MEN
Director: Alex Garland
U.S. Release: May 20
U.K. Release: June 1
Full Review: Jessie Buckley and Rory Kinnear Dominate Dark Social Thriller
Official synopsis: In the aftermath of a personal tragedy, Harper (Jessie Buckley) retreats alone to the beautiful English countryside, hoping to have found a place to heal. But someone or something from the surrounding woods appears to be stalking her. What begins as simmering dread becomes a fully-formed nightmare, inhabited by her darkest memories and fears in visionary filmmaker Alex Garland's (Ex Machina, Annihilation) feverish, shape-shifting new horror film.
---
MONDOCANE
Director: Alessandro Celli
U.S. Release: May 20 (in theaters) / June 7 (on VOD)
U.K. Release: unknown
Official synopsis: In the not-too-distant future on Italy's southern coast, the city of Taranto has become a toxic wasteland ruled by warring gangs and surrounded by barbed wire, where best friends Pietro and Cristian dream of escaping their hardscrabble existence for a better life in nearby New Taranto. Opportunity knocks when Hothead, the charismatic and dangerous leader of a local gang called the Ants, recruits the two boys and gives them everything they fantasized about: money in their pockets, a family, and a father figure. The friendship begins to splinter, though, as Cristian displays a surprising talent for mayhem and quickly rises through the ranks. With a new female friend pushing them further apart, an obsessed cop hounding the gang, and Hothead becoming increasingly unhinged, the boys barrel toward a confrontation that will determine if their bond is strong enough to survive. Recalling everything from Mad Max to Lord of the Flies, from Oliver Twist to Waterworld, director Alessandro Celli's thrilling feature debut is a stylish post-apocalyptic vision and an inspiring testament to the power of friendship in an unjust world.
---
A CHIARA
Director: Jonas Carpignano
U.S. Release: May 27
U.K. Release: July 15
MUBI Release: August 26 (in the UK/IE, DE, LATAM & TR)
Full Review: Betwixt Family Ties and Crime Activity
Official synopsis: The day after the Guerrasio family gathers to celebrate Claudio and Carmela's oldest daughter's birthday, Claudio disappears. Their other daughter, 15-year-old Chiara, starts to investigate. As she gets closer to the truth, she is forced to decide what kind of future she wants for herself.
---
A TASTE OF WHALE
Director: Vincent Kelner
U.S. Release: May 27 (in theaters, on Amazon and on Apple TV)
U.K. Release: unknown
Official synopsis: Every year, hundreds of pilot whales are hunted in the fjords of the Faroe Islands an ancient tradition known as "The Grind". International animal rights activists, including Sea Shepherd and Pamela Anderson, fight to eradicate this bloody massacre while the Faroese denounce the hypocrisy of those who eat meat without criticizing what is happening in slaughterhouses and industries polluting our planet.
---
THE BOB'S BURGERS MOVIE
Directors: Loren Bouchard & Bernard Derriman
Global Release: May 27
Full Review: A Delicious Treat with a Side of Witty Remarks
Official synopsis: The Bob's Burgers Movie is an animated, big-screen, musical comedy-mystery-adventure based on the long-running Emmy®-winning series. The story begins when a ruptured water main creates an enormous sinkhole right in front of Bob's Burgers, blocking the entrance indefinitely and ruining the Belchers' plans for a successful summer. While Bob and Linda struggle to keep the business afloat, the kids try to solve a mystery that could save their family's restaurant. As the dangers mount, these underdogs help each other find hope and fight to get back behind the counter, where they belong.
---
PSYCHO (4K RE-RELEASE)
Director: Alfred Hitchcock
European Release: May 27 (in the UK & Eire, France, Austria, Spain, Denmark and Switzerland)
Official synopsis: Hitchcock's masterpiece, Psycho, will return to UK and Irish cinemas nationwide from 27th May with a 4K restoration of the original theatrical cut. The film will screen in 100+ UK and Irish cinemas, including Vue, Odeon, Picturehouse and independent cinemas nationwide as well as selected international territories, including: France, Austria, Spain, Denmark and Switzerland. Alfred Hitchcock's landmark masterpiece of the macabre stars Anthony Perkins as the troubled Norman Bates, whose old dark house and adjoining motel are not the place to spend a quiet evening. No one knows that better than Marion Crane (Janet Leigh), the ill-fated traveller whose journey ends in the notorious "shower scene." First a private detective, then Marion's sister (Vera Miles) searches for her, the horror and the suspense mount to a horrifying climax where the mysterious killer is finally revealed. Join the Master of Suspense, Alfred Hitchcock, on a chilling journey as an unsuspecting victim visits the Bates Motel and falls prey to one of cinema's most notorious psychopaths – Norman Bates.
---
TOP GUN: MAVERICK
Director: Joseph Kosinski
Global Release: May 27
Full Review: Tom Cruise's Long-Awaited Legacyquel Soars
Read also: Top Gun (1986): Pure Pop Culture Phenomenon or Pro-War Propaganda?
Official synopsis: After more than thirty years of service as one of the Navy's top aviators, Pete "Maverick" Mitchell (Tom Cruise) is where he belongs, pushing the envelope as a courageous test pilot and dodging the advancement in rank that would ground him. When he finds himself training a detachment of Top Gun graduates for a specialized mission the likes of which no living pilot has ever seen, Maverick encounters Lt. Bradley Bradshaw (Miles Teller), call sign: "Rooster," the son of Maverick's late friend and Radar Intercept Officer Lt. Nick Bradshaw, aka "Goose." Facing an uncertain future and confronting the ghosts of his past, Maverick is drawn into a confrontation with his own deepest fears, culminating in a mission that demands the ultimate sacrifice from those who will be chosen to fly it.
---
FREAKSCENE: THE STORY OF DINOSAUR JR.
Director: Philipp Reichenheim
U.S. Release: May 31 (special theatrical event) / June 3 (digital)
U.K. Release: unknown
Official synopsis: FREAKSCENE: THE STORY OF DINOSAUR JR. celebrates one of the most influential acts in alternative rock, from their formation in the mid-1980s to their reunion concert celebrating their 30th anniversary, and introduces viewers to the introverted power trio behind Dinosaur Jr. – Lou Barlow, J Mascis and Murph – who quietly opened the door for the likes of The Smashing Pumpkins, Nirvana, The Cure and Soundgarden.
---
2. MAY 2022 MOVIES: ON DIGITAL & ON DEMAND
AHED'S KNEE
Director: Nadav Lapid
U.S. Release: May 3
U.K. Release: unknown
Full Review: What You Can't Say
Official synopsis: In Ahed's Knee, a celebrated Israeli filmmaker named Y arrives in a remote desert village to present one of his films at a local library. Struggling to cope with the recent news of his mother's terminal illness, he is pushed into a spiral of rage when the host of the screening, a government employee, asks him to sign a form placing restrictions on what he can say at the film's Q&A. Told over the course of one day, the film depicts Y as he battles against the loss of freedom in his country and the fear of losing his mother.
---
BOX OF RAIN
Director: Lonnie Frazier
U.S. Release: May 3
U.K. Release: unknown
Official synopsis: What do you do when you're seventeen, suicidal, and believe that the only thing the world has to offer you is violence and pain? You get in your car and drive across the United States to go see the Grateful Dead, of course. At least, that's what you do if you're lucky. And without a doubt, Lonnie Frazier was very lucky. This film is an exploration of the Deadhead family, past and present, and the qualities that make it unique. We follow Lonnie as she reconnects with the women she traveled with in her youth, and makes new friends along the way. Through wide ranging interviews, she seeks to dispel the common stereotypes about Dead-heads and document the beauty of the community. We learn how the Grateful Dead touched the lives of so many people, the healing they found through the music, and the memories they cherish most.
---
ANAïS IN LOVE
Director: Charline Bourgeois-Tacquet
U.S. Release: May 6
U.K. Release: unknown
Full Review: Light, Sun-Kissed Romance
Official synopsis: Anaïs in Love is a buoyant French comedy from filmmaker Charline Bourgeois-Tacquet. Boasting a playfully magnetic performance by star Anaïs Demoustier, the film follows a spirited young woman who falls in love with the novelist wife of the man with whom she's having an affair.
---
MAY 2022 MOVIES: STREAMING
AMAZON PRIME VIDEO
May 23-29
Emergency (May 27)
Kick Like Tayla (May 27) – in Australia, New Zealand, Canada, US, UK and South Africa
---
DISNEY PLUS
May 9-15
May 16-22
---
NETFLIX
May 2-8
Along for the Ride (May 6)
Marmaduke (May 6)
The Takedown (May 6)
May 9-15
May 16-22
Cyber Hell: Exposing an Internet Horror (May 18)
A Perfect Pairing (May 19)
The Photographer: Murder in Pinamar (May 19)
---
SHUDDER
May 9-15
May 23-29
---
OTHER STREAMING PLATFORMS
May 1-8
Spring Awakening: Those You've Known (May 3), HBO
The Big Conn (May 6), Apple TV+
May 9-15
May 16-22
May 23-29
---
3. MAY 2022 RELEASES: NEW SHOWS OUT THIS MONTH
AMAZON PRIME VIDEO
May 2-8
May 9-15
May 16-22
Lovestruck High: Season 1 (May 18)
Bang Bang Baby: Season 1 (May 19)
Night Sky: Season 1 (May 20)
Troppo: Season 1 (May 20)
---
APPLE TV+
May 2-8
May 9-15
May 16-22
---
DISNEY PLUS
May 9-15
May 23-29
---
HBO & HBO MAX
May 2-8
May 9-15
The Time Traveler's Wife (May 15)
---
HULU
May 2-8
Dragons: The Nine Realm: Season 2 (May 5)
May 9-15
May 23-31
Shoresy (May 27)
Pistol (May 31): Fx on Hulu
---
NETFLIX
May 1-8
The Marginal: Season 4 (May 4)
Summertime: Season 3 (May 4)
Clark (May 5)
The Pentaverate: Season 1 (May 5)
The Sound of Magic: Season 1 (May 5)
May 9-15
42 Days of Darkness: Season 1 (May 11)
Savage Beauty: Season 1 (May 12)
Bling Empire: Season 2 (May 13)
The Lincoln Lawyer (May 13)
May 16-22
Vampire in the Garden: Season 1 (May 16)
The Future Diary: Season 2 (May 17)
Love, Death & Robots: Volume 3 (May 20)
May 23-29
---
OTHER STREAMING PLATFORMS
May 1-8
I Love That For You (May 1), Showtime
Who Do You Believe? (May 3), ABC
Star Trek: Strange New Worlds (May 5), Paramount+
May 16-22
Angelyne (May 19), Peacock
---
WHAT ELSE IS HAPPENING THIS MONTH:
Season Finales:
Star Wars Day:
Cannes Film Festival
---
Disclaimer: Loud and Clear is a participant in the Amazon Services LLC Associates Program, and some of the links above are affiliate links. This means that, at zero cost to you, we will earn an affiliate commission if you click through the link and finalize a purchase.
---
JOIN US!
Be among the first to receive our monthly updates with film news, movie-inspired recipes and exclusive content! You'll only hear from us once a month. #nospam