July 2020: The Best Films of the Month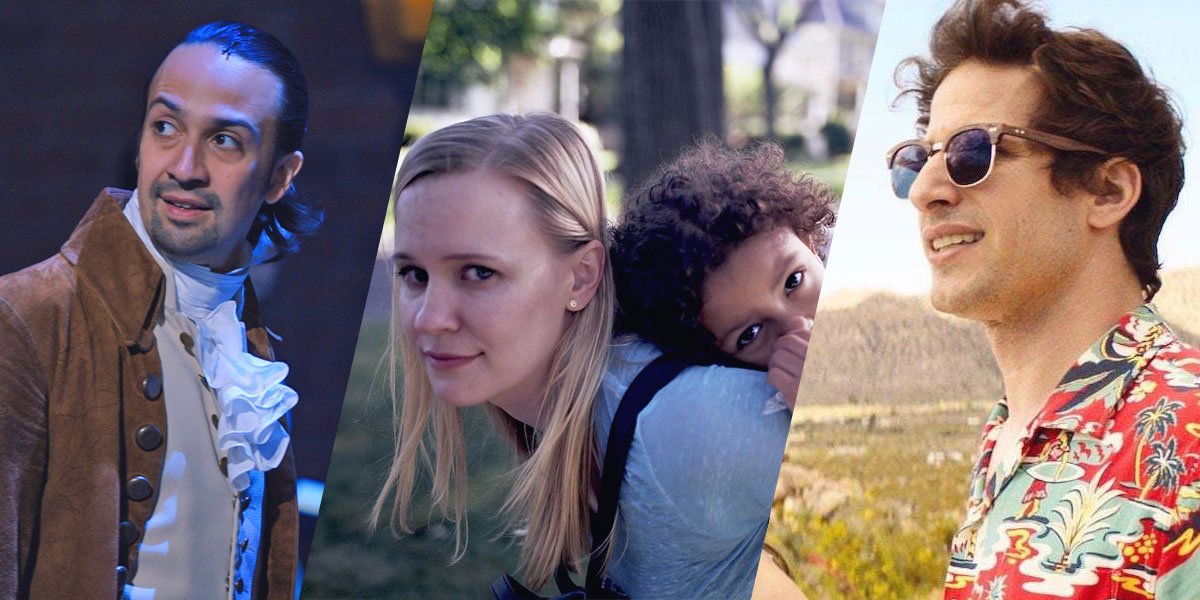 Hamilton, Saint Frances, Palm Springs (Walt Disney Studios, Oscilloscope, Hulu)
Take a look at July 2020 's highest rated films on Loud and Clear: from Palm Springs to Hamilton, here are this month's Loud and Clear Approved movies.
All things considered, July 2020 has not been a bad month for film lovers. Though Tenet, Mulan, Ghostbusters: Afterlife, Minions: Rise of Gru, The French Dispatch and all those highly anticipated movies we've been dying to see have been postponed to a later date (but don't forget to check out our Flashback Films series for your daily dose of nostalgia), we still got to see the most magical thing on Disney+, the most original time loop comedy since Groundhog Day and a coming of age gem that is, quite literally, poetry in motion. From Edinburgh Film Festival At Home favourites to new streaming releases, here are the best films we watched in July 2020, in alphabetical order.
---
THE BOAT PEOPLE
Director: Tuan Andrew Nguyen
Genre: Short Film
Full Review: The Boat People: A Filipino Post-Apocalyptic Fantasy
It is the end of the world. Streets are deserted, towns abandoned, and five children step off a boat that has washed ashore. A girl discovers on the beach a severed head taken from a statue of Buddha Gautama. The head begins talking to her; it explains that thieves — unable to take the whole statue — would cut off the heads, as a head alone could still fetch a fair price. The obvious question, of the intrinsic worth of a head without a body, is not considered. To them, it makes total sense. The Boat People is an interrogation of this kind of materiality. Director Tuan Andrew Nguyen asks: when we all go, what becomes of our things? (Read more)
---
GREYHOUND
Director: Aaron Schneider
Genre: War Drama
Full Review: Greyhound: Lean WWII Thriller Excites with a Detail Oriented Approach
Greyhound is an effective detail-obsessed war film carried by a strong central performance from Tom Hanks, that derives tension not from whether our heroes' depth charges will impact the enemy submarines, but rather from the process of calculating how to find the submarines at all. (Read more)
Watch Greyhound:
---
HAMILTON
Director: Thomas Khail
Genre: Musical
Full Review: Hamilton: the Most Magical Thing on Disney+
Hamilton is the greatest filmed stage show ever, and serves as a universal showcase for the musical's brilliant wit and unforgettable music. Who would have thought that the most magical thing on Disney+ would have nothing to do with Disney? (Read more)
Watch Hamilton:
---
HANAGATAMI
Director: Nobuhiko Obayashi
Genre: Drama
Full Review: Hanagatami: Nobuhiko Obayashi's Cinematic Testament Mesmerizes Audiences
Adapted from Dan Kazuo's 1937 novel and directed by the late Nobuhiko Obayashi (9 January 1938 – 10 April 2020), Hanagatami is a masterpiece in its genre. The final chapter of the director's anti-war manifesto trilogy has been over 40 years in the making, and it's a striking movie that surprises with oneiric visuals and unfeigned compassion. (Read more)
Watch Hanagatami:
---
HOUSE OF HUMMINGBIRD
Director: Bora Kim
Genre: Coming of Age
Full Review: House of Hummingbird: Poetry in Motion
House of Hummingbird is set in 1994 and chronicles the realizations, heartache, and love that a fourteen year old girl finds herself faced with. Bora Kim's fresh and painfully poignant directorial debut finds beauty and hope in life's smallest moments, telling an endearing coming of age tale that viewers will reflect on for a long time. (Read more)
Watch House of Hummingbird:
---
MISS JUNETEENTH
Director: Channing Godfrey Peoples
Genre: Drama
Full Review: Miss Juneteenth: "Looks Ain't Enough to Survive"
Turquoise Jones (Nicole Beharie) was once a bona fide beauty queen, crowned Miss Juneteenth of Fort Worth, Texas as a teenager. The film follows her struggle to have her reluctant daughter Kai (Alexis Chikaeze) take the same title and, with it, a ticket to a "better life". Miss Juneteenth is both an intimate illustration of a mother's love and a much-needed education on the struggles facing the working-class black community in the modern US. (Read more)
Watch Miss Juneteenth:
---
THE OUTPOST
Director: Rod Lurie
Genre: War Drama
Full Review: The Outpost: an Excellent War Film Elevated by Smart Direction
Battle scenes are tricky to pull off, and director Rod Lurie (The Contender) has managed the feat impressively. The Outpost is a superbly crafted war film that shrewdly balances themes of effective leadership with harrowing battle scenes. (Read more)
Watch The Outpost:
---
PALM SPRINGS
Director: Max Barbakow
Genre: Comedy
Full Review: Palm Springs: The Terrific "Time Loop" Comedy for the Troubles of Today
Starring Andy Samberg as a wedding guest who has been caught repeating this same celebration for an indefinite amount of time, Palm Springs gives a fresh coat of paint to the oft-parodied plot of Groundhog Day with thought-provoking twists on that familiar formula. (Read more)
Watch Palm Springs
---
REBUILDING PARADISE
Director: Ron Howard
Genre: Documentary
Full Review: Rebuilding Paradise: Ron Howard's Crisp Next Step as a Documentarian
Rebuilding Paradise is Ron Howard's documentary about the wildfire which ravaged Paradise, California in 2018 and the community's effort to rebuild the town afterwards. Compiled from cell phone footage, newsreels, dash cams, and anything else the film crew could get its hands on, the film delivers a visceral cinema verité look at the impact of an uncontrolled wildfire. (Read more)
Watch Rebuilding Paradise:
---
THE RIFLEMAN
Director: Dzintars Dreibergs
Genre: War Drama
Full Review: Previously Banned WWI True Story Successfully Captures the Intensity of War
Adapted from a 1934 novel that was banned in the Soviet Union for 60 years, The Rifleman is a WWI drama that shows the heartbreaking events and brutal realities of war through the innocent eyes of a seventeen-year-old boy who enlists into one of Latvia's first national battalions with his brother and his father, a former marksman who would have normally been overage for the army. (Read more)
---
SAINT FRANCES
Director: Alex Thompson
Genre: Drama / Comedy
Full Review: Saint Frances: "You Can Have Faith in People Too"
Saint Frances is a self-assured, unapologetic and, frankly, hilarious drama. A near perfect illustration of life's chequered tapestry, Alex Thompson's comedy drama approaches a multitude of sensitive issues with honesty and grace. (Read more)
Watch Saint Frances:
---
A WHITE, WHITE DAY
Director: Bora Kim
Genre: Coming of Age
Full Review: A White, White Day: How Ghosts Still Echo
A White, White Day is better felt than explained. Hlyun Pálmason's evocative, mournful experience follows a widowed policeman intent on emotional repression and self-infliction, as he cares for his granddaughter and investigates the potential marital infidelity of his late wife. (Read more)
Watch A White, White Day:
---
Other great July 2020 releases:
---
JOIN US!
Be among the first to receive our monthly updates with film news, movie-inspired recipes and exclusive content! You'll only hear from us once a month. #nospam