February 2023: New Movies In Theaters

Ant-Man and the Wasp: Quantumania, Magic Mike's Last Dance, Titanic (Marvel Studios, Warner Bros., Paramount)
February 2023: the new movies in theaters this month, from new Ant-Man and Magic Mike films to Cocaine Bear, Knock at the Cabin and more new releases!
The wait is over: festival favorites Godland, Pacifiction and The Blue Caftan will finally be released in theaters this month! But that's not all: February 2023 has many new movies in store for us, from new Ant-Man and Magic Mike sequels to highly anticipated films like Cocaine Bear, Knock at the Cabin, Jesus Revolution and more! BTS are coming to cinemas and James Cameron's Titanic will be re-released in 3D 4K HDR worldwide for its 25th anniversary, and those two things, alone, should make you excited for this month's releases!
Below are all of February 2023 's new movies, which you can watch in theaters this month! All films are in order of release and divided by films that will be out in U.S. theaters and in U.K. cinemas, and we've also added global release dates where available. Scroll till the end for this month's film festivals and special events, click here for the new releases on digital & VOD and here for the films to stream in February 2023, and don't forget to check out our list of most anticipated movies of 2023! Enjoy!
---
FEBRUARY 2023 MOVIES: IN U.S. THEATERS & GLOBAL
BTS: YET TO COME IN CINEMAS
Director: Oh Yoon-Dong
Global Release: February 1
Official synopsis: Join RM, Jin, SUGA, j-hope, Jimin, V and Jung Kook in this special cinematic cut, re-edited and remixed for the big screen. Watch new close-up angles and a whole new view of the entire concert, BTS Yet To Come in Busan.
Featuring hit songs from across the group's career, including "Dynamite," "Butter" and "IDOL," plus the first concert performance of "Run BTS" from the group's latest album Proof. See you in cinemas around the world in this celebratory moment. Let's have fun!
---
UNEXPECTED
Director: David Hunt
U.S. Release: February 1
U.K. Release: TBA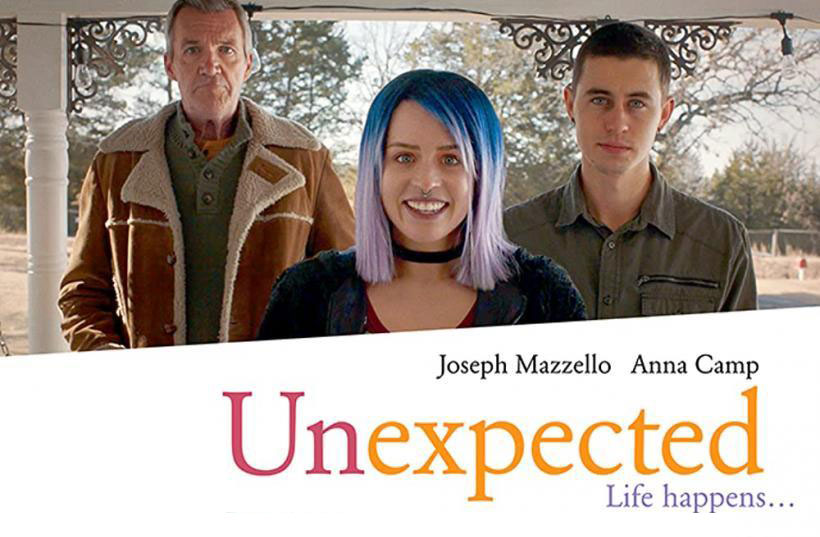 Official synopsis: Music critic Bob is out of a job, addicted to Zoloft, and trying to wrangle the menagerie of animals that his wife Amy has accumulated. Will adopting a baby cure their existential angst? Or should they just rescue another duck?
---
80 FOR BRADY
Director: Kyle Marvin
U.S. Release: February 3
U.K. Release: March 24
Full Review: 80 for Brady (2023): Film Review
Official synopsis: 80 FOR BRADY is inspired by the true story of four best friends living life to the fullest when they take a wild trip to the 2017 Super Bowl LI to see their hero Tom Brady play. Starring Academy Award® nominee Lily Tomlin, Academy Award® winner Jane Fonda, Academy Award® winner Rita Moreno and Academy Award® winner Sally Field, with 7-time Super Bowl Champion and producer Tom Brady, 80 FOR BRADY is in-theatres February 3, 2023.
---
A LOT OF NOTHING (LIMITED)
Directors: Mo McRae
U.S. Release: February 3
U.K. Release: TBA
Official synopsis: James and Vanessa seem to be the perfect couple – happily married, successful, and comfortable. One night, their lives are rocked to the core when, after watching a tragedy play out on the evening news, they realize their neighbor was involved. In a state of shock, and with opposing viewpoints on how to address the issue, they decide to seek justice against a neighbor.
---
THE AMAZING MAURICE
Directors: Toby Genkel & Florian Westermann
U.S. Release: February 3
U.K. Release: out now on digital and on demand!
Official synopsis: Maurice is a sassy, street-smart cat with a sneaky disposition. Together with his band of rats and pied-piper friend Keith, he travels across the countryside, swindling villagers with a staged rat plague. All seems well when the gang sets its sights on a scenic market town, though they quickly realize that something more nefarious is afoot. The town is already plagued by food-snatching rats, a pair of criminals, and a mysterious boss at the heart of the trouble.
Joining forces with resident narrator and mayor's daughter Malicia, Maurice and his friends investigate trouble, fight daring battles, and discover the truth of the town's unfortunate events. A love letter to fables and the art of storytelling, The Amazing Maurice is funny, clever, and always unexpected. Featuring the voices of Emilia Clarke and Hugh Laurie, this flipped-on-its-head fairy tale is one of a kind, pure fun for all audiences.
---
BABY RUBY
Director: Bess Wohl
U.S. Release: February 3
U.K. Release: TBA
Official synopsis: Baby Ruby tells the story of Jo, a successful lifestyle entrepreneur who is happily pregnant, awaiting the arrival of her first child. But soon after Jo welcomes baby Ruby home, something starts to feel off– even she's assured it's all perfectly normal. Is something wrong with her? Is something wrong with Ruby? And why are the seemingly perfect neighborhood moms so desperate to befriend her? As Jo fights to protect herself and her baby, she is plunged into a waking fever dream where everyone is a threat and nothing is what it seems. At last, she must confront the truth of her own darkness and contend with the ultimate human sacrifice: The one mothers make for their children.
---
BODY PARTS (LIMITED)
Director: Kristy Guevara-Flanagan
U.S. Release: February 3
U.K. Release: TBA
Official synopsis: For too long cinema has been dominated by the male gaze. Innovative and incisive, BODY PARTS explores the evolution of desire and "sex" on-screen from a woman's perspective. Demystifying the often invisible processes in creating intimacy for the screen, the film sheds light on the most closely-guarded secrets of an industry now at a crossroads.
---
THE BLIND MAN WHO DID NOT WANT TO SEE TITANIC (LIMITED)
Director: Teemu Nikki
U.S. Release: February 3
U.K. Release: TBA
Official synopsis: Internationally acclaimed at Venice, Berlin, SXSW and beyond, writer-director Teemu Nikki's darkly humorous Finnish romance becomes a cinematically unusual action-thriller, empathetically shot from the shallow-focus perspective of a character (and real-life actor) who is blind and unable to walk. The brightest moments in movie lover Jaakko's day are shared on the phone with Sirpa, the woman he loves even though they've never met in person. When Sirpa gets difficult news, Jaako decides he must go to her immediately, but will need the help of kind strangers between home and her… what could go wrong?
---
THE CIVIL DEAD
Directors: Clay Tatum & Whitmer Thomas
U.S. Release: February 3
U.K. Release: TBA
Official synopsis: Clay (Clay Tatum) is a loner photographer who enjoys a mundane life with his artist wife Whitney in Los Angeles. Whitney advises Clay, who has been creatively stagnant and unemployed for months, to go out and be productive while she's out of town and not to "just lay in the living room and drink beer." While taking photos out in a park, Clay happens upon his long-lost friend, Whit (Whitmer Thomas). After a night of catching up, Whit discloses an unsettling secret to Clay, which puts a strain on his marriage and causes him to question his own sanity.
---
GODLAND
Director: Hlynur Palmáson
U.S. Release: February 3
U.K. Release: April 7 in cinemas and on Curzon Home Cinema
Full Review: Godland (Film Review): A Muddled but Beautiful Odyssey
Interview: Director Hlynur Palmáson on Godland (LFF Interview)
Official synopsis: Lutheran priest Lucas (Elliott Crosset Hove) has been assigned by the Church of Denmark to establish a parish in the barren wilds of Iceland. A foolhardy soul, he decides to take an arduous cross-country route, much to the annoyance of his guide and soon-to-be neighbour Ragnar (Ingvar Sigurðsson), who even has to drag him to their destination when the priest falls from his horse. Undeterred, Lucas begins his work but finds the locals less than receptive to his spiritual advances. All the while, Lucas remains both in awe of and unsettled by the beauty and indifference of the natural world. Just as he understands language to be a barrier between him and his potential congregation, so Lucas sees the landscape as a wildness he must tame.
---
THE HOLLY
Director: Julian Rubinstein
U.S. Release: February 3
U.K. Release: TBA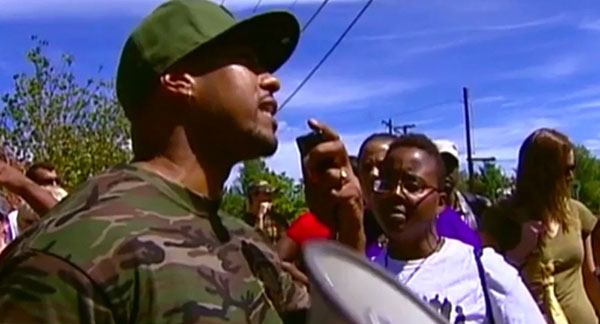 Official synopsis: THE HOLLY goes deep inside a gentrifying community in Denver, where a shooting case involving an activist becomes a window into the political machinations of urban development and the city's gang activity.
---
KNOCK AT THE CABIN
Director: M. Night Shyamalan
Global Release: February 3
Official synopsis: While vacationing at a remote cabin, a young girl and her parents are taken hostage by four armed strangers who demand that the family make an unthinkable choice to avert the apocalypse. With limited access to the outside world, the family must decide what they believe before all is lost.
---
LET IT BE MORNING (LIMITED)
Directors: Eran Kolirin
U.S. Release: February 3
U.K. Release: TBA
Official synopsis: LET IT BE MORNING is the story of Sami (Alex Bakri) a Palestinian-born Israeli citizen living in Jerusalem who receives an invitation to his brother's wedding forcing him to return to the Arab village where he grew up. After the wedding finishes, with no explanation, Sami's hometown is put under a military blockade lockdown by Israeli soldiers. When chaos erupts overnight amongst the villagers stuck behind the wall due to the blockade, Sami is cut off from the outside world and trapped in an unexpected situation. As he deals with questions about his own identity and hidden secrets are revealed, Sami watches everything he holds dear begin to fall apart.
---
LITTLE DIXIE
Director: John Swab
U.S. Release: February 3
U.K. Release: TBA
Official synopsis: Frank Grillo (The Purge franchise) and Eric Dane (Euphoria) star in this action-packed revenge thriller. When a deal goes wrong between a corrupt Governor and a ruthless drug lord, ex-Special Forces Operative Doc (Grillo) is caught in the crosshairs. Now, with his family in danger, Doc must take down the Mexican drug cartel and do whatever it takes to protect the one good thing in his life – his young daughter, "Little Dixie".
---
THE LOCKSMITH
Director: Nicolas Harvard
U.S. Release: February 3
U.K. Release: TBA
Official synopsis: Miller (Ryan Phillippe), an ex-con recently released from prison for a bungled robbery, tries to walk a straight line and work his way back into the lives of his ex, Beth (Kate Bosworth), a police detective, and their young daughter. While Miller is doing his best to stay on the straight and narrow with the help of an old friend (Ving Rhames), he finds his past will not stay in the past, and he is forced to commit one last crime before he can truly walk away. Things once again go badly, and now not only his freedom, but also his daughter's life, hang in the balance.
---
LOVE IN THE TIME OF FENTANYL (LIMITED)
Director: Colin Askey
U.S. Release: February 3
U.K. Release: TBA
Official synopsis: Vancouver, Canada is ground zero of the opioid crisis in Canada with fentanyl overdose deaths at an all-time high. To save lives and support their marginalized community, a group of current and former drug users volunteer at the Overdose Prevention Society (OPS), a safe injection site. Through intimate observation, Colin Askey's debut feature documentary looks beyond the stigmatization of injection drug users and offers hope and empathic ways to approach the crisis ravaging too many communities.
– Kim Garcia, DOC NYC
---
OCEAN BOY (LIMITED)
Director: Tyler Atkins
U.S. Release: February 3
U.K. Release: TBA
Official synopsis: Inspired by true events, Ocean Boy is stirring, provocative and peppered with laconic Australian humor, a compelling story capturing the light and shade of life, reflecting strength and vulnerability.
---
SHE IS LOVE
Director: Jamie Adams
Global Release: February 3
Official synopsis: When Patricia (Haley Bennett) arrives at a country hotel in Cornwall, she encounters her ex husband Idris (Sam Riley) who manages the place with his girlfriend Louise (Marisa Abela, Industry). Things are immediately awkward and the former couple reconnect over a long, messy night where they revisit the past while remaining open to new beginnings.
---
STARS FELL AGAIN (LIMITED)
Director: VW Scheich
U.S. Release: February 3
U.K. Release: TBA
Official synopsis: Bryce is ready to propose to Madison while they visit her family for Christmas. However, the spontaneous wedding of Madison's sister Harper throws Bryce's perfect proposal plans into a tailspin.
---
WHO INVITED CHARLIE?
Director: Xavier Manrique
U.S. Release: February 3
U.K. Release: TBA
Official synopsis: Phil Schreiber, a self-involved hedge fund manager escapes to the Hamptons with his wife and son at the beginning of the pandemic. Making an already fraught situation worse is the surprise arrival of Phil's college roommate Charlie. An exemplar of Falstaffian excess, Charlie is also the keeper of some of Phil's darkest secrets. To make matters worse for Phil, his wife and son love Charlie. As Charlie makes himself at home — secrets are revealed that threaten to do more harm than the virus they're all hiding out from.
---
WOMAN OF THE PHOTOGRAPHS (LIMITED)
Director: Takeshi Kushida
U.S. Release: February 3
U.K. Release: TBA
Official synopsis: Written and directed by Takeshi Kushida, the film follows Kai, a solitary and skilled digital photographer who begins a twisted romance with a model suffering from body dysmorphia and obsessed with appearing perfect in her photos.
---
FULL TIME (LIMITED)
Director: Éric Gravel
U.S. Release: February 3 in New York (Quad Cinema) and February 10 in Los Angeles (Laemmle Royal), followed by a national rollout
U.K. Release: March 24
Official synopsis: Single mother Julie (César award-winning actress Laure Calamy) works a grueling job as a head chambermaid in a five-star Parisian hotel. Julie's daily balance of commuting from her remote suburb into Paris, tenuous childcare and search for a new job to get her out of debt, becomes unmanageable during a paralyzing transport strike in Paris. Literally running from dawn to sunset to get to her job and back home in time to fetch her children, Julie is constantly on the verge of a breakdown. When she finally gets a job interview for a position more suited to her skill set, Julie has to walk a very tightrope between keeping her current job, and sneaking out while calling on co-workers to cover for her as more obstacles pile up in front of her.
---
FACING THE LAUGHTER: MINNIE PEARL (LIMITED)
Director: Barbara J. Hall
U.S. Release: February 6
U.K. Release: TBA
Official synopsis: Facing the Laughter: Minnie Pearl is a full-length documentary about the life and work of Sarah Cannon, aka Minnie Pearl. Sarah was a serious, educated woman who had once dreamed of becoming a Shakespearean actress, but she found fame playing a simple country girl who often made herself the butt of her jokes. Instantly identifiable – even in silhouette – by her straw hat with a price tag dangling from its brim, Minnie Pearl became an icon of country music radio, stage and TV. When she greeted audiences, they enthusiastically echoed her signature "Howdee" in a happy roar. While Sarah and Minnie were two sides of a coin, they share a legacy of compassion, empowerment and humor.
---
THE LAST DEAL
Director: Jonathan Salemi
U.S. Release: February 7
U.K. Release: TBA
Official synopsis: Black market marijuana dealer Vince is living the high life in Los Angeles, but everything changes when new laws pass making cannabis legal. With limited dispensary licenses available, Vince may be squeezed out of the business. He's desperate to make one final score, but borrows money from the wrong people.
---
THE OUTWATERS
Director: Robbie Banfitch
U.S. Release: February 9
U.K. Release: TBA
Official synopsis: Four travelers encounter menacing phenomena while camping in a remote stretch of the Mojave Desert.
---
THE BLUE CAFTAN (LIMITED)
Director: Maryam Touzani
U.S. Release: February 10
U.K. Release: TBA
Full Review: The Blue Caftan (Film Review): Beautifully Restrained, Delicate & Intimate
Official synopsis: A husband and wife create elegant, hand-embroidered robes (caftans or djellabas) in one of the small, traditional shops located in the medina of Salé, one of the oldest towns in Morocco. This subtle and nuanced tale of romantic intrigue between two men (the tailor and his apprentice), surprisingly focuses on the emotional life of the wife (Lubna Azabal). With a delicate touch and exquisite eye for detail, Touzani illuminates both the precise craft of caftan-making (the garment is lovingly perfected throughout the film, a practice that is becoming less common amid the trade's modernization) and the unspoken yet deeply felt attraction between two men – in a country that criminalizes same-sex relationships.
---
CINEMA SABAYA
Director: Orit Fouks Rotem
U.S. Release: February 10 in NY (Quad Cinema), February 24 in LA (Laemmle Royal), national expansion to follow.
U.K. Release: TBA
Official synopsis: A group of Arab and Jewish women attend a video workshop at a small town community center run by Rona (Dana Ivgy, Zero Motivation), a young filmmaker from Tel Aviv, who teaches them to document their lives. As each student shares footage from her home life with the others, their beliefs and preconceptions are challenged and barriers are broken down. The group comes together as mothers, daughters, wives, and women living in a world designed to keep them apart, forming an empowering and lasting bond as they learn more about each other… and themselves. Inspired by writer-director Orit Fouks Rotem's own experiences as a teacher, Cinema Sabaya presents a deft and heartfelt portrait of art's capacity to unite disparate communities, moving effortlessly between the gravity of their conversations and the genuine joy of this unlikely group of friends.
---
CONSECRATION
Director: Christopher Smith
U.S. Release: February 10
U.K. Release: TBA
Official synopsis: After the suspicious death of her brother, a priest, Grace goes to the Mount Saviour Convent in Scotland to find out what really happened. Once there, she uncovers murder, sacrilege, and a disturbing truth about her own past.
---
DAUGHTER (LIMITED)
Director: Corey Deshon
U.S. Release: February 10
U.K. Release: TBA
Official synopsis: Four travelers encounter menacing phenomena while camping in a remote stretch of the Mojave Desert.
---
DISQUIET (LIMITED)
Director: Michael Winnick
U.S. Release: February 10
U.K. Release: TBA
Official synopsis: Jonathan Rhys Meyers stars in the terrifying, edge-of-your-seat thriller. After a near-fatal car accident, Sam (Meyers) wakes to discover he is trapped in an abandoned hospital by mysterious and sinister forces that have no intention of letting him leave…
---
HANNAH HA HA (LIMITED)
Directors: Jordan Tetewsky & Joshua Pikovsky
U.S. Release: February 10
U.K. Release: TBA
Official synopsis: Hannah, a kind-hearted townie, finds herself torn by the influences and opinions of those around her. She spends her days caring for her aging father and doing various odd jobs around her hometown. She has a small circle of friends and maintains a quiet, contented existence being useful in her community, which includes a charming movie theater attendant, a gruff Russian mechanic, and her hippie uncle, whose midnight radio show monologues comfort the lonely souls in town.
Paul, Hannah's driven and career-oriented older brother, has recently moved to the area to be closer with his family. After a pleasant start to his first stay with his family in many years, some tension begins to build as old sibling dynamics re-emerge. He is disappointed in his sister's lack of progress, and presses her to strive for more, particularly as her 26th birthday looms and her coverage under her father's healthcare will lapse. What better time to start a "real job"?
---
HUESERA: THE BONE WOMAN
Director: Michelle Garza Cervera
U.S. Release: February 10
U.K. Release: TBA
Official synopsis: The supernatural Mexican horror feature is led by Natalia Solián in a star-turning performance as Valeria, a young woman expecting her first child who becomes cursed by a sinister entity. Plunged into a terrifying and dangerous world, a group of witches emerge as her only hope for safety and salvation, but not without grave risk.
---
IRREVERSIBLE: STRAIGHT CUT (LIMITED)
Director: Gaspar Noé
U.S. Release: February 10 in LA (Landmark's Nuart Theatre), NY (IFC Center), and additional cities
Official synopsis: One night. An unforgivable act. A tale told in reverse. Acclaimed filmmaker Gaspar Noé's unflinching exploration of human savagery and the uncompromising nature of time, Irreversible was met with a groundswell of acclaim and uproar upon its premiere at the opening night of Cannes in 2002. Stylish, sexually frank, and brutal, the film's conceit of exploring the events of one terrible night on the streets of Paris in reverse chronological order was celebrated and derided in equal measure, helping to further cement Noé's legacy as a cinematic enfant terrible.
Nearly 20 years later, Noé brought Irreversible back, presenting the "Straight Cut" to the Venice Film Festival. This reconfigured vision allowed audiences to see the events of the film unfold in the order in which they occur, providing new context for pivotal scenes of brutality and the subsequent quest for revenge. Now available are both cuts of the film, providing the viewer the opportunity to see Noé's potent account of humanity at its worst from multiple angles, and the unshakable understanding that time, indeed, reveals all things.
Not for the faint of heart, easily offended, or anyone with photosensitivity, this is Noé's dark masterpiece.
---
MAGIC MIKE'S LAST DANCE
Director: Steven Soderbergh
Global Release: February 10
Official synopsis:
"Magic" Mike Lane (Tatum) takes to the stage again after a lengthy hiatus,
following a business deal that went bust, leaving him broke and taking
bartender gigs in Florida. For what he hopes will be one last hurrah, Mike heads
to London with a wealthy socialite (Hayek Pinault) who lures him with an offer he can't refuse…and an agenda all her own. With everything on the line, once Mike discovers what she truly has in mind, will he—and the roster of hot new dancers he'll have to whip into shape—be able to pull it off?
---
OF AN AGE
Director: Goran Stolevski
U.S. Release: February 10 in NY, February 17 nationwide
U.K. Release: TBA
Official synopsis: OF AN AGE is set in the summer of 1999 as a 17-year-old Serbian born, Australian amateur ballroom dancer experiences an unexpected and intense 24-hour romance with a friend's older brother.
---
SERIOUSLY RED
Director: Gracie Otto
U.S. Release: February 10
U.K. Release: February 13
Official synopsis: Red (Krew Boylan) lost her job as a real estate agent, but there's something no one can take away from her: her dream of becoming the world's greatest Dolly Parton impersonator! After her act attracts the attentions of an amorous Elvis impersonator (Rose Byrne) and a powerful booking agent (Bobby Cannavale), Red is catapulted into the top tier of copycat acts, becoming the onstage and romantic partner of the top Kenny Rogers impersonator. But when Red's life as an imitator starts to feel false, she discovers true happiness comes when you're being the best version of yourself.
---
SHARPER
Director: Benjamin Caron
U.S. Release: February 10
Global Release: February 17 on Apple TV+
Official synopsis: No one is who they seem in Sharper, a neo-noir thriller of secrets and lies, set amongst New York City's bedrooms, barrooms and boardrooms. Characters compete for riches and power in a high stakes game of ambition, greed, lust and jealousy that will keep audiences guessing until the final moment.
---
TITANIC (25TH ANNIVERSARY RE-RELEASE)
Director: James Cameron
Global Release: February 10
Full Review: Titanic (1997) Review: Reinventing Blockbuster Storytelling
Re-release information: In celebration of its 25th anniversary, a remastered version of James Cameron's multi-Academy Award®-winning "Titanic" will be re-released to theaters in 3D 4K HDR and high-frame rate. With a cast headed by Oscar® winners Leonardo DiCaprio and Kate Winslet, the film is an epic, action-packed romance set against the ill-fated maiden voyage of the "unsinkable" Titanic, at the time, the largest moving object ever built.
---
THE UNSETTLING (LIMITED)
Director: Harry Owens
U.S. Release: February 10
U.K. Release: TBA
Official synopsis: A foreign couple's visit is disturbed when the house they rent slowly stalks them, consuming their sorrow and trapping them in a nightmare.
---
SWALLOWED (LIMITED)
Director: Carter Smith
U.S. Release: February 14
U.K. Release: TBA
Official synopsis: After a drug run goes bad, two friends must survive a nightmarish ordeal of drugs, bugs and horrific intimacy in this backwoods body-horror thriller.
---
WHAT ABOUT LOVE
Director: Klaus Menzel
U.S. Release: February 14
U.K. Release: TBA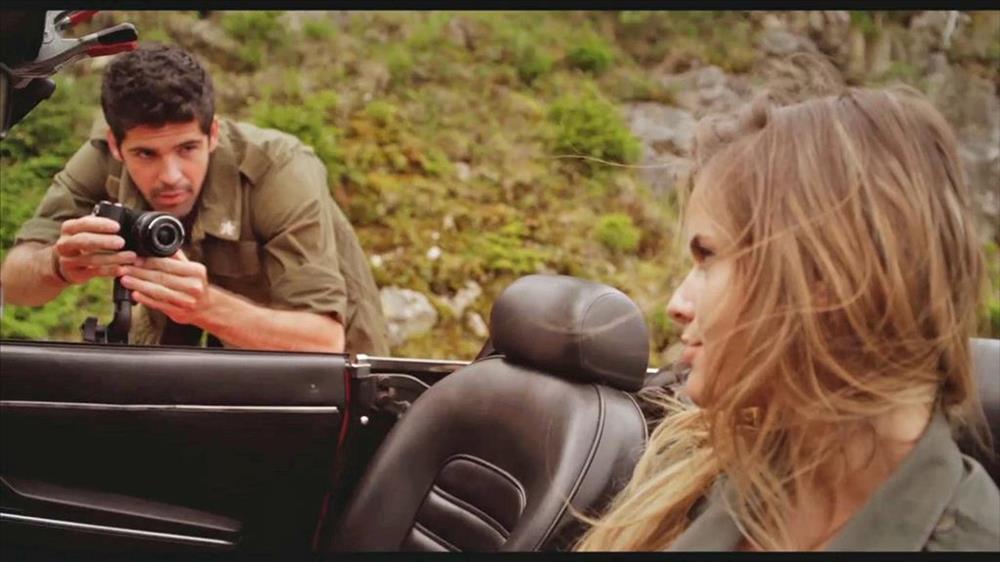 Official synopsis: A foreign couple's visit is disturbed when the house they rent slowly stalks them, consuming their sorrow and trapping them in a nightmare.
---
MARLOWE
Director: Neil Jordan
U.S. Release: February 15
U.K. Release: March 17, in cinemas and on Sky Cinema
Official synopsis: MARLOWE, a gripping noir crime thriller set in late 1930s Los Angeles, centers around a street-wise, down on his luck detective; Philip Marlowe, played by Liam Neeson, who is hired to find the ex-lover of a glamorous heiress (Diane Kruger), daughter of a well-known movie star (Jessica Lange). The disappearance unearths a web of lies, and soon Marlowe is involved in a dangerous, deadly investigation where everyone involved has something to hide.
---
WINNIE THE POOH: BLOOD AND HONEY
Director: Rhys Frake-Waterfield
U.S. Release: February 15
U.K. Release: TBA
Official synopsis: Winnie the Pooh: Blood and Honey sees Piglet and Pooh embark on a twisted rampage after being abandoned by their friend, Christopher Robin. Journey into 100 Acre Wood as you've never seen it before.
---
ANT-MAN & THE WASP: QUANTUMANIA
Director: Peyton Reed
Global Release: February 17
Official synopsis: Scott Lang and Hope Van Dyne, along with Hank Pym and Janet Van Dyne, explore the Quantum Realm, where they interact with strange creatures and embark on an adventure that goes beyond the limits of what they thought was possible.
---
DEVIL'S PEAK
Director: Ben Young
U.S. Release: February 17
U.K. Release: TBA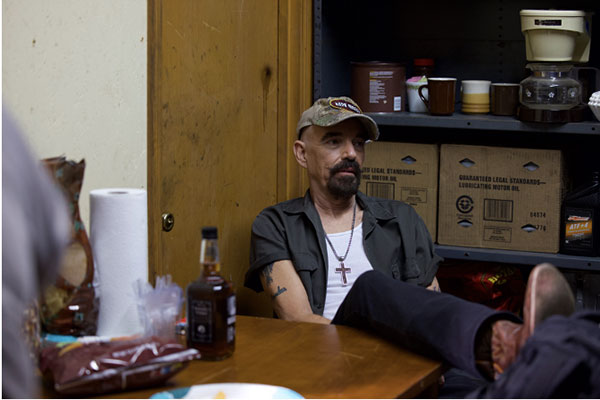 Official synopsis: Set in the Appalachian Mountains, Devil's Peak is a tense thriller about a family dominated by a crime lord (Thornton) who controls his family and his business with his fists. When his son (Penn) meets the girl of his dreams (Katelyn Nacon), desperately wanting to escape the life he is expected to lead and free himself from the clutches of his father, he is forced to go head-to-head with the terrifying man who will stop at nothing to ensure loyalty from all of those around him.
---
EMILY (LIMITED)
Director: Frances O'Connor
U.S. Release: February 17
U.K. Release: out now on digital and on demand!
Full Review: Emily (Film Review): Exquisite Emily Brönte Retelling
Official synopsis: EMILY imagines Emily Brontë's own Gothic story that inspired her seminal novel, "Wuthering Heights." Haunted by the death of her mother, Emily struggles within the confines of her family life and yearns for artistic and personal freedom, and so begins a journey to channel her creative potential into one of the greatest novels of all time.
---
HIDDEN BLADE (LIMITED)
Director: Cheng Er
U.S. Release: February 17
U.K. Release: TBA
Official synopsis: During World War II, at the height of China's war of resistance against Japan, a group of courageous citizens develops a top-secret underground espionage network and masterfully extracts classified information from deep behind enemy lines.
---
PACIFICTION
Directors: Albert Serra
U.S. Release: February 17
U.K. Release: Spring 2023
Full Review: Pacifiction (Film Review): Political Paranoia & the Inevitability of Evil
Official synopsis: On the French Polynesian island of Tahiti, the High Commissioner of the Republic and French government official De Roller (Benoît Magimel) is a calculating man with flawless manners. His somewhat broad perception of his role brings him to navigate the high end 'establishment' as well as shady venues where he mingles with the locals. Especially since a persistent rumor has been going around: the sighting of a submarine whose ghostly presence could herald the return of French nuclear testing.
---
A RADIANT GIRL (UNE JEUNE FILLE QUI VA BIEN) – LIMITED
Director: Sandrine Kiberlain
U.S. Release: February 17 in New York (Quad Cinema), followed by a national release
U.K. Release: TBA
Full Review: A Radiant Girl (Une Jeune Fille Qui Va Bien): Film Review
Official synopsis: Paris, summer 1942. Irene (Rebecca Marder), a vibrant 19-year-old aspiring actress without a care in the world, is honing her passion for the theater, rehearsing for the entrance exam to the coveted Conservatory, making new friends and discovering love, without realizing that time is running out in Nazi-occupied France, as her close-knit family is watching.
---
THE INTEGRITY OF JOSEPH CHAMBERS (LIMITED)
Director: Robert Machoian
U.S. Release: February 17
U.K. & Ireland Release: April 17 on Digital Download & Blu-ray
Full Review: The Integrity of Joseph Chambers (Tribeca Review): Proving One's Worth
Interview with Clayne Crawford: Clayne Crawford on The Integrity of Joseph Chambers: Tribeca Interview
Official synopsis: Clayne Crawford stars as Joseph Chambers, an insurance salesman who goes deer hunting for the first time ever, alone, when his experienced buddy is too sick to join him – in an attempt to acquire the skills necessary to provide for his family in case of an apocalypse. Also starring Jordana Brewster, Jeffrey Dean Morgan and Michael Raymond-James.
---
RETURN TO SEOUL (LIMITED)
Directors: Davy Chou
U.S. Release: February 17
U.K. Release: TBA
Full Review: Return to Seoul (Film Review): In Search for a Place to Call Home
Official synopsis: After an impulsive travel decision to visit friends, Freddie, 25, returns to South Korea for the first time, where she was born before being adopted and raised in France. Freddie suddenly finds herself embarking on an unexpected journey in a country she knows so little about, taking her life in new and unexpected directions.
---
AMBUSH (LIMITED)
Director: Mark Burman
U.S. Release: February 24
U.K. Release: TBA
Official synopsis: Aaron Eckhart (The Dark Knight) and Jonathan Rhys Meyers (Vikings) star in this intense, gritty, and action-packed Vietnam War epic. When a small outpost is ambushed, a US Army squad must take the battle below ground on a high-stakes mission in a new type of warfare the likes of which they have never seen.
---
CALVAIRE – HD REMASTER (LIMITED)
Director: Fabrice du Welz
U.S. Release: February 24
Official synopsis: Released at the height of the New French Extremity movement, CALVAIRE follows a traveling entertainer who falls victim to a dangerously unhinged innkeeper determined to keep him captive.
---
COCAINE BEAR
Director: Elizabeth Banks
Global Release: February 24
Official synopsis: Inspired by the 1985 true story of a drug runner's plane crash, missing cocaine, and the black bear that ate it, this wild dark comedy finds an oddball group of cops, criminals, tourists and teens converging in a Georgia forest where a 500- pound apex predator has ingested a staggering amount of cocaine and gone on a coke-fueled rampage for more blow … and blood.
---
DANCING THE TWIST IN BAMAKO (LIMITED)
Director: Robert Guédiguian
U.S. Release: February 24 at Film Forum (NY)
U.K. Release: TBA
Full Review: Dancing the Twist in Bamako (2023): Film Review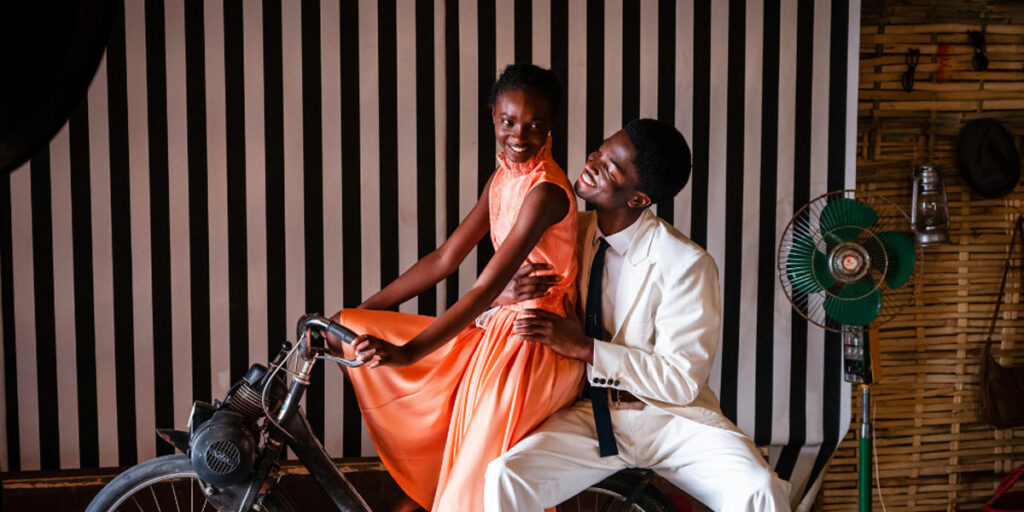 Official synopsis: The 1960s were a time of change everywhere, and that includes Bamako, the capital city of Mali, a nation only recently independent from French colonial rule. DANCING THE TWIST IN BAMAKO is a romance fraught with the drama of political change, infused with the musical energy of that decade. Samba, a young, idealistic socialist, works toward creating a more just nation by day and dances with girlfriend Lara to the Beach Boys, Otis Redding, and the Supremes by night.
---
IMORDECAI (LIMITED)
Director: Marvin Samel
U.S. Release: February 24
U.K. Release: TBA
Official synopsis: Mordecai (Judd Hirsch) likes to fix things. It's why his phone is 20 years old and held together with duct tape and tinfoil. It's why he worked his entire life as a plumber and a painter. But this is a story about the things he cannot fix: Getting older, the Alzheimer's diagnosis of his wife Fela (Carol Kane), and his relationship with his son Marvin (Sean Astin).
---
JESUS REVOLUTION
Director: Jon Erwin
U.S. Release: February 24
U.K. Release: TBA
Official synopsis: Set in the 1970s, young Greg Laurie (Joel Courtney) is searching for all the right things in all the wrong places: until he meets Lonnie Frisbee (Jonathan Roumie), a charismatic hippie-street-preacher. Together with the help of Pastor Chuck Smith (Kelsey Grammer), they open the doors of Smith's languishing church to an unexpected revival of radical, newfound love, leading to what TIME dubbed a "Jesus Revolution." Based on a true story.
---
JUNIPER
Director: Matthew J. Saville
U.S. Release: February 24 in theaters, April 4 on VOD
U.K. Release: out now on digital and on demand!
Full Review: Juniper (Film Review): A Poignant Battle of the Ages
Official synopsis: Self-destructive teenager Sam (George Ferrier) returns home from boarding school to find his alcoholic, wheelchair-bound grandmother Ruth (Oscar nominee Charlotte Rampling) has moved in. Although two initially clash, over time they develop an unexpected bond. A touching story of loss and acceptance, set against the gorgeous backdrop of New Zealand.
---
LINOLEUM
Director: Colin West
U.S. Release: February 24
U.K. Release: TBA
Full Review: Linoleum (Film Review): Jim Gaffigan Delivers in Sci-Fi Dramedy
Official synopsis: Cameron Edwin (Jim Gaffigan), the host of a failing children's science TV show called "Above & Beyond", has always had aspirations of being an astronaut. After a mysterious space-race era satellite coincidentally falls from space and lands in his backyard, his midlife crisis manifests in a plan to rebuild the machine into his dream rocket. As his relationship with his wife (Rhea Seehorn) and daughter (Katelyn Nacon) start to strain, surreal events begin unfolding around him — a doppelgänger moving into the house next door, a car falling from the sky, and an unusual teenage boy forging a friendship with him. He slowly starts to piece these events together to ultimately reveal that there's more to his life story than he once thought.
---
LUTHER: THE FALLEN SUN (LIMITED)
Director: Jamie Payne
U.S. Release: February 24 (limited)
U.K. Release: February 24 (limited)
U.S. & Global Release: March 10 on Netflix
Official synopsis: In Luther: The Fallen Sun — an epic continuation of the award-winning television saga reimagined for film — a gruesome serial killer is terrorizing London while brilliant but disgraced detective John Luther (Idris Elba) sits behind bars. Haunted by his failure to capture the cyber psychopath who now taunts him, Luther decides to break out of prison to finish the job by any means necessary. The film also stars Cynthia Erivo, Andy Serkis and Dermot Crowley, who returns as Martin Schenk.
---
MUMMIES
Director: Juan Jesús García Galocha
U.S. Release: February 24
U.K. Release: March 31
Official synopsis: The film follows the fun adventures of three Egyptian mummies who live in an underground secret city, hidden in ancient Egypt. The trio includes a princess, a former charioteer, and his younger brother along with their pet baby crocodile. Through a series of unfortunate events, the mummies end up in present-day London and embark on a wacky and hilarious journey in search of an old ring belonging to the Royal Family, that was stolen by the ambitious archaeologist Lord Carnaby.
---
MY HAPPY ENDING
Directors: Tal Granit & Sharon Maymon
U.S. Release: February 24
U.K. Release: TBA
Official synopsis: Andie MacDowell stars as a famous actor who goes incognito to seek treatment for a medical issue. While at the hospital, she meets three unique and remarkable women — an aging rocker, a young mother, and a forever single retired schoolteacher. Together, they help her face adversity with humor and camaraderie while coaching her for the most challenging role she has ever played…herself.
---
FEBRUARY 2023 MOVIES: IN U.K. CINEMAS
PUSS IN BOOTS: THE LAST WISH
Director: Joel Crawford
UK Release: February 3
US Release: out now on digital and on demand: Watch the film!
Full Review: Puss in Boots: The Last Wish Review: Our Favorite Fearless Hero Returns
Official synopsis: For the first time in more than a decade, DreamWorks Animation presents a new adventure in the Shrek universe as daring outlaw Puss in Boots discovers that his passion for peril and disregard for safety have taken their toll. Puss has burned through eight of his nine lives, though he lost count along the way. Getting those lives back will send Puss in Boots on his grandest quest yet.
---
YOU RESEMBLE ME
Director: Dina Amer
U.K. Release: February 3
U.S. Release: November 2022 (limited)
Official synopsis: Cultural and intergenerational trauma erupt in this story about two sisters on the outskirts of Paris. After the siblings are torn apart, the eldest, Hasna, struggles to find her identity, leading to a choice that shocks the world. Director Dina Amer takes on one of the darkest issues of our time and deconstructs it in an intimate story about family, love, sisterhood, and belonging.
---
THE WHALE
Director: Darren Aronofsky
U.K. Release: February 3
U.S. Release: December 9, 2022
Full Review: The Whale (TIFF Review): Fraser Excels In Heartbreaking Tale
Official synopsis: From Darren Aronofsky comes The Whale, the story of a reclusive English teacher who attempts to reconnect with his estranged teenage daughter. Starring Brendan Fraser and based on the acclaimed play by Samuel D. Hunter.
---
BLUE JEAN
Director: Georgia Oakley
U.K. Release: February 10
U.S. Release: 2023
Full Review: Blue Jean (LFF Review): An Exceptional Debut Film
Official synopsis: England, 1988 – Margaret Thatcher's Conservative government are about to pass a law stigmatising gays and lesbians, forcing Jean, a PE teacher, to live a double life. As pressure mounts from all sides, the arrival of a new girl at school catalyses a crisis that will challenge Jean to her core.
---
EPIC TAILS
Director: David Alaux
U.K. Release: February 10
U.S. Release: August 2023
Official synopsis: Epic Tails tells the story of super smart mouse Pattie and her feline friend Sam, as they embark upon an exciting adventure of paw-some proportions through Ancient Greece. With a little help from ageing hero Jason, the animals' quest brings them face to face with some the most bizarre and dangerous creatures from Greek mythology, as they race to halt the threat posed to their city by Poseidon himself.
---
TOWN OF STRANGERS
Director: Treasa O'Brien
U.K. Release: February 10
U.S. Release: TBA
Official synopsis: Town of Strangers is an extraordinary film set in Gort, a rural village in Galway, Ireland, which has two claims to fame. It has the highest mix of different nationalities and backgrounds in Ireland and is also the worst hit by austerity. When a stranger arrives in the village, she puts out a call for auditions asking people to tell her their 'dreams, lies, memories and gossip'. Together they go on a journey to explore their waking and dream lives. Featuring a cast of migrant workers, hippies, travellers, newly arrived refugees and even the director herself, we are ushered into the private worlds of people living between two cultures, sharing their desires of longing and belonging.
---
ATOMIC HOPE
Director: Frankie Fenton
U.K. Release: February 17
U.S. Release: TBA
Official synopsis: Atomic Hope is an observational documentary which follows a tiny group of highly unpopular "pro-nuclear" activists who controversially believe we now need to urgently re-address our feelings on nuclear power if we are to have any hope of decarbonising our energy systems before the effects of catastrophic climate change wreak havoc.
The film shows the unpopular, maverick liberal group citing scientific studies that claim that a regular banana is more radioactive than living near a nuclear power station for a year, and that energy use is going to triple over the next 28 years as the population of the planet reaches 10 billion.
---
THE INSPECTION
Director: Elegance Bratton
U.K. Release: February 17
U.S. Release: out now on digital and on demand! – watch the film.
Full Review: The Inspection (Film Review): Looking for Acceptance
Official synopsis: In Elegance Bratton's deeply moving film inspired by his own story, a young, gay Black man (Jeremy Pope, One Night in Miami), rejected by his mother and with few options for his future, decides to join the Marines, doing whatever it takes to succeed in a system that would cast him aside. But even as he battles deep-seated prejudice and the gruelling routines of basic training, he finds unexpected camaraderie, strength, and support in this new community, giving him a hard-earned sense of belonging that will shape his identity and forever change his life.
---
MARCEL THE SHELL WITH SHOES ON
Director: Dean Fleischer-Camp
U.K. Release: February 17 (in cinemas and on Curzon Home Cinema)
U.S. Release: out now on digital and on demand! – watch the film.
Official synopsis: Marcel (Jenny Slate) is an adorable one-inch-tall shell who ekes out a colorful existence with his grandmother Connie (Isabella Rossellini) and their pet lint, Alan. Once part of a sprawling community of shells, they now live alone as the sole survivors of a mysterious tragedy. But when a documentary filmmaker discovers them amongst the clutter of his Airbnb, the short film he posts online brings Marcel millions of passionate fans, as well as unprecedented dangers and a new hope at finding his long-lost family.
---
NOSTALGIA
Director: Mario Martone
U.K. Release: February 17 (in cinemas and on Curzon Home Cinema)
U.S. Release: TBA
Official synopsis: Nostalgia is about a man with a hidden past who returns home to Naples after decades away and is forced to face up to his former life in Mario Martone's soulful paean to his hometown.
---
BROKER
Director: Hirokazu Kore-eda
U.K. & Ireland Release: February 24
U.S. Release: December 26, 2022
Official synopsis: Sang-hyun (SONG Kang Ho) runs a laundry shop, but is constantly saddled with debt. Dong-soo (GANG Dong Won), who grew up in an orphanage, works in a baby box facility. One night in the pouring rain, they secretly carry off an infant who was left at the baby box. But on the following day, the mother So-young (LEE Ji Eun) unexpectedly returns for her son Woo-sung. Realizing that her baby has been taken, she is about to call the police when the two men tell her everything. Their claim that they stole the baby in order to find him a good home seems outrageous, but So-young ends up joining Sang-hyun and Dong-soo on a journey to find new parents for Woo-sung.
Meanwhile, police detective Su-jin (BAE Doona) and her younger colleague Detective Lee (LEE Joo Young) are witnessing all of this as it unfolds. They silently tail the group, hoping to catch them in the act at all costs to wrap up their half-year investigation. Brought together by chance through a baby box, the five individuals embark on an unusual and unexpected journey.
---
CREATURE (LIMITED)
Director: Asif Kapadia
U.K. Release: February 24 (at BFI Southbank and selected cinemas UK-wide)
U.S. Release: TBA
Official synopsis: Inspired by Georg Büchner's seminal play Woyzeck, this vivid cinematic experience is a groundbreaking, genre-busting collaboration between Asif Kapadia (Senna, Amy, Diego Maradona) and Olivier award-winning choreographer Akram Khan (Gizelle). Based on the 2021 English National Ballet stage production, Creature is a beautiful, tragic tale of an outsider's search for belonging, the insatiable desires of the powerful, and the enduring hope found in human connection and compassion.
---
WHAT'S LOVE GOT TO DO WITH IT?
Director: Shekhar Kapur
U.K. Release: February 24
U.S. Release: 2023
Official synopsis: How do you find lasting love in today's world? For documentary-maker and dating app addict Zoe (Lily James), swiping right has only delivered an endless stream of Mr Wrongs, to her eccentric mother Cath's (Emma Thompson) dismay. For Zoe's childhood friend and neighbour Kaz (Shazad Latif), the answer is to follow his parents' example and opt for an arranged (or "assisted") marriage to a bright and beautiful bride from Pakistan. As Zoe films his hopeful journey from London to Lahore to marry a stranger, chosen by his parents, she begins to wonder if she might have something to learn from a profoundly different approach to finding love.
---
FEBRUARY 2023 – FILM FESTIVALS & EVENTS:
Film Festivals:
Other Events:
Decision to Leave: UK screening on February 13 for one night only, with a new pre-recorded conversation between Park Chan-wook and Bong Joon Ho.
Suzhou River (Lou Ye): New 4K Restoration at Film Forum (NY): February 17-23, 2023