December 2022: New Films & Shows to Stream This Month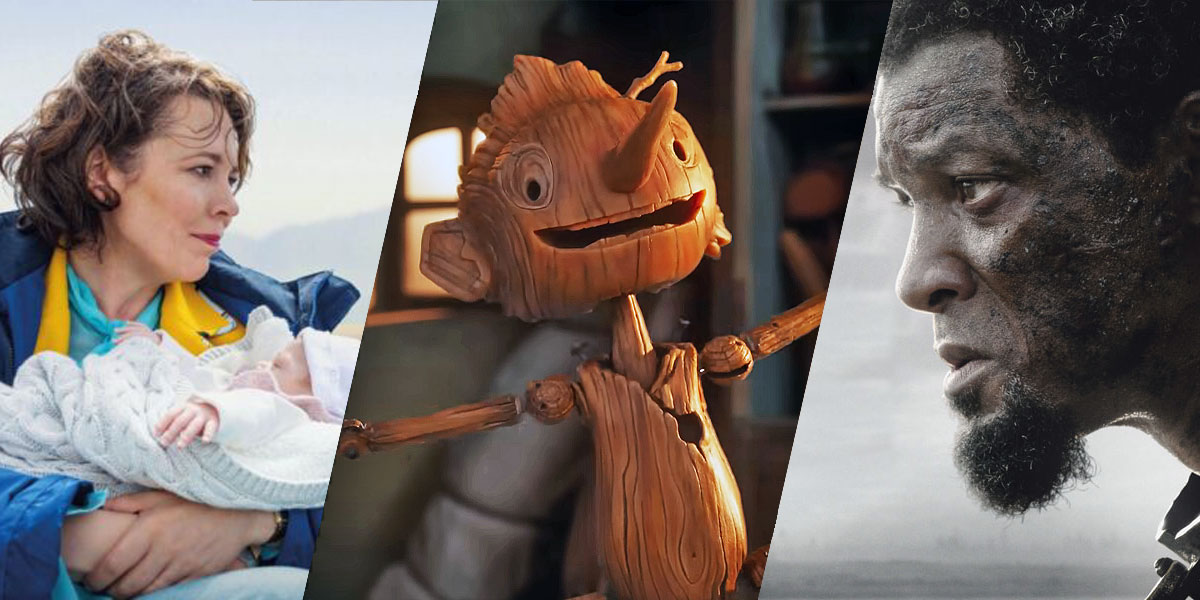 Joyride, Pinocchio, Emancipation (Magnolia Pictures, Netflix, Apple TV+)
December 2022: discover all the new films and shows to stream this month, from The Eternal Daughter and Hunt to new releases on Netflix, Prime, Apple TV+ and more!
So many anticipated releases and Christmas movies were released last month, but December 2022 has plenty of great new films and shows to stream, from festival favorites like The Eternal Daughter, Hunt, and Hidden Letters to a new Netflix film with Robert Downey Jr., Apple TV's Emancipation with Will Smith as the lead, and new movies starring Robert De Niro, Danny Trejo, Olivia Colman and more. Nanny, BARDO, Pinocchio and White Noise are finally landing on streaming platforms this month, Hulu is giving us the very promising Darby and the Dead, His Dark Materials is coming back on HBO Max, and a new Witcher series is about to be released too.
We've grouped this month 's new films and shows in order of release and divided by movies you'll be able to see on digital and on demand, films to stream on Amazon Prime Video, Apple TV+, Disney+, HBO Max, Hulu, Netflix, and more, and new series. We've prioritized U.S. releases, butwe've added U.K. and global release dates where available, and you'll also find some noteworthy U.K. releases at point #2. Scroll till the end for other events happening this month, click here for December 's theatrical releases and here for a list of Christmas movies coming out this year. Happy watching!
---
1. DECEMBER 2022 FILMS: ON DIGITAL & ON DEMAND – U.S. RELEASES
THE HARBINGER
Director: Andy Mitton
U.S. Release: December 1
U.K. Release: TBA
Official synopsis: When her oldest friend is plagued by horrific nightmares from the beyond, Monique is forced to travel to NYC. On the first night of the visit, Monique learns the dreams are contagious – and so is the HARBINGER, the plague mask-wearing demon who not only feeds on its victims' souls, but warps reality itself to remove any trace of their existence.
---
CHRISTMAS IN THE CARIBBEAN
Director: Philippe Martinez
U.S. Release: December 2
U.K. Release:
Official synopsis: Left at the altar by her fiancé, Rachel (Elizabeth Hurley) takes her best friends on her honeymoon to the Caribbean, where she gets her groove on and finds love at the beach.
---
THE ETERNAL DAUGHTER
Director: Joanna Hogg
U.S. Release: December 2 (in theaters and on demand)
U.K. Release: TBA
Full Review: The Eternal Daughter (Venice Review): In My Mother's House
Official synopsis: An artist and her elderly mother confront long-buried secrets when they return to a former family home, now a hotel haunted by its mysterious past. Featuring a towering, deeply moving performance by Tilda Swinton, acclaimed filmmaker Joanna Hogg's beguiling latest film is a brilliant and captivating exploration of parental relationships and the things we leave behind.
---
HUNT
Director: Lee Jung-jae
U.S. Release: December 2 (in theaters and VOD)
U.K. & Irish Release: November 4
Official synopsis: After a high-ranking North Korean official requests asylum, KCIA Foreign Unit chief Park Pyong-ho (LEE Jung Jae) and Domestic Unit chief Kim Jung-do (JUNG Woo Sung) are tasked with uncovering a North Korean spy, known as Donglim, who is deeply embedded within their agency. When the spy begins leaking top secret intel that could jeopardize national security, the two units are each assigned to investigate each other. In this tense situation where if they cannot find the mole, they may be accused themselves, Pyong-ho and Jung-do slowly start to uncover the truth. In the end, they must deal with an unthinkable plot to assassinate the South Korean president…
---
FOUR SAMOSAS
Director: Ravi Kapoor
U.S. Release: December 2 (in theaters and on demand)
U.K. Release: TBA
Official synopsis: When wannabe rapper VINNY discovers that his fatalistic ex-girlfriend RINA is now engaged to a goat-shit recycler named SANJAY, Vinny decides to disrupt her future wedding by stealing her dowry diamonds from her father's grocery store. Crewing up with an actor who longs to go to Bollywood, a resourceful do-gooding newspaper editor and a malcontent immigrant engineer, Vinny and his gang somehow pull off the heist despite their obvious ineptitude. But will the theft get Vinny and Rina back together again or lead to more misery? And will Vinny ever finish a song? Set entirely in LA's "Little India" in a world of sari places, curry restaurants, Indian amateur-dramatic groups and South-Asian revolutionaries, FOUR SAMOSAS is a love letter to all the "Little Indias" around the world, and a celebration of re-discovering your voice and finding your crew.
---
LOWNDES COUNTY AND THE ROAD TO BLACK POWER
Directors: Sam Pollard & Geeta Gandbhir
U.S. Release: December 2
U.K. Release:
Official synopsis: The passing of the Voting Rights Act of 1965 represented not the culmination of the Civil Rights Movement, but the beginning of a new, crucial chapter. Nowhere was this next battle better epitomized than in Lowndes County, Alabama, a rural, impoverished county with a vicious history of racist terrorism. In a county that was 80 percent Black but had zero Black voters, laws were just paper without power. This isn't a story of hope but of action. Through first person accounts and searing archival footage, LOWNDES COUNTY AND THE ROAD TO BLACK POWER tells the story of the local movement and young Student Nonviolent Coordinating Committee (SNCC) organizers who fought not just for voting rights, but for Black Power in Lowndes County.
---
SAVAGE SALVATION
Director: Randall Emmett
U.S. Release: December 2
U.K. Release: December 12 (known as Savage Justice)
Official synopsis: A recovering opioid addict seeks revenge on the dealers responsible for selling the drugs that resulted in his fiance's death.
---
WHAT REMAINS
Director: Nathan Scoggins
U.S. Release: December 2 in theaters and on demand
U.K. Release: TBA
Official synopsis: WHAT REMAINS follows a recently paroled convict (Lutz) who returns to the small town where he murdered the wife of the local pastor (Williams), who is forced to reconcile his pain and anger with forgiveness, while the local sheriff (Heche) investigates another mysterious homicide which may be related.
---
THE ARK OF LILBURN
Director: Nicholas deKay
U.S. Release: December 6
U.K. Release
Official synopsis: THE ARK OF LILBURN follows the journey of a father and son's dream of transporting their 55 foot long, 19 foot high, and 130,000 pound steel yacht "The Hardship" from Lilburn, GA Lilburn, GA to Knoxville, TN down to its final destination in Tampa, FL and the comedic chaos that ensures trying to transport this vessel.
---
CALL JANE
Director: Phyllis Nagy
U.S. Release: December 6
U.K. Release: November 4 (in cinemas)
Full Review: Call Jane (Film Review): Banks & Weaver Deliver in Abortion Drama
Official synopsis: Chicago, 1968. As the city and the nation are poised on the brink of political upheaval, suburban housewife Joy (Elizabeth Banks) leads an ordinary life with her husband and daughter. When Joy's pregnancy leads to a life-threatening heart condition, she must navigate an all-male medical establishment unwilling to terminate her pregnancy in order to save her life. Her journey for a solution leads her to Virginia (Sigourney Weaver), an independent visionary fiercely committed to women's health, and Gwen (Wunmi Mosaku), an activist who dreams of a day when all women will have access to abortion, regardless of their ability to pay. Joy is so inspired by their work, she decides to join forces with them, putting every aspect of her life on the line.
---
DEINFLUENCER
Director: Jamie Bailey
U.S. Release: December 6
U.K. Release: TBA
Official synopsis: A cheerleader is imprisoned and made to jump through social media challenges for a seemingly motivated kidnapper – but does he want more than he is telling her?
---
RAILWAY CHILDREN
Director: Morgan Matthews
U.S. Release: December 6
U.K. Release (as The Railway Children Return): out now on digital and on demand!
Official synopsis: Inspired by one of the most beloved British family films of all time, RAILWAY CHILDREN is an enchanting, moving, and heart-warming adventure for a new generation. 1944 – As life in Britain's cities becomes increasingly perilous, three evacuee children – Lily (Beau Gadsdon), Pattie (Eden Hamilton) and Ted (Zac Cudby) Watts – are sent by their mother from Salford to the Yorkshire village of Oakworth. There to meet them on the train station platform are Bobbie Waterbury (Jenny Agutter, reprising her iconic role in the original film), her daughter, Annie (Sheridan Smith), and grandson Thomas (Austin Haynes), and with their help the evacuees are soon settling into their new life in the countryside. When the children discover injured American soldier Abe (KJ Aikens), hiding out in the railyard at Oakworth Station, they are thrust into a dangerous quest to assist their new friend who, like them, is a long way from home.
---
RENEGADES
Director: Daniel Zirilli
U.S. Release: December 6
U.K. Release: January 30, 2023
Official synopsis: When a retired Green Beret soldier is murdered by a vicious gang, four of his veteran comrades set out to avenge him, dispensing their own brand of justice on the streets of London.
---
BLACK WARRANT
Director: Tibor Takács
U.S. Release: December 9
U.K. Release:
Official synopsis: A semi-retired special ops assassin and a DEA agent cross paths on separate missions to stop a cyber terrorist organization that has built a dangerous machine threatening to attack the power grid and bring catastrophe to the world. Starring Cam Gigandet (The Magnificent Seven), Tom Berenger (Inception) and Jeff Fahey (Lost) in this gritty, action-packed thriller.
---
DETECTIVE KNIGHT: REDEMPTION
Director: Edward Drake
U.S. Release: December 9 in theaters, on digital and on demand
U.K. Release: TBA
Official synopsis: Bruce Willis stars as Detective James Knight in this second film of the action-packed trilogy. In custody in New York, Knight finds himself in the middle of a jailbreak led by The Christmas Bomber, a brutal fanatic whose Santa Claus disciples are terrorizing the city. With the promised return of his badge in exchange for taking out the terrorists, the steely-eyed Knight doles out mercy for the just…and merciless justice for all the rest.
---
I AM DB COOPER
Director: TJ Regan
U.S. Release: December 9 (in theaters and on demand)
U.K. Release:
Official synopsis: Two bounty hunter brothers encounter an ailing old man named Rodney Bonnifield while coordinating his bail after a violent encounter on a dairy farm involving a machete. Close to his sentencing, he reveals to the bondsmen that he is in fact the infamous DB Cooper, the man responsible for the 1971 plane hijacking in the Pacific Northwest, and the ransom cash is still buried along the Columbia River.
Up against the clock with Rodney's prison sentence looming, the group sets out on a modern-day treasure hunt to recover the money he buried near the river 50 years ago, uncovering bizarre truths about Rodney Bonnifield and his connection to the only unsolved plane hijacking in U.S. history.
---
NR. 10
Director: Alex van Warmerdam
U.S. Release: December 9
U.K. Release:
Official synopsis: Günter was raised by foster parents after being found abandoned in the woods with no memory as a child. Years later, when a man approaches him on the street and whispers a strange word in his ear, he begins to experience visions from his fractured past that reveal a dark secret, threatening what he thinks he knows about his life and the very nature of his existence.
---
ONODA: 10,000 NIGHTS IN THE JUNGLE
Director: Arthur Harari
U.S. Release: December 12
U.K. Release:
Official synopsis: A drama based on the true story of Hiroo Onoda, the legendary Japanese soldier who spent 30 years in the Philippine jungle, refusing to surrender because he was convinced World War II had not ended. Camouflaged by leaves and bark, shooting water buffalo for sustenance, Onoda will not believe even the recordings of his brother's voice, imploring him to give up, or the magazine articles left for him in the jungle, meant to enlighten him about a world that had changed dramatically since 1944. (His response: paranoid conspiracy theories about the enemy concocting fake news.) Was Onoda a self-deluded fanatic or a paragon of patriotism? Harari's poignant, epic drama reveals the complexities of the man who became a modern myth – and the inspiration for Werner Herzog's recently published novel, The Twilight World.
---
ALL IN: MIRACLE AT ST. BERNARD'S
Directors: Gregg Backer & Evan Kanew
U.S. Release: December 13
U.K. Release:
Official synopsis: All In: Miracle at St. Bernard's is about faith, family and football. This documentary chronicles a tiny, 100-year-old Catholic school in Fitchburg, Massachusetts struggling with insolvency yet defying the odds at a time when the Church was shuttering similar institutions nationwide. It's the underdog story of a working-class community and the state's smallest football program rallying in pursuit of an impossible goal: to save their school from closure by the Church. Bernardians faithful needed a miracle. So they set about creating one. All In follows the dramatic campaigns to raise money and enrollment as well as a magical football season that together saved a beloved institution.
---
BOY SCOUT'S HONOR
Director: Ash Patiño
U.S. Release: December 13
U.K. Release:
Official synopsis: 8-year-old Aaron Averhart was just a year shy of being able to move up from Cub Scout to Boy Scout when he received a special request from an admired Boy Scout leader, William (Bill) Sheehan. As Aaron rose up the Boy Scout ranks, he slowly became aware of Sheehan's grooming techniques and began to realize he had much more sinister intentions in store for him.
If Aaron's parents had known that since the 1920s the Boy Scouts of America had been keeping hidden files on dangerous pedophiles in their ranks while failing to warn the public, the police, the scouts, their parents, or even fully removing them from the Boy Scouts program, they would have never allowed young Aaron to be part of such a complicit and corrupt organization.
---
FREE PUPPIES!
Directors: Samantha Wishman & Christina Thomas
U.S. & Canada Release: December 13
U.K. Release:
Official synopsis: FREE PUPPIES! travels across the country's political divide to explore one of the many areas where no public animal services exist, and volunteers — many of them women — step in. The story follows rescuers Monda Wooten, Ann Brown, and Ruth Smith, and the network of independent "rescue ladies" who patrol vast rural counties in the Tennessee Valley caring for stray and surrendered dogs.
---
REPEATER
Director: R. Ellis Frazier
U.S. Release: December 13
U.K. Release: TBA
Official synopsis: A hired hitman is in the crosshairs when rival contract killers come gunning for him. For hired hitman John Smith (Paul Sidhu), his directive is straightforward: seek, locate, and terminate. But rival assassins have him in their sights as they track and target each other and aim for their latest assignment – take out a hacker who threatens to expose the malicious criminality of a conglomerate head.
---
THE MEAN ONE
Director: Steven LaMorte
U.S. Release: December 15
U.K. Release: TBA

Official synopsis: In the audacious new parody, The Mean One (David Howard Thornton) is a hairy, green-skinned grump in a Santa suit, living on a mountain high above the town of Newville, despising the holiday season. Young Cindy You-Know-Who (Krystle Martin), whose parents were butchered by The Mean One twenty Christmases earlier, is returning to town to seek closure… but when the Mean One launches a new reign of terror that threatens to destroy Christmas, Cindy finds a bold new purpose – trapping and killing the monster.
---
LION VS THE LITTLE PEOPLE
Director: Raphael Warner
Global Release: December 16
Official synopsis: Lion vs The Little People uncovers the shocking truth behind one of the greatest internet hoaxes of all time. In 2005, a hoax news post masquerading as a bonafide BBC news website article, announced a fight had taken place between a lion and an army of forty two fighting dwarfs. The hoax spread like wild fire across the internet before being, eventually accepted to be fake. While the article's veracity in the public eye was diminished, however, the myth very much lives on hidden in the deep web. Lion vs The Little People is a film about truth, survival, and tiny wrestlers.
---
HIDDEN LETTERS
Director: Violet Du Feng
U.S. Release: December 23
U.K. Release:December 2
Official synopsis: Spanning between past and present, Hidden Letters follows two millennial Chinese women who are connected by their fascination with a secret language of sisterhood, and their desire to protect it against a perpetually patriarchal society.
---
JOYRIDE
Director: Emer Reynolds
U.S. Release: December 23 in theaters and on digital
U.K. Release: July 29
Official synopsis: JOYRIDE follows 12-year-old Mully (Reid), who, after fleeing his father, steals a taxi and is shocked to find a woman, Joy (Colman), in the back seat with a baby. Joy has decided to give her child away to a friend, and Mully needs some distance from his debt-ridden dad, who's after the cash Mully has with him. And so two lovable rogues – a complicated middle-aged mother and a troubled adolescent – go on a journey across Ireland, gradually finding in each other the friendship, love and learning they never knew they needed.
---
MILLENNIUM MAMBO (LIMITED)
Director: Hou Hsiao-Hsien
U.S. Release: December 23 at the Metrograph theater (NY) and on Metrograph At Home
Official synopsis: A stylish and seductive submersion into the techno-scored neon nightlife of Taipei, Hou's much-misunderstood marvel stars Shu Qi (The Assassin) as an aimless bar hostess drifting away from her blowhard boyfriend and towards Jack Kao's suave, sensitive gangster. Structured as a flashback to the then-present from the then-future of 2011, it's a transfixing trance-out of a movie, drenched in club lights, ecstatic endorphin-rush exhilaration, and a nagging undercurrent of ennui. A Metrograph Pictures release.
---
2. DECEMBER 2022 FILMS: ON DIGITAL & ON DEMAND – U.K. RELEASES
MISTLETOE RANCH
Director: Rhiannon Bannenberg
U.K. Release: December 2
U.S. Release: 2023
Official synopsis: In this charming and festive romance, international photographer Aimée Tremblay (Mercy Cornwall, Dive Club) returns to the town of Snowy Oak to restore the seasonal spirit. There, she reunites with her ex- fiancé, James Hunt (Jordi Webber, Power Rangers), and discovers her family property, Mistletoe Ranch, is in debt. As Aimée faces a choice between returning to manage the property or selling it so she can continue to pursue her dream career, she finds herself reconnecting with the ranch, the locals, and James.
---
THREE MINUTES: A LENGTHENING
Director: Bianca Stigter
U.K. Release: December 2 in cinemas and on Curzon Home Cinema
U.S. Release: out now on digital and on demand! – watch the film!
Official synopsis: A short piece of found film becomes a fascinating journey into the past in Bianca Stigter's haunting and moving documentary.

In 1938, when the three-minute film at the heart of this documentary was shot, the small village of Nasielsk had a population of 7,000; almost half were Jewish. By the end of WWII, only 100 of the village's Jews had survived. As its title suggests, the celluloid itself is interrogated using a plethora of techniques, mining it for hidden histories.

What makes Stigter's film so compelling is how the footage transforms. As its title suggests, the film lengthens what we initially see into a detailed account of the disappeared. Narrated by Helena Bonham Carter, the celluloid itself is interrogated and probed using a plethora of restoration techniques in an attempt to mine it for hidden histories. This investigative narrative gradually unearths the backgrounds of the multitude of faces seen in the footage, not only lending them context, but also commemorating their existence. What starts out as an innocuous glimpse of a moment in time becomes a deeper, richer understanding of the people who pass before us and the value of their lives.
---
25 YEARS OF UK GARAGE
Director: Terry Stone & Richard Turner
U.K. Release: December 5
U.S. Release:
Official synopsis: 25 Years of UK Garage gives an insight into the stories of the DJs and MCs from the UK Garage dance music scene over the past two and a half decades. UK Garage was initially a very British phenomena, which subsequently spread worldwide, and spawned and influenced some of the most significant music styles of modern times.
---
THE ALLEYS
Director: Bassel Ghandour
U.K. Release: December 5
U.S. Release: TBA
Official synopsis: In this gripping debut from director Bassel Ghandour (Theeb), gossip and violence run rampant deep in the labyrinth alleys of East Amman, Jordan. Ali, played by Emad Azmi (Sergio), a hustler pretending to be a businessman, must keep his relationship with Lana (Baraka Rahmani, A Million Little Things) a secret in order to hide from society's judgemental eye. When things start to fall apart, Lana's mother, Aseel (Nadira Omran, Bab el shams), is blackmailed by an unknown voyeur who has secretly filmed footage of the young couple that could out them to their community.
---
ELIZABETH: A PORTRAIT IN PARTS
Director: Roger Michell
U.K. Release: December 5
U.S. Release: out now on Fubo and Showtime
Official synopsis: Elizabeth: A Portrait in Parts is a unique and inventive feature documentary about the life of Queen Elizabeth II. Directed by the late, great and much celebrated Roger Michell (Notting Hill, The Duke) and produced by prolific British producer Kevin Loader (Nowhere Boy, The Lady in the Van), Elizabeth: A Portrait in Parts is a nostalgic, uplifting and fresh modern chronicle of the extraordinary 70-year reign of Her Majesty the Queen, the longest-lived, longest-reigning British monarch and longest-serving female head of state in history.
---
OUT OF THIS WORLD
Director: Marc Fouchard
U.K. Release: December 5
U.S. Release: TBA
Official synopsis: The very private Leo has issues communicating with others due to past trauma and only lives for his music. For now, not able to have a career as a composer, he works as an Uber driver and lives in his car. When Leo picks up Amélie, a deaf dancer, he sees a like-minded spirit, connected to the same remote sound universe yet cut off from the world, just like him. But Leo is hiding a dark and deadly secret…
---
THE PAY DAY
Director: Sam Bradford
U.K. Release: December 5
U.S. Release: out now – click here to watch it!
Official synopsis: The Pay Day is an independent British heist movie set in a post-pandemic world. The film follows Jenn, a 30-year-old, broke, frustrated, and single IT technician feeling betrayed by the system is offered a lucrative theft job by eccentric crime boss Gates; she decides this is her chance to escape mediocrity. For this life-changing payday, Jenn has to infiltrate a FTSE 100 company office building with a fake identity, override their state-of-the-art security system, hack in and retrieve the data, and then leave without a trace. What could possibly go wrong?
---
RESURRECTION
Director: Andrew Semans
U.K. Release: December 5
U.S. Release: out now – click here to watch it!
Full Review: Resurrection (2022) Film Review: Unhinged Motherhood Drama
Official synopsis: Margaret's life is in order. She is capable, disciplined, and successful. Soon, her teenage daughter, who Margaret raised by herself, will be going off to a fine university, just as Margaret had intended. Everything is under control. That is, until David returns, carrying with him the horrors of Margaret's past.
---
QUINTESSENTIALLY BRITISH
Director: Frank Mannion
U.K. Release: December 12
U.S. Release: TBA
Official synopsis: This unique and cheeky documentary explores Britain and what makes our country great from our traditions to our self-deprecating sense of humour. Featuring exclusive interviews from key British icons including Sir Ian McKellen (Actor, X-Men), Judi Dench (Actress, Skyfall) and Speaker of the House of Commons, Sir Lindsay Hoyle, we discover what it means to be truly British. Quintessentially British is directed by Frank Mannion (Sparkling) and also features comedian Tom Allen, Oz Clarke (Wine Writer) and Lady Carnarvon (Mistress of the Real Downton Abbey).
---
REBEL
Director: Adil El Arbi & Bilall Fallah
U.K. Release: December 12
U.S. Release: TBA
Official synopsis: This is one gut punch of a thriller. Brothers Kamal (Aboubakr Bensaihi, Black)and Nassim (Amir El Arbi) find themselves on radically different life paths after Kamal leaves to help victims in Syria, leaving Nassim at home to care for their mother Leila (Lubna Azabal, Incendies). However, after discovering Kamal has been radicalised by a local militia, Nassim goes to desperate lengths in the attempt to save his brother and bring him home – without realising he may be on the exact same path of self-destruction as his brother. Directed by Adil El Arbi & Bilall Fallah (Ms. Marvel, Bad Boys for Life) and co-written by Arbi, Fallah, Kevin Meul (Cadet)and Jan van Dyck (The Nipple Whisperer).
---
AS GOOD AS DEAD
Director: Josh Alexander
U.S. Release: December 16
U.K. Release: TBA
Official synopsis: Bryant (Michael Jai White), a man with a mysterious past moves to a small Mexican border-town to start over and live the simple life. While there, he reluctantly befriends a troubled local teen who has recently lost his mother and is being recruited by the local street gang. Bryant keeps the boy on the straight and narrow by introducing him to martial arts and taking on the role of mentor, teacher and father-figure. As the story unfolds we learn that Bryant is much more than a man who moved to Mexico to live the simple life. Bryant is running from a complex, violent past that he believes he left behind. As his past catches up with him, he is forced into a life and death struggle to clear his name, save the boy and get back all that he left behind.
---
LULLABY
Director: John R. Leonetti
U.S. Release: December 16
U.K. Release: TBA
Official synopsis: A new mother who discovers a lullaby in an ancient book and soon regards the song as a blessing. But her world transforms into a nightmare when the lullaby brings forth the ancient demon Lilith.
---
BITCH ASS
Director: Bill Posley
U.K. Release: December 19
U.S. Release: out now on digital and on demand – watch Bitch Ass!
Official synopsis: The year is 1980. Young Cecil is bullied by kids in the 6th Street gang for being fat, shy, and always playing board games. They all pick on him and call him Bitch Ass. On a gang initiation night, they jump him and leave him for dead. Fast forward to 1999. No one has seen or heard from Bitch Ass since, and he has become an urban legend. Now, a new crop of 6th Street recruits are gearing up for another initiation night. They get tasked with robbing a house, but little do they know they're walking into Bitch Ass' house, and he has been plotting his revenge by building deadly versions of the childhood games they bullied him for playing. The rules are simple; win and you live – lose and you die. Let the games begin!
---
HUNT VS LAUDA: THE NEXT GENERATION
Director: Charlotte Fantelli
U.K. Release: December 19
U.S. Release:
Official synopsis: Relive the legendary story of two of the most iconic racing drivers in history as their fierce rivalry is rekindled by their sons, Mathias Lauda and Freddie Hunt, who match them in method, character, and lifestyle. The two are only united by their desire to win as they compete, as their fathers once did, on the iconic Donington circuit.
---
PETER VON KANT
Director: François Ozon
U.K. Release: December 23 on Curzon Home Cinema, December 30 in cinemas
U.S. Release: out now – click here to watch it!
Full Review: Peter Von Kant (Film Review): The Dark Side of Love
Official synopsis: Based on the classic Rainer Werner Fassbinder classic The Bitter Tears of Petra von Kant, François Ozon's unique retelling finds Peter Von Kant, a successful, famous director who lives with his assistant Karl, whom he likes to mistreat and humiliate. Through the great actress Sidonie, he meets and falls in love with Amir, a handsome young man of modest means. He offers to share his apartment and help Amir break into the world of cinema…
---
3. DECEMBER 2022: NEW FILMS TO STREAM
AMAZON PRIME VIDEO
December 1-11
December 12-18
December 26-31
---
APPLE TV+
December 1-11
---
DISNEY PLUS/HULU/STAR
December 1-11
December 19-25
---
HBO & HBO MAX
December 1-11
---
MUBI
December 1-11
December 26-31
---
NETFLIX
December 1-11
December 12-18
December 19-25
December 26-31
---
PEACOCK
December 1-11
Sean Patton: Number One: December 2
---
SHUDDER
December 1-11
December 12-18
December 19-25
Scare Package II: Rad Chad's Revenge: December 22
---
4. DECEMBER 2022 RELEASES: NEW SHOWS OUT THIS MONTH
AMAZON PRIME VIDEO
December 1-11
Riches: December 2
Three Pines: December 2
The Bad Guy: December 8
December 12-21
---
APPLE TV+
December 1-11
---
DISNEY PLUS
December 12-18
---
HBO & HBO MAX
December 1-11
---
HULU
December 1-11
---
NETFLIX
December 1-11
Hot Skull: December 2
Firefly Lane, Season 2: December 2
My Unorthodox Life, Season 2: December 2
The Most Beautiful Flower: December 7
Smiley: December 7
Too Hot to Handle, Season 4: December 7
Dragon Age: Absolution: December 9
December 12-18
Gudetama: An Eggcellent Adventure: December 13
Last Chance U: Basketball: December 13
Sonic Prime: December 15
A Storm for Christmas: December 16
The Recruit: December 16
December 19-25
December 26-31
---
PARAMOUNT+
December 1-11
December 12-18
---
PEACOCK
December 12-18
December 19-25
---
DECEMBER 2022 – WHAT ELSE IS HAPPENING THIS MONTH:
Season Finales:
The Peripheral: December 2
Stargirl: December 7
The Mysterious Benedict Society Season 2: December 7
The Santa Clauses: December 14
Shantaram: December 16
Dangerous Liaisons: December 25
His Dark Materials: December 26
Slow Horses: December 30
Film Festivals: