The Best Films of 2020 So Far

Emma., Bad Education, Da 5 Bloods (Focus Features, HBO, Netflix)
From Bad Education to The King of Staten Island, here are the best films of 2020 (so far), selected by Loud and Clear's writers.
---
It's hard to write about the best films of 2020 without thinking about Joker, Once Upon a Time… in Hollywood, Parasite, Avengers: Endgame, Portrait of a Lady on Fire and the many other epic, groundbreaking, history-making achievements that made 2019 a year we will remember for a long time. Due to the ongoing pandemic, not only has a significantly lower number of films been released this year, but we haven't been able to watch most of them on the big screen, as they were meant to be experienced. Yet, 2020 wasn't a bad year altogether. Amidst disappointing reboots, sadistic war dramas, Disney+ failures and predictable Netflix comedies, we have also witnessed the Hamilton phenomenon, found inspiration in vulnerable indie gems, epic adventures and meaningful dramas, and reveled while watching career-defining performances by Hugh Jackman, Ben Affleck, Julia Garner and Elisabeth Moss.
From A Secret Love to A Way Back, here are the best films of 2020 (so far), according to Loud and Clear's staff members.
---
A SECRET LOVE
SUSANNA
Director: Chris Bolan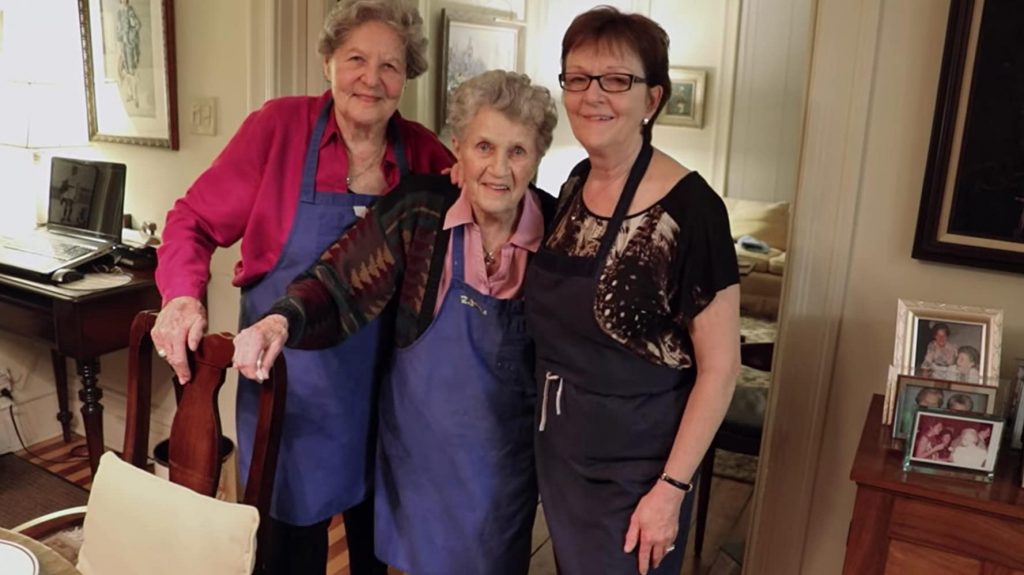 It's not always easy to talk about love, for many reasons that mainly have to do with our emotional and sentimental lives. But it shouldn't be difficult to talk about love when you'd like to do so. To this day, there are so many people in the world who can't talk about love even if they'd like to, for no reason other than the fact that they love someone of their same gender.
Terry Donhaue and Pat Henschel's story is beautiful, full of the love they shared with each other and gifted to others. Beautiful is Terry's relationship with her beloved niece, to whom she decides to confess, as an elderly lady, that she loves the woman with whom she has been sharing her home, in the past sixty-five years "and a half" of her life. Two beautiful lives that have been lived to the fullest, but always burdened with the weight of not having been able to tell their friends and family the truth, in constant fear that the people who love them might distance themselves from them.
A Secret Love is an important testimony that tells a difficult story in a light way, thanks to its two protagonists' strength and exuberance, and blends archival footage with clips documenting the couple's history, establishing the right balance to keep the audience's interest alive.
---
AND THEN WE DANCED
SERENA
Director: Levan Akin
Full Review: A Contemporary Coming-of-age Masterpiece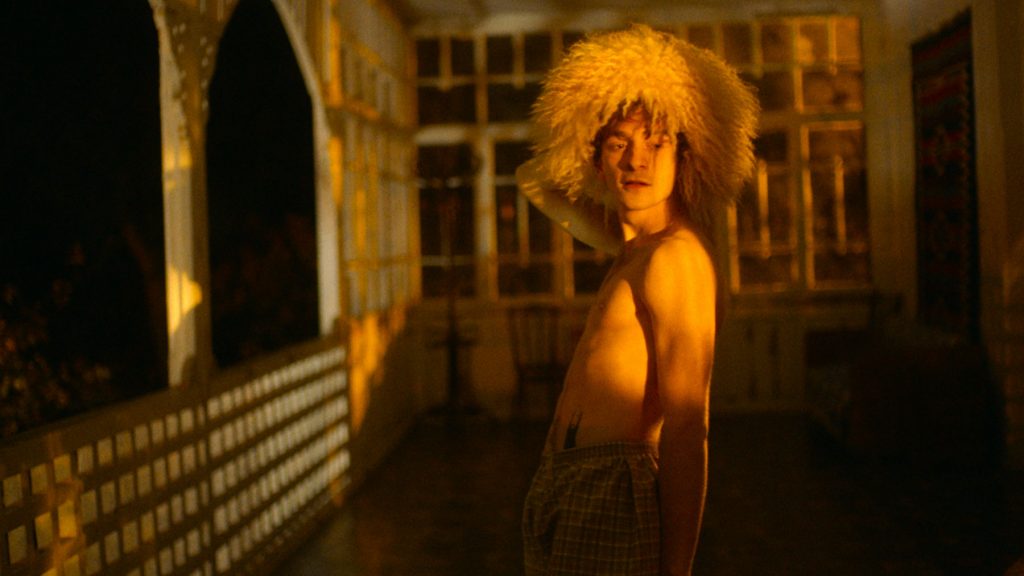 And Then We Danced is drenched in vulnerability and emotion. Levan Akin's coming of age drama revolves around Merab (Levan Gelbakhiani), a Georgian dancer whose life is turned upside down by the arrival of a rival dancer at the The National Georgian Ensemble – the academy where our young protagonist trains, and a place that functions according to a very strict set of rules. Irakli (Bachi Valishvili)'s arrival changes the delicate thread that holds Merab's life together, and he soon finds himself having to deal with his own fears and desires. Led by a superb performance from Levan Gelbakhiani in his first acting role, And Then We Danced is an introspective look at first love, a brave investigation on Georgian society, an intimate journey of self-discovery and and a raw examination of identity – all at the same time.
---
THE ASSISTANT
BERNARD
Director: Kitty Green
Full Review: Julia Garner Carries One of the Year's Best Films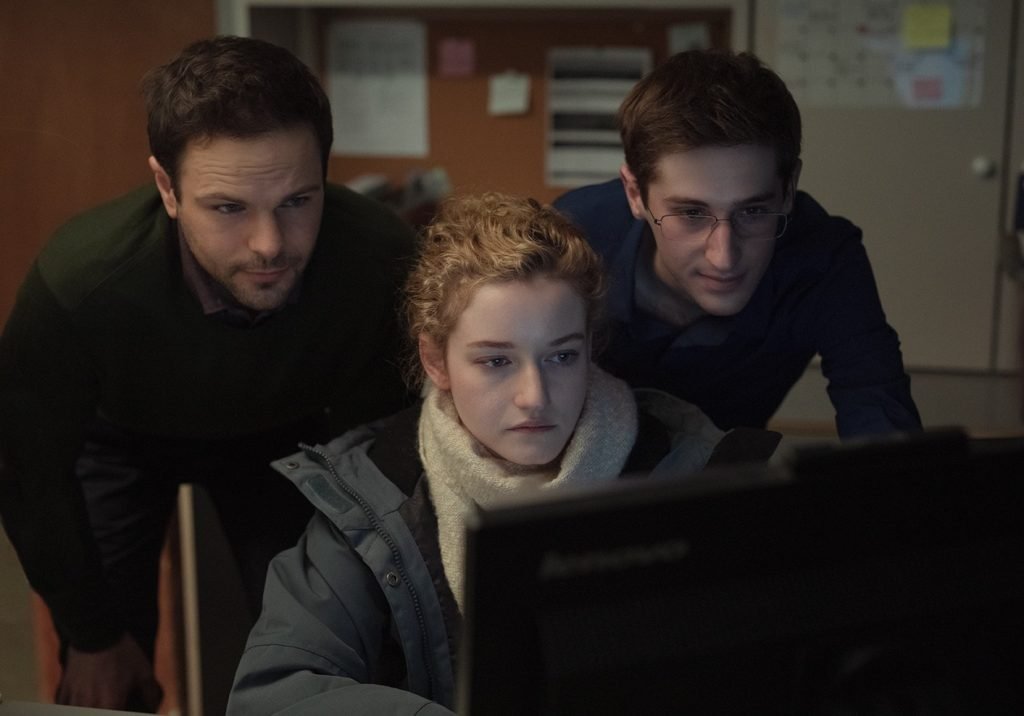 Kitty Green's superb drama tells of a young personal assistant for a New York City producer. That producer, wisely left unseen, is something of a Weinstein-esque figure in the entertainment industry, the hiring of a new beautiful intern is met by knowing sniggers from the office's staff. The growing realization of her boss's sinister reality by lead actress Julia Garner is a sight to behold: In a deeply introspective performance, Garner appears to carry the weight of each realization on her slight frame. The growing menace of small revelations creates a withering tone not dissimilar from a great horror movie, and her extended meeting with the company's PR rep, played with perfect unctuous smarm by Matthew MacFadyen, is perhaps the year's finest acted scene.
---
BAD EDUCATION
SERENA
Director: Cory Finley
Full Review: Hugh Jackman Shines in a Smart Dramedy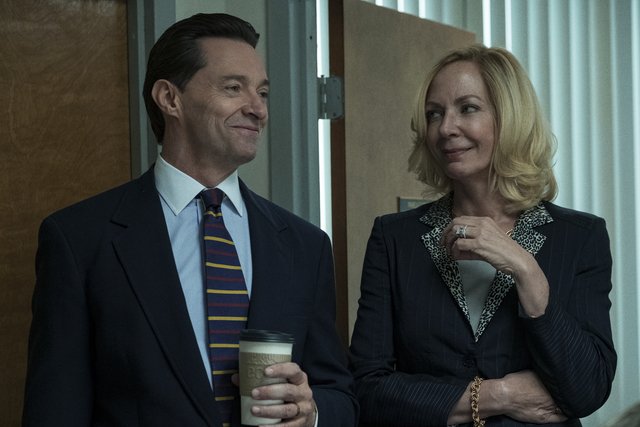 Bad Education is one of those rare, pleasant surprises you only come across once in a while. On paper, it tells the true story behind the largest public school scandal in American history – a multi-million-dollar embezzlement scheme that affected the town of Roslyn, NY in 2004, when a school newspaper uncovered that the town's beloved school district superintendent and his staff, friends and relatives weren't exactly being honest about how they handled the schools' finances. The true story behind the film is already a compelling and important one, and Bad Education makes it even more so by adding the right dose of dark humour to the mix.
Led by a magnificent Hugh Jackman in what would have definitely been an Oscar-worthy performance had the film been eligible for the Oscars race, Bad Education captures all the absurdity of this unlikely yet very real scenario, and it does so with a clever screenplay, exceptional rhythm and charismatic leads. Jackman and Allison Janney (who plays the Roslyn school district's business manager) turn these pathological liars into full-rounded, believable characters, adding humanity to what is not only a superb crime drama, but also one of the best films of the year.
---
THE CALL OF THE WILD
SUSANNA
Director: Chris Sanders
Full Review: A Dog's Guide to Humanity
It's never easy to watch films whose leading characters are animals. Their innocence and the total trust they often place in human beings make them vulnerable, and they sometimes fall prey to terrible injustices that are hard to witness for the viewer. Buck is a beautiful dog who belongs to a rich Californian family, and whose story drastically changes when he is kidnapped and brought to Alaska in order to be sold as a slegde dog. What appears to be the beginning of a very sad affair will actually turn out to be a story of redemption and rediscovery of one's own "place in the world", and of the deepest and wildest nature of The Call of The Wild's protagonist.
In Jack London's novel, from which the film is adapted, Buck is described as a very big dog that resembles a wolf – a depiction that makes it easier for readers to associate him to a desire for a wilder life, in the company of fellow wolves. In this 2020 adaptation, our protagonist resembles a Saint Bernard; Yet, notwithstanding his appearance as a more "common" breed of dog, Buck's credibility in the wild, with a pack of wolves, never falters. This choice turns out to be the film's strength, as it gives even more strength and importance to Buck's rediscovery of his wild nature and his yearning for freedom.
The Call of The Wild is an engaging, action-packed film, featuring runs at at breakneck speed across both the Alaskan ice and the forest – both spectatular places that will make you feel like you've reached the end of the world. Buck, nearly entirely realised in CGI, is wonderfully expressive. His interactions with the film's human protagonists – above all, John Thorton, played by Harrison Ford, are incredibly effective, as they are able to give life, with one look alone, to both entertaining skits and introspective, intense moments. Not to be missed.
---
DA 5 BLOODS
BERNARD
Director: Spike Lee
Full Review: Spike Lee Entertains and Educates in a Harrowing History Lesson
Spike Lee, iconic American auteur, here tells the story of four soldiers returning to Vietnam to find the remains of a friend from their time in the service… and to collect a giant chest of gold. It's a crackerjack concept that Lee infuses with the passion of his late career resurgence. It is hard not to look at a Spike Lee Joint now without the realization that much of America is just waking up to the concepts Lee has been presenting for 35 years. While Delroy Lindo has, deservedly, gotten much of the praise directed at the film's performances, I want to take this opportunity to mention Clarke Peters' stellar turn. If Lindo is Da 5 Bloods' fiery soul, Peters is its beating heart: the human scale performance that anchors the audience as our characters get lost in the Vietnamese jungle. This is essential filmmaking, heightened by the time we find ourselves living in.
---
EMMA.
ESTHER
Director: Autumn De Wilde
Full Review: Taylor-Joy charms in newest adaption of Austen's witty romance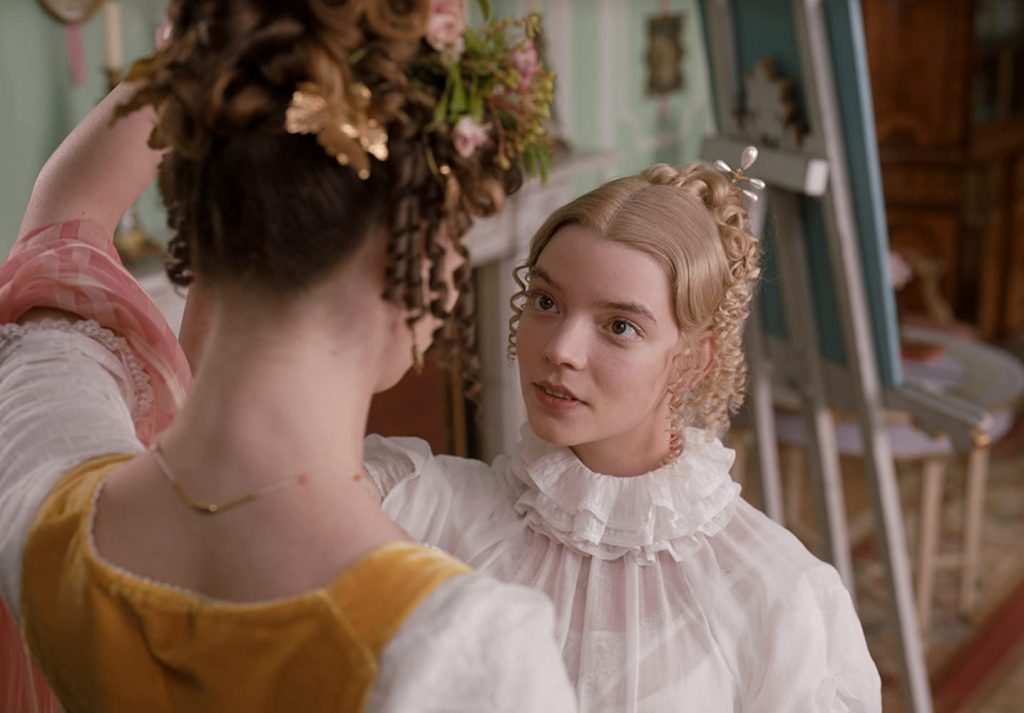 The great filmmaker Mike Leigh has this quote about making films set in the past which I remember clearly but have been unable to find, so I'll paraphrase: 'The problem with period films is that everyone wants their characters to feel modern.' Once you start seeing this, it's impossible to stop. Even in great films, such as Greta Gerwig's recent Little Women adaptation, you can feel the setting chafe against the director's contemporary leanings. It's maybe no surprise that Amy Heckerling's Clueless stands out to many as the pinnacle of Austin adaptations, it at least knows exactly what it is trying to be.
With Emma., Autumn de Wilde overcomes that problem in a way that I've honestly never before seen. The film bears no pretension to naturalism; it is fully unconcerned with creating a world feels realistic, instead founding its own aesthetic universe in which the motivations and actions of Austen's characters make complete and total sense. Once settled into it, the spirit of the novel shines through. In my screening, by the halfway point, some harsh words spoken at a garden party were enough to draw gasps and whoops from the audience — myself included.
Its every moment is an absolute joy, containing some of this year's best production design and comic performances. Yet I know many who missed it, dismissing from the trailer as a soufflé — light and fluffy but with no real substance. If that was you, you should reconsider. Lest you sleep on one of this year's finest films.
---
EUROVISION SONG CONTEST: THE STORY OF FIRE SAGA
SERENA
Director: David Dobkin
Full Review: A Surprisingly Kind, Good-Hearted Comedy
Eurovision Song Contest: The Story of Fire Saga has barely begun when our eccentric protagonist, Lars Erickssong (Will Ferrell), encounters his first conflict: tired of hearing about his son's life long dream of winning the Eurovision Song Contest, Lars's father (Pierce Brosnan) decides to kick his son out of the house. Lars confides in his best friend Sigrit (Rachel McAdams), who consoles him with talks of "their beautiful Húsavík" – at which point, the two stare into the distance, towards the sea, where two whales suddenly appear, performing a synchronized jump into the air. And, just like that, you instantly know that Eurovision Song Contest: The Story of Fire Saga is going to become your favourite guilty pleasure.
David Dobkins' Eurovision musical is one of those wonderfully absurd, utterly bonkers films you could watch over and over again. Charismatic leads, catchy songs, excellent set and costume design, hilarious sequences, a meme-worthy Dan Stevens as a sleazy Russian disco dancer with a whip, tight shiny clothes and a fondness for "very crazy sexy time" parties: you name it. Eurovision Song Contest has it all. Netflix's most recent musical is as genuinely hilarious as it is witty and ironic, but it is also surprisingly meaningful. Not only will it make you laugh until you cry, but it will leave you pondering over its beautiful message of acceptance, before you hit play one more time and join the Eurovision party over and over again.
---
EXTRACTION
ADELE
Director: Sam Hargrave
Full Review: Impressive Action Held Back by Banal Storytelling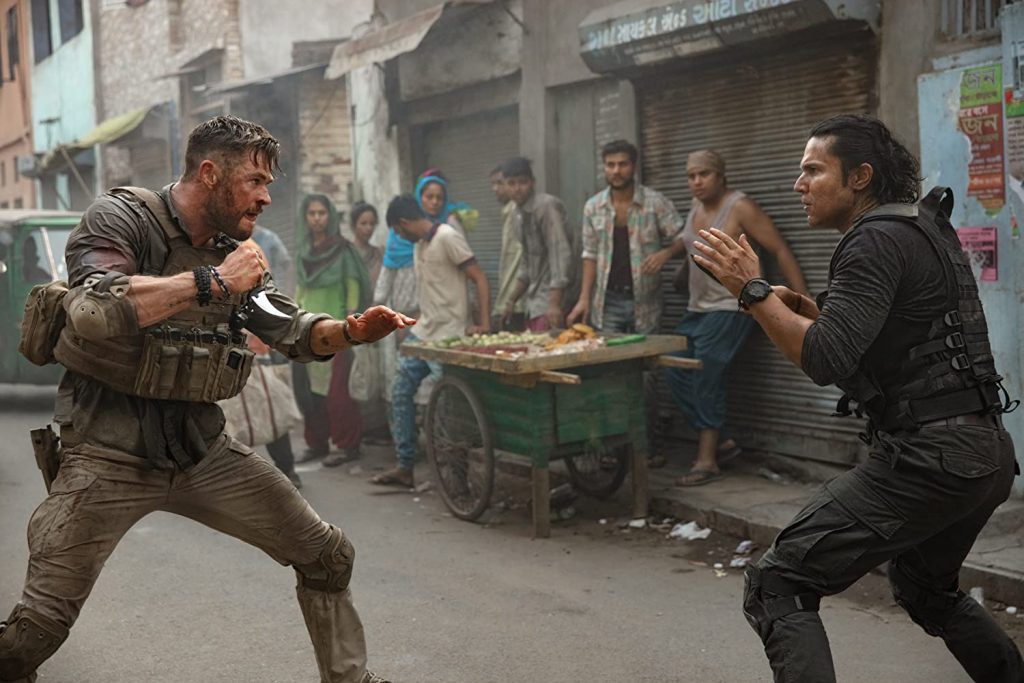 In this action-packed Netflix drama, Chris Hemsworth and the Russo brothers team up once again after their Marvel collaboration. Gripping a Glock 17 and a rifle instead of Thor's beloved hammer, Hemsworth plays Tyler Rake, a lone wolf/bad boy with a golden heart who is hired as a mercenary to rescue Ovi (Rudhraksh Jaiswal, who is quite remarkable in his first major role), the son of an incarcerated Indian drug lord. Hemsworth was undeniably born – and gym trained – to star in any action movie, as he – and his abs – have proven to us since the first Thor movie, and his credibility as a modern hero is further reiterated in this feature. Though he doesn't play our beloved Thor but just an ordinary human, he still engages in all the life-threatening and danger-packed quests our favourite God would deal with, and more.
Extraction's plot might not win any awards for originality, but the Netflix drama is definitely a great choice to entertain us on a lazy evening on the sofa, just before we have to return to our pre-Covid19 work life. Hemsworth's performance is solid enough to glue us all to the screen for two very tense hours, chasing through the jungle and the impervious tiny streets of Dhaka.
---
HAMILTON
SUSANNA
Director: Thomas Kail
Writer: Lin-Manuel Miranda
Full Review: The Most Magical Thing on Disney+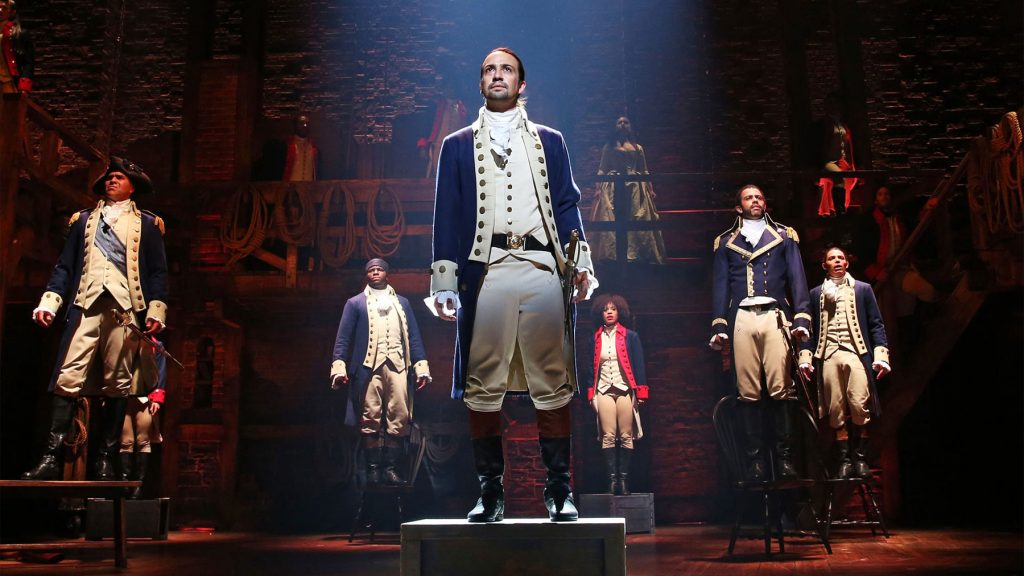 Is there a better way to narrate history – and, above all, politics – than a hip-hop musical? Though it might sound incredible, after having lived the "Hamilton experience", I can answer, with absolute certainty: no. There isn't.
Written and performed by Lin-Manuel Miranda, Hamilton has become one of the most successful Broadway musicals of all time. In 2016, not only did it win several Tony Awards including one for Best Musical, but also the Pulitzer Prize for Drama. Available to watch on Disney+, Hamilton tells the story of Alexander Hamilton (Miranda), one of the "founding fathers" of the United States of America, and it does so, for the most part part, to the sound of hip-hop music. Rapid metrics and rhythm can make it hard to follow the music for non-English natives, but my advice is to approach the musical with copies of the lyrics and plenty of good will, and follow singers and dancers perform: Hamilton is undoubtedly a unique experience, which can engage the audience completely, body and soul. Not only is it an excellent way to make important historical events more widely known, but it is also an occasion to celebrate a series of fundamental themes in our society, such as identity, freedom of opinion, racism, women's role and female representation. Politics lends itself well to this narrative form, and the arguments inside the Cabinet are transformed into a "Rap Battle (Cabinet Battle #1) that is particularly effective and dynamic.
After Walt Disney Studios's strenuous battle for the film's distribution rights, Hamilton, initially scheduled to be released on the big screen on October 15, 2021, was made available on Disney+, as a gesture of support towards the cinema and theatre industries and their workers during the economic crisis provoked by the COVID-19 pandemic. It is, without a doubt, from several points of view, one of the masterpieces of the decade.
---
THE INVISIBLE MAN
ZACH
Director: Leigh Whannell
Full Review: A Masterclass in Sci-fi/Horror, Dread and Social Commentary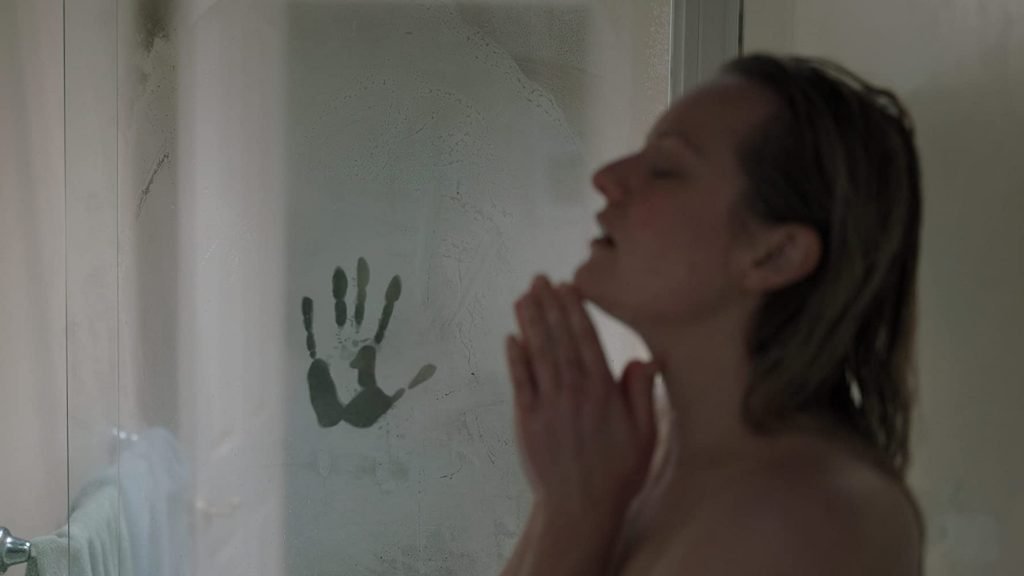 After his dynamite direction grabbed our attention in 2018's underrated sci-fi smash, Upgrade, Leigh Whannell once again announced himself as a filmmaking force that will not be forgotten with his radical reinvention of The Invisible Man. Whannell's craft is somehow even more commendable here – especially as he capably capitalizes on the "empty space" onscreen and derives dread from the most innocuous of images – but surprisingly, it is his startling and socially relevant screenplay that stands out most of all.
By shining his spotlight on Elisabeth Moss' Cecilia (instead of on the titular terror) and making her the primary protagonist (and therefore prioritizing her perspective above all else), Whannell reframes this story into an alarming allegory for the woes of women across the world, honing in on the horrors that abuse victims encounter and pinpointing the perceptions of purported "allies" that perpetuate the pervasiveness of "gaslighting." This prescient pain is portrayed perfectly by Moss, as she turns in an emotionally poignant performance with perplexing physical prowess that is destined to be lauded by critics and fans of the horror genre for years to come. Together, Whannell and Moss serve up a terrifically terrifying tale of the turmoils of today, where the most devious demons await.
---
THE KING OF STATEN ISLAND
ZACH
Director: Judd Apatow
Full Review: Apatow returns to his comedy throne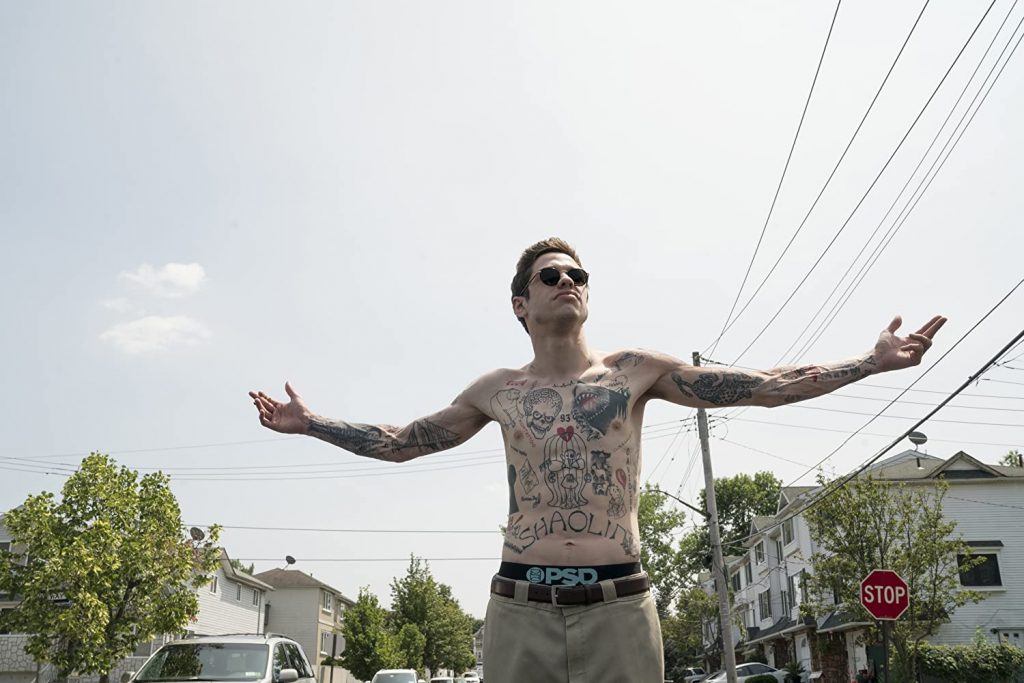 Judd Apatow has long been known for the successful synthesis of raunch and realism present in all of his prior pictures (such as The 40-Year-Old Virgin, Knocked Up, and Trainwreck), but with The King of Staten Island, he delves into deeper and darker drama than ever before – without ever losing sight of his sharp sense of humor – and crafts what may very well be his most mature and most meaningful movie to date.
Though loose in structure, The King of Staten Island instead spends its surprisingly swift 137-minute runtime fleshing out its captivating cast of colorful characters and letting their stories speak for themselves without obstruction; for the most part, the absurdist antics of Apatow's former films are entirely absent here, allowing Staten Island to stand on its own as a sophisticated step forward for the distinguished director. With a script penned by Apatow, star Pete Davidson, and Dave Sirus that beautifully balances heart and hilarity and a powerhouse lead performance from the smarmy but sincere Davidson himself, The King of Staten Island is the rare comedy that actually lingers with you once the laughs have dissipated, lifting your spirits and sending you off with an overwhelmingly optimistic outlook on life.
---
MISBEHAVIOUR
SERENA
Director: Philippa Lowthorpe
Full Review: A Story with Many Sides and an Invitation to Kindness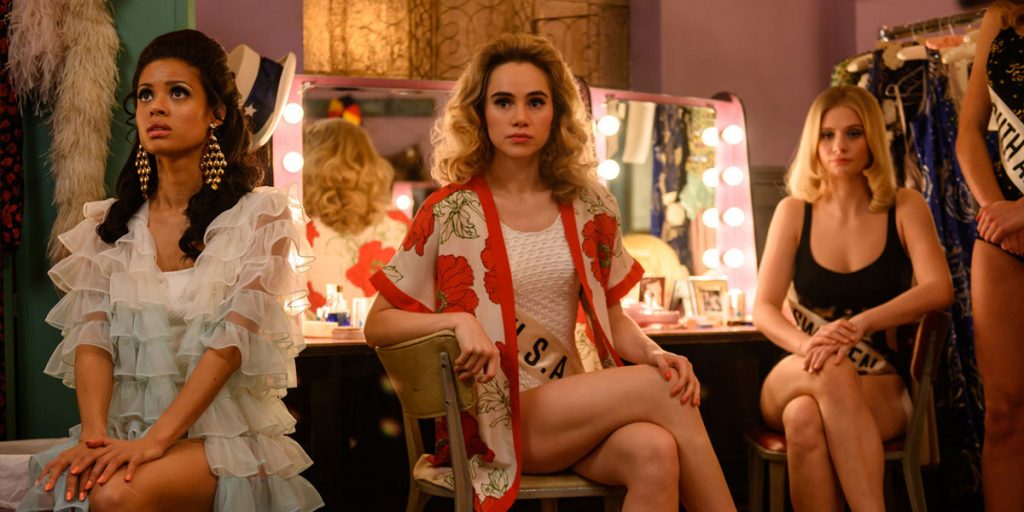 Misbehaviour tells the true story of how a group of women activists were able to disrupt the live broadcast of the 1970 Miss World competition, putting the newly founded Women's Liberation Movement on the map and shedding light on issues of equality and human rights. Featuring impressive performances by Keira Knightley, Jessie Buckley, Gugu Mbatha-Raw, Suki Waterhouse and Loreece Harrison, Philippa Lowthorpe (The Crown)'s drama tells a complex story in a seamlessly effortless way, giving equal attention not only to all the beauty pageant contestants, but also to all the mothers, daughters and wives witnessing history being made from very different perspectives.
Misbehaviour shows a fight that spans through generations, fought by women of different backgrounds with contrasting, yet equally valid, aims. This clever reflection on change and equality places us on both sides of a very important battle, showing us that there are many sides to every story and inviting present and future generations of women to be kind to one another.
---
NEVER RARELY SOMETIMES ALWAYS
BERNARD
Director: Eliza Hittman
Full Review: A Genre-Defying Movie on the Difficulties of Adulthood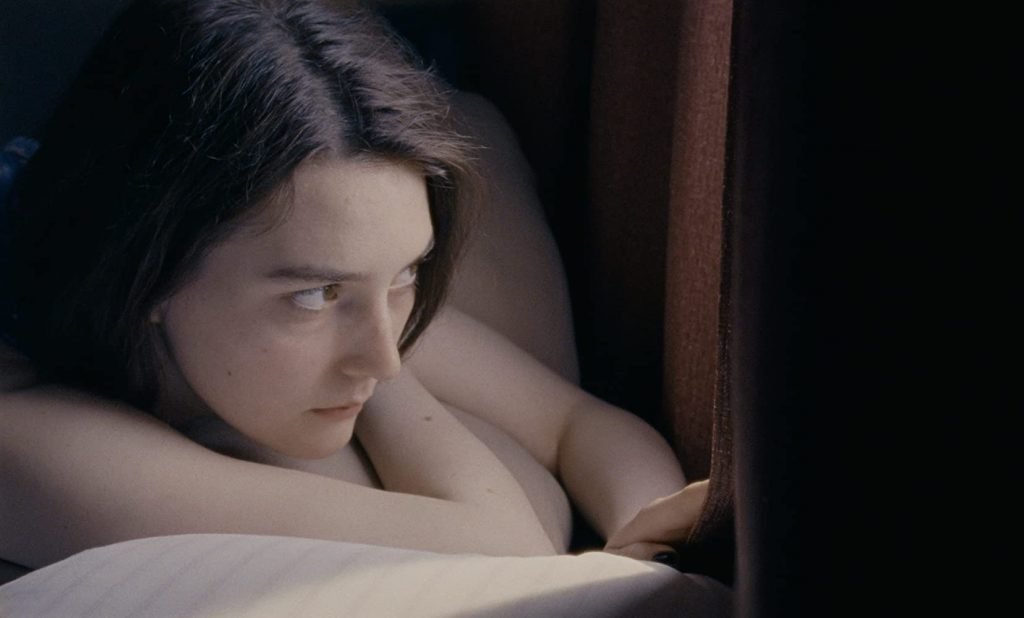 I understand as a matter of fact how difficult some states make it for a woman to have an abortion, but as a straight white guy I have absolutely no understanding as a matter of experience. Eliza Hittman's Never Rarely Sometimes Always is so calm, measured, and human-scaled that I wonder if it is the closest I will ever come to such an experience.  I found the movie almost cripplingly sad, and never less than utterly captivating. The film's focus on the details – exemplified by the questionnaire that gives the film its title – gives it a sort of near documentary feeling. Thanks to two deeply naturalistic performances from the film's unknown leads, the harrowing experience young women are put through to get what is their legal right is something that will not soon leave my memory.
---
PALM SPRINGS
SERENA
Director: Max Barbakow
Full Review: The Terrific "Time Loop" Comedy for the Troubles of Today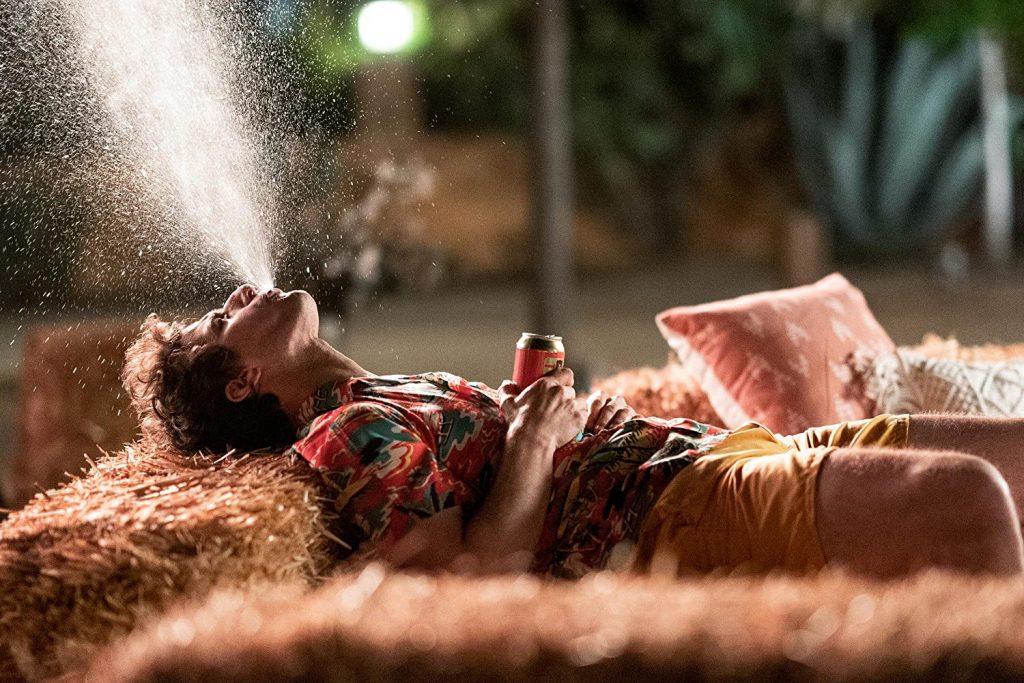 Is there a better film to watch during a pandemic than a time loop comedy drama featuring Lonely Island legend Andy Samberg (Brooklyn Nine-Nine) as a wedding guest who's forced to re-live the same ceremony over and over again? The answer is no, especially considering that Palm Springs also involves hilarious skits, unexpected revelations, a meaningful commentary on human existence and an exceptional J.K.Simmons randomly shooting arrows at our favourite wedding guest.
There's a reason if Max Barbakow's new comedy has effortlessly become the most-watched summer hit on Hulu, that reason being that it is as genuinely funny as it is deeply moving and wise. Not only will Palm Springs's clever puns and unlikely scenarios have you laughing from beginning to end, but its most meaningful, raw moments will come when you least expect them to, resonating with you for a long time after the credits roll. In the words of Palm Springs's wise protagonist, "The only way to live in this is to embrace the fact that nothing matters, so your best bet is just to learn how to suffer existence."
---
SAINT FRANCES
SERENA
Director: Alex Thompson
Full Review: "You Can Have Faith in People Too"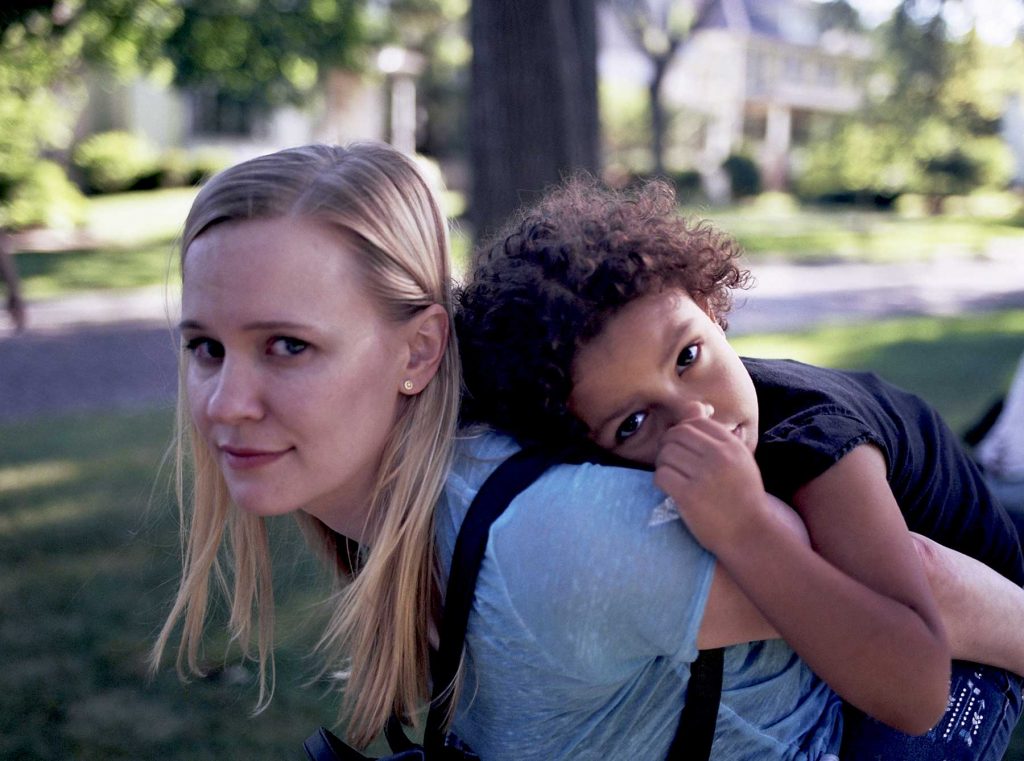 Saint Frances revolves around Bridget, a thirty-four-year-old woman who finds herself dealing with an unwanted pregnancy while nannying Frances (Ramona Edith-Williams), a precocious and somewhat challenging six-year-old girl, and also dealing with Frances's moms. Thanks to Kelly O'Sullivan's superb performances as Bridget and a clever screenplay (also written by O'Sullivan), Saint Frances is one of the few films that manages to perfectly capture an emotion. Just like many generations of women in their thirties, Bridget feels lost and alone, having to deal with stigmatised issues, such as unwanted pregnancies and the complications of abortions, that we don't really talk about, even though we should. Saint Frances sheds light on these issues and opens a much needed conversation, ultimately leaving us with an important message of hope, kindness and solidarity. If you haven't watched it yet, you absolutely should.
---
SHIRLEY
ANTHONY
Director: Josephine Decker
Full Review: Unconventional Gothic Biopic is neither Human nor Horror Enough to Fully Succeed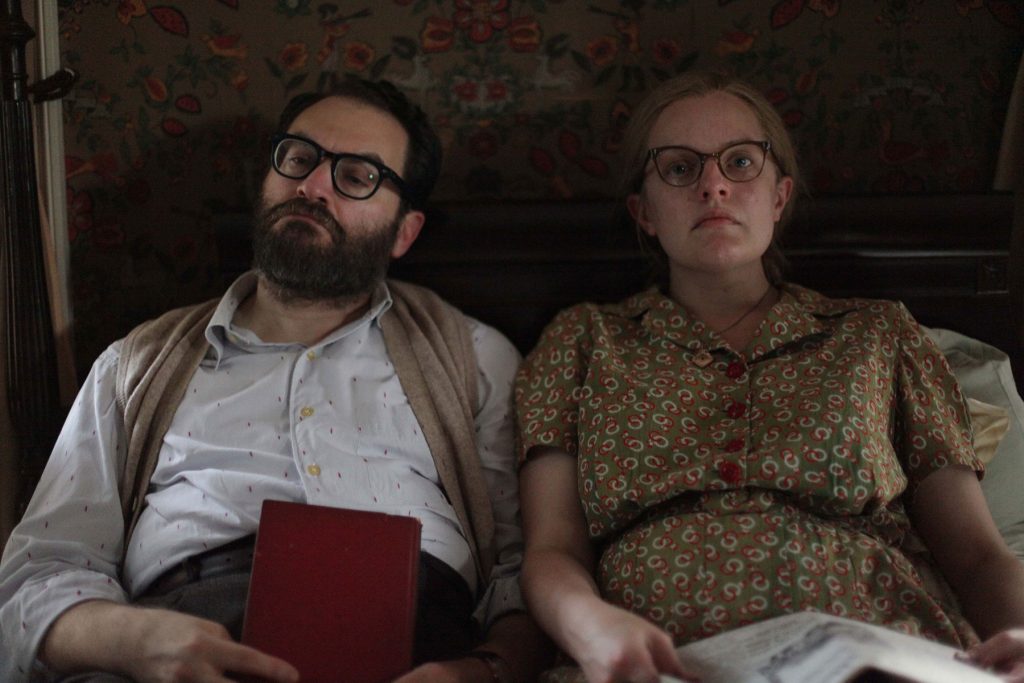 A stunning, morbidly entrancing feature from visionary director Josephine Decker (Madeline's Madeline), Shirley revels in off-kilter filmmaking techniques to develop its story on trauma and oppression. The film revolves around a newly-wed couple (Odessa Young and Logan Lerman) who live for a short time with famous author Shirley Jackson (Elisabeth Moss) and her husband (Michael Stulberg). Grounded by some of the year's best performances, most notably Elisabeth Moss' turn as the titular reclusive author, Shirley deftly tackles heavy subject matter with grace and visual defiance. Decker's great talent is her way of amplifying the unnerving underlying emotions of seemingly normal scenes. Her visual style is entrenched in the psychology of her characters and she has the uncanny ability to showcase visually their thought processes. A dazzling work, unwieldy, uncomfortable, and electrifying. 
---
THE TRUE HISTORY OF THE KELLY GANG
ELISA
Director: Justin Kurzel
Full Review: Postmodern Fireworks for Kurzel's Meat Pie Western
Meat pie Westerns are no usual catch in a cinephile's disc-case. Crude, rude and unhealthily fun, Justin Kurzel's The True History of the Kelly Gang is probably the director's best work to date – the one that fully succeeds in melting Kurzel's love of post-modern imagery, epic soundtracks and lurid tales into one same cauldron. George Mackay's outlaw hero Ned Kelly caters for the perfect blend of trauma, childish innocence and feral savagery and fits perfectly with the film's steady, speedy pace. The True History of the Kelly Gang will leave you hungry for more, fiery pie delicacies and will haunt your waking dreams for days on end. Undoubtedly one of the best flicks of the year, Kurzel's drama is a perfect match for every unrequited lover of the sensuous quality of the moving image.
---
THE WAY BACK
BERNARD
Director: Gavin O'Connor
Full Review: Ben Affleck's Career Best Performance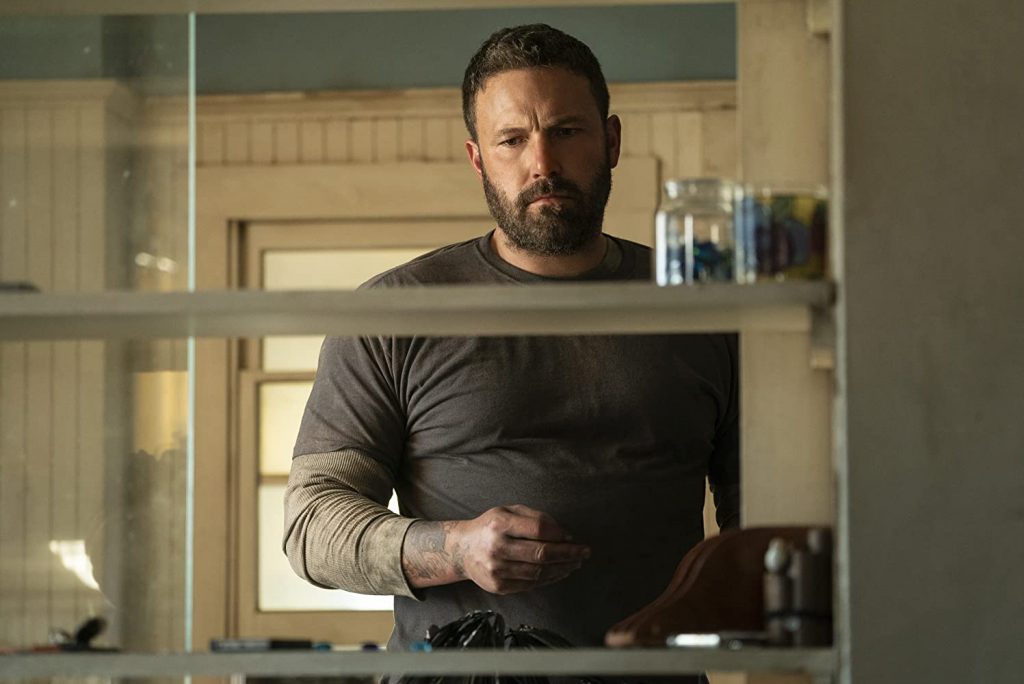 Using the tropes of cliché uplifting sports films, director Gavin O'Connor (Warrior, Miracle) has actually crafted a sad, intimate character study.  Elevated by the best work of Ben Affleck's career, The Way Back focuses on an alcoholic's struggle to find a window back to a normal life through basketball in the wake of personal tragedy.  The film deftly embraces and brutally undercuts the genre's tropes to dig deeper into the very human struggle one character faces to get through each day.  Blessed with touches of profane humor and a strong supporting cast, The Way Back is one of the films most negatively impacted and forgotten in the wake of COVID-19.
---
Other great films of 2020: