Beau Is Afraid: New Trailer for the Joaquin Phoenix Movie

Beau is Afraid (A24)
The new trailer for Ari Aster's movie Beau Is Afraid is here! The film stars Joaquin Phoenix and is coming to theaters this April, from A24!
---
One of the most anticipated films of the year is Ari Aster's movie Beau Is Afraid, starring Oscar winner Joaquin Phoenix and from the director of Hereditary and Midsommar! A24 has just released a new trailer of the film, coming to theaters this April!
What is "Beau Is Afraid" About?
We don't know much about Beau Is Afraid yet, but the movie is the story of a paranoid man who embarks on an epic odyssey to get home to his mother. The film spans through several decades, giving us a full look into the life of one of the most successful entrepreneurs of all time.
A24 describes the movie as a bold and ingeniously depraved new film. It comes from director Ari Aster, who also wrote the screenplay and is mainly known for his multi-award winning movies Hereditary (2018) and Midsommar (2019). Beau Is Afraid stars Joaquin Phoenix alongside Nathan Lane, Amy Ryan, Stephen McKinley Henderson, Zoe Lister-Jones, and Armen Nahapetian, with Parker Posey and Patti LuPone.
---
Release Date: When & Where to Watch the Movie
Like the new trailer tells us, the film will be out in US theaters on April 21, 2022. We don't know when it will be come to the UK yet, but keep checking this page for updates.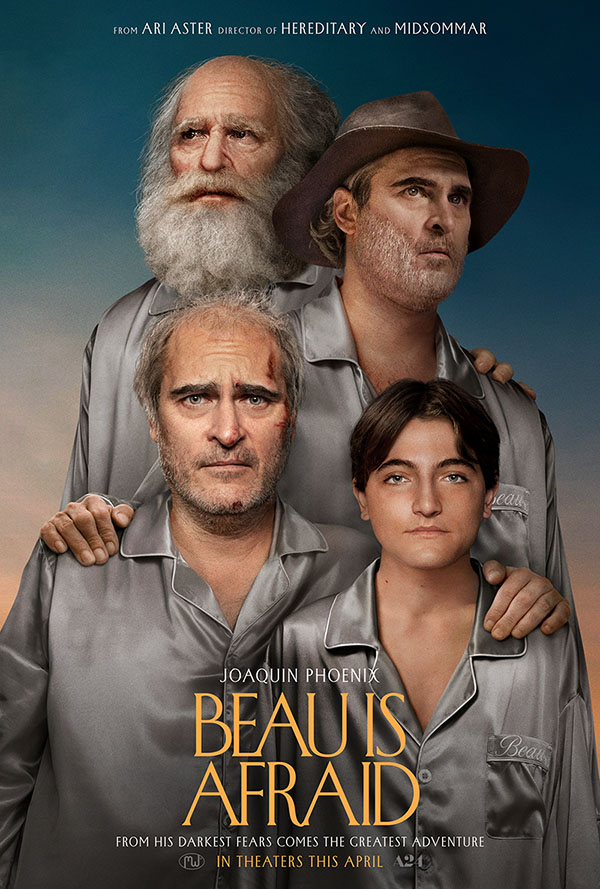 ---
Watch the New Trailer of "Beau Is Afraid":
Without further ado, watch the new trailer of Beau Is Afraid!
---