August 2022: New Films & Shows to Stream This Month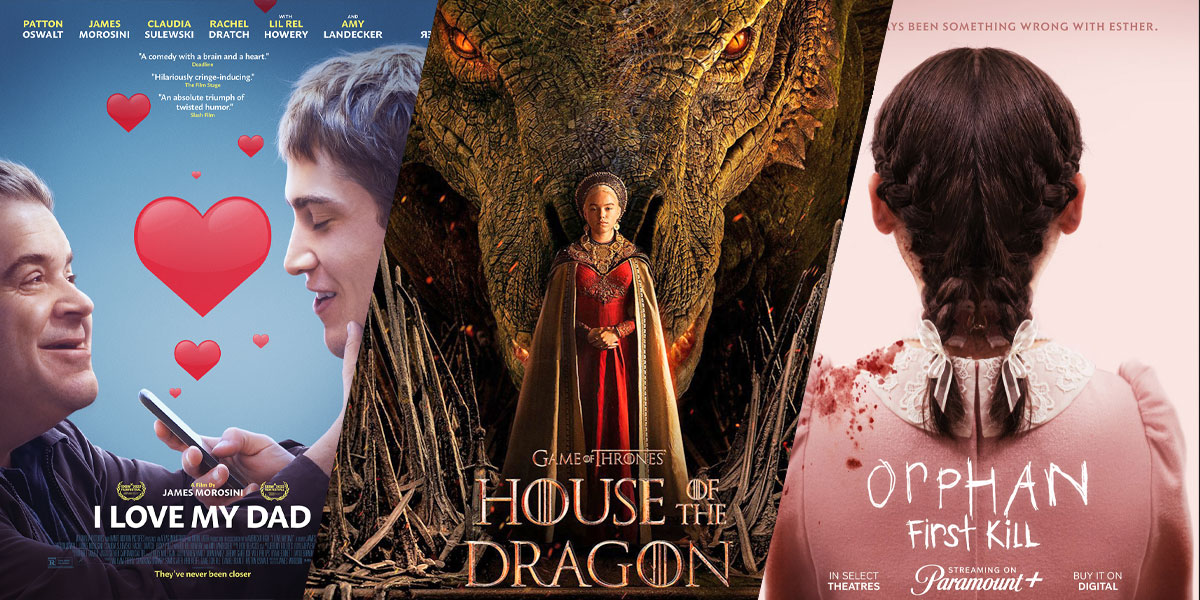 I Love My Dad, House of the Dragon, Orphan: First Kill (Magnolia Pictures, HBO Max, Paramount+)
August 2022: all the new films and shows to stream this month, from HBO's House of the Dragon to Netflix, streaming, and VOD releases.
The wait is over: HBO's highly anticipated Game of Thrones spin-off series House of the Dragon is finally going to be released this month! But that's not all: Apple TV+, Netflix, Disney Plus, Hulu, Paramount+, Amazon Prime Video, Peacock, and even more streaming platforms have many surprises in store for us, guaranteeing we'll have something exciting to watch this summer.
We've collected all of August 2022 's new films and shows to stream and watch on digital and on demand. Scroll till the end for other events happening this month, click here for August 's theatrical releases, and enjoy!
---
1. AUGUST 2022 FILMS: ON DIGITAL & ON DEMAND
FORCED CHANGE
Director: Rennik Soholt
Global Release: August 2 (via iTunes, Apple TV and Prime)
Official synopsis: Filmed over the course of fourteen years by filmmaker Rennik Soholt, Forced Change is a groundbreaking documentary that looks past the modern news media's broad coverage of Hurricane Katrina and reveals the touching human stories buried beneath the headlines. Told in an innovative narrative style and featuring a chorus of New Orleans-based voices, including jazz trumpeter and composer Kermit Ruffins, Forced Change is a retrospective of four unique and relatable individuals who left New Orleans after the hurricane and never returned home.
---
GONE IN THE NIGHT
Director: Eli Horowitz
Previously known as: The Cow
U.S. Release: August 2 (on digital and on demand)
U.K. Release: unknown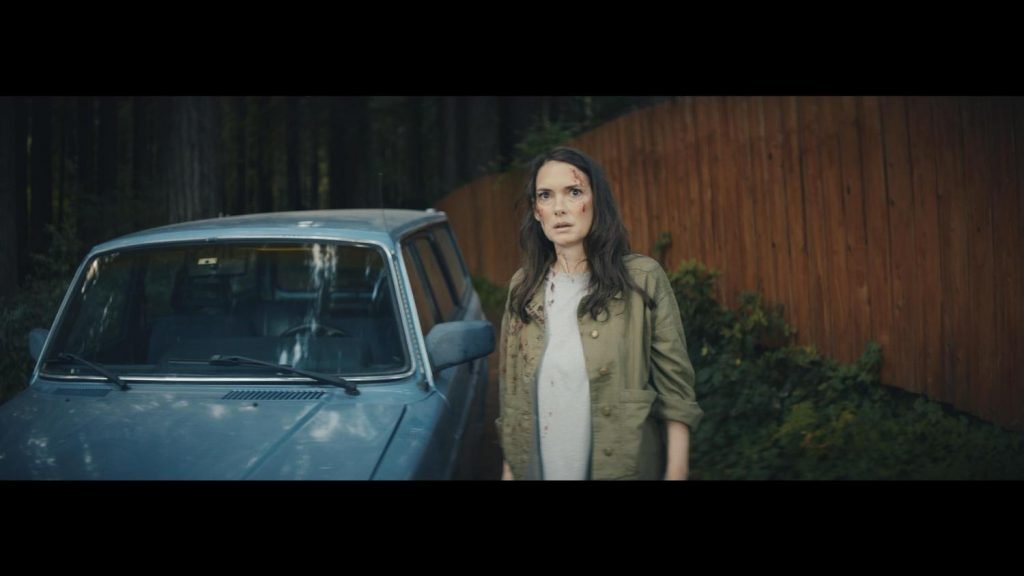 Official synopsis: When Kath (Winona Ryder, of Stranger Things) and her boyfriend arrive at a remote cabin in the redwoods, they find a mysterious younger couple already there. When her boyfriend disappears with the young woman, Kath becomes obsessed with finding an explanation.
---
HYPOCHONDRIAC
Director: Addison Heymann
U.S. Release: August 4
U.K. Release: unknown
Official synopsis: A young potter's life devolves into chaos as he loses function of his body while being haunted by the physical manifestation of his childhood trauma.
---
THE ANDY BAKER TAPE
Director: Rennik Soholt
Global Release: August 5
Official synopsis: In October of 2020, food blogger Jeff Blake and his half-brother Andy Baker hit the road on a food tour that had the potential to change their lives. They were never seen again. This is their footage…
---
THE MOST DANGEROUS GAME
Director: Justin Lee
U.S. Release: August 5
U.K. Release: unknown
Official synopsis: A father and son are shipwrecked on a remote island where they are caught up in a trophy hunt held by its mysterious owner, a merciless man who uses the land as an elite hunting preserve for stalking the most dangerous game of all: humans.
---
KING KNIGHT (U.K.)
Director: Richard Bates Jr.
U.K. Release: August 8
U.S. Release: February 17
Official synopsis: Thorn is the leader of a coven of new-age witches. Life is good, but when a secret from his past comes to light, it forces him to take a trippy, journey of self-discovery.
---
OF THE DEVIL
Director: Kelton Jones
U.S. Release: August 9 (on digital, DVD & Blu-Ray)
U.K. Release: unknown
Official synopsis: Kelton Jones' Of The Devil, featuring The Exorcist's Eileen Deitz, is about a desperate mother and father who attempt to cure their eight-year-old son's brain tumor by enlisting the help of a shamanistic healer. But when the ritual results in the child being possessed by an ancient demon, the father must now face his own demons and return to his role as a former priest, in order to save his son's soul and to protect humanity from the evil that he has unleashed.
---
TIN CAN
Director: Seth A. Smith
U.S. & Canada Release: August 9
U.K. Release: unknown
Official synopsis: As the world faces a deadly plague, a front-lines parasitologist is imprisoned in a life-suspension chamber. If she wants to escape, she must destroy the last of her kind.
---
I LOVE MY DAD
Director: James Morosini
U.S. Release: August 12 – watch I Love My Dad!
U.K. Release: unknown
Full Review: A Riotous Father-Son Road Trip with A Twist
Official synopsis: Inspired by writer, director, and star James Morosini's true life experience, I Love My Dad follows Chuck (Patton Oswalt), a hopelessly estranged father who desperately wants to reconnect with his troubled son, Franklin (Morosini). Blocked on social media and concerned for his son's life, Chuck impersonates a waitress online and starts checking in with Franklin. But things begin to spiral when Franklin falls for this imaginary girl (Claudia Sulewski) and wants nothing more than to meet her in person, as Chuck has inadvertently catfished his own son. A thrilling comedy with an unexpected twist, I Love My Dad also stars Rachel Dratch, Lil Rel Howery, Amy Landecker and Ricky Velez.
---
WIFELIKE
Director: James Bird
U.S. Release: August 12 (in theaters, on digital and on demand)
U.K. Release: unknown
Official synopsis: A grieving detective in the near-future (Jonathan Rhys Meyers) hunts down criminals who trade artificial humans on the black market. But an underground resistance attempts to infiltrate him because they want to end AI exploitation, and so they sabotage the programming of the artificial human assigned as his companion (Elena Kampouris) to behave like his late wife. She begins to question her reality as memories of a past life begin to surface, in a world where nothing is as it seems.
---
BABY ASSASSINS
Director: Hugo Sakamoto
U.S. Release: August 16 (On Digital, Blu-ray & DVD)
U.K. Release: unknown
Official synopsis: Upon graduation, highly trained teenage assassins Chisato and Mahiro are informed by upper management that they will need to hold down "normal" jobs as a cover, and—even worse—they'll be forced to share an apartment. However, after an unfortunate run-in with a Yakuza member, the two must band together to survive an epic fight for their lives.
---
HEX
Directors: Chris Johnston & Andy Malchiodi
U.S. Release: August 16 (on DVD, Digital and On Demand)
U.K. Release: unknown
Official synopsis: Following a mysterious disappearance on a jump, a group of skydivers experience paranormal occurrences that leave them fighting for their lives.
---
LOST ILLUSIONS
Director: Xavier Giannoli
U.S. Release: August 16 on digital, September 20 on DVD/Blu-Ray – watch Lost Illusions!
U.K. Release: unknown
Full Review: Faux Reports of Vast Proportions
Official synopsis: In 1821, Lucien de Rubempré (César winner Benjamin Voisin) arrives in Paris as a sensitive, and idealistic young poet determined to write a reputation-making novel. Instead, he finds himself swept into journalism, whose influence and reach is booming with the help of the printing press, widely available of late. Under the mentorship of cynical editor Étienne Lousteau (César winner Vincent Lacoste), Lucien agrees to write rave theater reviews for bribes, achieving material success at the expense of his conscience. With this sweeping adaptation of one of Balzac's greatest novels, Xavier Giannoli crafts a contemporary tale of corruption amidst an early form of "fake news".
---
SNIPER: ROGUE MISSION
Director: Oliver Thompson
U.S. Release: August 16 (On Blu-ray & Digital)
U.K. Release: unknown
Official synopsis: When a crooked federal agent is involved in a human sex trafficking ring, Sniper and CIA Rookie Brandon Beckett (Chad Michael Collins) goes rogue, and teams up with his former allies Homeland Security Agent Zero (Ryan Robbins, of Riverdale) and assassin Lady Death (Sayaka Akimoto) to uncover the corrupt agent and take down the criminal organization. Josh Brener (Silicon Valley) and Dennis Haysbert (24) co-star in this intense, gritty action thriller.
---
WHEN I CONSUME YOU
Director: Perry Blackshear
Global Release: August 16 (US, Canada, UK, Ireland, Australia & New Zealand)
Official synopsis: Ewing and Dumouchel play brother-sister duo Daphne and Wilson Shaw. Troubled since childhood, the two have struggled to find stability as they've grown older, and while Daphne seems to have finally gotten her life together, the darkness that's followed their family all along begins to close in more aggressively than ever before. When I Consume You is a unique urban folktale set and filmed in Brooklyn, and a film that confronts the vulnerabilities that people struggle with every day through a genre lens to create a chillingly intimate indie horror nightmare.
---
ANAïS IN LOVE (U.K.)
Director: Charlene Bourgeois-Tacquet
U.K. Release: August 19
U.S. Release: April 29 on VOD – watch the film!
Full Review: Light, Sun-Kissed Romance
Official synopsis: In this sparkling and elegant romantic comedy, the free-spirited and giddily impulsive Anaïs (Anaïs Demoustier) careers from one lover to the next while trying to find some direction in her life. Following a brief dalliance with an older man (Denis Podalydès), she soon finds herself captivated instead by his beautiful long-time partner Emilie (Valeria Bruni-Tedeschi, of Summer of 85), a successful and beguilingly charismatic writer, and an affair begins which may just offer the contentment Anaïs has been searching for. Featuring stunning Paris and Normandy locations, and a lead performance of immense charm by Anaïs Demoustier, the debut film by writer-director Charlene Bourgeois-Tacquet is playful, passionate, and thoroughly enchanting.
---
THE IMMACULATE ROOM
Director: Mukunda Michael Dewil
U.S. Release: August 19 (in theaters and on demand)
U.K. Release: unknown
Official synopsis: Mike (Emile Hirsch) and Kate (Kate Bosworth), a seemingly perfect couple, join a psychological experiment to compete for 5 million dollars if they can last 50 days in a sleek, white room in complete isolation. No phones, no family – only the Voice of the Immaculate Room keeping them in check if they think of straying. But as the clock ticks down, the Room becomes more than it seems, putting them through cruel tests to break their resolve and resurfacing private demons which they may not survive.
---
THE LEGEND OF MOLLY JOHNSON
Director: Leah Purcell
U.S. Release: August 19 (in theaters and on digital)
U.K. Release: May 13 (in cinemas)
Full Review: The Drover's Wife The Legend of Molly Johnson (SXSW Review)
Official synopsis: 1893, the Australian Outback. The area is rough, the people hard-nosed, the law rather secondary. Here, women – and newcomers anyway – quickly become the pawn of men. Even Nate Clintoff, who is new in town to keep law and order, still has to fight for his place in the hierarchy. Molly Johnson, heavily pregnant and alone with her children on a farm far from town, knows her place only too well. Nevertheless, she doesn't let it get her down. She does everything to protect her children. Everything.
---
GET AWAY IF YOU CAN
Directors: Terrence Martin & Dominique Braun
U.S. Release: August 19 (in select theaters and on digital)
U.K. Release: unknown
Official synopsis: Hopeful that an open-ocean sail might relight the spark of their passion, a troubled married couple (played by filmmakers Terrence Martin and Dominique Braun) hits a breaking point when one's refusal to explore a foreboding deserted island sends them on a deep internal journey that will require drastic decisions in order to survive.
---
SQUEAL
Director: Perry Blackshear
U.S. & Canada Release: August 19 (on all digital platforms and in theaters in NY and LA)
U.K. Release: unknown
Official synopsis: Filmmaker Aik Karapetian's dark fairy tale Squeal centers on Samuel (Kevin Janssens), who is far from home, searching for his father. Lost in remotest Eastern Europe, on the edges of a mythical forest, a minor road accident leads to a chance meeting with a pig-farmer's daughter Kirke (Laura Siliņa). Sam soon learns that his priorities must change if he wants to survive. Her initial hospitality is a smoke screen to capture him and make him a forced laborer on the farm. Alone, unable to speak the language, and chained up 24/7 with the pigs, he learns to adapt. Fortunately, a seemingly magical piglet gains Sam's confidence and shows him the way to freedom and true love.
---
ALI & AVA
Director: Clio Barnard
U.S. Release: August 23
U.K. Release: March 4
Full Review: Ali & Ava (Review): Bradford-Based Romance is a Delight
Official synopsis: Ali is an exuberant music enthusiast struggling to keep his recent separation from his wife a secret from his family. Ava is a pragmatic middle-aged teaching assistant and matriarch to a large and close-knit family. When a chance encounter unites them, Ali and Ava begin a tentative friendship formed around their shared love of music that quickly blossoms into an unexpected romance.
---
FIRE (BOTH SIDES OF THE BLADE)
Director: Claire Denis
U.S. Release: August 23
U.K. Release: September 9
Full Review: Fire (Both Sides of the Blade) Review: An Incendiary Love Triangle
Official synopsis: Juliette Binoche is Sara, a woman whose life spirals out of control when she becomes involved in a passionate love triangle.
---
FUNNY PAGES
Director: Owen Kline
U.S. Release: August 26 (in theaters and on demand)
U.K. Release: unknown
Official synopsis: A bitingly funny coming-of-age story of a teenage cartoonist who rejects the comforts of his suburban life in a misguided quest for soul.
---
SWAN SONG
Director: Todd Stephens
U.K. Release: August 29 (on DVD, Blu-Ray and VOD)
U.S. Release: August 2021
Official synopsis: In this outrageously entertaining and unexpectedly tender comedy from writer/director Todd Stephens (Edge of Seventeen), retired hairdresser Pat Pitsenbarger is dragged out of his small-town nursing home because he learns that a former client has a dying wish: for him to style her final hairdo. Soon, Pat embarks on a comical and bittersweet odyssey across town, encountering fabulous friends old and new, and rediscovering his sparkle along the way. Legendary actor Udo Kier (My Own Private Idaho) leads an all-star cast including Jennifer Coolidge (Legally Blonde), Michael Urie (Ugly Betty) and Linda Evans (Dynasty).
---
EXPLORER
Director: Ranulph Fiennes
U.S. Release: August 30 (on digital and on demand)
U.K. Release: July 14
Official synopsis: Sir Ranulph Fiennes is credited with the sensational title of being the World's Greatest Living Explorer. Amongst his extraordinary achievements, he was the first to circumnavigate the world from pole to pole, crossed the Antarctic on foot, broke countless world records and discovered a lost city in Arabia. He has traveled to the most dangerous places on Earth, lost half his fingers to frostbite, raised millions of pounds for charity and was nearly cast as James Bond (and yes, he does happen to be a cousin to Ralph and Joseph). But who is the man who prefers to be known as just 'Ran'?
---
MY DONKEY, MY LOVER & I
Director: Caroline Vignal
U.S. Release: August 30
U.K. Release: unknown
Official synopsis: Primary school teacher Antoinette (Laure Calamy) is elated about her upcoming vacation with her married lover, Vladimir (Benjamin Lavernhe), but their plans are upended when his wife books a surprise hiking trip. On an impulse, Antoinette heads to the same mountainous region of the Cévennes National Park, with an itinerary inspired by Robert Louis Stevenson's classic 1878 memoir "Travels with a Donkey in the Cévennes." Completely unversed in the ways of the wilderness, Antoinette forges quick bonds with an idealistic innkeeper (Marie Rivière) and several other offbeat fellow travelers.
---
2. AUGUST 2022: FILMS TO STREAM
AMAZON PRIME VIDEO
August 1-7
August 8-14
August 22-31
---
APPLE TV+
August 1-7
---
ARROW VIDEO
August 1-7
Vengeance is Mine, All Others Pay Cash (August 5)
---
DISNEY PLUS/HULU/STAR
August 1-7
---
MUBI
August 1-7
August 8-14
Squish!: August 8
Public Toilet Africa: August 9
Faya Dayi: August 10
Taming the Garden: August 12
August 15-21
August 22-31
---
NETFLIX
August 1-7
Wedding Season: August 4
Carter: August 5
August 8-14
August 15-21
August 22-31
Untold: The Rise and Fall of AND1: August 23
Me Time: August 26
Seoul Vibe: August 26
Untold: Operation Flagrant Foul: August 30
---
PARAMOUNT+
August 8-14
August 15-21
Orphan: First Kill: August 19 – In Theaters, on Digital and on Paramount+
---
PEACOCK
August 1-7
August 22-31
The End is Nye: August 25
---
SHUDDER
August 1-7
August 15-21
August 22-31
---
SKY
August 1-7
Father of the Bride (2022): August 5
The Good Neighbour: August 6
Blacksite: August 12
August 15-21
August 22-31
---
3. AUGUST 2022 RELEASES: NEW SHOWS OUT THIS MONTH
AMAZON PRIME VIDEO
August 1-7
All or Nothing: Arsenal: August 4
August 8-14
August 15-21
---
APPLE TV+
August 15-21
August 22-31
---
DISNEY PLUS
August 1-7
Marvel Studios Assembled: The Making of Ms. Marvel: August 3
Alice's Wonderland Bakery Season 1: first five episodes – August 3
The Ghost and Molly McGee Season 1: first five episodes – August 3
Lightyear: August 3
LEGO® Star Wars Summer Vacation: August 5
August 8-14
August 15-21
---
HBO & HBO MAX ORIGINALS
August 1-7
August 15-21
House of the Dragon: August 21
---
HULU
August 8-14
Trolls: TrollsTopia: Complete 7th and Final Season: August 11
FX's Children of the Underground: Compete Season 1: August 13
August 15-21
Legacy: The True Story of the L.A. Lakers: Limited Series Premiere
Dragons: The Nine Realms: Complete Season 3: August 18
August 22-31
Mike: August 25
The Croods: Family Tree: Complete Season 4: August 31
---
NETFLIX
August 1-7
Clusterf**k: Woodstock '99: August 3
KAKEGURUI TWIN: August 4
Super Giant Robot Brothers: August 4
Lady Tamara: August 4
The Sandman: August 5
August 8-14
I Just Killed My Dad: August 9
Locke & Key Season 3: August 10
Instant Dream Home: August 10
Indian Matchmaking Season 2: August 10
Never Have I Ever Season 3: August 12
A Model Family: August 12
August 15-21
High Heat: August 17
The Girl in the Mirror: August 19
Kleo: August 19
Chad and JT Go Deep: August 19
August 22-31
Lost Ollie: August 24
Mo: August 24
I AM A KILLER: August 30
---
PARAMOUNT+
August 1-7
August 22-31
Star Trek: Lower Decks Season 3: August 25
---
PEACOCK
August 1-7
August 22-31
Everything I Know About Love: August 25
---
OTHER STREAMING PLATFORMS
August 1-7
---
WHAT ELSE IS HAPPENING THIS MONTH:
Season Finales:
August 18: Pretty Little Liars: Original Sin
August 25: Irma Vep
Film Festivals: